The surety bond industry can be complicated. There are thousands of different surety bonds required across many different industries and professions. What makes surety bonds so complicated is when you're required to purchase one, you're often given little if any direction on how. Let's fix that.
This short article will:
Help you understand what a surety bond is
The most common types of surety bonds
How to find the type of bond you need
The 5 Major Types Of Surety Bonds
Some surety bonds are required by law. You have no choice. If you want to get a license or a permit, you must purchase a surety bond for a specific amount. Other surety bonds are required by courts while others are elected to be purchased by a business owner.
Every state has different laws and requirements. Every business owner has their own specific situation for when a surety bond may be a smart business decision. Before we get into the differences, let's cover what is a surety bond?
The surety bonds covered in this article are:
What Is a Surety Bond?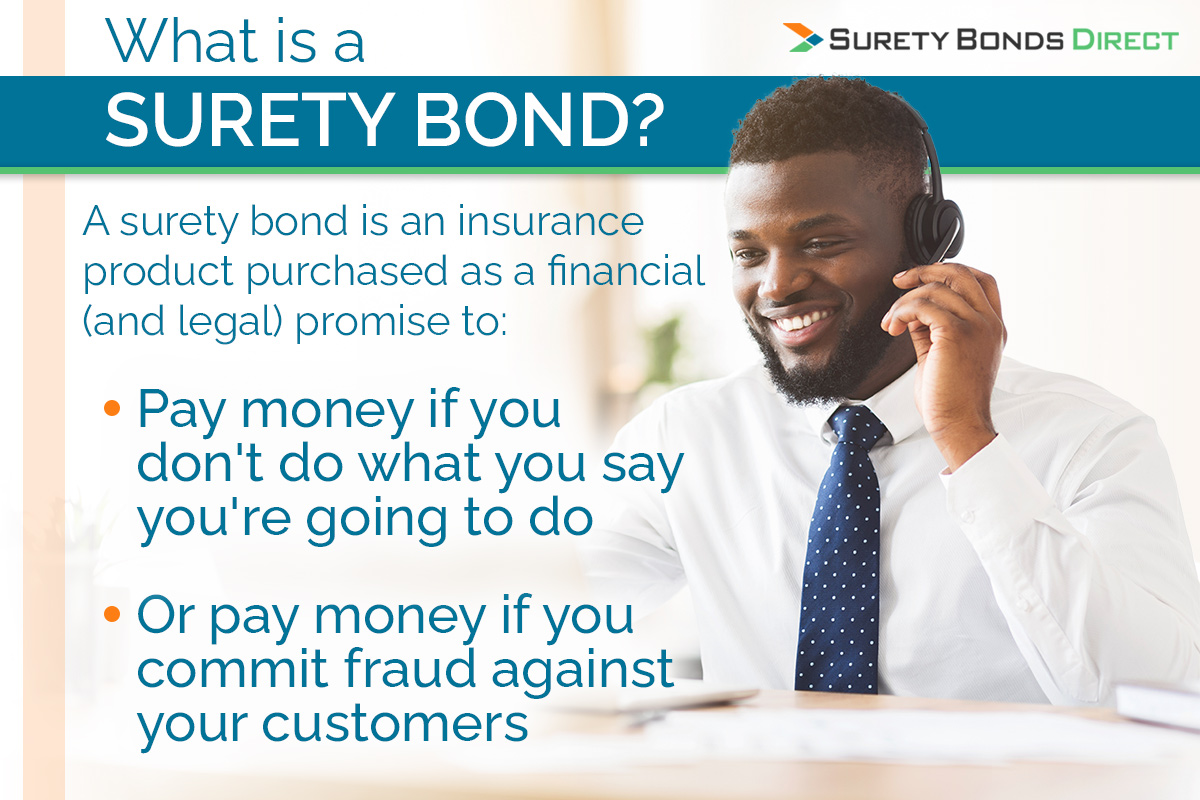 A surety bond is an insurance product purchased as a financial (and legal) promise to:
Pay money if you don't do what you say you're going to do
Or pay money if you commit fraud against your customers
Traditional insurance policies are purchased to protect you or your business from unforeseen accidents, injuries, and natural disasters. Most insurance polices are purchased for your own protection.
A surety bond is purchased by an individual or business owner as protection for their customers or a government agency. If you take on a contract or project and you fail to follow through, a surety bond provides financial protection to your customer. If you're supposed to pay a tax liability to the state on a regular basis and you fail to do so, a surety bond gives the state some financial protection.
This financial protection depends on the amount of the bond.
What Is a Surety Bond Amount?
Like an insurance policy, every surety bond has an amount associated with it. This amount is not the surety bond cost, rather the amount of financial protection afforded to a customer or customers in the case of loss due to fraudulent acts.
If the surety bond is required by law, the amount is set by a government agency or court.
If the surety bond is elected to be purchased by a business owner, the bond amount is chosen by the business owner.
The cost of a surety bond is a small fraction of the bond amount. The cost ranges from below 1% to 5% in most cases of the bond amount. Read our post How To Get a Surety Bond. It explains how the bond price is determined.
Surety Bond Type 1: License Bonds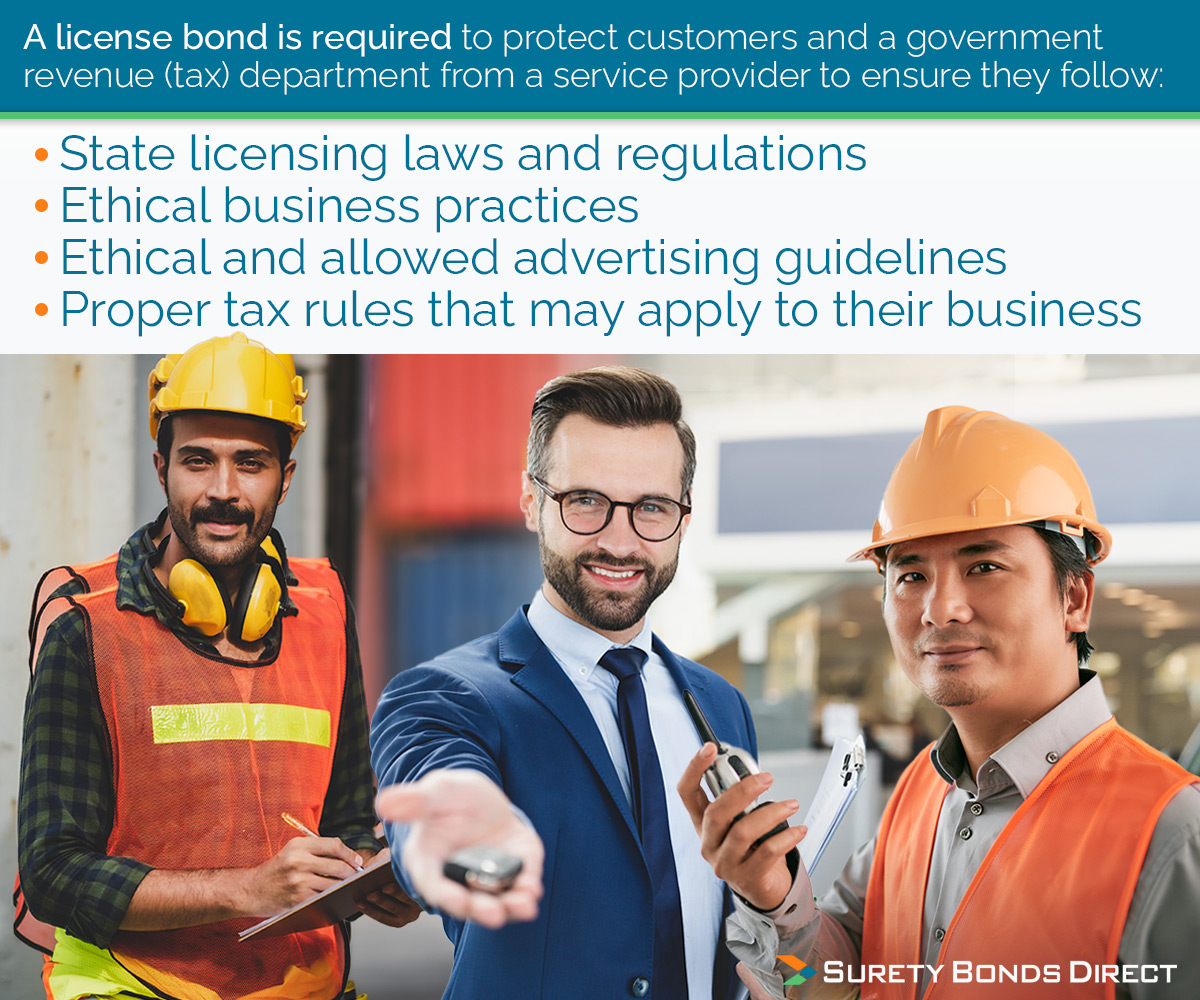 License bonds (sometimes called commercial bonds) are required by a government licensing agency. This may be at the Federal, state, county, or city level depending on the license being obtained.
A license bond is required to protect customers and a government revenue (tax) department from a service provider to ensure they follow:
State licensing laws and regulations
Ethical business practices
Ethical and allowed advertising guidelines
Proper tax rules that may apply to their business.
Examples of Surety Bonds Required To Obtain a License
Contractor License Bonds
A contractor license bond is required in most states. It ensures contractors will:
Complete construction projects according to the contract
Complete work according to building code
Properly pay subcontractors
If you're obtaining your contractor's license, you'll likely be required to purchase a contractor's bond. Here are some further resources to help you learn about contractor bonds and get the best price of your bond.
Surety Bonds Direct helps thousands of contractors purchase their required bond at the lowest possible cost. If you don't see your state above, search for your contractor license bond, then request a free quote, or call a bond specialist at 1-800-608-9950.
Motor Vehicle Dealer License Bonds
A motor vehicle dealer bond or auto dealer bond is required in most states to:
Sell new and used vehicles
Sell recreational vehicles
Buy and sell parts
Perform auctions and more
An motor vehicle dealer bond is required to protect customers and states from:
Improper title transfers
Failing to disclose or misrepresenting vehicle history
The regulations each state as for business hours and office requirements
Collecting and paying the appropriate sales tax on sales
Keep in mind, every state has different requirements. Learn more about auto dealer bonds by reading some of our articles below. If you would like to find out much your auto dealer bond is, use our free bond quote form or call a dealer bond specialist (1-800-608-9950) today.
Freight License Bonds
Freight bonds are federally required license bonds for:
Freight brokers and forwarders
Ocean freight forwarders and non-vessel operating common carrier (NVOCC)
The Federal Motor Carrier Safety Administration(FMCSA) regulates the land based trucking industry and brokers who help connect shippers with motor carrier companies. These brokers are required to purchase a freight broker bond (often referred to as a BMC-84 bond) before their license can be issued.
The Federal Maritime Commission regulates ocean freight hauling (called Ocean Transport Intermediary - OTI). Ocean freight forwarders and NVOCCs help connect shippers to ocean transportation companies to deliver cargo. Both professions are required to purchase a surety bond, an OFF or NVOCC bond before they can acquire their license.
These bonds protect the customers from:
Misrepresenting carriers
Incorrect payments and transfers
Stolen funds when paying carriers or working with shippers
Other Common Types of License Bonds
Make sure you visit our bond search to help find the correct license bond you need.
Surety Bond Type 2: Permit Bonds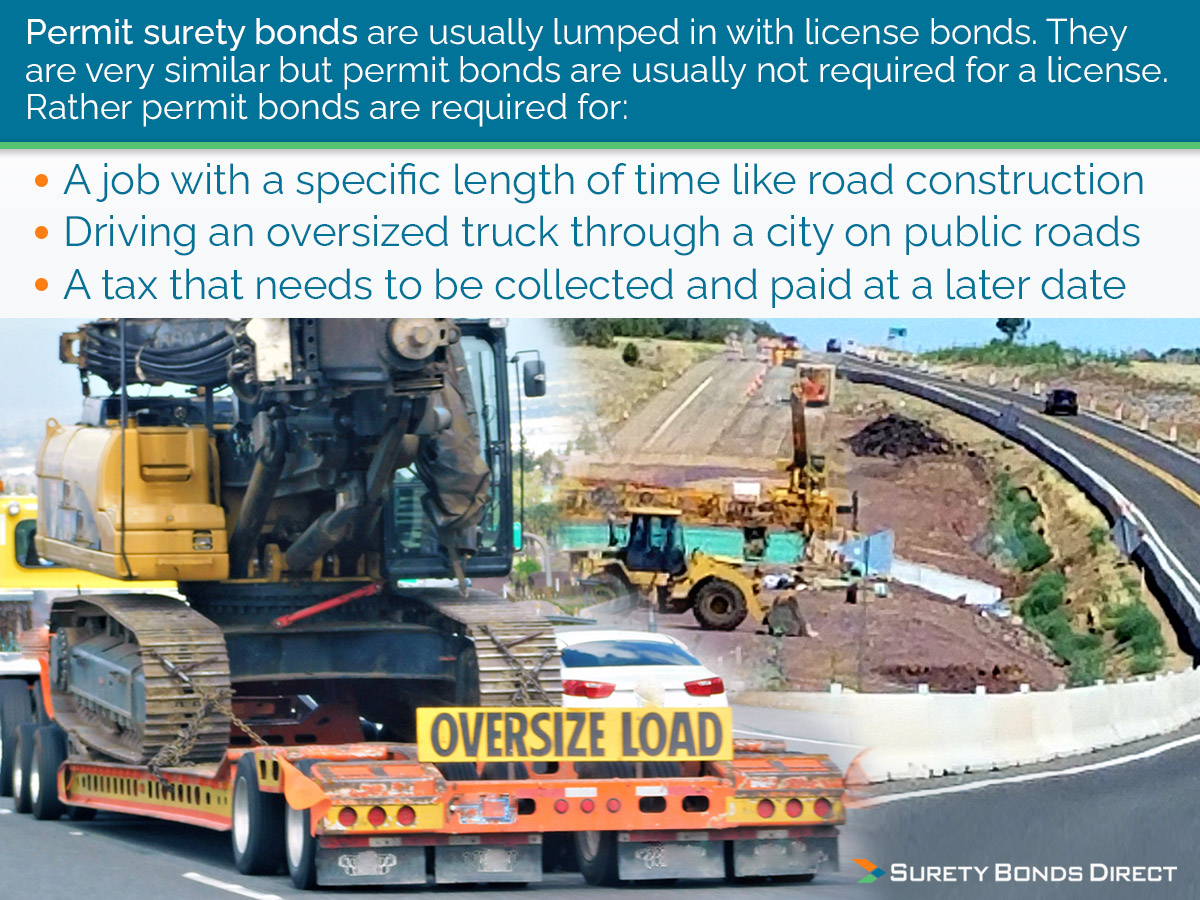 Permit surety bonds are usually lumped in with license bonds. They are very similar but permit bonds are usually not required for a license. Rather permit bonds are required for:
A job with a specific length of time like road construction
Driving an oversized truck through a city on public roads
A tax that needs to be collected and paid at a later date
Examples of permit bonds are:
Permit bonds are required by a state, county, or city government. You will know if you need a permit bond because it's either part of doing business as with the IFTA bond of you'll be told you need a permit bond to complete a project or transport goods.
When you need to get pricing for a permit bond, use your free quote form or call a bond specialist (1-800-608-9950) today.
Surety Bond Type 3: Performance Bond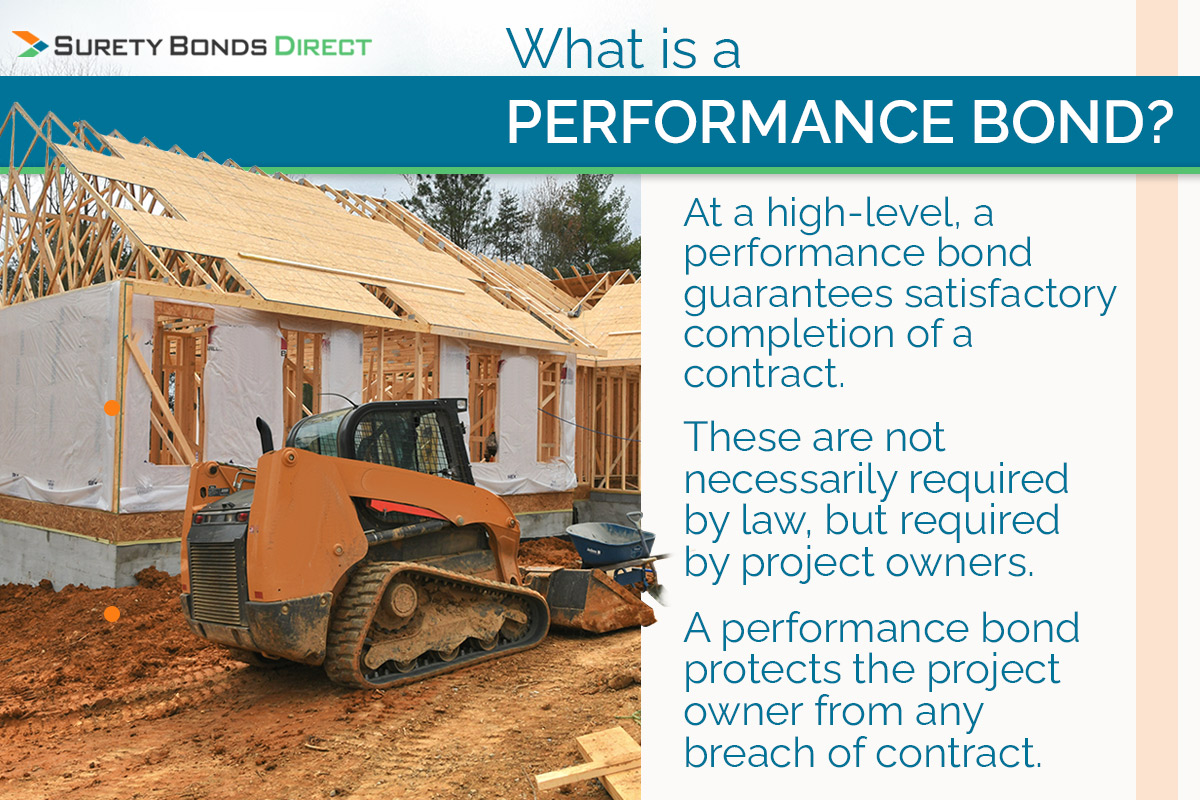 In most cases performance bonds are used in the construction industry. However, other industries may use performance bonds. As medical marijuana becomes legalized across the country, many growers and dispensaries are required to purchase a medical marijuana performance bond.
At a high-level, a performance bond guarantees satisfactory completion of a contract. These are not necessarily required by law, but required by project owners. A performance bond protects the project owner from any breach of contract.
At a federal level, there's the Millar Act. This is a federal law requiring a payment and performance bond for contracts in excess of $100,000. Additional or other payment protections may be required for contracts between $30,000 and $100,000. This legislation protects the federal government, taxpayers, subcontractors, and suppliers from primary contractors fraudulent contracting activity.
States have adopted the Millar Act (called Little Miller Act) for the same protections on a state government contracted projects.
Again, performance bonds are mostly used in the construction industry for any larger construction projects. In the construction space, performance bonds usually require:
A bid bond to secure or win a contract
A payment bond to ensure subcontractors are paid during the project
Performance bonds are typically based on project size. If you require a performance bond, request a free quote or call a bond specialist today (1-800-608-9950). Make sure you have all of the project details available for the quote process.
If you're in the construction industry, other bonds you will run into besides license and performance bonds are:
Surety Bond Type 4: Fidelity Bond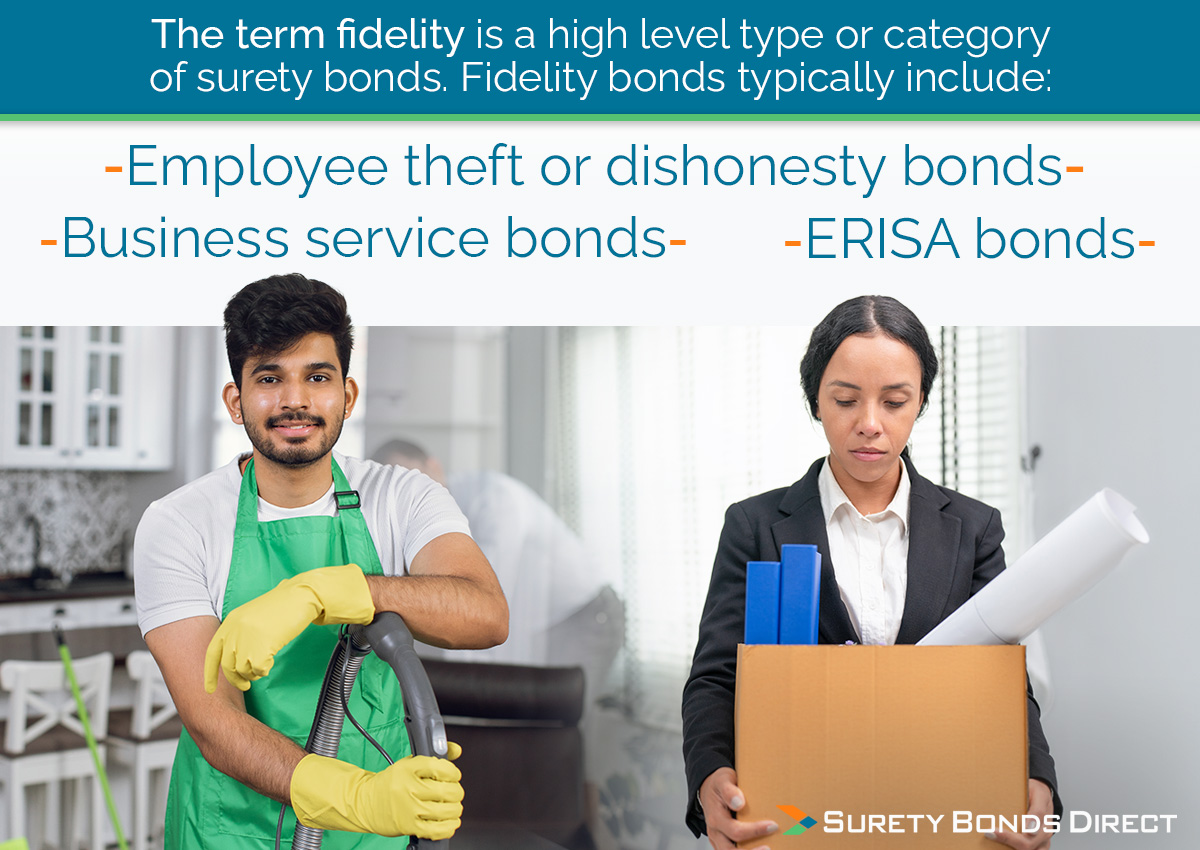 A fidelity bond is a unique type of surety bond including:
Except for ERISA bonds, most fidelity bonds are not required by law or by a government agency. A fidelity bond is elected to be purchased by a business to protect against theft.
For example, janitorial companies purchase a janitorial bond to protect their customers in the event an employee steals or purposefully damages a customer's private property. Business service bonds are purchased when a business owner or employees are performing work on or at a customers property.
An employee dishonesty bond is a unique bond similar to a normal insurance policy. This bond is purchased by a business to protect the business from theft from employees who have access to business bank accounts and valuable property.
Finally an ERISA bond is required by the US Department of Labor. It's purchased by a business or individual in charge or an employee retirement or health plan. This bond protects the participants in these plans from an administrator who steals money or mishandles money in the plan.
Watch our YouTube videos on each of these surety bond types:
Surety Bond Type 5: Court (Probate) Bonds
The court system can require surety bonds. Court bonds are commonly required by probate courts, although there are cases where bonds are required in civil litigation such as when someone elects to appeal a verdict. In probate situations, the bonds are often referred to as probate bonds. These bonds are required by a court to ensure an individual upholds their legal responsibility.
Here are the most common types of probate bonds:
Administrator and Executor Bond
Both administrator and executor bonds may be required by a court when an individual is in charge of a deceased person's estate. This individual is responsible for dividing the deceased's assets and estate to the beneficiaries.
In the case of an administrator bond, the court appoints an individual. This usually occurs when there is no will, when an executor has not been named, or when a named executor declines to serve.
An executor bond is required for the named executor when the family or the beneficiaries disagree on the named executor or when the judge notices in-fighting over the estate, or as a condition the will. An executor bond may also be required by the court when the estate is large.
Guardianship Bond
A guardianship bond is required when an individual is appointed the guardian over a minor. The amount of the bond is set by the court and it's required to protect the financial assets left to the minor from their parents or previous guardians.
Trustee Bond
A trustee bond is similar to an ERISA bond. It protects the beneficiaries of the trust from a trust administrator who may steal or mismanage trust assets.
Veterans Affairs Custodian Bond
A Veterans Affairs bond protects veterans of the U.S. armed forces and/or their surviving family members. The bond amount is set according to the total amount of funds managed including the anticipated annual net income of the beneficiary. The bond protects the veteran and/or family from mismanaged financial assets.
Not all custodians to a veteran or veteran's family are required to purchase a surety bond.
Learn more out veteran affairs bonds. If you require a quote, use our free quote form or call a bond specialist.
Surety Bond Type 6: Title Bonds
The last bond we'll cover are title bonds. Title bonds are very common after purchasing a used car or when a title has been filled out incorrectly. And it's typically the case when a person is required to purchase a title bond, the concept of a surety bond is brand new. So what is a title bond?
When a car is purchased without a title or the individual on the title can't be located, the new owner must purchase a title bond. The title bond acts as a provisional title allowing the owner to register the car with the department of motor vehicles. This also allows the state to collect property taxes if that's a requirement in the state.
Title bonds also protect previous owners if a car was stolen or sold without the previous owner's knowledge.
Most title bonds have a term of three to five years. After this date, your local DMV will issue a new (clean) title in your name.
Surety Bonds Direct sells title bonds for low fixed prices as long as the value of the vehicle is under a specific amount. If the value of the vehicle requiring bonding is high, you may have to get a quote. Surety Bonds Direct can help you with purchasing and issuing a title bond fast.
Other Types of Surety Bonds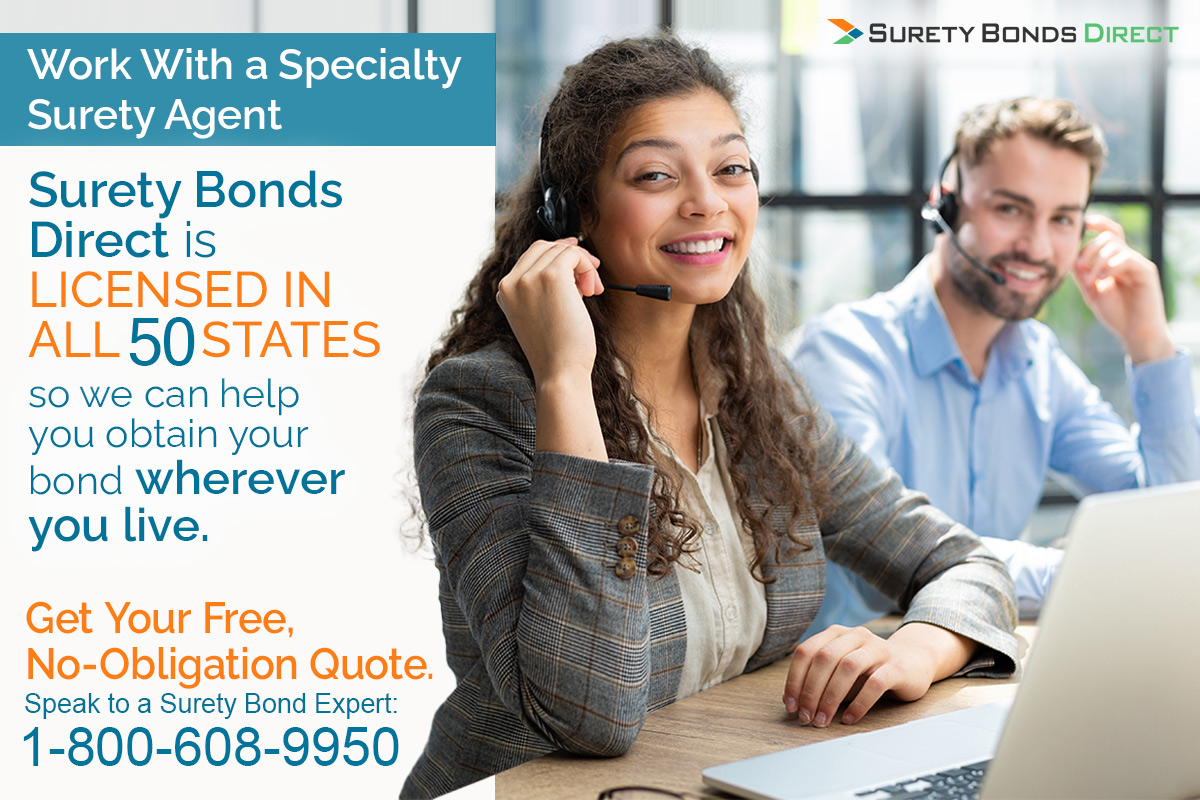 Remember, there are thousands of different surety bonds and we've only covered some of the most common types. It can be confusing knowing what you should do when you're told to purchase a surety bond.
Surety Bonds Direct is a specialized surety agency. We work with multiple sureties, the insurance companies that write surety bonds, to find the lowest price for our customers. So when you need a surety bond, use our free bond search to find the bond you need. Call a bond specialist if you need help at 1-800-608-9950.