All contractors in Washington are required to be licensed by the Washington Department of Labor and Industry. Part of the licensing requires all contractors to be bonded. It's an easy requirement to fulfill once you understand the purpose of a Washington State contractor bond.
This short article will cover:
Washington's two classifications of contractors
What it means to be bonded
The contractor bond amounts and how to know your bond amount
How much a contractor bond costs
Options other than purchasing a surety bond
The one mistake that will delay your bond being issued
How to purchase a surety bond fast and inexpensively
Washington State's Two Classifications of Contractors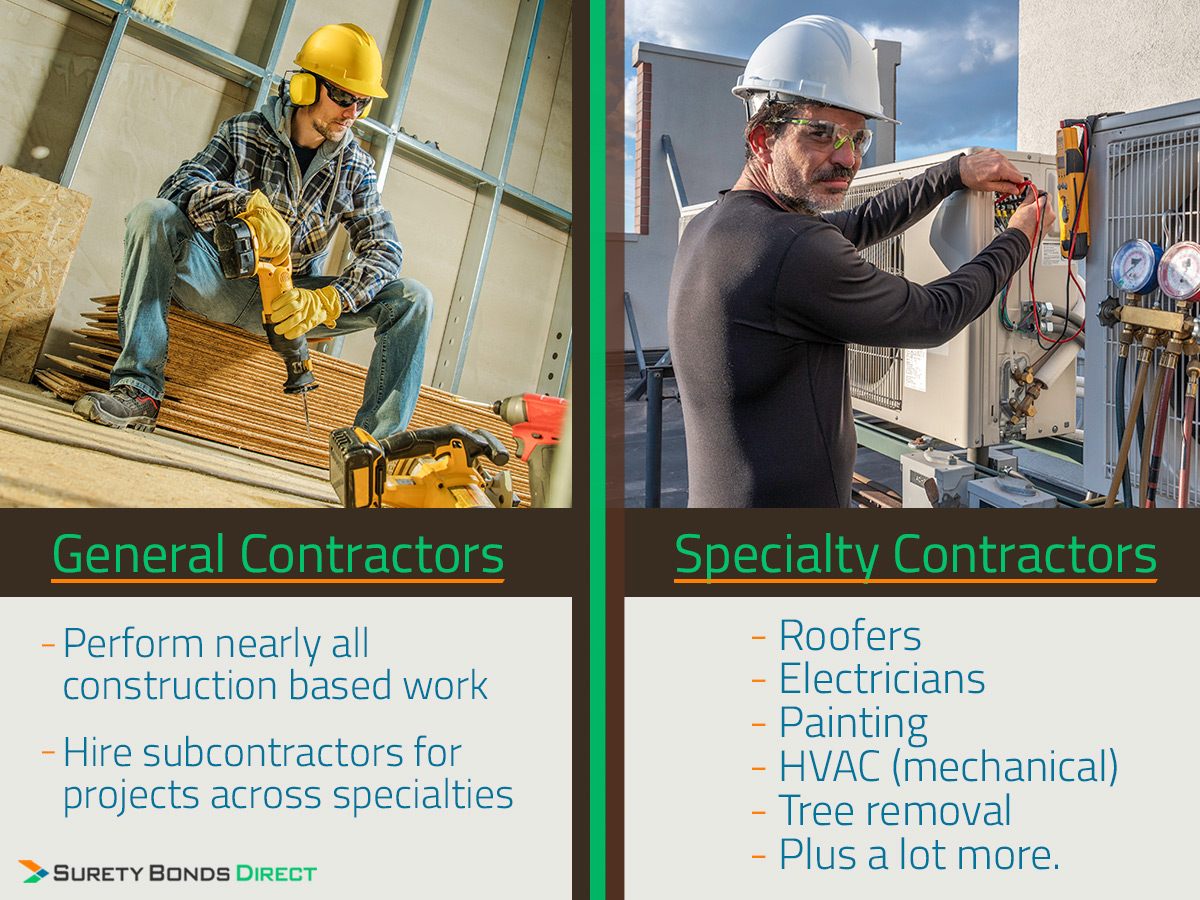 According to Washington's Department of Labor and Industries, there are two classifications of contractors requiring licensing:
General contractors
Specialty contractors
General Contractors
General contractors can:
Perform nearly all construction based work
Hire subcontractors for projects across specialties
Certain specialties require additional license requirements, exam prep, even additional bonding requirements.
General contractors can get licensed and perform the specialty work such as:
Plumbing
Electrical
Elevators
Working with asbestos
Plus more
If a general contractor elects to perform these activities themselves, additional exams, licensing, and bonding is required per speciality.
Specialty Contractors
Specialty contractors focus on one area in which they're allowed to perform work. Specialty contractors cannot hire subcontractors, but specialty contractors can obtain a general contractor license in a given specialty.
Washington's Department of Labor and Industries oversees 63 unique specialties. Each specialty requires a contractor's license and surety bond.
Common classifications of specialty contractors are:
Roofers
Electricians
Painting
HVAC (mechanical)
Tree removal
Plus a lot more.
Washington's Department of Labor and Industry provides a full list of all 63 specialties with clear descriptions.
Home Fixer Uppers Are Contractors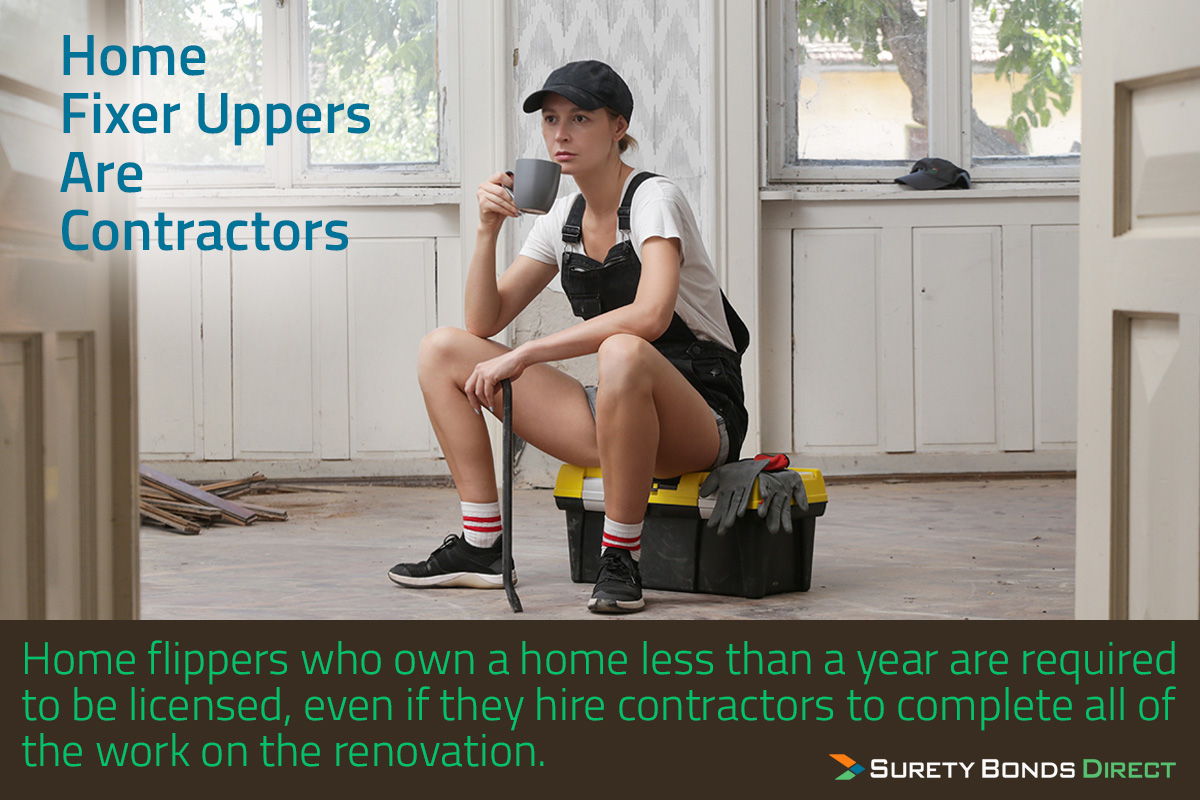 According to the Washington Department of Labor and Industries, home flippers who purchase, perform construction work on a home owned less than one year are required to be licensed. Even if the owner of the home outsources all work to other contractors, the owner is required to obtain a license and bond.
What Does It Mean To Be Bonded?
When a contractor is "bonded," it means they've purchased a surety bond required by the Washington Department of Labor and Industry.
This article will focus on license bonds, but there are other types of surety bonds a contractor may purchase through their career:
A surety bond is comparable to business insurance with one key difference, the "protected" party.
Business insurance protects you and your business from unforeseen damage, theft, accidents, or worker injuries. You make a claim and get the benefit of a claim being paid.
A surety bond is required by Washington's Department of Labor and Industries to protect the customer base from any negligent or fraudulent acts performed by the business or subcontractors.
If a claim is paid (only up to the amount of the bond), it's the customer getting the benefit. Not the business who purchased the surety bond.
Three common scenarios of contractor negligence are:
Incomplete work
Shoddy work or work that doesn't follow building codes
Failure to pay subcontractors
Being bonded means your customers have a level of protection during their relationship with your company.
Learn the details about what a surety bond is and all three parties involved in the agreement.
Washington State Contractor Bond Amounts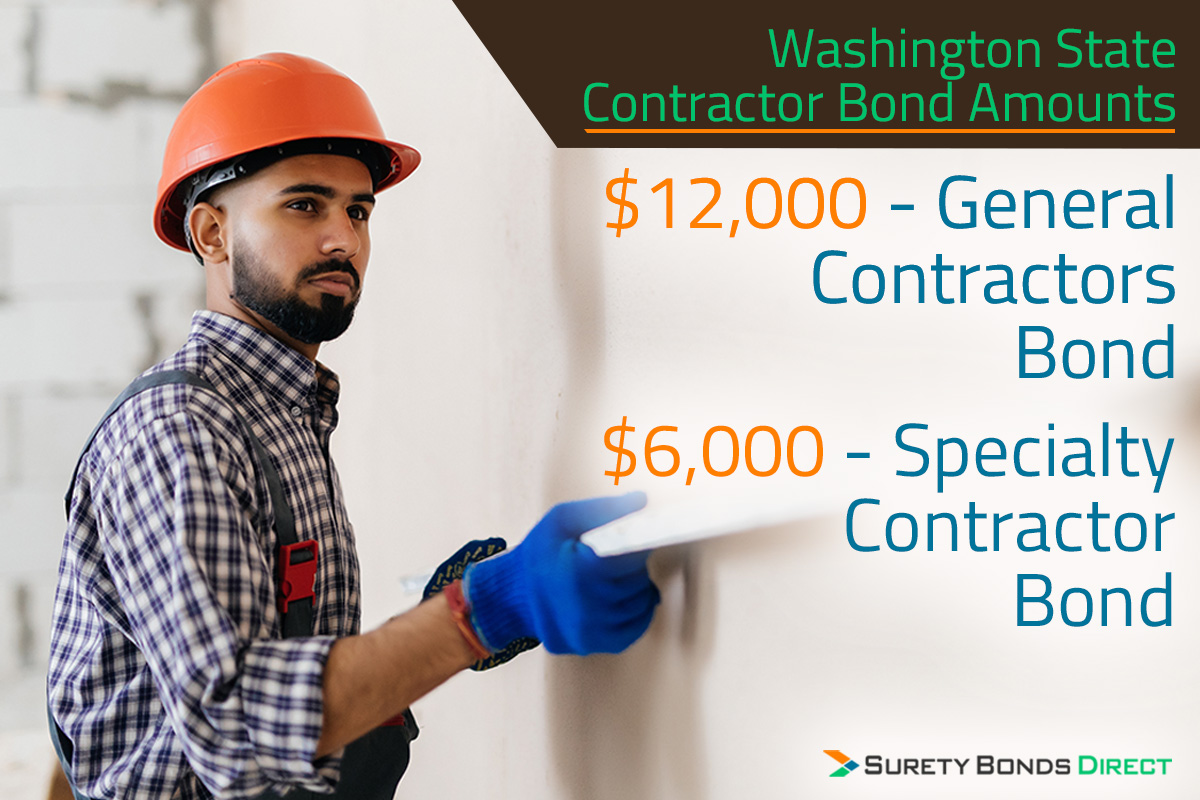 $12,000 Contractor's License Surety Bond for General Contractors
Specific classifications have additional bonding requirements if the general contractor is going to perform the work themselves.
These additional bonding requirements are:
| Specialty | Bond Amount |
| --- | --- |
| Electrical | $4,000 |
| Electrical | $4,000 |
| Telecommunications | $4,000 |
| Plumbing | $6,000 |
| Fire Sprinkler Systems | $10,000 |
| Farm Labor | $25,000 |
| Side Sewer | $30,000 |
| Optional bond for city, county, or municipality | Up to $25,000 |
$6,000 Contractor License Surety Bond for Specialty Contractors
For specialty contractors, the $6,000 bond is required and only applies to one discipline. If you get licensed in multiple specialty disciplines, you will need to secure a separate $6,000 bond for each.
How Much Does a Contractor Bond Cost?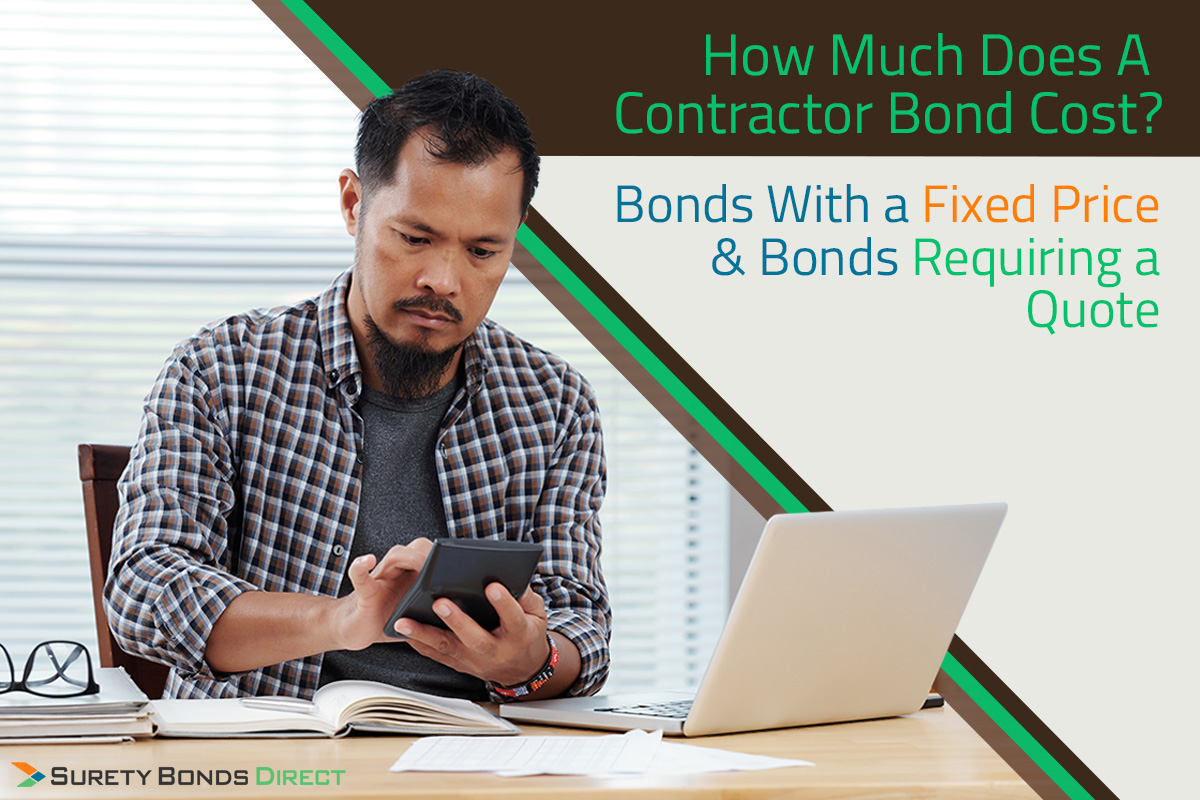 Bonds With a Fixed Price
Three Washington State contractor bonds have a fixed price:
| Specialty | Price |
| --- | --- |
| Telecommunications 1 Year Bond | $100.00 |
| Telecommunications 2 Year Bond | $175.00 |
| Farm Labor Contractor Bond (up to $25,000) | Starts at $100.00 (1.2% or required bond amount) |
| 1 Year Contractor License Bond (city or county) (up to $25,000) | Starts at $100.00 (1% of required bond amount) |
| 2 Year Contractor License Bond (city or county) (up to $25,000) | Starts at $175.00 (1.75% of required bond amount) |
Bonds Requiring a Quote
Bonds that require a quote use a rate to determine the price you'll pay.
This rate is based on:
Primarily your personal credit report or the personal credit of the majority owner for an LLC or Partnership
The business financials
The business history
Business and personal industry experience
Once the rate is determined, the price of your bond is the bond amount multiplied by the rate.
| Bond Amount | Premium Rate | Total Cost |
| --- | --- | --- |
| $12,000 | 0.05% | $60 |
| $12,000 | 0.07% | $84 |
| $12,000 | 0.09% | $108 |
| $12,000 | 1% | $120 |
| $12,000 | 1.2% | $144 |
| $12,000 | 1.4% | $168 |
Here's a full list of Washington State contractor bond prices. Use our bond quote form to obtain the lowest rate from the largest surety companies.
Other Contractor Bonding Considerations
Business Name Changes
If you change the name of your company you'll be required to obtain a new license for the business and a new bond.
Most Washington State contractor bonds are continuous. This means the bond doesn't expire unless cancelled by the surety. Each year the surety will require you to pay your renewal premium.
Options Other Than Purchasing a Surety Bond
Washington State Department of Labor and Industry will allow contractors to post cash or an assigned back account.
This is not the best option for two reasons:
Reason 1: Capital Constraints
Most new contractors getting their license may not have $12,000 available or an additional $6,000, if required for a specialty bond.
Purchasing a surety bond allows you to pay a small fraction of the bond amount, making it easy to obtain your license.
Reason 2: Tied Up Capital
Regardless of whether you're starting a new business or you're purchasing a bond for an existing business, you probably don't want to tie up capital in a bank account for an extended period of time.
Consider this, even after you close your contractor business, the capital deposited in a bank account will need to remain there for two additional years.
Purchasing a surety bond for a fraction of the bond amount allows you to use your money to grow your business.
One Mistake To Avoid When Purchasing a Surety Bond
When you fill out a surety bond and the application, use the exact name on file with the Washington Department of Labor and Industry and Secretary of State.
LLC or Other Corporate Entity
If you're an LLC or other corporate entity, use the exact name down to the spacing and commas.
Make sure all partners or members of the LLC use their full legal names.
All of these names should match the paperwork submitted to the Washington Secretary of State.
Sole Proprietorship
If you're a sole proprietor, use your full legal name.
A surety bond is a legal document. If any of these names mismatch, the bond will be rejected by the Surety.
You need to file your bond within 30 days of receipt or the contractors board will require additional documentation to verify the bond is valid.
Where Do You Purchase a Contractor Bond?
Purchasing a surety bond is one step in the licensing process. And it's a straightforward process.
Your concerns are:
Getting the lowest price
Getting your bond in your hands quickly
This is why you should use a specialty surety bond service like Surety Bonds Direct.
1. Getting The Lowest Price
Surety Bonds Direct has access to the largest surety companies who write surety bonds. Every surety company uses their own internal risk assessment and files their own rates with the state. This means each surety will provide a different quote.
Our bond specialists will obtain multiple surety bond quotes and secure you the lowest possible rate.
The quoting process typically takes less than one business day to complete.
2. Getting Your Bond Quickly
Our bond issuers help ensure your bond is completed and issued fast.
Once you pay for your bond, a bond issuer will have your bond prepared and emailed out to you within a business day and often faster.
This is when you need to double check the names used on your surety bond and bond application.
Request a FREE Online Quote or Call Today
Use our free quote form and start the quoting process right now. Your quote will be good for a minimum of 30 days.
If you have additional bond questions, call a bond expert at 1-800-608-9950. A bond specialist will help get the quote process started.