Property owners need to know that they can trust the contractors they work with. A bad experience with a contractor can cost someone enormous amounts of time, money, and even damage to their property. Most people have heard the advice to only use a contractor who is licensed, bonded, and insured. Out of these three terms, "bonded" is the one that many people are least familiar with. So it's worth taking some time to explore questions you might have like "What is a bonded contractor?" and "Why is it important for a contractor to be bonded?"
Whether you're a property owner or a contractor, this guide will help you understand contractor bonds. Read on as our surety bond experts explain the basics of contractor license bonds, what a bonded contractor is, and why these questions matter.
What Is a Bonded Contractor?
Watch our video explaining what a contractor bond is and why it's required.
A bonded contractor is a contractor whose obligations are covered by a contractor bond. To understand what that means, let's look at the individual definitions of each concept:
What is a contractor? A contractor, in the context of the construction industry, is any business entity that provides professional construction and building services. Many different kinds of contractors exist, including general contractors who take on the prime contract for a project, and specialty contractors who provide certain services like plumbing and electrical work.
What is a contractor bond? A contractor bond is a type of surety bond that guarantees the contractor will fulfill their contractual and ethical obligations to their clients. If the contractor violates the terms of their contractor bond, a client can file a claim against the bond for compensation. Contractor bonds are typically mandated by a state, city, or other local government authority and the legal language in the bond is written to ensure compliance with applicable state laws and regulations.
What is a surety bond? A surety bond is a three-party agreement that creates a financial guarantee for one party's obligations. In the case of contractor bonds, the contractor is the bonded party.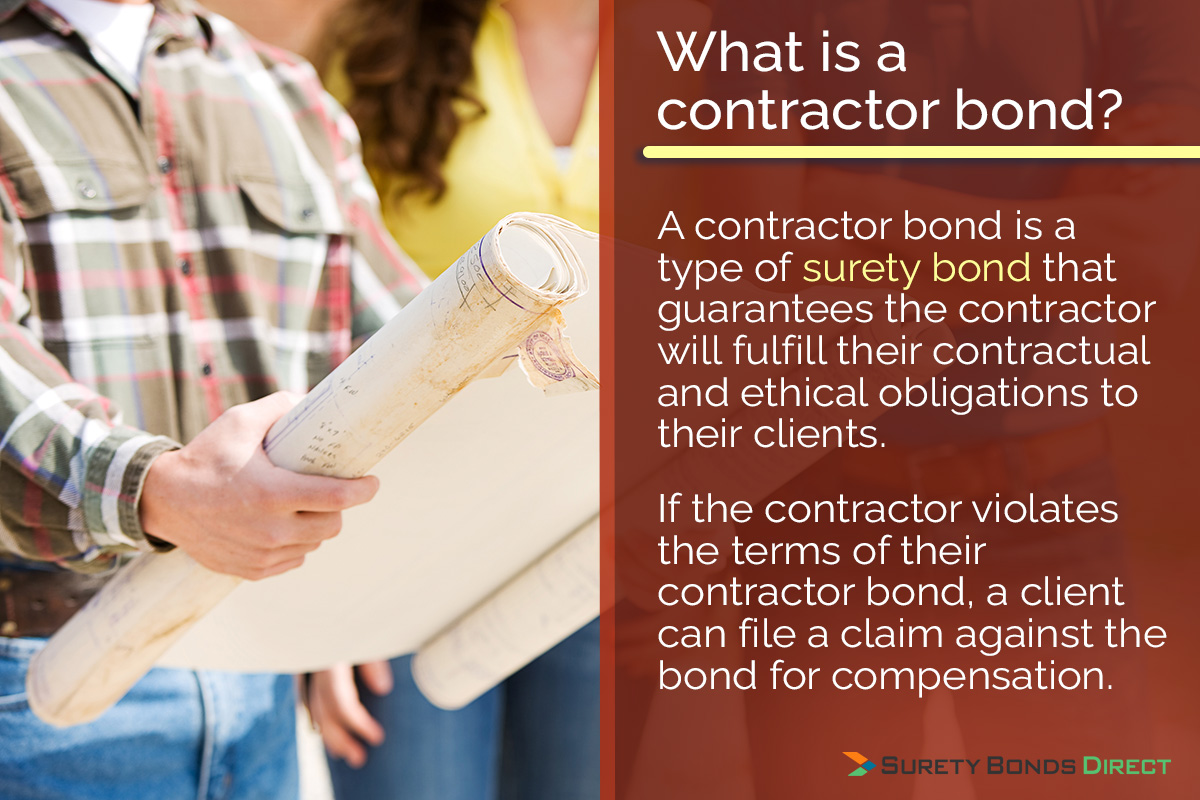 Put all of these concepts together, and you'll see why it's so important to choose a bonded contractor to work on your projects. A contractor's surety bond protects the contractor's clients and provides a way to keep contractors financially accountable, which is why many states require contractors to purchase surety bonds.
Checking a Contractor's Bond
How can someone determine whether a contractor has a surety bond? Usually, it's easiest to simply ask a contractor to provide a copy of their bond certificate and license information. If the contractor isn't willing to provide proof of their bond, it's a major red flag that you shouldn't ignore.
To verify the contractor's bond information, you'll need to contact the surety listed on the licensing certificate and tell them you want to verify a contractor's bond coverage. In some states and cities, you may be able to verify a contractor's bond by contacting the state or city licensing authority that issued the contractor's license. If you can't confirm that a contractor's bond is valid, that's another sign of trouble. Working with a contractor who doesn't have a surety bond can severely limit your options if you have to pursue accountability from that contractor later.
How to Get a Contractor Bond
Contractors might require several types of surety bonds to get their contractor's license and/or accept contracts. We've discussed contractor license bonds already, but some contractors will also need to purchase bid bonds and/or performance and payment bonds when bidding on a contract. See our guide to contractor bonds to learn more about these bond types.
For contractors who need to purchase surety bonds, using a surety bond broker like Surety Bonds Direct makes the process straightforward. We work directly with dozens of sureties nationwide to match every customer with the perfect bond provider and the lowest available premium. Read our guide to getting your surety bond to learn more about how the process works.
Cost of a Contractor Surety Bond
To obtain a surety bond, a contractor will pay a percentage of the bond's coverage amount to the surety as a premium; however, the cost of a surety bond varies for each contractor. Factors like the bond's coverage amount and the contractor's experience and credit score will affect the premium that a contractor pays for a surety bond.
Between these factors, it can be challenging for a contractor to get an affordable bond premium if the contractor needs a high bond amount or has imperfect credit. Surety Bonds Direct addresses this need by offering options for financing your bond premium and getting a surety bond with bad credit.
Surety Bonds Direct is the first choice in contractor license bonds for contractors across America. Get your contractor license bond quote today, or call us at 1-800-608-9950 for more information and personal service from our surety bond professionals.