South Carolina, like many states, separates residential home builders from general contractors. The difference being residential builders only take on residential building projects that meet specific qualifications while a general contractor can perform residential and commercial contracts. The steps to obtain a residential builders license are very clear and this short article will explain:
The official definition of a residential builder
The application process
The post application requirements
The license fees
Keeping the license active over the license term
What is a Residential Builder License?
The South Carolina Department of Labor Licensing and Regulation (LLR) and the Department of Residential Builders Commission (the Commission) are responsible for licensing all classifications of contractors.
As defined by the LLR, a residential builder is any contractor who:
Constructs
Superintends
Offers to construct
Offers to superintend a construction project
Repairs
Improves
Re-improves
...any residential building or structure meeting these requirements:
Not over 3 floors (stories)
No more than 16 units in any single building
Construction cost is $5,000 or more
With these requirements met, a contractor must obtain a residential builders license. The LLR does not offer licenses to business entities, only individuals. However, there is a specific process for listing your business on the official license, keep reading.
Residential Builder License Application Process
Step 1 - Required Residential Experience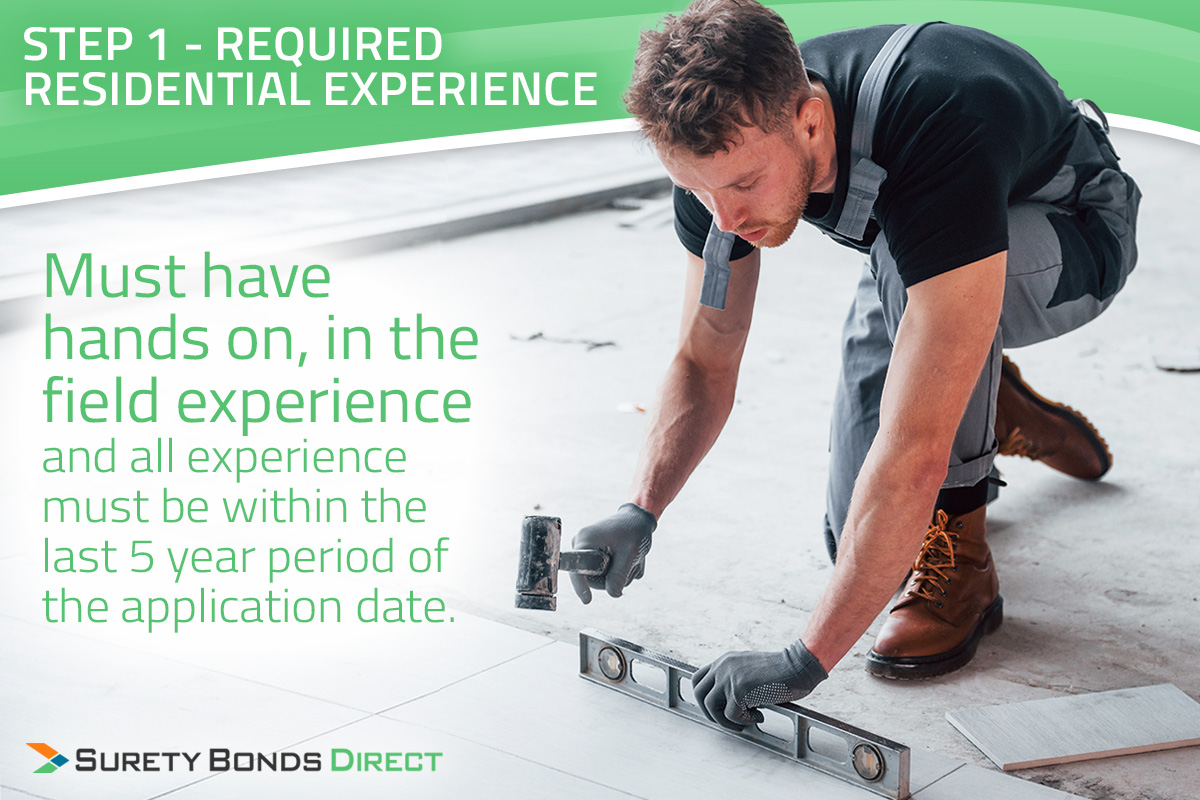 The Commission values hands-on, in the field work experience. On the application you're required to enter the contact information for past supervisors as references to your work experience. Each supervisor must be either a:
Licensed residential builder
Licensed general or mechanical contractor
Or an appropriate license in residential building from another state
All of the experience listed must be within the last 5 year period of the application date. If you lack the experience, you can still submit your application. You'll be required to appear in front of the Commission for an experience review.
Experience Affidavit
Each of the supervisors listed on the application will be sent an affidavit (a written statement of oath) attesting to the listed experience. They are required to sign and mail it back to the Commission.
Experience General Facts
The required experience does not have to be from South Carolina.
A college degree will not suffice for experience. Again, the Commission prioritizes hands on, in the field experience.
Finally, if your experience was an unpaid apprenticeship, you will be required to appear before the Commission for an experience review.
Step 2 - Business Entities And Licensure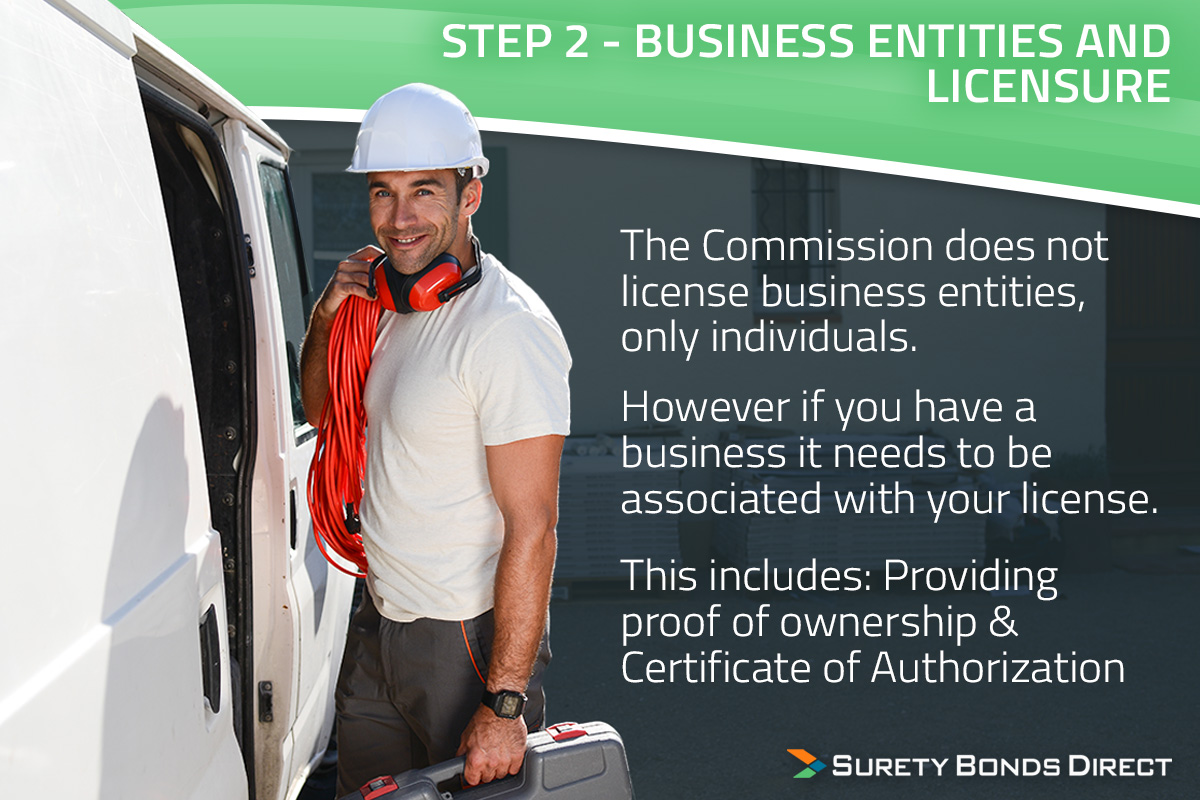 The Commission does not license business entities, only individuals. However, if you're going to be performing contracting work under a corporation, LLC, LLP, or other legal business entity, you will need to provide the appropriate information. Your business name must be affiliated wit your license.
Provide Proof of Ownership
You must own at least 51% of the business entity to have your business name listed on your license.
You must submit the paperwork you filed with the South Carolina Secretary of State (articles of incorporation).
In the application packet, there is a proof of ownership affidavit that you must complete.
Certificate of Authorization Form
This is a legal document and form acting as a company license. This document states a residential licensee takes responsibility for any residential building or construction services that the associated business entity offers.
There is an application fee of $100 (check or money order).
Step 3 - After The Residential Builder License Application Is Submitted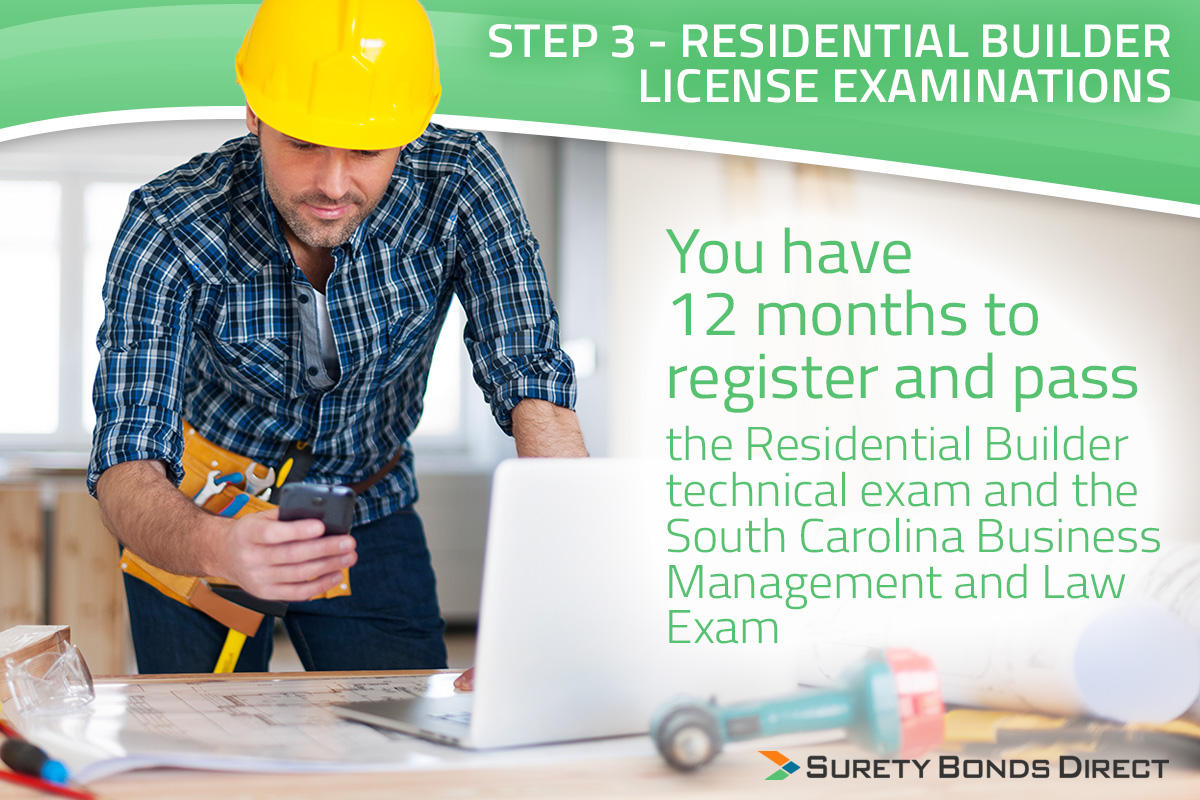 Once the Commission reviews your initial application, you will be sent an examination letter, valid for one year. You then have 12 months to register and pass:
The Residential Builder technical examination
The South Carolina Business Management and Law Exam
All examinations are conducted through PSI. Costs for courses and study materials are the responsibility of the applicant.
Three attempts are permitted to pass each exam. If you fail all three attempts, you will have to wait 12 months from the date of the last failure before you can retry.
Exam Waiver
The Commission allows an individual to waive the technical exam requirement. However, every licensee must take the Business Management and Law exam regardless of other licenses and experience.
To waive the technical examination, you must hold an active license through examination from one of the following states:
Alabama
Georgia
Louisiana
Mississippi
North Carolina
Utah
You can also have a successful examination from:
SC Contractor Licensing Board
If you choose to waive the technical exam, you'll be limited to non-mechanical work only and have to subcontract out to provide:
Electrical work
Plumbing work
HVAC work
If you take and pass the Residential Builder technical exam you will be licensed to perform these mechanical trades yourself. Just because you can waive the technical examination, doesn't mean it's the right decision for your business.
Step 4 - Application Fees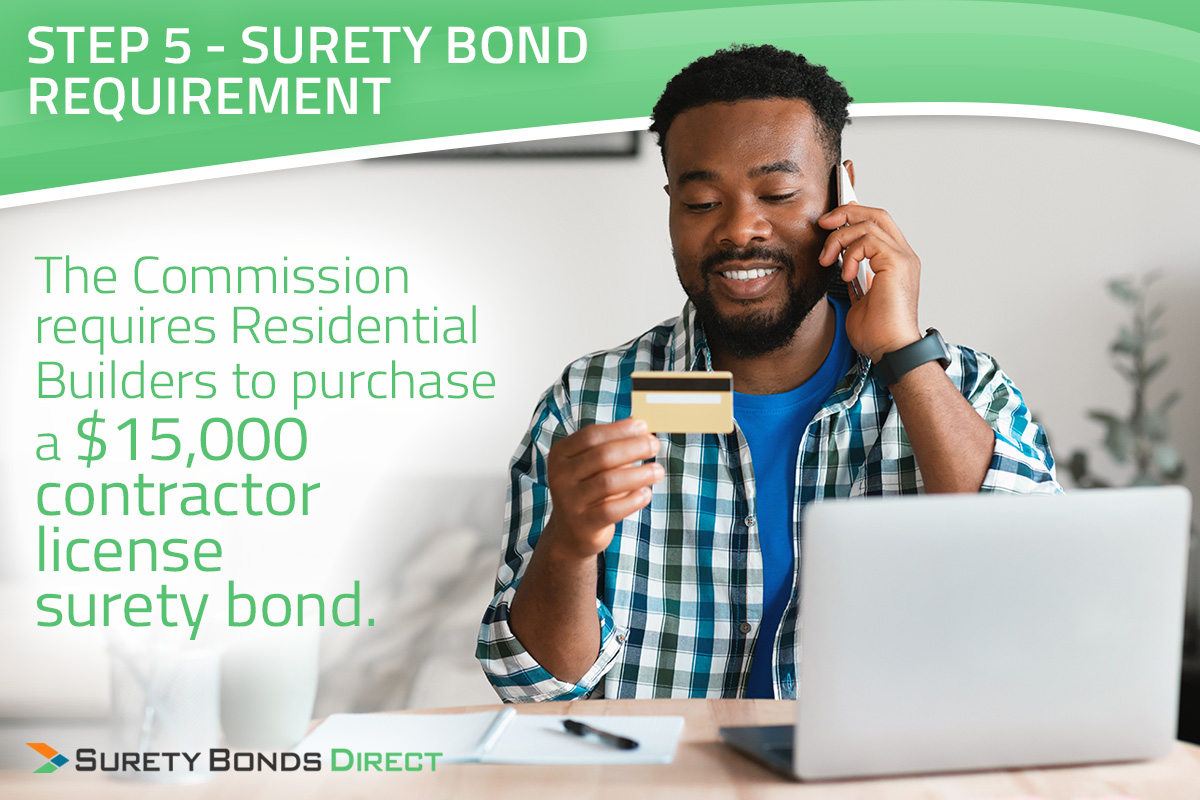 Application Fees
Once you take and pass your exams, you can submit your scores and application fee to the Commission.
The South Carolina Residential Builder License is good for a two year term. Each license must be renewed on June 30th of each even year. The fee is:
$220 for a term that is longer than 12 months
$110 for a term that is for shorter than 12 months
When you renew your license, you'll have to pay the full $220 for the next two-year period.
Step 5 - Contractor License Surety Bond
The Commission requires a surety bond, or contractor license bond, in the amount of $15,000. This bond can be purchased for one, two or three, year terms. More on this in the pricing and how to get a surety bond section.
What is a Surety Bond?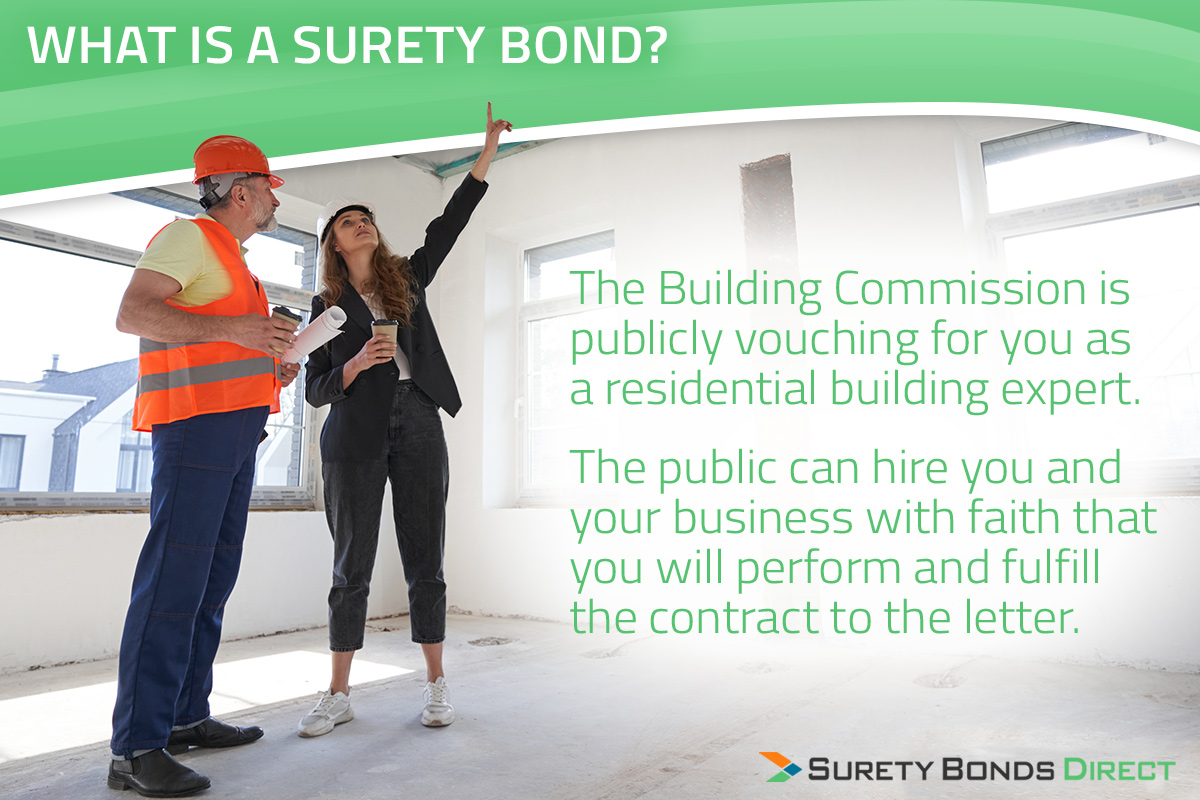 A surety bond is a legal insurance contract financially binding you to the promises of performing your work with good faith and ethics.
The South Carolina Residential Builders Commission is called the Obligee, the organization that requires the bond.
The surety is the insurance company that writes the bond.
You are the principal.
Think of a surety bond like this:
The Building Commission is publicly vouching for you as a residential building expert. The public can hire you and your business with faith that you will perform and fulfill the contract to the letter.
The surety bond protects customers and subcontractors from negligent or fraudulent contractors who:
Fail to complete a contract on purpose
Fail to follow South Carolina building codes
Swap our materials on a project to save money
Refuse to pay subcontractors for work completed
Essentially, any fraudulent action causing financial damage to your customers and/or subcontractors is protected by the surety bond.
The surety bond provides financial protection, but only up to the bond amount, $15,000. The bond amount is not the cost.
Surety Bond Pricing
Surety Bonds Direct is a specialized contractor bonding agency. This means we work with multiple sureties to find the lowest possible price for a given surety bond.
In the case of residential builder bonds, Surety Bonds Direct can sell residential builder surety bonds for low fixed prices:
1 year bond for $150.00
2 year bond for $263.00
3 year bond option for $375
As you can see the bond term does not have to match your license term. The Commission requires an active bond for as long as your license is active. Renewing a bond is easy. Surety Bonds Direct will contact you in advance of your bond expiring to make sure you pay the renewal term and keep your surety bond from lapsing.
Step 5 - Contingent Application Steps
Criminal Background Check
If you answer yes to any of the "General Information" questions on the application, you will need to provide a criminal background check. If any of the crimes are federal in nature, you'll have to provide an FBI background check.
Judgement and Liens
If you answered yes to any judgement and lien question you'll need to satisfy any liens or you can submit a repayment plan showing how you will resolve any liens. If you don't have a repayment plan and the lien is outstanding you'll need to appear before the Commission.
The Commission will conduct a credit check on applicants who answer "yes" in the "General Information" section. The Commission searching for any outstanding liens, judgements, arrests, or litigations, on the credit report, not the credit score.
When You Need To Purchase Your Surety Bond For The Lowest Price Choose Surety Bonds Direct
Hopefully this article helped make the application process for residential builders in South Carolina clear.
When you need to purchase your surety bond, Surety Bonds Direct will make it easy. You can quickly purchase your residential builder bond and have the completed bond sent to you within one business day.
If you have any questions regarding the bonding process, call a bond specialist at 1-800-608-9950.