South Carolina's Contractor Licensing Board has very clear rules regarding different contractor licensing classifications. Each classification has it's own responsibilities and when you start to bid on and win commercial projects over $10,000, you'll need to ensure you have the proper General Contractor or Mechanical Contractor licenses.
This short article will detail the South Carolina General and Mechanical Contractor license requirements, including:
How this differs from other contractor licenses
The licensing term and licensing fees
Exam requirements
Licensing limitations
Financial statements and contractor bonding
The South Carolina General Contractor And Mechanical License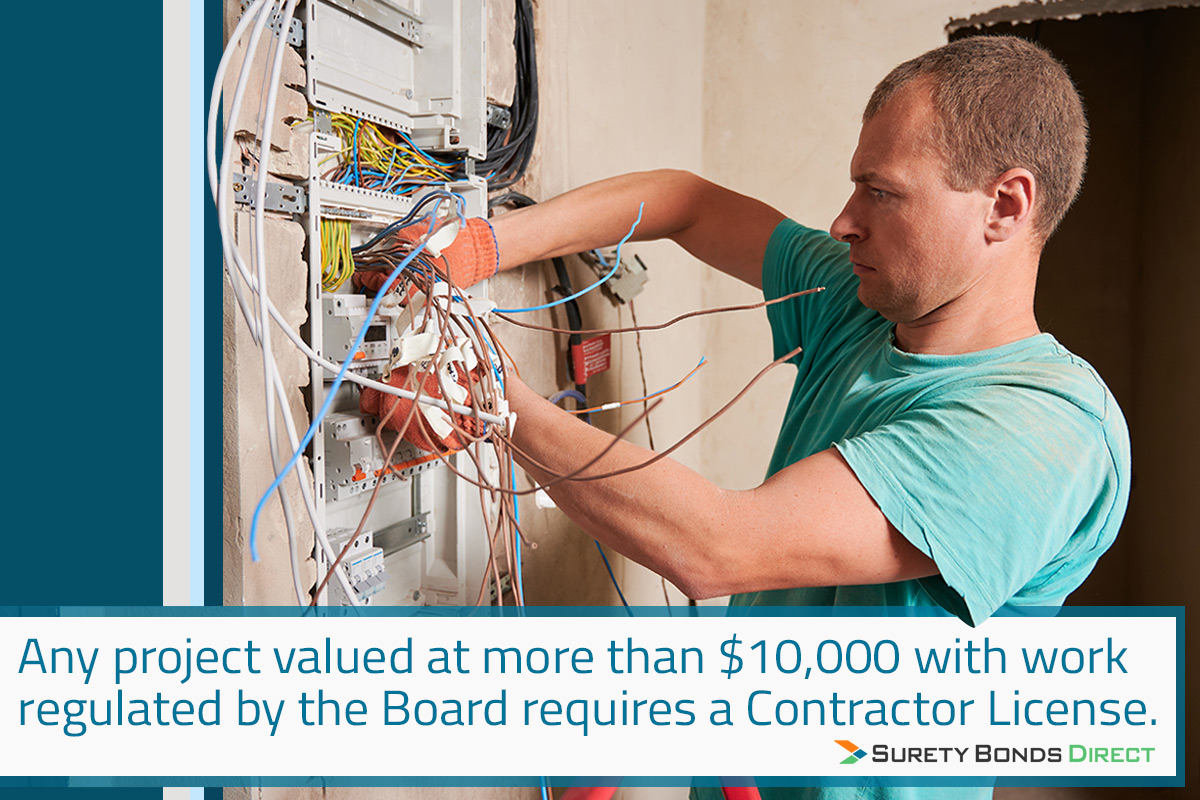 Obtaining a General Contractor and/or Mechanical Contractor license allows a contractor to complete both commercial and residential projects. If a contractor is only interested in performing only residential work, South Carolina has the Residential Builders Commission and the Residential Builder license.
Any project valued at more than $10,000 with work regulated by the Board requires a Contractor License.
There is an extensive list of non-regulated contracting work. Some examples include:
Asbestos removal
Billboards
Cleaning ducts, storm drains, sewer lines
Demolition
Fencing excluding concrete, masonry, or electric
Landing clearing
Landscaping
Scaffolding
A license is required for the following work:
The final connection of internal electrical work to the power source requires the "Electrical" license classification
Duct work that involves disassembly, modification, repair, or replacement requires a license
Storm drains, water lines, and sewer lines beyond cleaning require a license
Communication towers require a "Structural Framing" license while a communications building requires a "Building" license amount others
Asphalt or concrete surface work requires an "Asphalt Paving" and "Concrete Paving" classification
Electric fencing requires a "Burglar Alarm" license
Water based systems in a building require a "Fire Sprinkler" classification
Download the full list at the same page linked to above.
As you can see most major building, updating, and repairing work will require a contractor license be in general or a sub-contractor classification.
There are currently over 30 general contractor classifications including:
Building License
Limited building contractor
Unlimited building contractor
Highway Classification
Bridges
Concrete paving
Asphalt paving
Grading
Highway incidental*
Highway contractor (all)
Public Utility Classifications
Pipe lines
Water and sewer plants
Water and sewer lines
Specialty Subclassifications
Boiler installation
Boring and tunneling*
Concrete
Glass and glazing
Marine
Masonry*
Miscellaneous metals*
Nonstructural renovation*
Pre-engineered metal buildings
Public electrical utility
Railroad lines*
Roofing
Structural framing
Swimming pools
Wood frame structures
Mechanical Subclassifications
Air conditioning

Electrical

Heating

Lighting protection systems

Packaged equipment

Plumbing

Pressure and process piping

Refrigeration

Stared classifications do not require a technical exam.
Getting your General Contractor license requires you to know the license you want to obtain. Remember as a general contractor you must either have the classification license to perform the work or hire the appropriate sub-contractor to perform the work on your projects.
General contractor licenses expire on October 31st of even numbered years. Mechanical contractor licenses expire on October 31st of odd numbered years.
Getting a South Carolina General Contractor License
Step 1: Designate a Primary Qualifying Party (PQP)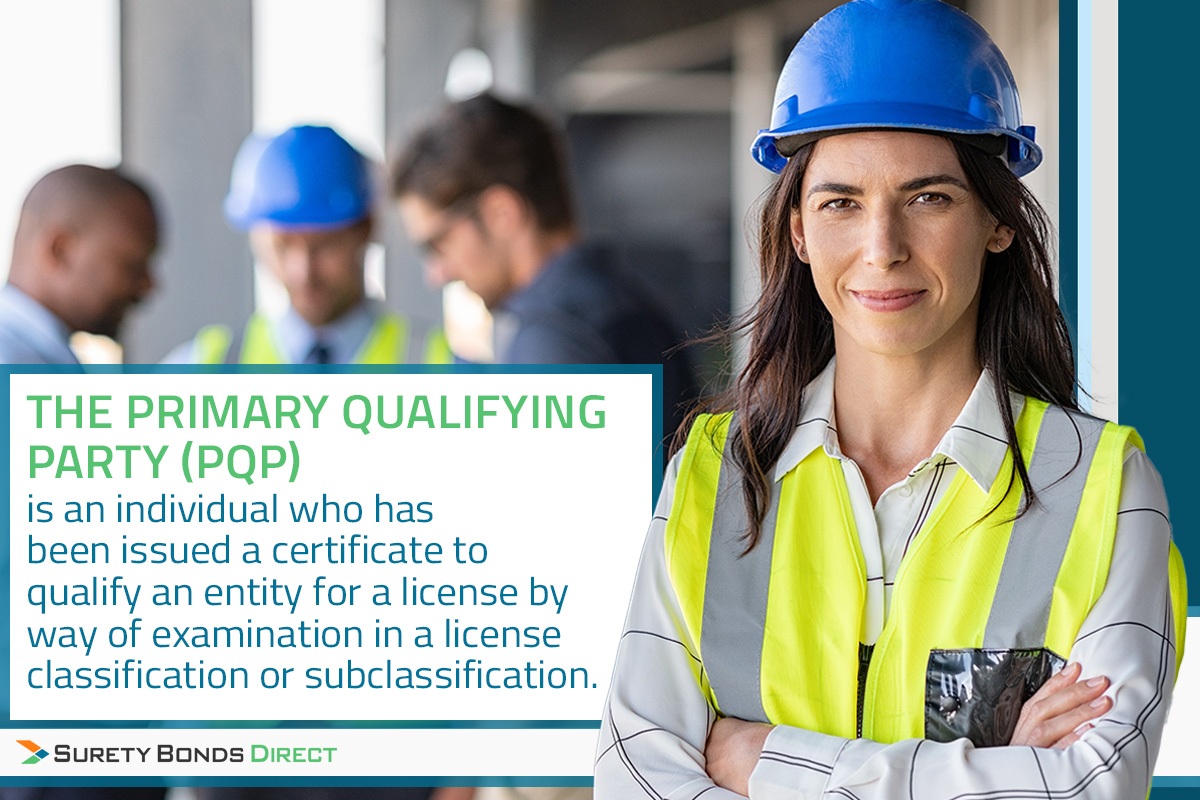 A PQP is an individual who has been issued a certificate to qualify an entity for a license by way of examination in a license classification or sub-classification.
This individual is responsible for directing or reviewing work performed by the applicant in the specific classification, in this case any General or Mechanic classification work.
This individual is responsible for taking the necessary examinations.
Step 2: Examination and Technical Examination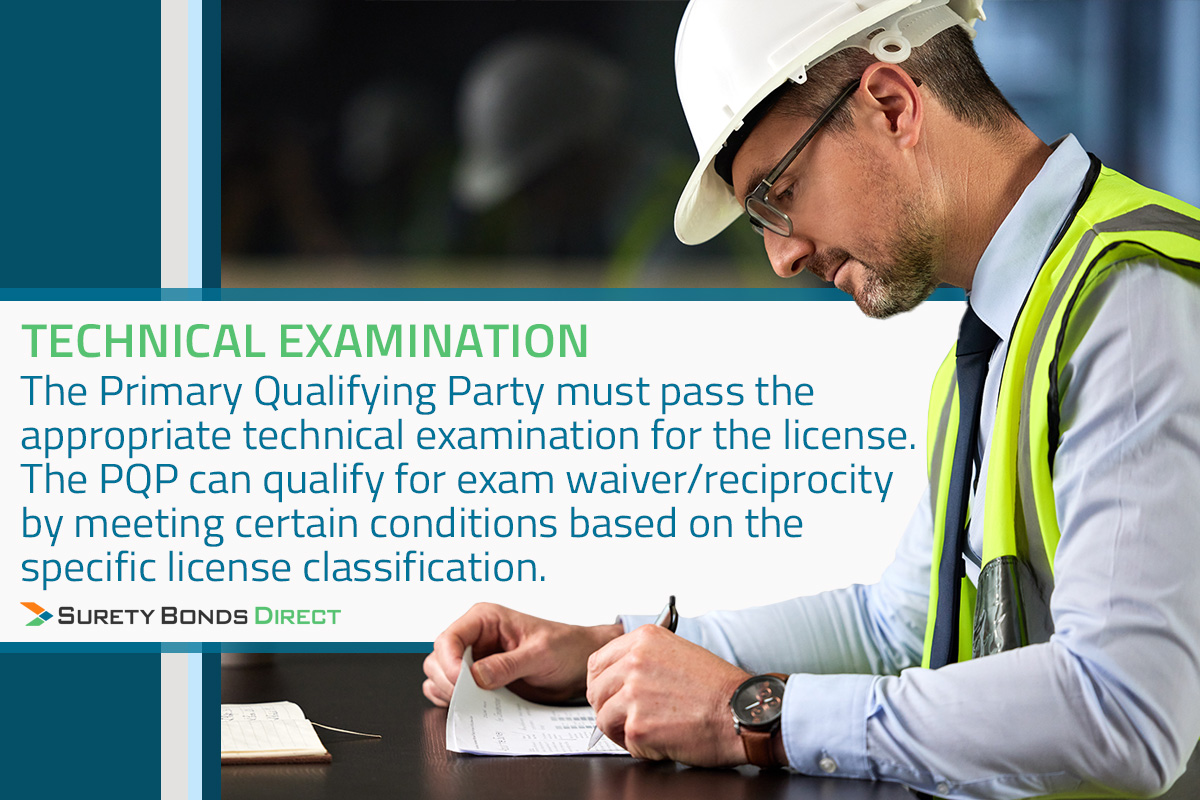 To be eligible for certification as a qualifying party the individual must:
1. Application by Examination
Each license classification has it's own technical exam requirements. To obtain any license classification (except those identified above) the PQP must submit passing score with the final application packet.
To be eligible for the necessary technical exam the PQP must have:
At least 2 years of work experience performed within the past 5 years using the Work Experience Affidavit
Experience should include primarily commercial work
Most technical exams are given through PCI Online. A couple classifications are covered by NASCLA.
2. Application by Exam Waiver/Reciprocity
The individual can request exemption from examination if:
Classifications: Electrical, Plumbing, Air Conditioning & Heating
If you're getting licensed for the electrical, plumbing or air conditioning classifications, the PQP can submit the corresponding certification letter from the Municipal Association of South Carolina:
Master electrician certification obtained prior to December 1990
Master plumber certification obtained prior to December 1990
Master mechanical (HARV) classification obtained prior to September 7, 2013
Technical Exam Waiver Agreement List
If you have passed specific technical exam from another state, it can allow you to waive the equivalent technical exam in South Carolina.
The full list can be downloaded at this link under the "Apply for a Qualifying Party Certification"
Qualifying states include:
Alabama
Georgia
Louisiana
Mississippi
North Carolina
Ohio
Pennsylvania (Reading, PA only)
Tennessee
Texas
Utah
Keep in mind for these exam waivers to be valid, you must have passed the appropriate exam. If you obtained a waiver in the state based on their rules this will not translate to South Carolina.
NASCLA Exam
A current NASCLA exam can exempt the PQP from the Unlimited General Contractor and Electrical Contractor respectively:
Commercial General Building Contractors
Electrical Contractors
Non Technical Exam Classification
There is no technical exam requirement for:
Nonstructural renovations
Masonry
Highway incidental
Structural shapes
Railroad lines
PQPs obtain these classifications can submit a Work Experience Affidavit with the application packet. The affidavit must include 2 years of work experience that has been performed within the last 5 years for each classification being applied for.
For testing details and help on how to prepare, refer to PSIs South Carolina Department of Labor, Licensing, and Regulation.
Step 3 - Determine Classification Group Limits
The bid and job limits for a Contractor License are determined by a provided financial statement or surety bond. A financial statement or a contractor license bond must be submitted with with all initial application and renewal applications.
Here's a table showing the financial limits and the bonding requirements to substitute the financial requirements.
General Contractors
| Group | Bid & Job $$ Limitation | Working Capital | Net Worth / Equity | Surety Bond |
| --- | --- | --- | --- | --- |
| Group #1 | $100k | $10,000 | $20,000 | $20,000 |
| Group #2 | $400k | $40,000 | $60,000 | $60,000 |
| Group #3 | $1mm | $100k | $150k | $150k |
| Group #4 | $3mm | $175k | $250k | $250k |
| Group #5 | Unlimited | $250k | $350k | $350k |
Mechanical Contractors
| Group | Bid & Job $$ Limitation | Working Capital | Net Worth / Equity | Surety Bond |
| --- | --- | --- | --- | --- |
| Group #1 | $35,000 | $3,500 | $7,000 | $7,000 |
| Group #2 | $100k | $10,000 | $15,000 | $15,000 |
| Group #3 | $200k | $20,000 | $30,000 | $30,000 |
| Group #4 | $400k | $40,000 | $60,000 | $60,000 |
| Group #5 | Unlimited | $200k | $300k | $300k |
The Financial Statement
A financial statement must be prepared by a licensed CPA and include no more than the preceding 12 months showing a net worth or working capital for the relevant license group.
Personal financial statements of an business entity's principal members that's be operating for less than 2 years is accepted only for initial applications.
A parent company's financial statement will be accepted if it's noted in the "notes" section or by an accompanying letter that the licensee entity if fully owned by the parent company.
South Carolina Contractor License Bond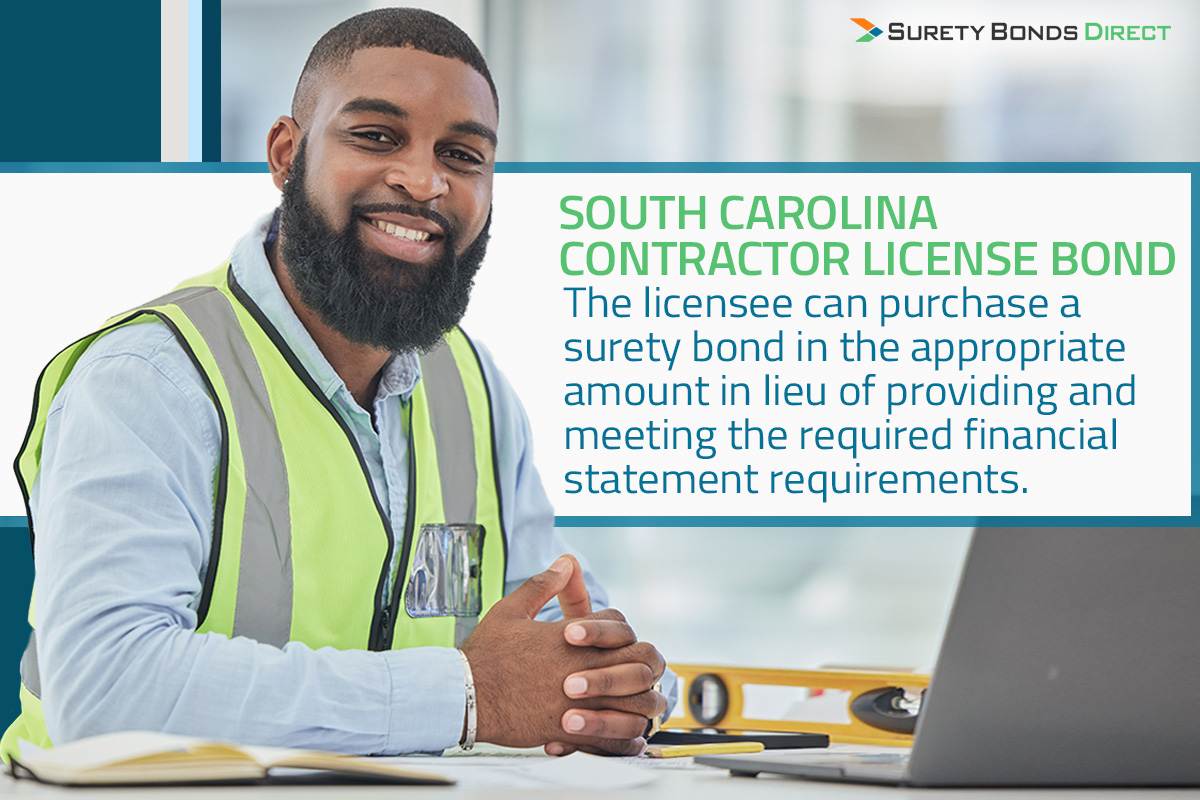 The licensee can purchase and submit a surety bond in the appropriate amount, but what is a surety bond?
A surety bond or, in this case, a contractor license bond, is how you get bonded. It's an insurance contract and indemnification a contractor purchases as a financial promise that they will follow South Carolina's contractor licensing guidelines and perform all work according to the contracts they engage in with their customers.
Unlike typical insurance policies, a surety bond is purchased by the contractor for the protection of customers and the State of South Carolina in the cases where a contractor or their employees may:
Complete subpar work that breaks contract stipulations
Performing work that doesn't meet building codes
Purposefully swapping out building materials to save money
Not paying sub-contractors
In short, any purposeful fraud committed against a customer is what the surety bond protects against.
In any of these cases, the surety bond protects the customer and State because they can make a claim against the bond for financial recourse.
How Do You Get a Surety Bond
Surety bonds are underwritten by insurance companies called sureties. However the best way to get a surety bond and pay the lowest possible price is using a specialized surety agency like Surety Bonds Direct.
Get Your Contractor Bond Cost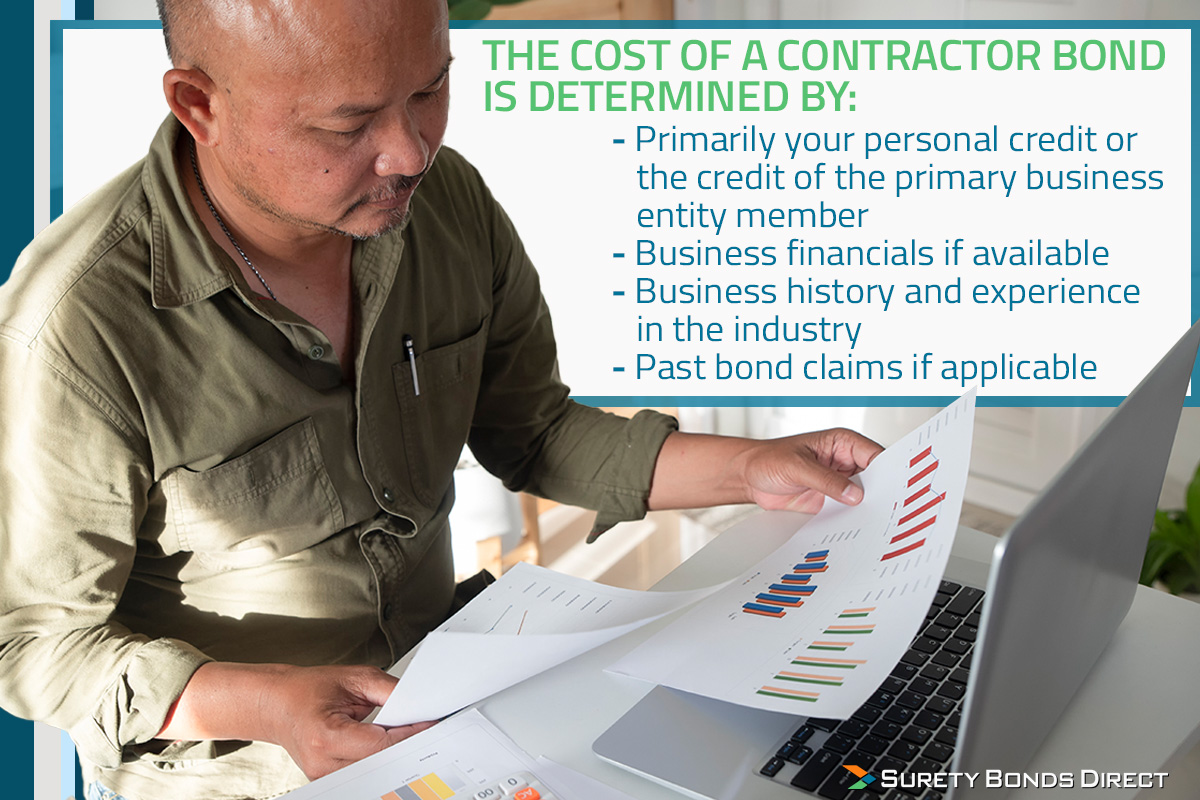 Both general contractor and mechanical contractor bonds require a quote to determine the cost you would pay for the bond.
Each surety determines rates based on their own criteria. But in general your rate will be determined by:
Primarily your personal credit or the credit of the primary business entity member
Business financials if available
Business history and experience in the industry
Past bond claims if applicable
The rate quoted by the surety multiplied by the required bond amount is the cost you have to pay for the bond term.
Most sureties will write the South Carolina contractor bond for a two year term to correspond with the license term of two years. A few sureties will only write the bond for a single year, but either way, the bond is continuous. This means as long as you pay the renewal premium, your bond remains active.
This is another reason why using a specialized surety agent like Surety Bonds Direct is so valuable. When your bond's renewal approaches, we will help you obtain a new quote and try to get a lower rate if possible. We make it easy and fast to renew your bond so you can renew your license with ease.
Additional Licenses
Once you receive your license from the South Carolina Contractor's License Board, you're good to bid on jobs. Keep in mind some cities and counties in South Carolina may require additional licenses or job permits. These will come with their own fees.
The South Carolina Licensing Board recommends you use the Municipal Online Directory to find the phone number for the business or permit department.
You can search the county directory to do the same if the job is for a county rather than a city.
When You Need Your Contractor License Bond Call Surety Bonds Direct
As you're getting your general contractor application together, try and get your surety bond pricing from the start. This will keep you from rushing to purchase your bond and potentially delay submitting your application. Starting the quote process takes about two minutes.
You can start the quote process online with our free bond quote form. If you'd prefer to speak with a LIVE bond specialist, call 1-800-608-9950.
If you have any questions about getting your bond or about contractor bonds in general, please contact us or call us. We have bond specialists ready to help.