Licensed, Bonded and Insured: Understanding the Differences
What does "licensed, bonded and insured" mean? We explain the differences between these three terms and why all three are important for construction contractors.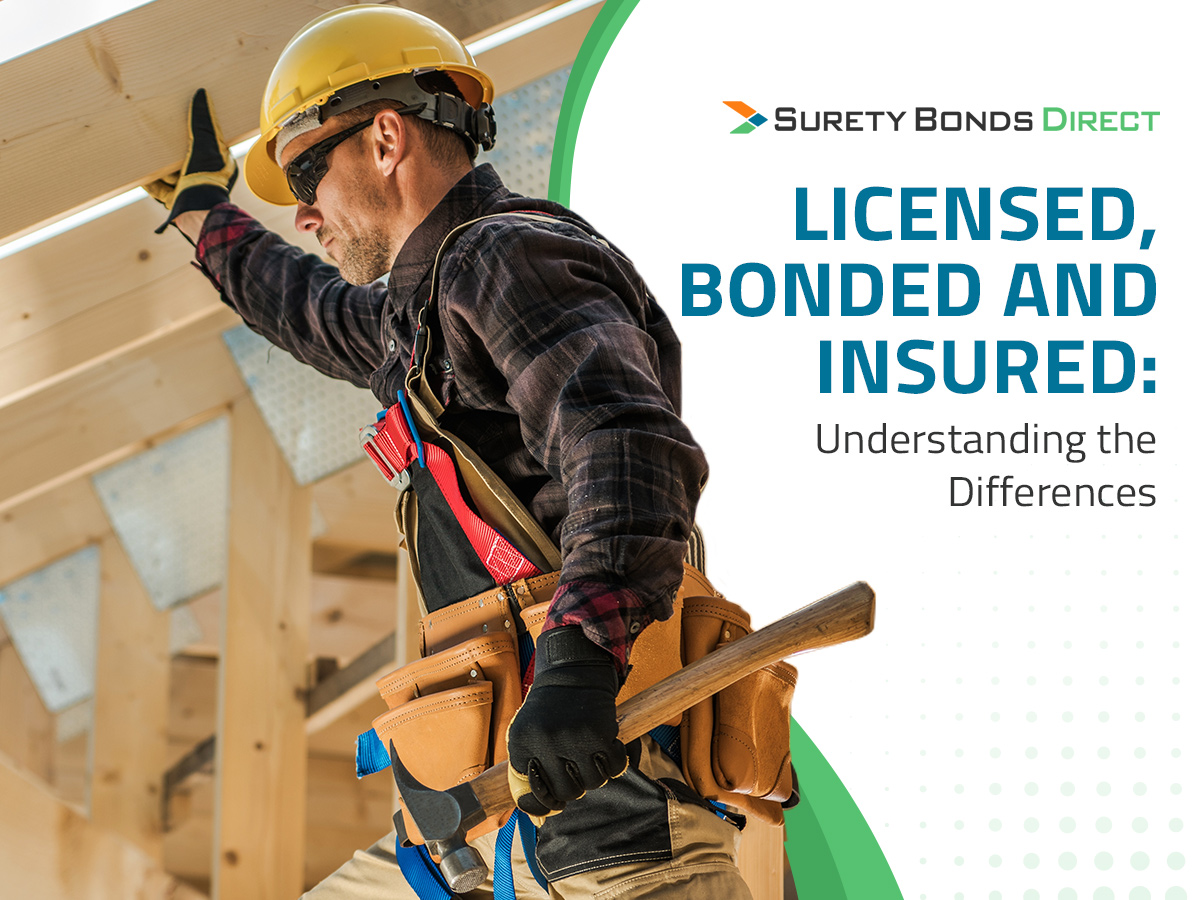 Anyone who works in construction or has hired a contractor recently knows that nearly every construction contractor advertises their business as "Licensed, Bonded and Insured." These are the basic requirements that any trustworthy contractor should fulfill. But it's also important to be aware of exactly what each term means because each is a very different concept.
Knowing the differences between licensing, bonding, and insuring is key for anyone who owns, manages, works for or hires a construction contracting company. What does bonded mean, and how does it differ from being insured? Does a contractor need a bond and insurance to receive a license? What kind of contractor insurance policies do most contractors need to carry? And which businesses other than contractors need to be licensed, bonded and insured? Below, we'll discuss these questions, the definitions of each of the three concepts and what each one means for a business in today's landscape.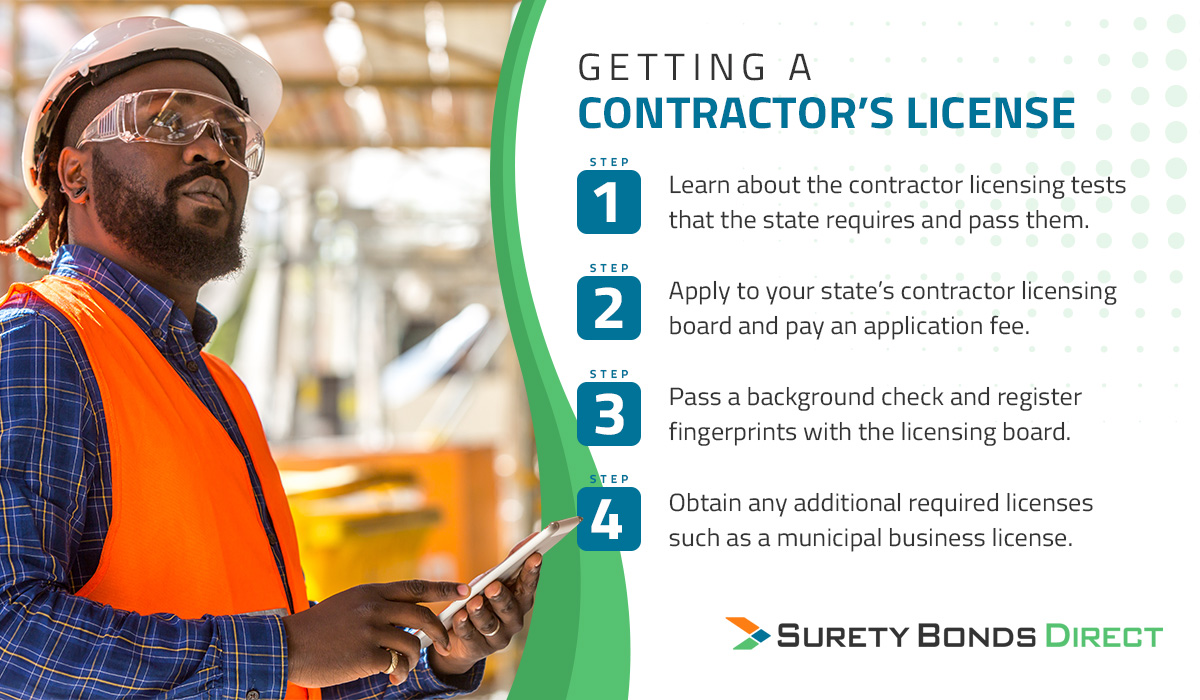 Licensed: Getting a Contractor's License
Licensed means that a contractor has a valid contractor's license from a state and/or local contractor licensing authority. In most U.S. states, the law requires a construction contractor to apply for and receive a contractor's license before they can accept contracts. This license is typically issued by a state licensing board.
The purpose of a contractor licensing system is to ensure that every contractor working in the state or municipality has a basic level of knowledge, competence and financial stability. Additionally, a licensing system helps ensure that there are channels available for clients, creditors and governments to hold a contractor accountable in the event of a dispute. Since contractor fraud is relatively common, these regulatory systems are critically important for creating accountability.
One important element of contractor licensing systems is testing. Most states require contractor license applicants to take at least one exam that tests the applicant's knowledge of the field of construction. In some states, contractors need to take additional tests for specialty trades such as HVAC or plumbing.
Submitting financial records is another common requirement in contractor licensing processes. The state licensing board wants to know that a contractor is financially sound enough to become a stable business. For this reason, a contractor should come prepared to submit bank statements, tax records and other essential financial documents during their licensing process. The licensing board will usually also check a contractor's FICO score and may impose additional requirements on applicants with low scores. In some cases and states, a designated Financially Responsible Officer must be bonded.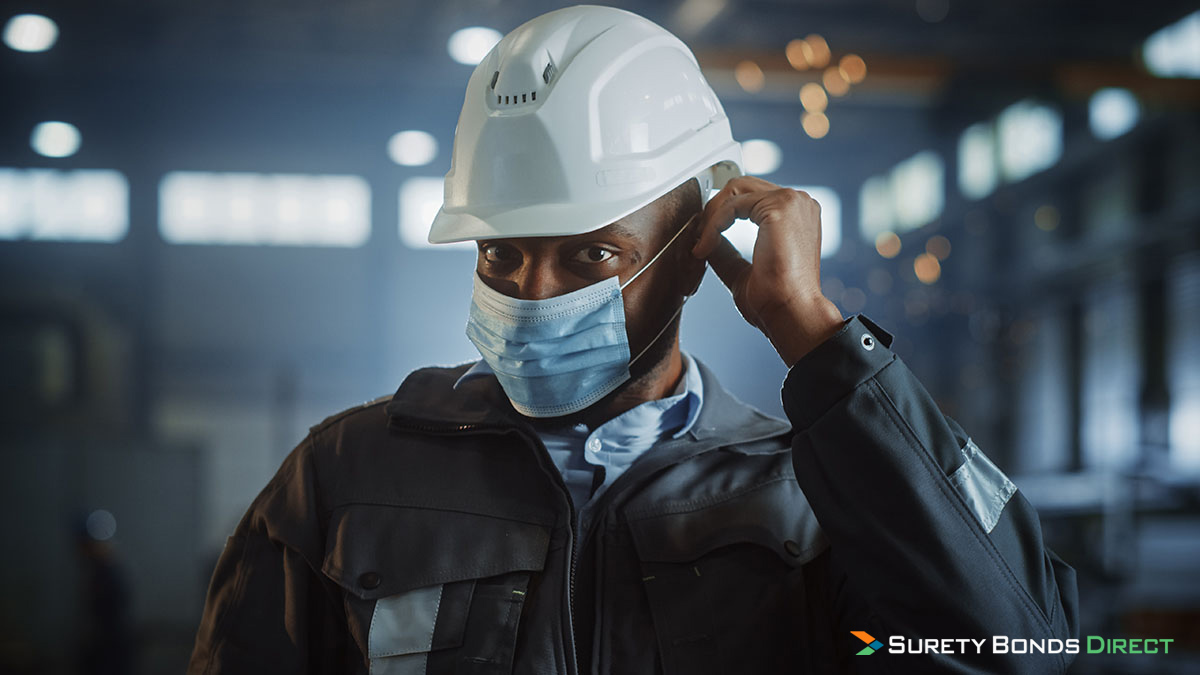 Many states have a tiered or subdivided contractor license system. In such systems, the state's requirements for licensing are differentiated based on the monetary value of the contractor's contracts and/or the type of services that the contractor offers. Contractors that accept large commercial construction contracts might need a different type of license than contractors that only perform home remodeling, and subcontractors who only do plumbing or electrical work might need still other types of licenses. The process for becoming a licensed contractor can differ substantially, depending on which state the contractor is seeking licensure in. However, in most cases, the process will involve steps similar to the following:
Learn about the contractor licensing tests that the state requires. Study for, take and pass all required tests.
Apply to your state's contractor licensing board. The application process will usually require paying an application fee. The contractor will also typically need to submit documents that include (note: requirements vary by state):

Financial records
A business plan, including the types of work the contractor will perform
Proof of a passing score on relevant contractor exams
Proof of insurance
Proof of a contractor surety bond

Pass a criminal background check and register fingerprints with the state licensing board.
Obtain any additional required licenses such as a municipal business license.
A license is the bare minimum that any responsible contractors need before they begin to accept contracts. All contractors should be fully licensed as required in their jurisdiction, and anyone hiring a contractor should check their state's contractor database to ensure that the contractor is licensed. However, a license is only one part of the picture — the surety bonds and insurance that are required to obtain that license are equally important.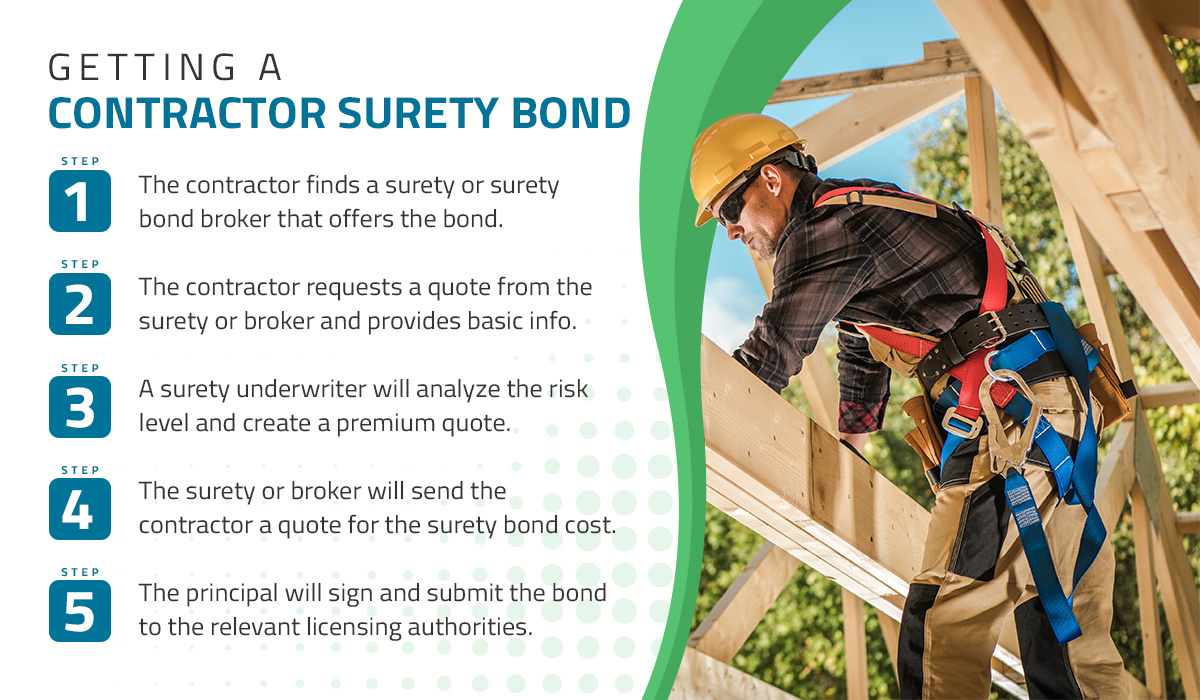 Bonded: Getting a Contractor Surety Bond
Bonded means that a contractor has purchased a surety bond to guarantee its legal and financial obligations. Most states, and many local governments, require construction contractors to obtain contractor surety bonds. In fact, as we've just seen, a contractor bond is often a necessary precondition for obtaining a contractor's license. But what is a surety bond? At its most basic level, a surety bond is a legally binding three-party contract. The relationship between the three parties works as follows:
The principal, in this case the contractor, is the business that pays the surety to guarantee their obligation.
The obligee, in this case the state licensing board, requires the surety to obtain the bond and can file a claim against the bond if they believe that the principal has violated the contract's terms.
The surety, an insurance company or surety bond company, guarantees the principal's obligation in return for a premium.
The bond contract specifies the conditions of legal and ethical conduct for a contractor. If the obligee, or one of the contractor's clients, believes that the contractor has violated the bond's terms, the injured party has the right to file a claim against the bond if they cannot obtain compensation from the contractor.
When an obligee or client files a bond claim, the surety will verify that the claim is factual and covered by the bond. If the claim satisfies these conditions, the surety will pay the claimant, with the maximum payout determined by the bond's coverage amount—also known as the penalty sum. The bonded principal must pay the surety back the full amount paid out to a claimant.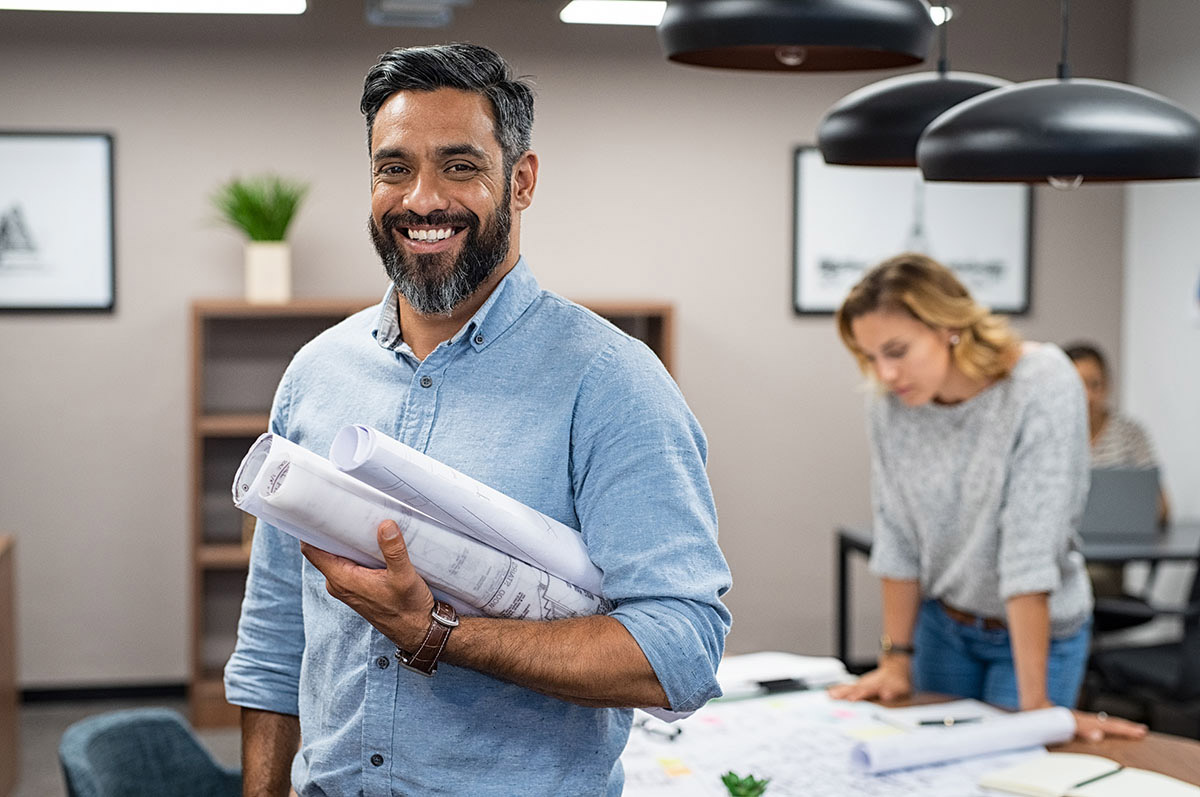 State governments require surety bonds because a surety bond helps create legal and financial accountability for contractors. The bond guarantees that an injured party will be made whole, even if a contractor is unable or unwilling to pay. The process of obtaining a surety bond works as follows:
The contractor finds a surety or surety bond broker that offers the contractor bond they need.
The contractor requests a quote from the surety or broker and provides their basic financial and business information.
Because sureties want to bond principals who are less likely to cause claims, a surety underwriter will analyze the contractor's risk level and create a premium quote based on the results.
The surety or broker will send the contractor a quote for the surety bond cost. The contractor may pay the premium or look for another quote.
Once the contractor pays the premium, the surety sends the contractor the bond paperwork. Generally, the principal will sign and submit the bond to the relevant licensing authorities.
When a contractor advertises themselves as bonded, they're usually referring to contractor license bonds, which guarantee that a contractor will obey the law. Other types of contractor surety bonds also exist, including bid bonds and supply bonds, which are often required as specific conditions of accepting a contract for a construction project. See our guide to contract bonds for more information on the different types of contract bonds that contractors may need to purchase. A contractor may also carry a business service bond to protect customers from theft, larceny, or other unethical behavior by the contractor's employees while on the customer's premises.
Insured: Getting Contractor Insurance
Insured means that a contractor has purchased insurance products to protect against the risks that come with performing construction and maintenance work. These risks can be considerable, and they often increase along with the size and complexity of the project. Common risks include property damage, injuries and workers' compensation claims. It's important to understand the difference between bonding and insurance. For a contractor, one of the biggest differences between insurance and bonding is which entity takes on the risk; an insurance policy transfers the risk to the insurer, while a bond ultimately keeps the risk with the bonded principal (the contractor himself/herself).
For a client, the main difference is in which types of circumstances are covered by bonds vs. which are covered by insurance. Bonds typically cover things like the cost of hiring a new contractor to complete a job if the contractor fails to complete the project or paying subcontractors that the contractor did not pay. Insurance usually covers things like liability from injuries sustained on the job or damage to the client's property. Each U.S. state has its own regulations regarding which forms of insurance contractors must carry. In most states, contractors will need to have some or all of the following types of insurance:
General Liability Insurance: General liability insurance compensates other parties for injuries or property damage caused by the contractor. It also helps cover a contractor's legal fees if another party sues them.
Workers' Compensation Insurance: Workers' compensation insurance ensures that workers (or their families) will be paid when they file a valid workers' compensation claim for an injury or death on the job.
Vehicle Liability Insurance: Vehicle liability insurance covers injuries or property damage caused by a contractor's vehicles.
Pollution Liability Insurance: Pollution liability insurance covers a contractor's liability if they're sued for causing damage to the environment.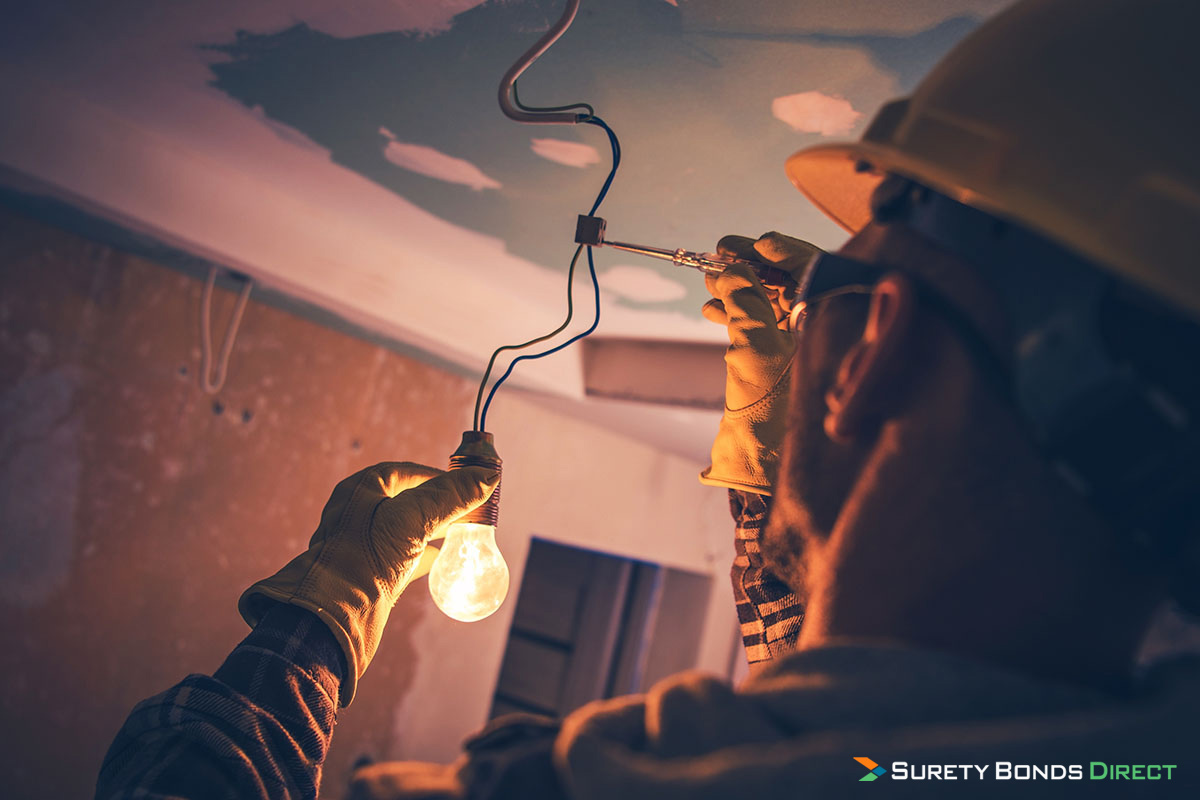 Other optional types of insurance can help cover a contractor's business risks. For example, tools and liability insurance covers the cost of replacing a contractor's tools if they're stolen, lost or damaged outside of normal wear and tear. Such types of insurance usually aren't required, but they can help protect a contractor's most important assets.
To obtain contractor's insurance, a contractor will need to contact an insurance company, agent, or broker and apply for the policies they require. Much like a bonding company, an insurer will use an underwriting process to determine whether an applicant is a good risk. Many insurance companies offer contractor insurance packages that combine multiple insurance products into a single affordable policy.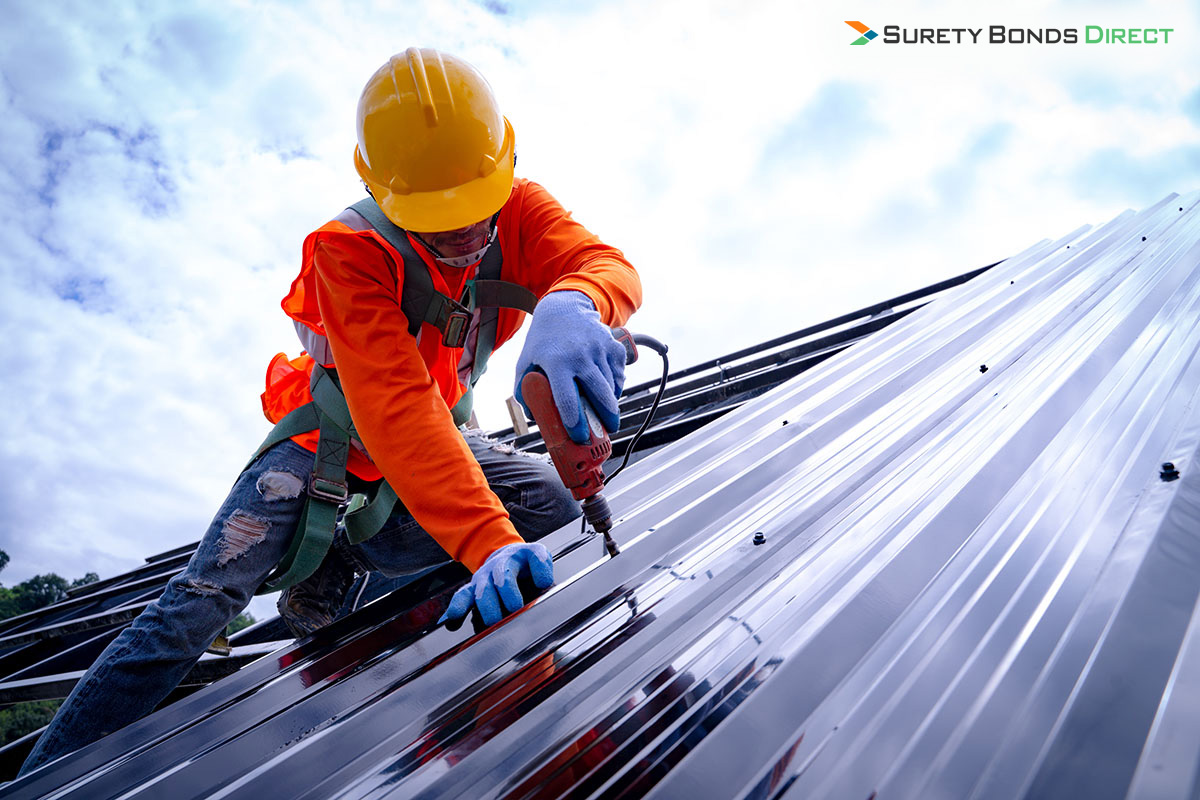 Not Just Contractors: Other Businesses That Should Be Licensed, Bonded and Insured
Construction contractors are the businesses that most often advertise themselves as licensed, bonded and insured. But being licensed, bonded and insured is important for many other types of businesses as well.
Generally, if there is a risk of a business causing damage to a client's property, the business should have insurance and/or a bond. Sometimes, a business may need a license issued by a state licensing authority as well, depending on the type of services the company provides and the licensing laws of the state in which it operates. Some other business types that should be bonded and insured include:
Movers
Home cleaners and janitorial services
Pressure washers
Landscapers
Pet sitters and dog walkers
Home health care aides
Appliance repair
Pest control
Locksmiths
Business service bonds are an excellent choice for many of these business types. A business service bond provides protection for a company's customers against theft or other misconduct committed by employees, and these bonds are often required before a business can accept a contract from a large client. For protection against property damage and injury liability, these businesses should also have standard business insurance policies such as business liability insurance.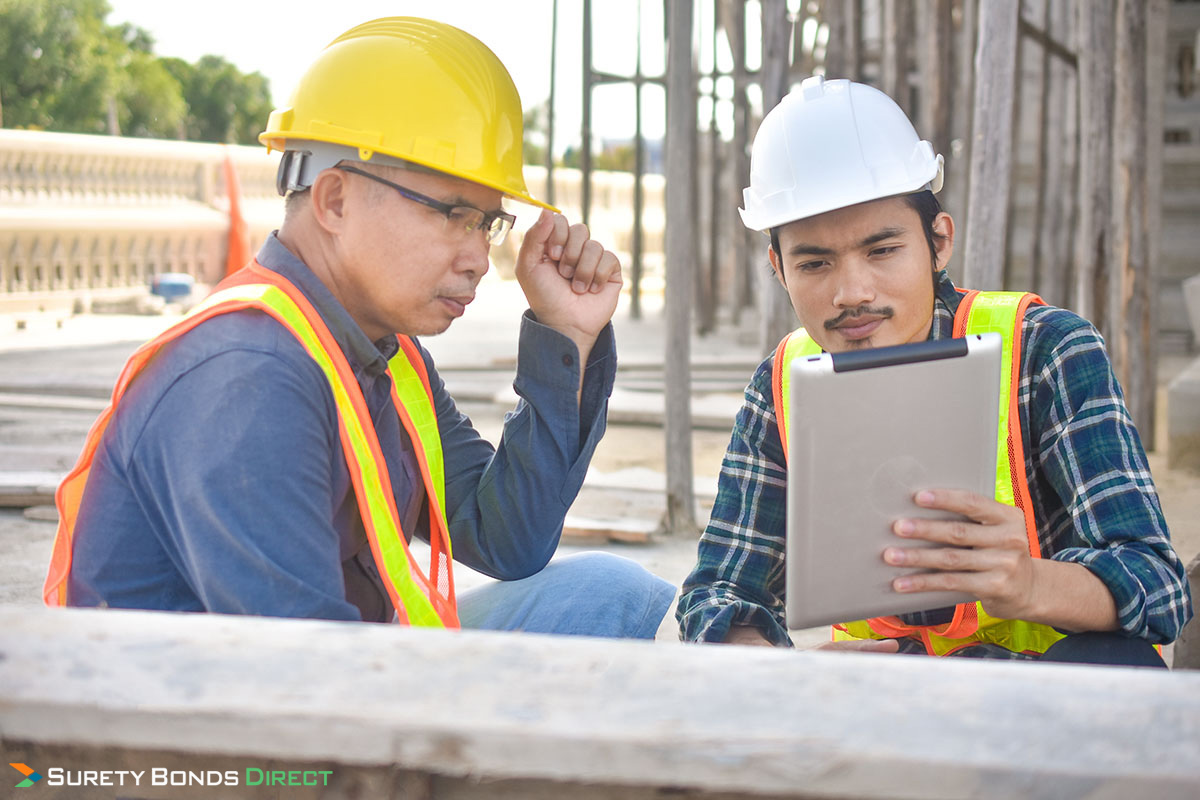 Becoming licensed, bonded and insured is a long and often complex process for a contractor. Getting a surety bond can be the easiest part of it when you work with Surety Bonds Direct. We work with a wide network of AM Best A Rated sureties to help ensure that contractors can get the surety bonds they need at a price they can afford. Our process is so fast and so easy that Investopedia selected us as the best overall surety bond company of 2021.
Get started today with a free online quote on your surety bond, or speak to our bond experts directly at 1-800-608-9950.
May 3, 2021

Jason O'Leary