Has a government licensing authority told you to purchase a surety bond?
Maybe a potential client is requiring your business to be bonded before they'll consider you for a contract?
Have you secured a municipal construction project and the city is requiring proof you'll perform the job according to the contract?
If you're required to obtain an occupational license or you need to be bonded, it's likely you've be told to purchase a surety bond. No mention of:
The type or name of the surety bond
Where to get the surety bond
What a surety bond is
Or why a bond is required in the first place
This article will cover the 3 steps to get a surety bond:
Step 1: Know the bond you need
Step 2: Find a specialty surety bond agent
Step 3: Obtain a quote and purchase your bond
Plus you'll learn what a surety bond is and why it's required.
The 3 Steps On How To Get a Surety Bond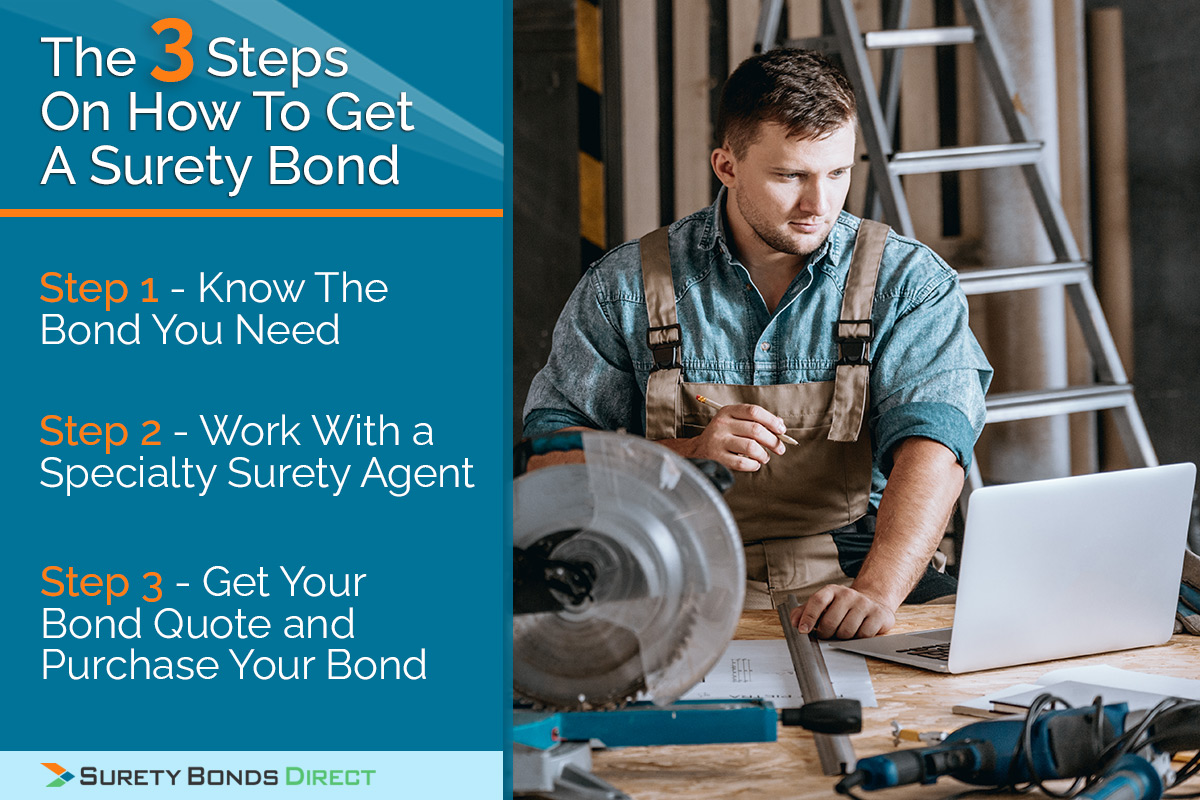 Step 1 - Know The Bond You Need
Technically, surety bonds don't have specific names. A surety bond is a legally binding form required by a government or entity.
To discover the "type" of surety bond you need, start with who is requiring you to purchase a surety bond. This will determine the "type" of bond you need and a specialty surety agent will be able to secure the correct form for you.
This is easy to understand once you see some examples of entities requiring a surety bond.
Federal, State, County, Municipal Government Required Bonds
A government requires a surety bond primarily for:
Licensing
Performance contracts
Licensing
If you're getting licensing through a government agency, the "type" of bond you need is most likely:
"Type of license" + "bond"
For example:
There are many more depending on a specific government's requirements. Surety Bonds Direct has a surety bond search where you can search for the specific license/bond you're applying for. This will help you find the specific bond you need.
Performance Contracts
Most performance based bonds required by a government are for construction projects.
If you're bidding on a government construction project, you'll likely need a:
Bid bond
Performance bond
Payment bond
A performance bond guarantees satisfactory completion of a government project under the agreed upon terms between the government and the contractor.
A bid bond, if required, is submitted with the bid for the project and demonstrates to the project owner that you're "bondable."
A payment bond, if required, guarantees the general contractor will pay all subcontractors and suppliers.
Court Required Bonds
Courts require a variety of bonds for different reasons. Similar to a license bond above, the bond you require will be:
"Role you're performing" + "bond"
These types of bonds are called fidelity (faithfulness) bonds, guaranteeing a promise to act in good faith, properly document, and be fiscally responsible in specific probate court cases.
Let's look at common examples of probate court bonds:
There are other specific surety bonds that courts may require as well depending on the court or circumstance. If you don't see the bond you need, use our court bond search. Surety Bonds Direct will help you find and purchase the bond you require.
Business Or Private Owner Required Bonds
Private businesses and private owners may require your business to be bonded. In some cases your occupational license will satisfy this requirement. In other cases, your business may not require a license.
These types of bonds are also called fidelity bonds and focus more on good faith while on a customer's private property or financial management of retirement funds for an entity.
Common examples include:
Surety Bonds Direct offers fixed price business service bonds based on the amount of the bond and the number of owners and employees. User our bond pricing tool where you can see the cost for different bond amounts and choose the appropriate amount you want.
There Are Thousands Of Surety Bonds
We can't possibly cover all bond "types." Surety Bonds Direct will help you find the specific bond you require with our online bond search or you can call a bond specialist at 1-800-608-9950.
Step 2 - Work With a Specialty Surety Agent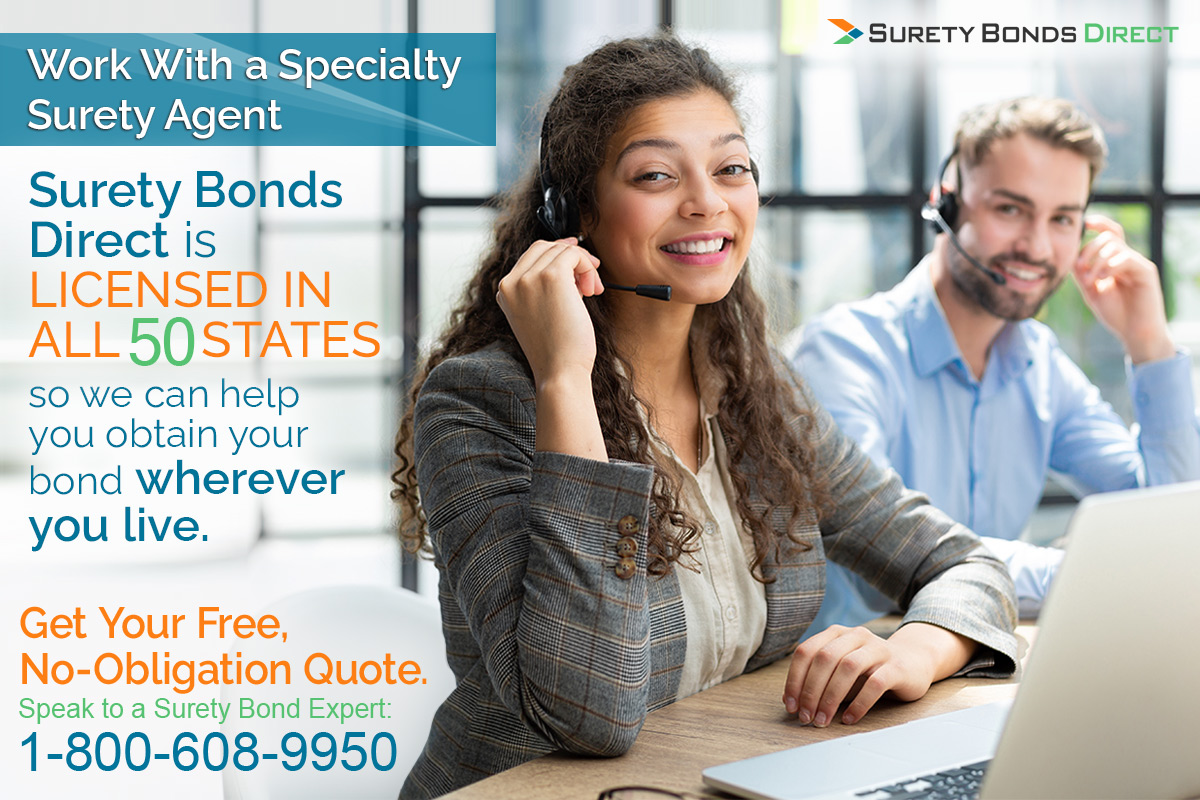 Surety bonds are written by a surety insurance company. However, most surety insurance companies don't work directly with consumers.
A specialty surety agent is a company who has close relationships with multiple surety insurance companies. Through these relationships, a specialty surety agent, can negotiate multiple quotes and secure the lowest price for you bonding needs.
If you were to request a quote with a surety insurance company who does work directly with customers, you would be limited to one price. Plus, it's likely the price would not be as low as a speciality surety agent can negotiate. A specialty surety agent leverages years of building a business relationship, which consumers can't do.
Surety Bonds Direct is a specialty surety bond service. We have developed direct relationships with the top surety companies. You can access these relationships and request a free bond quote online. If you prefer, you can speak with a bond specialist to purchase the precise surety bond you need. Call us at 1-800-608-9950.
Step 3 - Get Your Bond Quote and Purchase Your Bond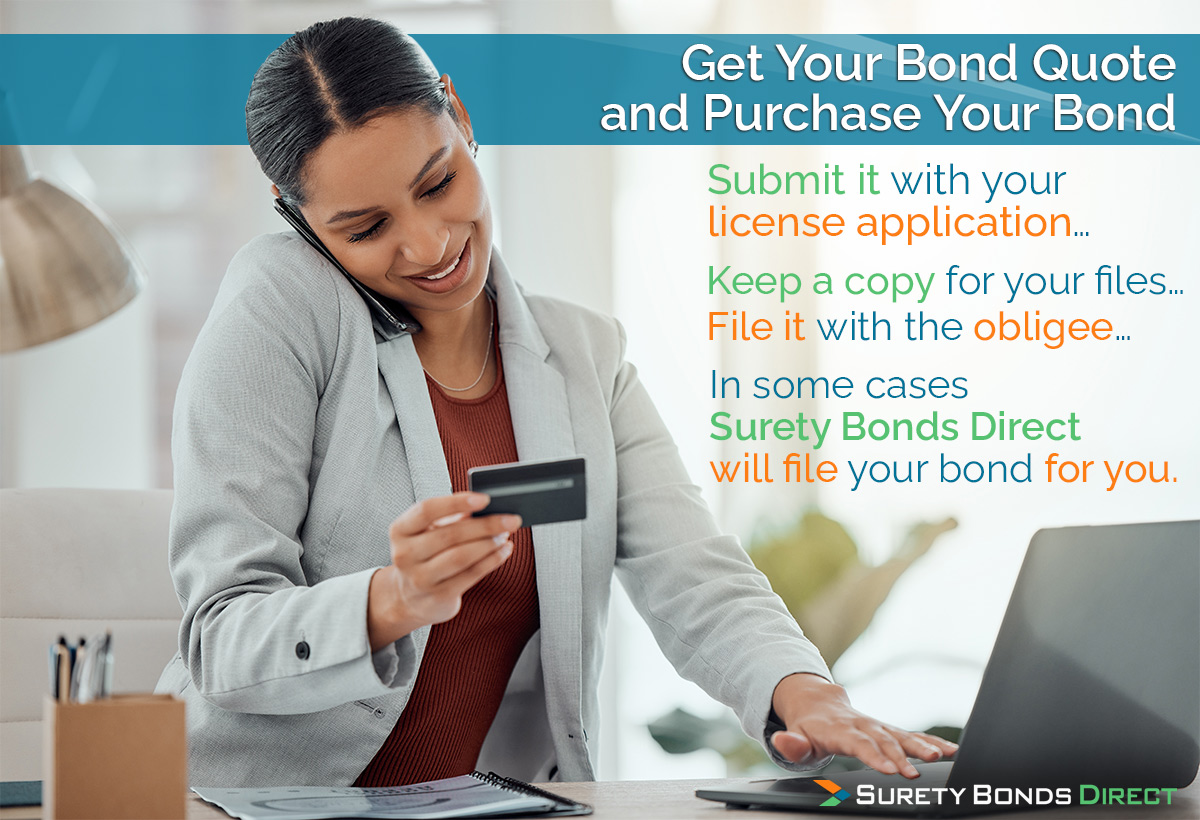 A surety bond has a bond amount associated with it. This amount is called the bond penalty. It's the max amount the surety insurance company will pay on a legitimate claim or claims against your bond.
This bond amount is one factor that determines the price you pay to obtain your bond.
Surety Bonds With a Fixed Price
Surety Bonds Direct has negotiated low fixed costs for select surety bonds. You can purchase the bond on our website and receive a copy of the bond through email. Some of these bonds offer a direct download. Surety Bonds Direct may even file your bond with the appropriate entity.
Examples of bonds with a fixed price are:
Notary bonds
Most municipal contractor license bonds
Select public adjuster bonds
Surety Bonds That Require a Quote
Some surety bonds require a quote for a customized price. The cost of a surety bond is determined by:
Personal credit
Prior business experience
Prior business financials
Plus the amount of the bond
If you're purchasing your first surety bond, your personal credit will be the primary factor determining your surety bond's cost. This means a soft credit pull is required.
Your credit determines a premium rate to purchase the bond. Here's a small table give you some numbers on what it might cost to purchase a bond in the amount of $10,000 based on different premium rates.
Keep in mind, the cost is your rate multiplied by the bond amount.
| Bond Amount | Premium Rate | Total Cost |
| --- | --- | --- |
| $10,000 | 1% | $100 |
| $10,000 | 2% | $200 |
| $10,000 | 3% | $300 |
| $10,000 | 4% | $400 |
| $10,000 | 5% | $500 |
| $10,000 | 6% | $600 |
| $10,000 | 7% | $700 |
Once you receive your quote, you simply purchase your bond. We'll send you the correct bond form completed with the necessary signatures and seals on the bond form. You can print the bond and sign it. Depending on the specific bond, you either:
Submit your bond with a license application
Give it to a judge
Submit it with a contract
Give a copy to a business
You will give the bond to the entity requiring the bond. This party is called the Obligee. Learn more about what a surety bond is the three parties involved in the surety bond agreement.
What Is The Purpose Of a Surety Bond?
In most cases a surety bond is required by a government licensing agency. It's the governments responsibility to protect consumers from the businesses it is licensing.
Common issues are:
Incomplete jobs or poor workmanship
Mishandled customer funds or theft
Misrepresentation of information
Failure to pay taxes
Among many other possible scenarios
There is no insurance product a government can purchase to cover the above issues. So a government requires the business to purchase a surety bond as proof of financial responsibility to perform their job in good faith to consumers.
In other cases, like court bonds or business service bonds, the obligations are similar. Rather than being obligated to a government agency, your business is obligated to the court or business hiring them.
Common issues are:
Incomplete jobs
Obtaining wrongful signatures on legal documents
Employees stealing private property
Misrepresenting identities or information
Mishandling retirement funds
Among many other possible scenarios
A surety bond is purchased to protect your customer from any negligence, fraud, or acts of bad faith committed by your business or employees. It's an unfortunate fact that there are unscrupulous businesses who cut corners and take any chance to defraud their customers.
Choose The Right Surety Agent To Help You Get Bonded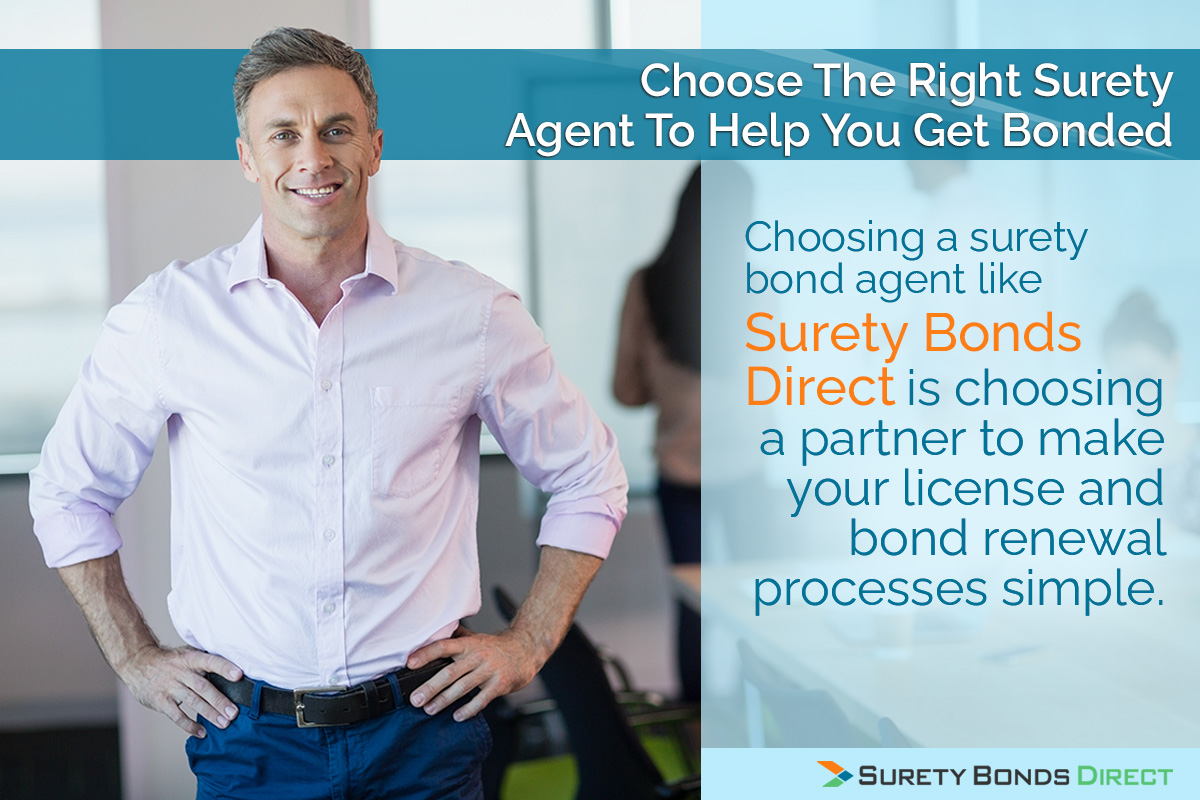 Purchasing a surety bond is more than just getting a quote and paying the price. Surety bond requirements change on a regular basis. It's not your job to stay up to date with changes to requirements such as bond amounts, renewal dates, new bonding requirements, and more.
When you choose to work with Surety Bonds Direct, you're choosing a partner who will help make sure you're notified of important information.
Call Us When You're Ready To Purchase Your Surety Bond
Now you know how to purchase a surety bond. It's a fast process, but remember you're not just buying a surety bond, you're choosing a teammate to make sure renewals each year go smoothly.
When you're ready to get your bond pricing, use our free online surety bond cost calculator. You can also request a free bond quote if you that's good for 30 days. If you need help with a special type of bond or you'd rather talk to a bond specialist, call us at 1-800-608-9950.