How long does it take to get a surety bond?
In some cases a surety bond can be downloaded immediately after you purchase it. In other cases, the bond requires a custom price based on a premium rate. This can take 2 to 3 days to complete.
This article will cover:
Bonds with a fixed price and their delivery time
Bonds that require underwriting and their delivery time
How you can speed up the time it takes to get a surety bond
If surety bonds remain confusing, learn what a surety bond is and why it's required, plus how the cost of a surety bond is required.
How Long Does It Take To Get A Surety Bond?
1. Immediately to Within 24 Hours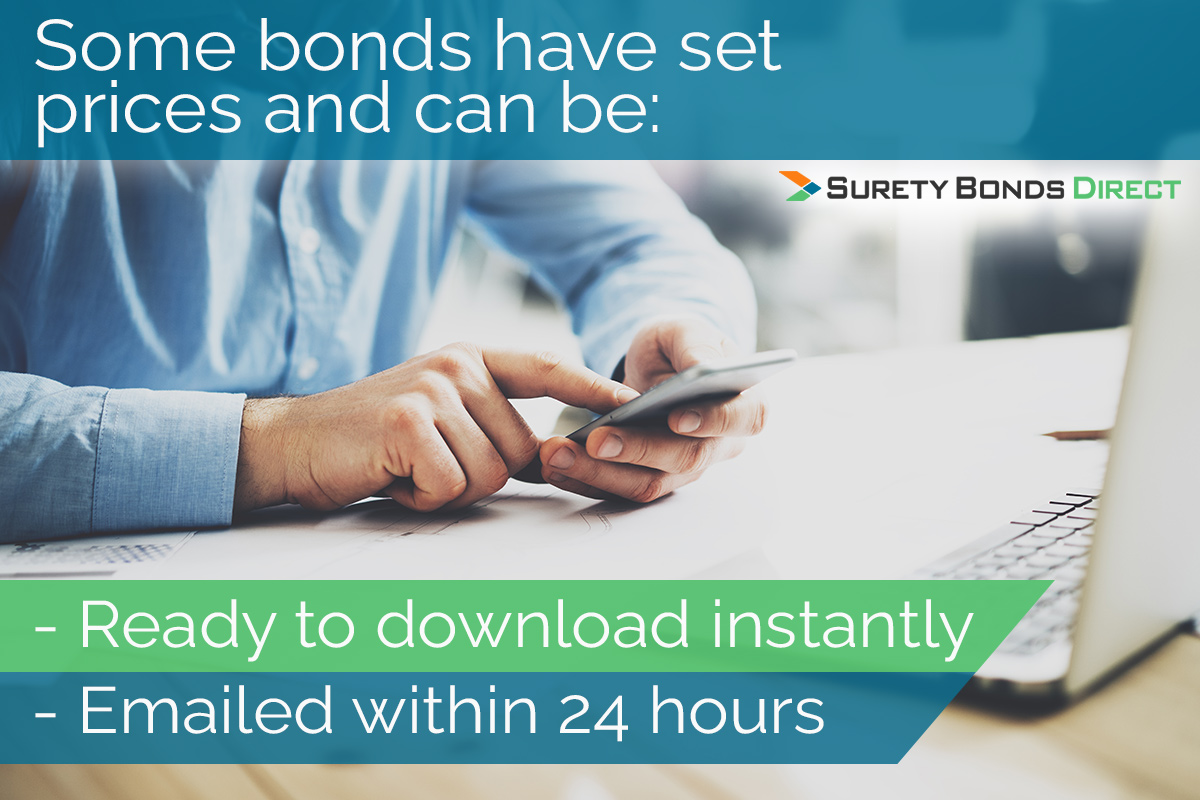 First, there are thousands of different types of surety bonds.
And some of these bonds have set prices meaning they can be purchased and:
Be ready to download instantly
Or emailed within 24 hours
Surety bonds with a fixed price typically have a lower bond amount and are considered lower risk. Because of these factors, Surety Bonds Direct is able to secure a fixed price and these bonds are delivered either instantly or within one business day.
Examples of a fixed priced bond?
Bottom line, if the surety bond required has a fixed price, you can get your bond immediately or within a business day.
If the bond required was not mentioned, find out if it's a fixed price bond by using our surety bond search tool.
2. Bonds That Require Underwriting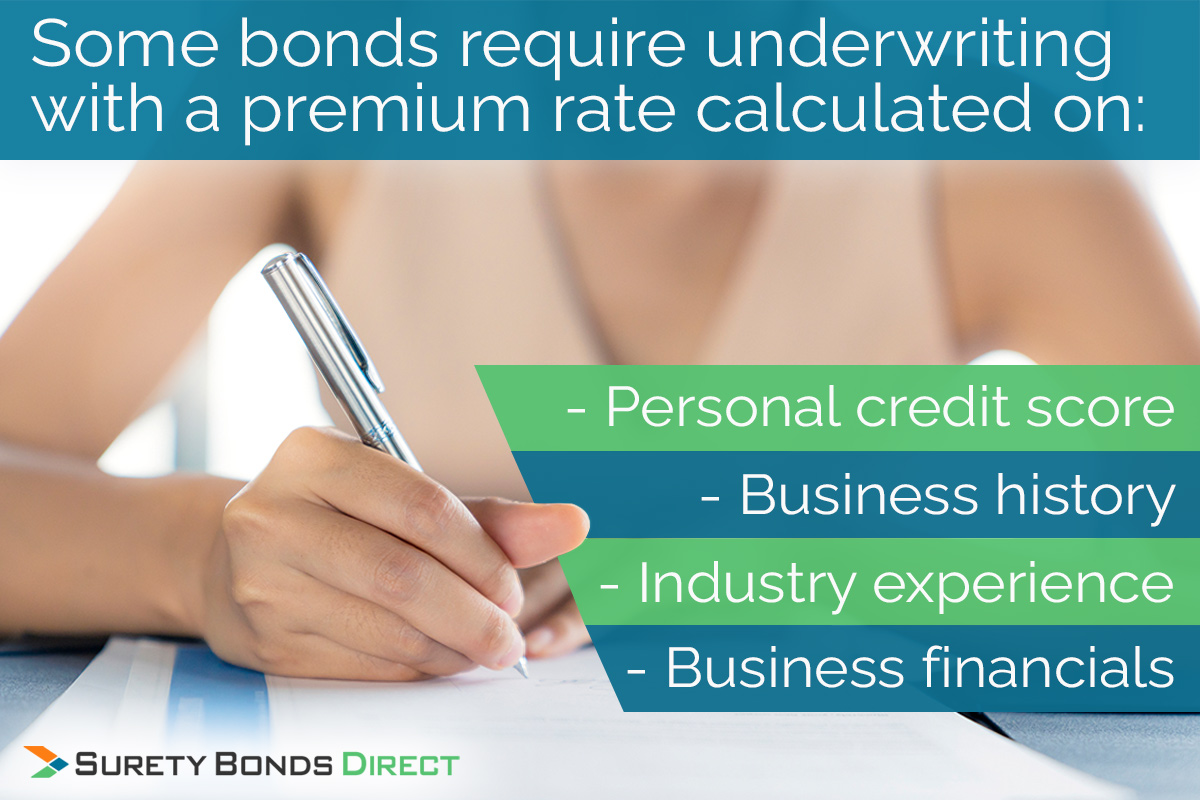 Some bonds require underwriting by the surety company with a premium rate calculated.
This rate is based primarily on:
Personal credit score
Business history
Industry experience
And business financials
The rate determines the price for the surety bond.
Surety Bonds Direct has relationships with a variety of surety companies. This allow our bond specialists to obtain multiple quotes from multiple sureties to deliver the lowest possible rate.
Depending on the surety company writing the bond, an application is usually required to finish off the process. This is one of the final steps purchasing a surety bond.
If the application is signed and returned promptly the bond can be completed quickly. If not, the process is held up until the application is signed and returned.
Bottom line, if the required surety bond requires underwriting, it could potentially be done within a few business hours, but for more complicated bonds, or when sureties require additional information about your business, the process could take 1 to 2 business days.
How To Speed Up Getting The Required Surety Bond?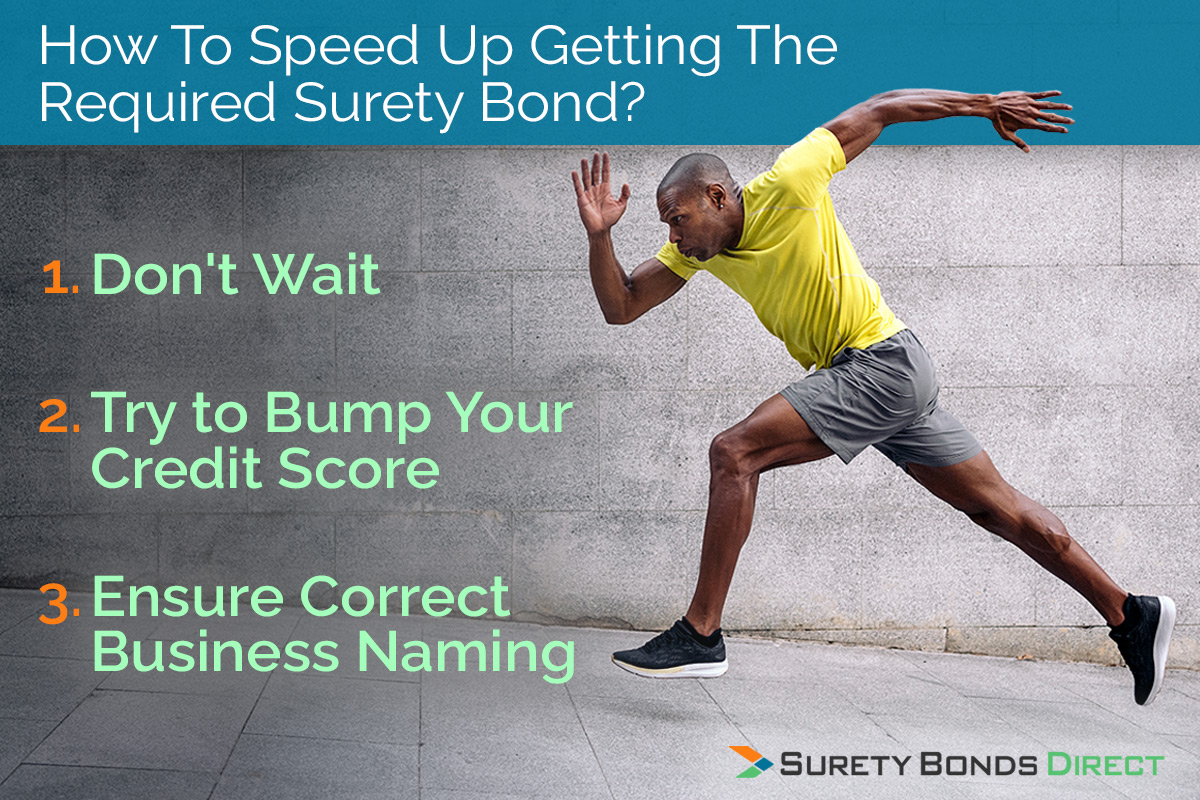 1. Don't wait
Don't wait to to purchase the bond. It's a fast process and if a bond is required for a license, contract, or court, there's no choice, the bond must be purchased.
Start the process immediately. In the case of a fixed priced bond, the bond can be purchased and possibly downloaded instantly or emailed within a business day.
In other cases a short 5 minute conversation with a Surety Bonds Direct bond specialist is enough to get the quote process started.
2. Try To Bump Your Credit Score
The higher the credit score the faster the approval process and the lower the rate required to purchase the bond will be.
For bonds requiring a custom quote, try to complete a quick credit report clean up.
3. Ensure Correct Business Naming
If your bond requires the name of an LLC or partnership, make sure the name on the surety bond is written exactly as it's recorded with the Secretary of State and/or licensing authority. Plus make sure every legal name of the partnership is listed.
If the bond is being purchased in an individual's name, use the full legal name.
Don't Wait Start The Process Today
Don't put this off until the last second.
When a surety bond is required, get started so the surety bond is not what's holding back the licensing process or the ability to submit details for a contract.
Surety Bonds Direct quotes are good for 30 days, in some cases longer. For most bonds, you can set the effective/start date of the bond to be up to 60 days in advance. Request your free quote online or call a surety bond specialist today at 1-800-608-9950.