Who Requires the Court & Probate Bond and Why Is It Needed?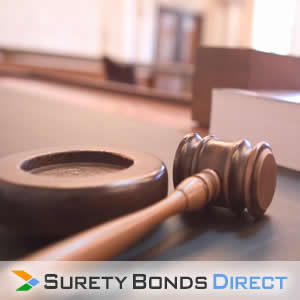 Courts frequently require surety bonds to ensure payment of legal obligations or proper management of trust or estate assets. Bonds for probate courts or bonds used in legal disputes are not the same as bail bonds. Surety Bonds Direct does not sell bail bonds.
Probate Bonds
Probate bonds guarantee the duties of guardians, administrators, trustees, and executors. These bonds are required for minors, the estate of deceased persons, and incompetent persons. Probate bonds provide a guarantee to the courts and the heirs of an estate that assets are properly managed and the court probate process is administered in accordance with legal requirements. To learn more, please select the specific type of probate bond needed from the following:
Court Bonds
Court bonds protect the opposing party in a litigation process by guaranteeing compliance with a court order or execution of a fiduciary duty (e.g. payment of a judgment). To learn more, please select the specific type of court bond needed from the following:
It is important to note that all court bonds require that collateral be posted in advance in the amount equal to 100% of the bond obligation. The collateral must be in the form of cash, or cash equivalent and is in addition to the premium charged for the bond.
How Much Will My Surety Bond Cost?
Take 2 minutes to provide the basic information required to get the best rates for your Court & Probate Bond. The quote request is free and there is no obligation to you. If you prefer, please call 1‐800‐608‐9950 to speak with one of our friendly bond experts. We can help guide you through the bonding process and identify the lowest cost in the market for your situation.