South Carolina has four residential specialty contractor licenses that can assist licensed residential builders during a project. These specialty licenses all have unique rules and each one has its own bonding requirement. This short article will highlight the:
Licensing requirements for each speciality license
Common application requirements
The licensing fees
The bonding requirements
How to to get your bond fast and for the lowest cost
The Four Residential Specialty Contractor Classifications
Specialty residential builder
Residential electrical contractor
Residential HVAC contractor
Residential plumbing contractor
Specialty Residential Builders
A residential builder contracts with a licensed residential builder, general contractor, or individual property owner to do construction work, repairs, improvement, or reimprovement that requires special skills or trades.
This license is required when the project total is over $500.
Specialty Electrician Contractor
Responsible for any residential based electrical work and must work with a licensed residential builder. Each individual performing electrician work must be licensed unless employees are performing work under the supervision of the licensed electrician.
Specialty HVAC Contractor
Responsible for any residential HVAC work and must work with a licensed residential builder. Just like the electricians, unless an employee is being supervised by a licensed HVAC contractor, each individual performing work requires a license.
Specialty Plumbing Contractor
Responsible for any residential plumbing work and just like the previous two, this contractor must be subcontracted by a licensed residential builder. And the only time a license is not required is when employees are being supervised by a licensed residential plumber.
There are no monetary limits for electrician, HVAC, or plumber licenses on a per project basis.
Read our post about the South Carolina Residential Builder license. This is the license that let's you lead residential building and rennovation projects.
Residential Specialty Contractors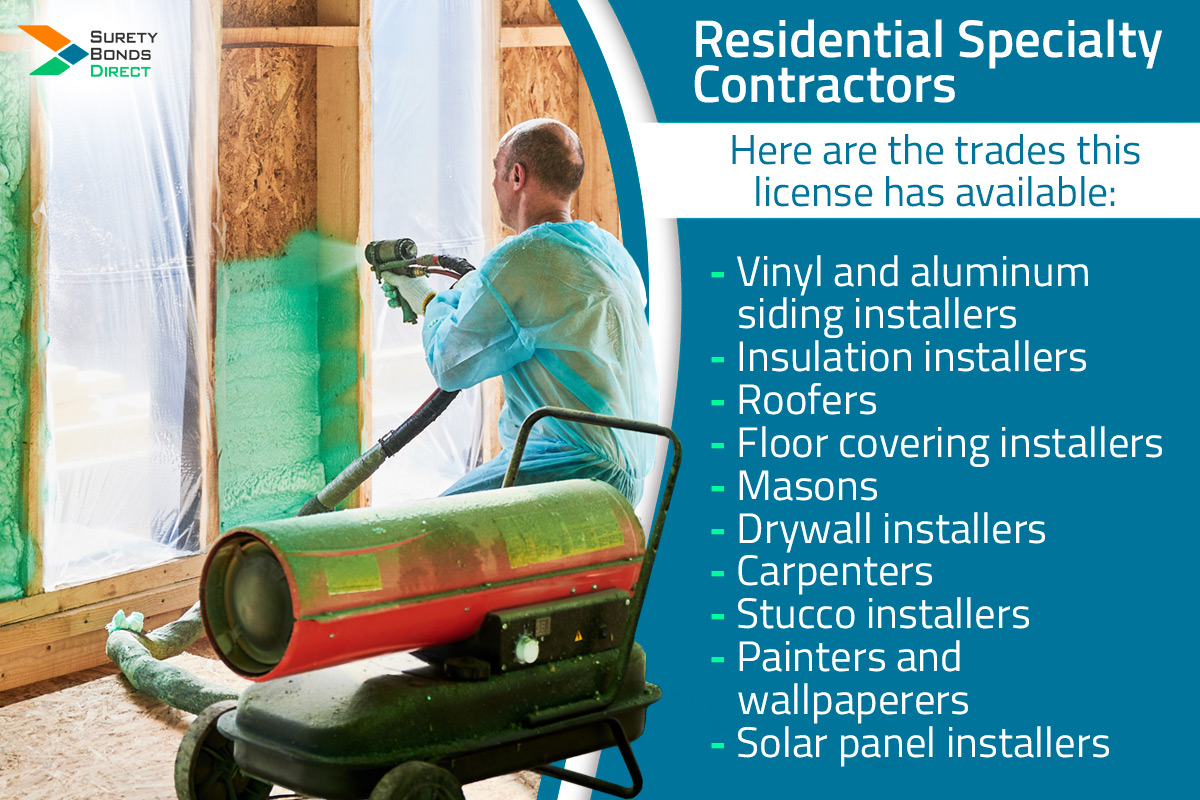 This specialty license is different from electricians, HVAC contractors, and plumbers. Here are the trades this license has available.
Vinyl and aluminum siding installers
Insulation installers
Roofers
Floor covering installers
Masons
Dry wall installers
Carpenters
Stucco installers
Painters and wallpaperers
Solar panel installers
Trade Restrictions
A specialty residential builder can only choose three trades to specialize in. If you want to add or replace the trade, you must wait until renewal.
Roofing
Specialty builders can install, alter, and repair roofs but only the roofing above the roof deck. Any roof deck alteration or repair must be done by a licensed Residential Builder.
Solar Panel Installation
Roof mounting of solar panels can only be performed by a licensed Residential Builder, registered Residential Specialty Contractor with a roofer classification or a General Contractor with a General Roofing or Specialty Roofing license.
Wiring and connections can only be performed by a:
Licensed Residential Builder
Residential Electrician
Mechanical Contractor
Any roof structural alterations must be performed by a:
Licensed Residential Builder
Carpenter trade classification
General Contractor with a Structural Framer classification
Application Process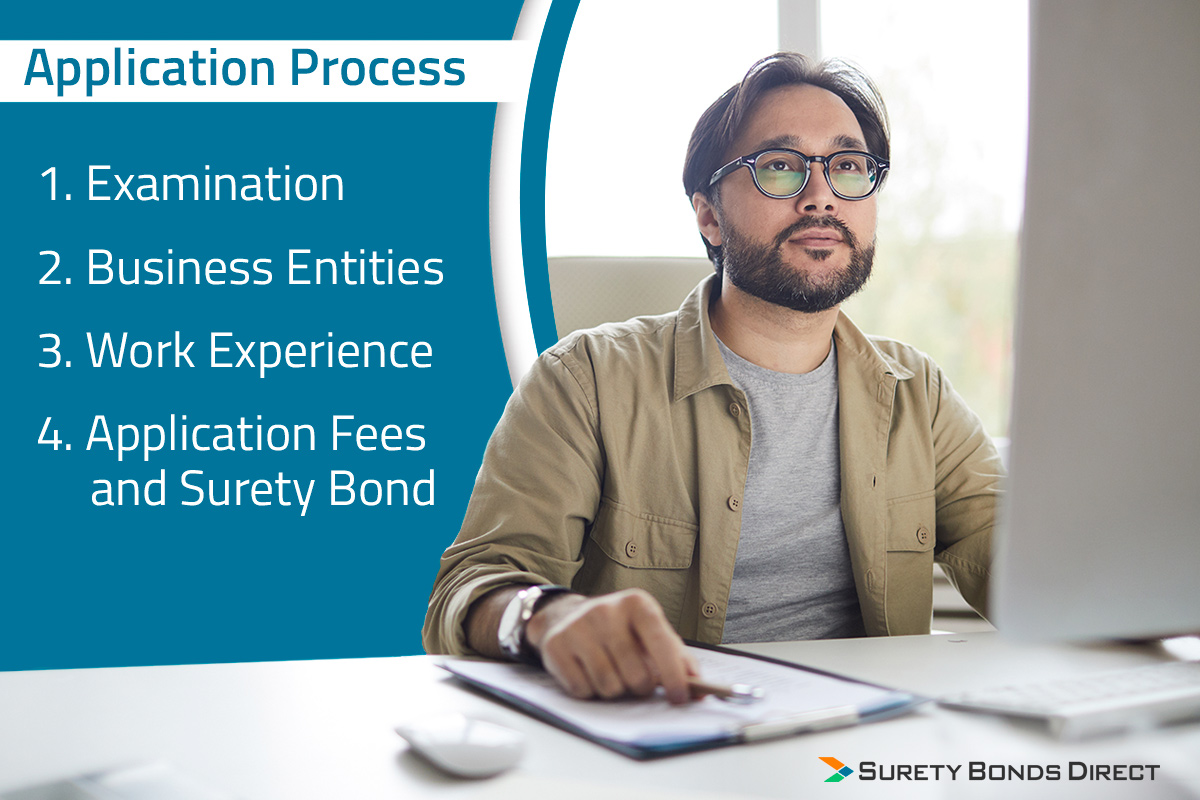 Each specialty license, except the Residential Specialty contractor license, has a near identical process and requirements for licensure. Here are the four steps to get getting a specialty license with the differences highlighted in each section.
Step 1 - Examination
Specialty builders have no testing requirements for any of the available trades.
Electrical, HVAC, and plumbing specialty licenses have a relevant technical exam. However, you can waive the technical examination if you have a license through passing an exam from a state that South Carolina has signed an Exam Waiver Agreement.
Each specialty license must still pass the Business and Law portion of the exam. All exams are conducted through PSI.
Each license (electrical, HVAC, plumbing) requires a technical exam, which can be waived, and a business and law exam. The business and law exam must be completed by every license type.
Waiver Eligibility Based On Specialty License Type
The technical exam can be waived if you've been licensed through an examination from a state that is part of the Exam Waiver Agreement.
Electrical Specialty Contractor
North Carolina Exam Waiver Agreement
HVAC Specialty Contractor
North Carolina Exam Waiver Agreement
Alabama Exam Waiver Agreement
Being a licensed South Carolina Mechanical Contractor with a HVAC classification
Passing the Master Heating and Air license exam from the South Carolina Municipal Association
Plumbing Specialty Contractor
North Carolina Exam Waiver Agreement
Being a licensed South Carolina Mechanical Contractor with a plumbing classification
Passing the Master Plumbing exam from the South Carolina Municipal Association
Step 2 - Business Entities
South Carolina does not license business entities, only individuals. However, if you're going to be conducting business under a trade name ("doing business as"), you will have to notify LLR to have your business affiliated with your license.
If you're licensed but own less than 51% of the business entity you must provide a copy of one of the following:
Certificate of Existence/Authorization
Articles of incorporation
Proof of ownership
If you own 51% or higher of the business entity, your business must be listed on your license with your name. You must provide all of the following:
Certificate of Existence/Authorization
Articles of incorporation
Documentation proving percentage of ownership
The certificate of authorization must be submitted as well. This document assigns a licensee as responsible for all services the company offers. These business entity requirements apply to all specialty licenses.
Step 3 - Work Experience
On all applications except the specialty residential builder, you're required to list supervisors to attest to a minimum of one year or work experience which must have been accrued within the last five year period.
Specialty Residential Builder Experience
For the specialty residential builder license, you must submit three written letters of reference that, "reflect your character, skills, and knowledge" in your three chosen trades.
Specialty Electrical, HVAC, and Plumbing Contractors
Each supervisor will be sent an affidavit of experience. They must complete the form and send it to the Commission. For each specific specialty, the supervisor must be an appropriately licensed residential specialty contractor in that field. This can include a general or mechanic contractor with the appropriate classification.
For example, if you're applying for a specialty HVAC contractor license, the supervisors listed must be a licensed residential HVAC contractor or an appropriately licensed professional engaged in HVAC work. An "appropriately" licensed profession depends on the state the supervisor lives in, but must have a license dealing with HVAC work.
Step 4 - License Fees & The Surety Bond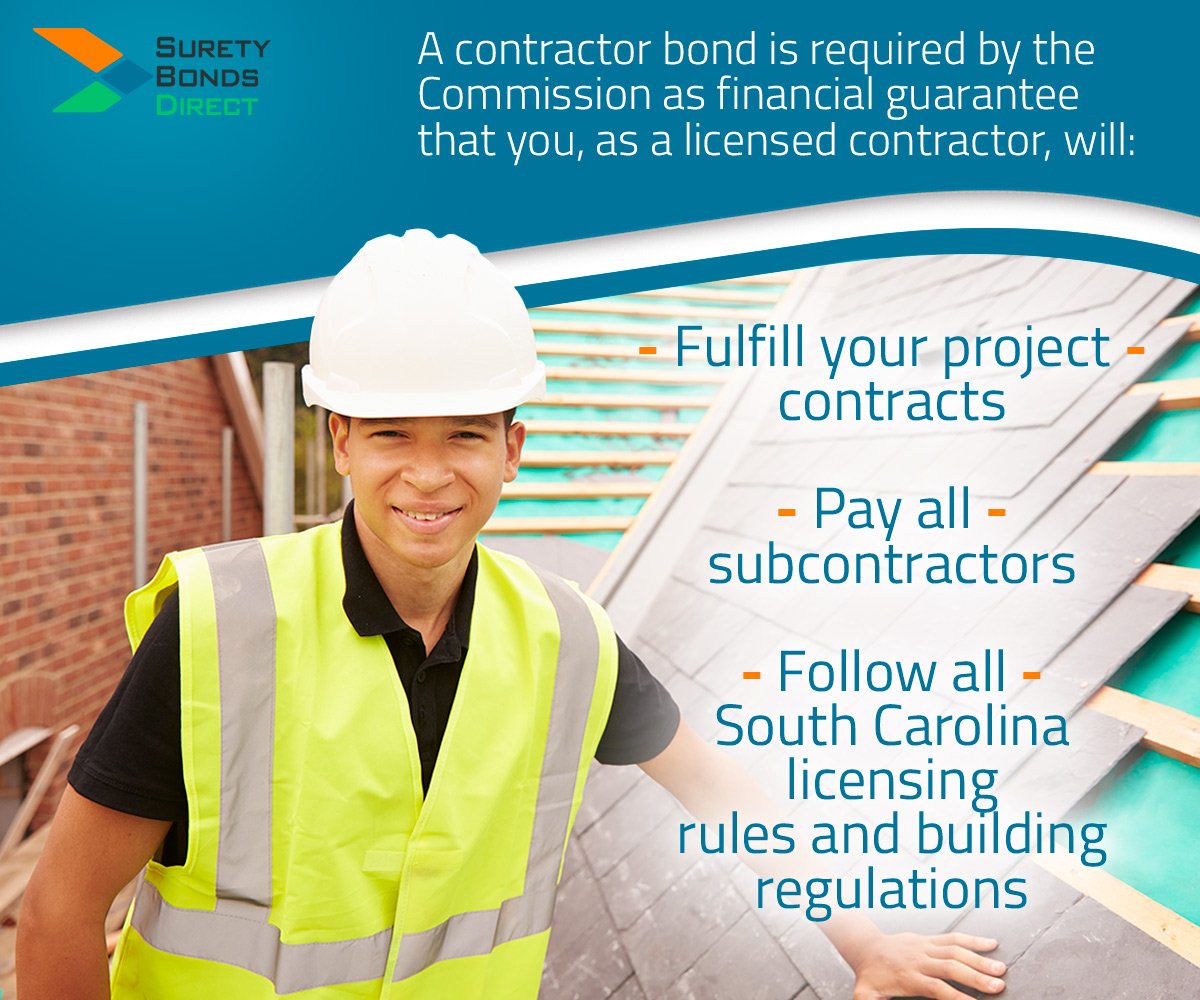 Application Fees
| License Type | Application Fee | Bond Amount |
| --- | --- | --- |
| Speciality Residential Builder | $100 | $5,000 |
| Specialty Electrical Contractor | $135 | $10,000 |
| Specialty HVAC Contractor | $135 | $10,000 |
| Specialty Plumbing Contractor | $135 | $10,000 |
Each residential license renews every two years before June 30th of each odd year.
Surety Bond Requirement
A surety bond is required for all licensed specialty contractors in South Carolina for jobs equal to or exceeding $5,000. The contractor bonding requirement can be confusing if you've never purchased a surety bond before.
A contractor bond is required by the Commission as financial guarantee that you, as a licensed contractor, will:
Fulfill your project contracts
Pay all subcontractors
Follow all South Carolina licensing rules and building regulations
Getting your license from the Commission is like the state of South Carolina vouching to the public that you are a contractor the public can trust. Similar to an insurance policy, your customers can make a claim against your surety bond for financial compensation if you purposefully:
Perform poor work
Switch out materials to increase profits
Refuse to pay subcontractors
Or act outside of your license
The Surety Bond Amount And Cost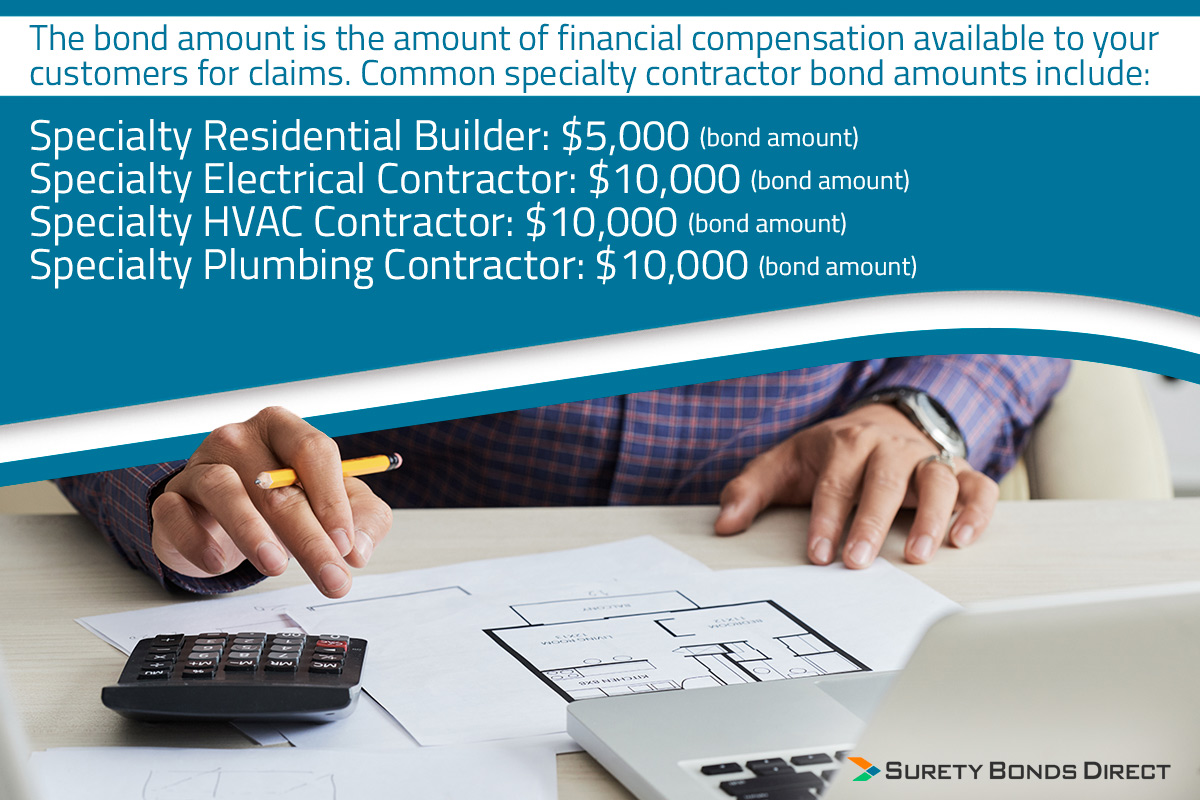 Here's a table of the current contractor bond amounts and prices for each specialty license's surety bond.
The bond amount is the amount of financial compensation available to your customers for claims. The amount is not the cost. Surety Bonds Direct works with the best surety companies that can offer these bonds at a low price.
TABLE
You can instantly purchase your bond today with no credit check and have your bond issued within one business day.
Remember, this bond is a requirement of the application process. An active bond must be on file with the Commission to keep your license active. If you fail to retain an active bond, your license will be suspended.
If you're replacing an existing bond, just select the effective date of your new bond to be the first day of your new license period.
License Renewal
The Commission will send out initial reminders of license renewals in mid April of odd years. There is a late fee for all renewals received after June 30. A license can remain inactive for up to three years before you'll have to go through the application process again.
Renewing your bond is just as easy. Surety Bonds Direct will contact you 45 to 60 days before June 30th expiration. Renewing your bond requires paying the renewal premium to keep active. It only takes a minute to pay online and renew your bond. If you have a bond through another bonding company, we can easily replace that bond with a lower cost bond from an A rated surety company. You simply sign the new bond and send it to the Commission with your renewal paperwork.
Use Surety Bonds Direct When You Need Your Bond

I hope this article helped you understand the specialty residential licenses offered in South Carolina.
Remember, you can purchase your residential contractor bond online on Surety Bonds Direct website. If you have any questions about your bond, or if you would prefer to purchase your bond over the phone, call a bond specialist at 1-800-608-9950.