Nevada defines a contractor as any individual or business entity that constructs or alters any:
Builder
Highway or road
Parking facility
Railroad
Excavation
Or other structure
This applies to any contractor, specialty contractor, or subcontractor.
Unlike some states, the Nevada State Contractors Board issues licenses to individuals and all business entity types from LLCs to corporations and joint ventures.
Step 1 - Choose Your License Classification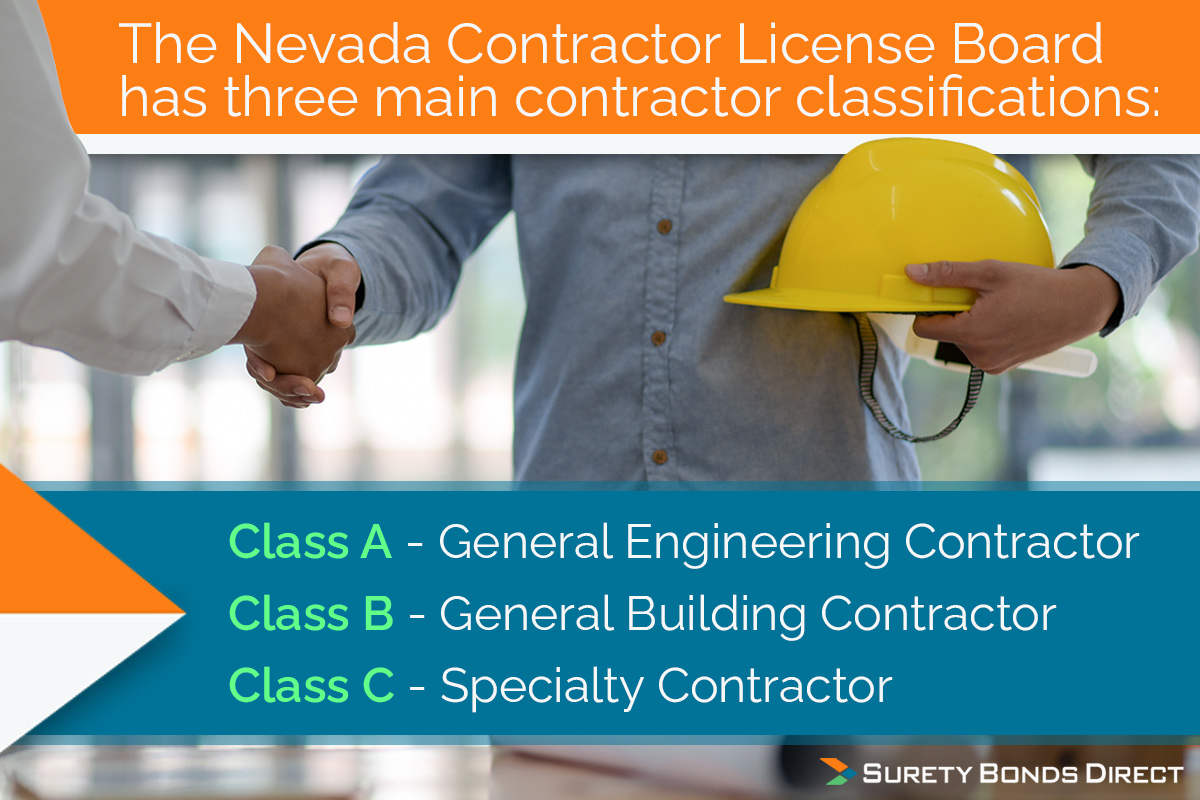 The Nevada Contractor License Board has three main contractor classifications:
Class A - General Engineering Contractor
This is a contractor with special engineering knowledge and the skills required for the necessary projects.
Class B - General Building Contractor
This is a contractor who constructs or remodels buildings or structures for the support and shelter of persons, animals, personal property or moveable property of any kind.
The primary contractor must use more than two unrelated building trades or crafts
Construction or remodeling must be the primary purpose of the project
Class C - Specialty Contractor
There are 36 separate specialty contractor classifications and specialty skills.
In Nevada, manufacturers are considered contractors if they're engaged in the on-site construction, alteration, or repair of their "product."
A separate license is required for each primary classification. Unlike most states, the Board allows multiple sub-classifications with the same primary classification to be combined under one license.
One final note about classifications... there are special rules for pool and spa contractors. These will be explained further during the surety bond requirement section.
Step 2 - Elect/Declare The Qualifying Individual
A qualifying individual must be elected. This is the person who will provide the necessary experience, passes the required examinations to get licensed, and supervises the projects.
In the case where you are an individual contractor, you will be the qualifying individual.
If a business entity is getting licensed, the qualifying individual must be an employee and be the individual who will perform the duties of the license.
Separate qualifiers for individual subclassifications are not allowed. If the qualifier is serving as the qualified individual on another license they will have to provide proof of:
At least 25% ownership of each license the person is qualifying for
The licensee owns at least 25% of the other licensee
Step 3 - Experience Requirements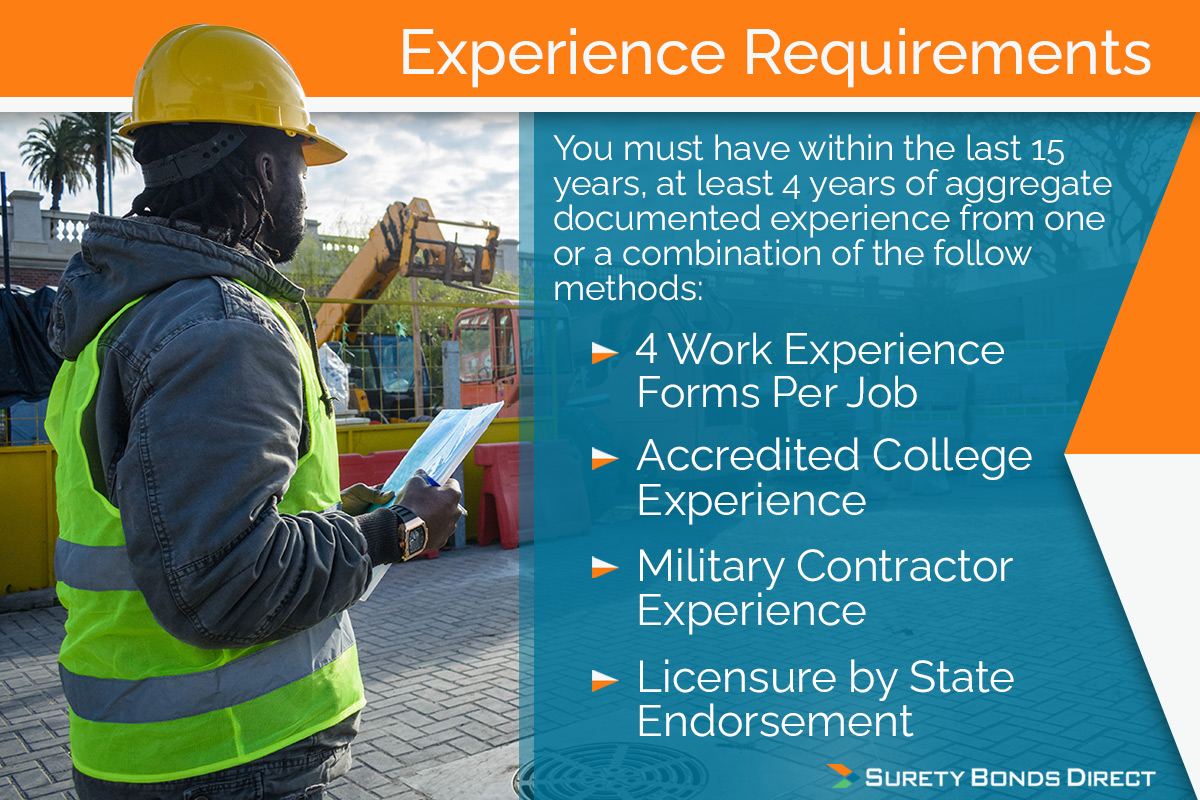 Before you consider applying for a Nevada contractor license, you must have, within the last 15 years, at least 4 years of aggregate experience:
Journeyman level experience
Work as a foreman
Supervisory work
Contracting experience in the classification for which you're applying for licensure
This experience must be documented/proven using one of the following methods:
Four Certification of Work Experience Forms
Four forms are required for each trade qualifier, like those listed above. These forms must be completed by past employers. If you're a self employed contractor, past customers can complete these forms. However, no relatives are allowed to fill these forms out unless they were a past employer.
It's important to realize that all forms documenting your experience must add up to 4 years of experience. Each individual certification form does not have to demonstrate 4 years of experience.
Accredited College Experience
It's not stated on the application, but Nevada does count accredited college degrees towards the experience requirement. The amount of experience is determined by the Board, but no more than 3 years experience can be counted.
You can call the Board prior to initial application to determine how educational degrees will be counted.
Military Contractor Experience
Transferable military experience or a current master's certification issued by a government agency in a similar discipline as the license being sought can satisfy all or a portion of the required experience. Contact the Board for further details about your specific experience and how it may be counted.
Proof of Licensure by State Endorsement
Finally, a contractor's license from an approved state can count towards the experience requirement. Not only the experience but certifications can also waive the trade examination requirement, more on that in the next section.
Here's the full list of states that are considered for Licensure by Endorsement. Keep in mind you must:
Have been actively licensed for the past 4 years
With no disciplinary actions, suspensions, revocations or other sanctions against you
For the Board to consider Licensure by State Endorsement, a Request for Verification of License must be submitted by the endorsing state.
Step 4 - Monetary Limit Requirements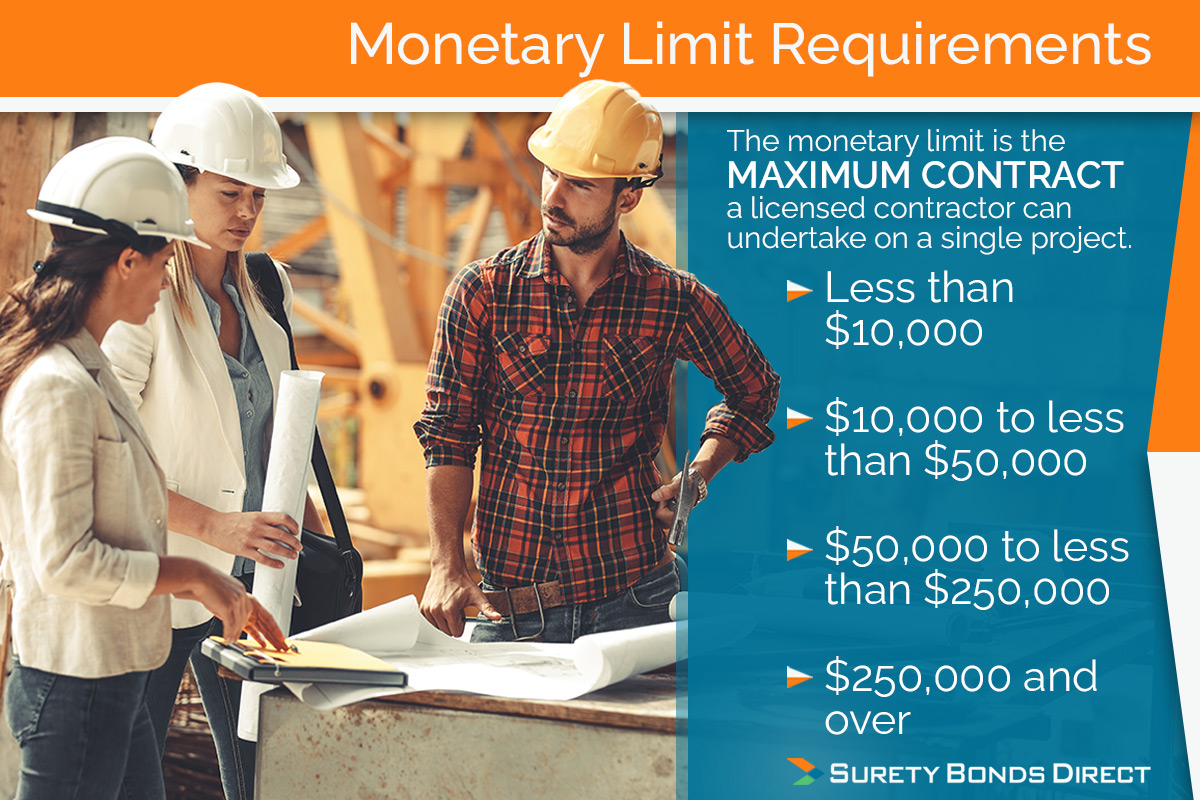 The monetary limit is the maximum contract a licensed contractor undertake on a single project.
In this case a project is considered a:
Construction site
Subdivision site
Or a single client
The contractor can have multiple contracts for a single job, but this limit applies to the one site. Not a multisite project.
As the applying contractor, you must select a specific (no ranges) Monetary Limit on your application. Declaring a specific limit requires you to know your business, goals, and available capital. You will not be able to update your monetary limit until the next license renewal.
Based on the monetary limit you choose, you must provide a financial statement. This will be used by the Board to determine the surety bond amount and ultimately application approval.
The financial statement provided must meet one of the requirements listed under each monetary limit range. Personal statements should include a separate document outlining all available working capital.
Less than $10,000 Monetary Limit
Any of these methods qualify for this monetary limit.
The financial statement must be prepared by an independent certified public accountant
Use the financial statement form provided by the Board and submit an affidavit that swears the accuracy of the statement
Provide a statement prepared by an accredited accounting software with an affidavit swearing the accuracy of the statement
$10,000 to less than $50,000 Monetary Limit
Prepared statement by a certified accountant within 6 months of the application submission
Prepared and reviewed (audited) statement by a certified accountant from within 12 months of the application submission
$50,000 to less than $250,000
Prepared statement by a certified accountant with full disclosures within 6 months of application submission
Prepared and reviewed (audited) statement by a certified accountant from within 12 months of the application submission
$250,000 and up
Prepared and reviewed (audited) statement by a certified public accountant from within 12 months of the application submission
Step 5 - Surety Bond Requirement
Unlike many states, the Nevada State Contractors Board does not have fixed surety bond amounts for each classification of license.
You will submit your application the first time with the initial license fee for Board approval. After the board reviews and approves your application, they will notify you with a required bond amount.
This will be based on the experience outlined on the application and the provided financial statement.
You may be wondering, what is a surety bond?
What is a Surety Bond?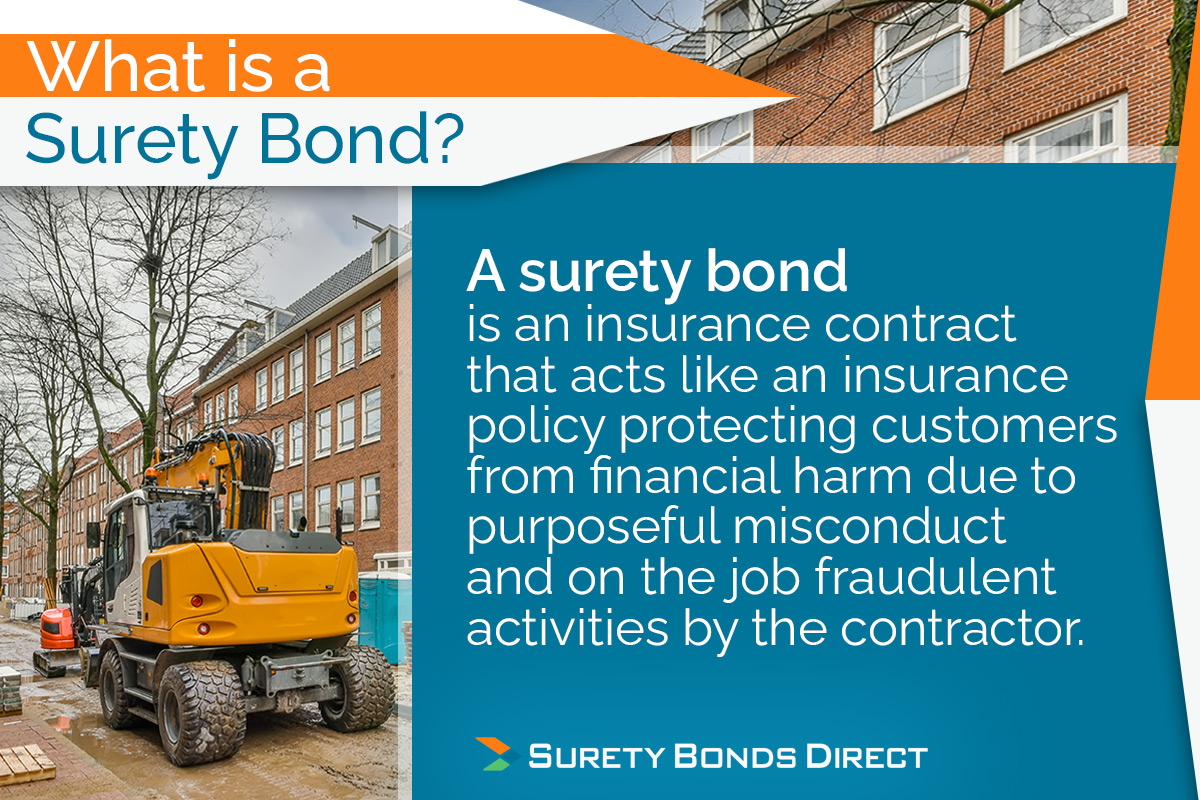 A surety bond or in this specific case a Nevada contractor license bond, is an insurance contract you're required to purchase for the protection of your customers.
By issuing you a license, the Board is qualifying you as a contracting expert in your classification, a contractor the public can trust to complete jobs according to the job description and with ethical building and business practices.
The Board requires you to purchase this contractor license bond because unfortunately there are licensed contractors who purposefully:
Break the terms of a construction project
Use cheaper materials to increase profits
Abandon a project stealing customer deposits
Cheat subcontractors by not paying them
Fail to follow building codes
The surety bond provides the customer with protection in these circumstances up to the amount of the bond. This is the amount the Board will determine on your initial application review.
The Contractor Bond Amount And Pricing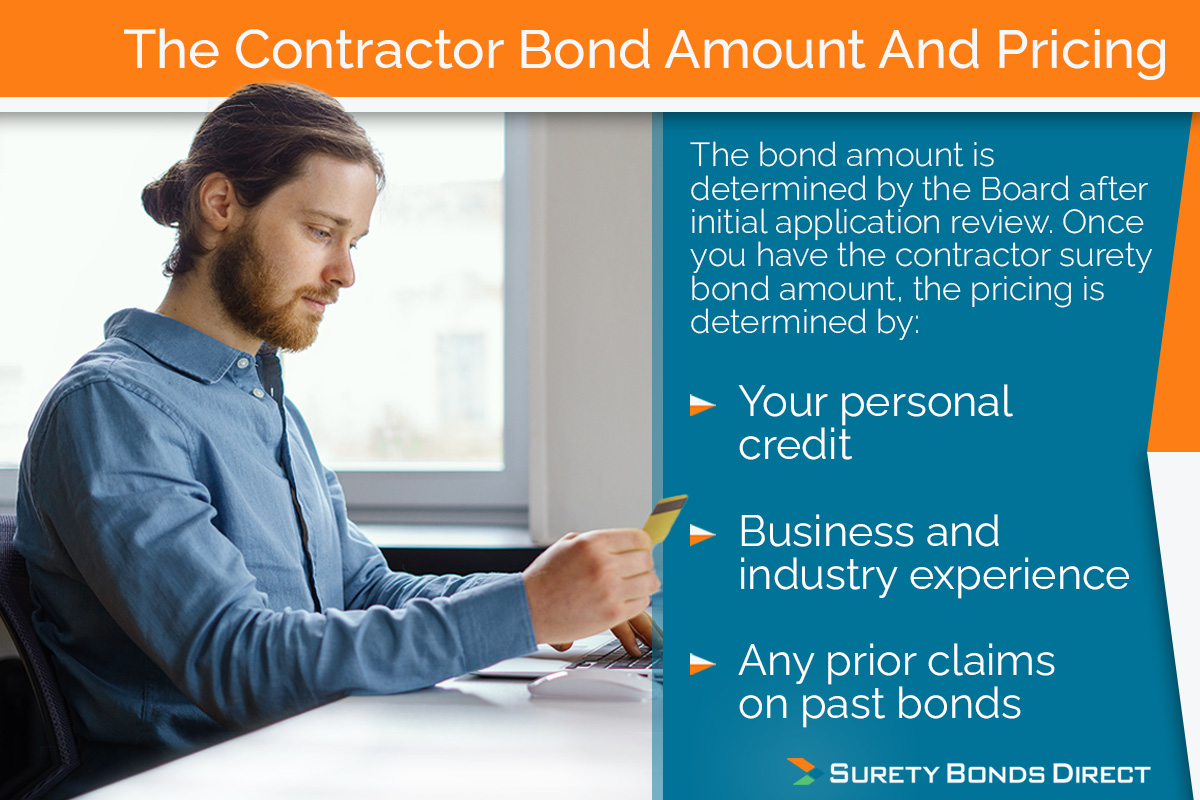 The bond amount will be one factor that determines the price of the contractor surety bond. The higher the bond amount, the more expensive the bond will be to purchase.
The other factors that determine a bonds price are:
Your personal credit
Business and industry experience
Any prior claims on past bonds
These three factors are used by the surety, the insurance company that issues the surety bond, to determine a rate.
This rate multiplied by the bond amount is the price you pay.
Each surety has their own underwriting (risk assessment) process that can produce very different rates. This is why using specific surety bonding services can save you - potentially - hundreds of dollars.
Save Money By Using Surety Bonds Direct
Surety Bonds Direct is a specialized surety agency that works with multiple sureties (insurance companies) to find our customers the lowest possible price based on three pricing factors above.
Surety Bonds Direct makes this easy by offering free price quotes. You can request a free quote and get exact pricing with no obligation to purchase. This allows you to plan for your final application approval.
The Board only gives you 30 days to submit your surety bond.
Here are some examples of pricing based on a contractor bond amount of $45,000. Remember, your bond price is the bond amount multiplied by the rate. These are just examples below.
| Bond Amount | Surety Bond Rate | Price You Pay |
| --- | --- | --- |
| $45,000 | 0.5% | $225 |
| $45,000 | 1% | $450 |
| $45,000 | 2% | $900 |
| $45,000 | 3% | $1,350 |
| $45,000 | 4% | $1,800 |
| $45,000 | 5% | $2,250 |
Every contractor surety bond must be renewed at the end of the term. Most Nevada contractor bonds renew on a yearly term. Some sureties will write bonds for multi-year terms though, so you can ask your bond specialist if you're interested.
Surety Bonds Direct makes renewing your bond easy. Your bond specialist will contact you 30 to 45 days before your bond expires. They will help you get updated quotes to make paying the renewal premium easy and to keep your bond active.
Start your free quote process today. Use our free online quote tool or call a bond specialist today at 1-800-608-9950.
Step 6 - Examination Requirements
Every qualified individual for a license must pass the Nevada Contractor Business and Law exam (Construction Management Survey).
Every trade classification has a specific trade exam. After the initial application review, you will receive an Examination Eligibility form. This will allow you to schedule the required exam through PSI.
You have three attempts to pass the required exams. If you fail an exam, you must wait 2 weeks before you can retake the exam. If you fail all three attempts, you must wait 30 days after the last exam attempt and re-apply with a new contractor license application.
3 Ways To Qualify For Examination Waiver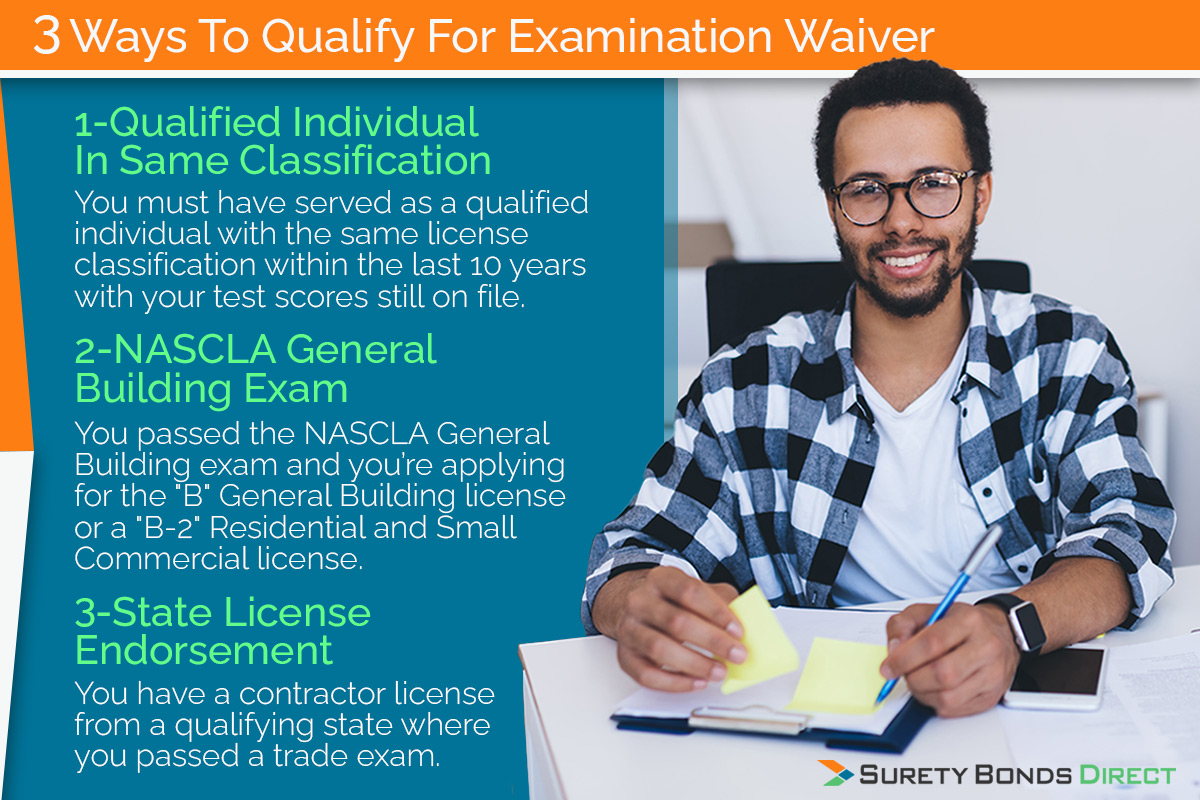 There are three ways you can waive the trade examination requirement.
1. Qualified Individual In Same Classification
If you've served as a qualified individual on a license in Nevada for the same license classification within the last 10 years and your test scores are still on file with the Nevada State Contractors Board, you can use these scores
2. NASCLA General Building Exam
NASCLA is a contractor testing company most states recognize to complete license exam requirements. If you're applying for a full "B" General Building license or a "B-2" Residential and Small Commercial license and you've passed the NASCLA General Building exam, you can apply to waive Nevada's trade exam for these license classifications only.
3. State License Endorsement
If you have a contractor license from another qualifying state you can waive the trade exam if you've:
Been actively licensed in the endorsing state for the past 4 years
Have no disciplinary actions
No suspensions
No sanctions against your license
Proof of compliance
Refer to this table for all of the states and specific license types to see if you can qualify for exam waiver.
If your license is not listed, you must take the required trade exam of your Nevada license.
Step 7 - Criminal Records
Every person associated with the application must submit fingerprints. Any conviction of a crime does not disqualify you from obtaining a license. Criminal convictions will be handled on a case-by-case basis during the application review process.
Step 8 - Residential Recovery Fund
Beyond the bonding requirement, the state of Nevada has established a Residential Recovery Fund. This is a general fund residential homeowners can access if they've been harmed by a licensed contractor.
Every residential contractor providing qualified services must register with the fund or apply for exemption. The current fees for residential contractors to pay into the fund are:
$200 for monetary limits up to $1,000,000
$500 for monetary limits over $1,000,000 but limited
$1,000 for unlimited licenses
The fund fees are due before the license is issued and every two years during license renewal.
Step 9 - Insurance Requirements
All contractors are required to show proof of workers compensation insurance unless they apply for exemption. One of the primary reasons for exemption would be a solo contractor with no employees.
Final Application Fees and Costs
Here's a schedule of the final application fees and associated costs. Some of these costs are variable based on the individual or business entity applying.
Table of Final Application Fees
Initial application fee
$300
License fee good for 2 years
$600
Surety bond
Variable based on provider
Residential Recovery Fund
Variable cost
Insurance costs
Variable based on provider
After the initial application approval and you've passed the required examinations, the Board will send you a Contingent Approval of Application letter. Submit the fees and surety bond to have your license issued.
Surety Bonds Direct Is Ready To Help You Purchase Your Nevada Contractor License Bond

I hope this article helped break out the steps to get a Nevada contractor's license and fill in any gaps where you may have had questions.
If you have any special circumstances or experiences, contact the Nevada State Contractors Board for individual guidance.
Once you've received your initial application approval and you know your surety bond amount, Surety Bonds Direct is ready to help you obtain the lowest possible pricing.
Remember, it's free to get your bond amount once you know the bond amount. Start the process using our online quote tool or call a bond specialist at 1-800-608-9950. You can have exact pricing typically within 24 hours of starting the process.