The Nevada State Contractor Board has some strict bonding requirements compared to many states. Recently, a new bonding requirement was put into law for contractors who specialize in residential projects. This bond is categorized as a consumer protection bond above and beyond the contractor license bond.
This short article will explain:
The new consumer protection bond for residential contractors
How to get pricing for the bond
How to purchase the bond for the lowest possible price
Plus other important details of the new law requiring this bond update
Before we get too deep into this article, if you're not familiar with a surety bond and why it's required for contractors, read some of our other resources:
If you know you're required to get a consumer protection bond, request a free quote with our online form or call a bond specialist at 1-800-608-9950.
The New Consumer Protection Bond for Residential Contractors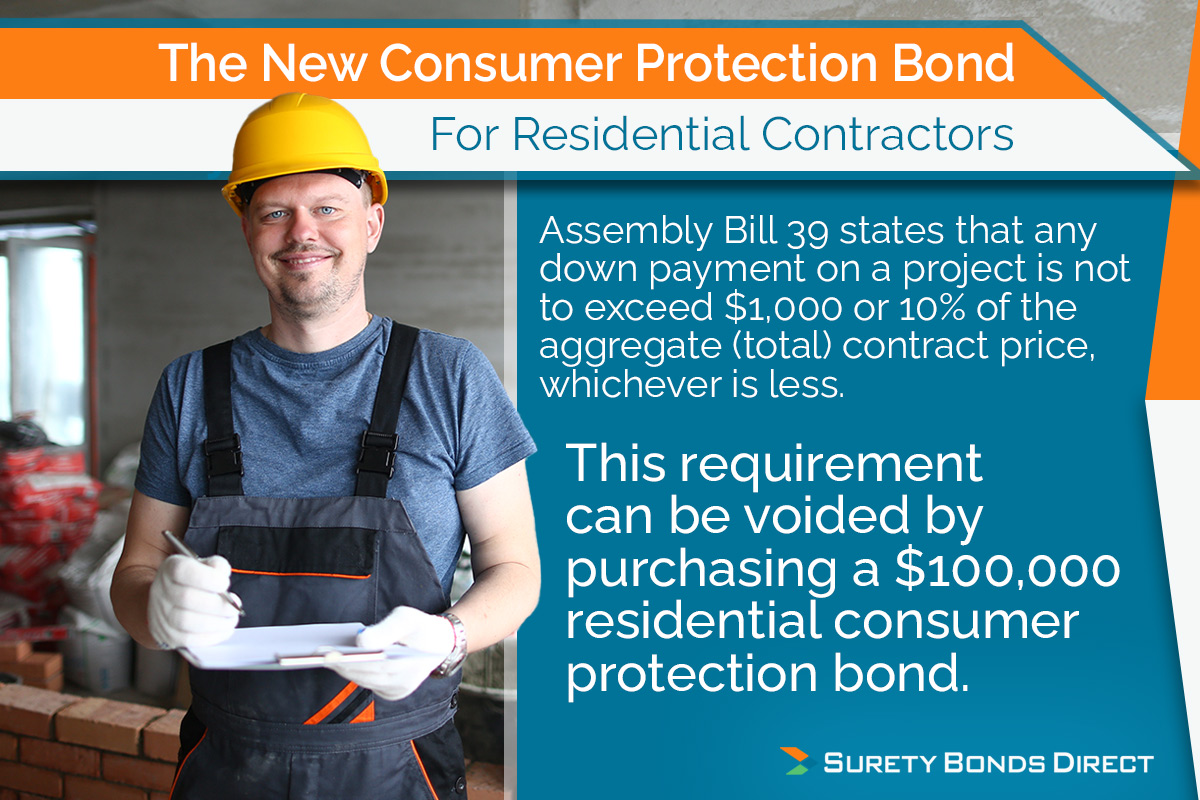 This new bond became effective on October 1st or 2023. It's outlined in Assembly Bill 39.
The bond is a consumer protection bond, above and beyond the normal Nevada contractor license bond. This bond applies to any project on a single family residence or any activity for the supervision of work on a single family residence, including:
Construction
Remodeling
Repair
Improvement
The new law states that any down payment on a project is not to exceed $1,000 or 10% of the aggregate (total) contract price, whichever is less.
This requirement of the contract can be voided if the contractor purchases a $100,000 consumer projection bond.
This means that this bond is not a hard requirement, rather it's something you choose to purchase based on your requirements for your business. Once purchased, the bond covers all projects for the term of the bond (1 year).
Once the bond is filed, the contractor can work with their customer on an agreed upon down payment that exceeds $1,000 or 10% of the total project.
For each project, the contractor is required to provide a detailed payment schedule totally to 100% of the contract price. This bond also voids this requirement of the project.
How Much Does This Residential Consumer Project Bond Cost?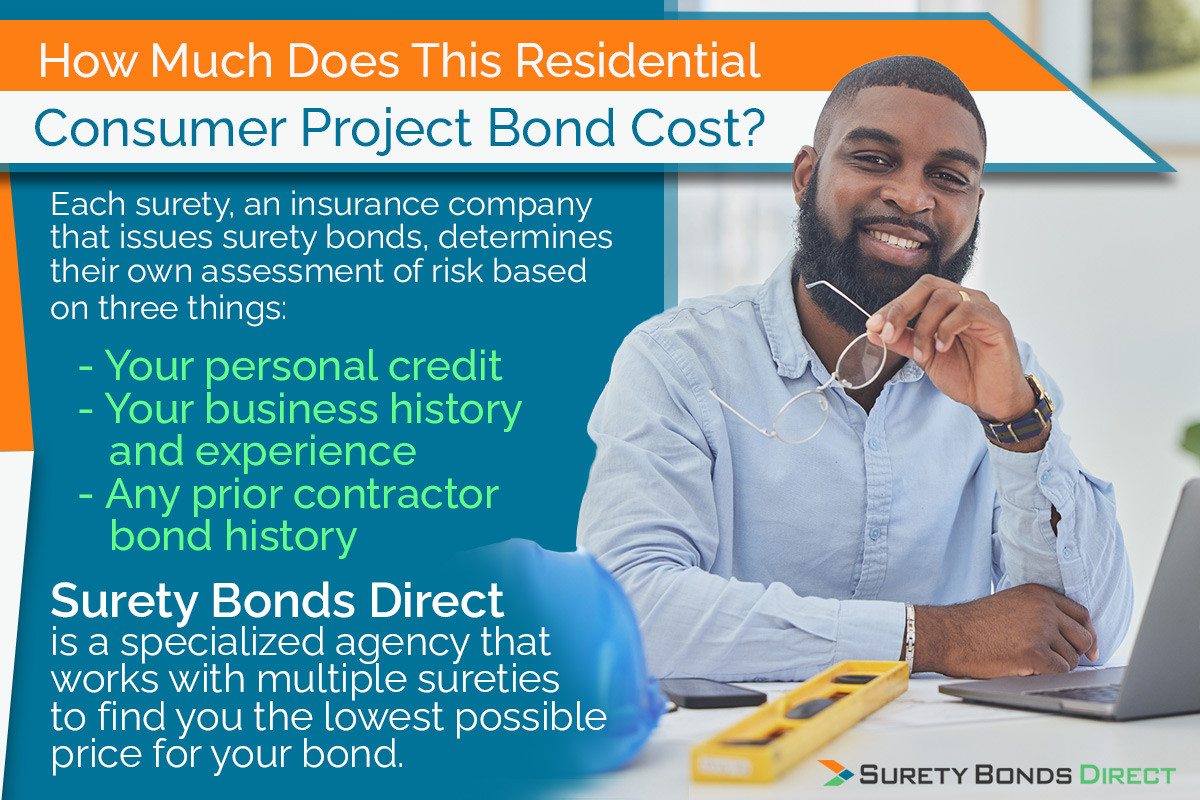 $100,000 is the bond amount, not the price to purchase this surety bond.
$100,000 is called the bond amount or penalty. It's the amount available to customers with valid claims that have been investigated if they've been purposefully wronged by a contractor.
Similar to the Nevada contractors license bond, the price is determined by a risk assessment from a surety, the insurance company that issues surety bond.
Each surety determines their own assessment of risk, but generally it will be based on three things:
Your personal credit
Your business history and experience
Any prior contractor bond history
Based on these factors, the surety will quote a rate. This rate multiplied by the $100,000 is the price you will pay.
Every surety is different and the rates they determine can vary, saving or costing you hundreds of dollars on your bond depending on the surety.
To get the lowest price, use a specialized surety agency like Surety Bonds Direct.
Surety Bonds Direct works with multiple sureties, collecting multiple rates, and delivering the lowest rate to you.
Get a free price quote by using our online bond quote form or you can speak with bond specialist to start the process at 1-800-608-9950.
What Is The Purpose Of This Consumer Protection Bond?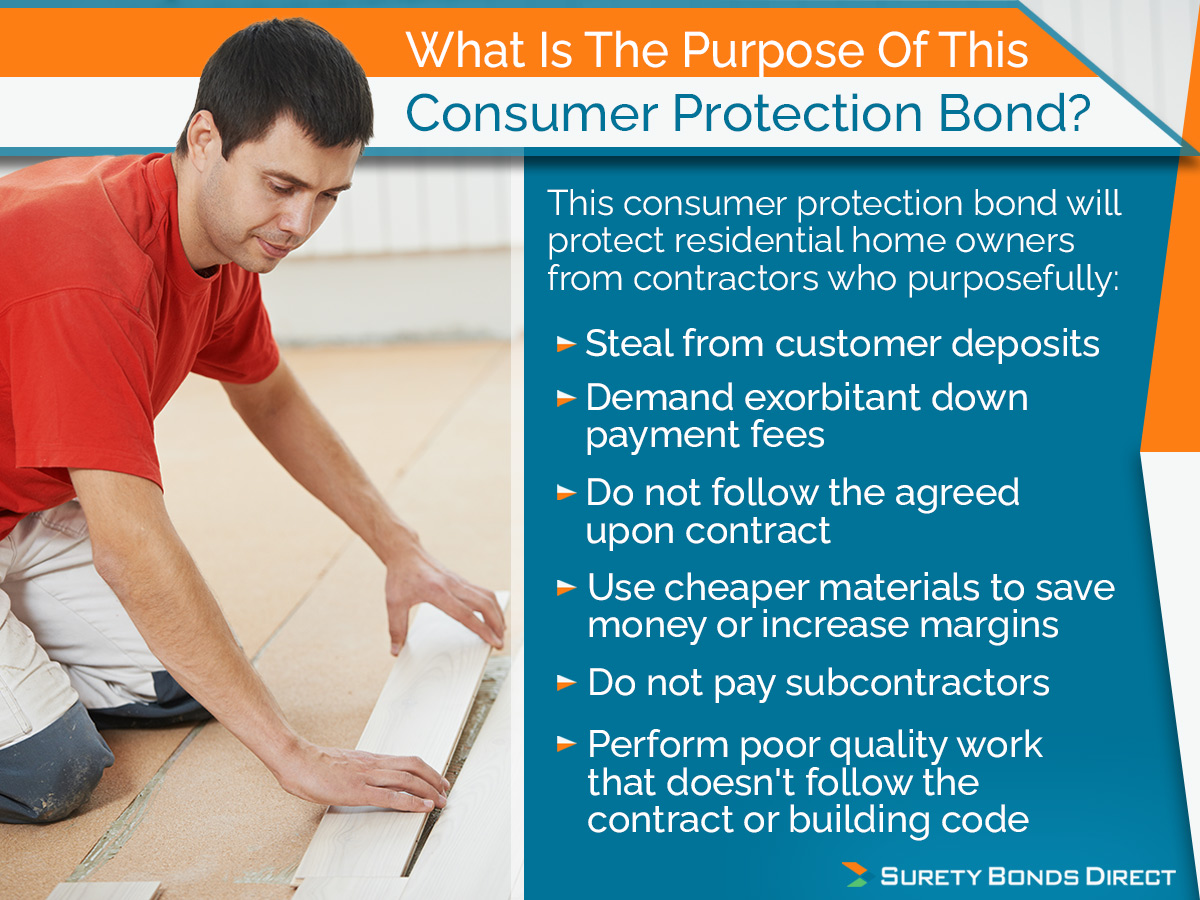 Contractor bonds are required by state licensing boards to combat contractors who purposefully commit fraudulent acts against their customers. It's unfortunate, but examples of misconduct include:
Stealing form customer deposits
Not following the agreed upon contract
Using cheaper materials to save money or increase margins
Not paying subcontractors
Performing poor quality work that doesn't follow the contract or building code
The surety bond provides the customer a way to recoup from a financial loss due to contractor misconduct.
When a new surety bond is introduced, it indicates there's been an increase in consumer complaints regarding contractors and in this case, the handling of project down payments and not finishing projects.
What Else Is In Assembly Bill 39?
You can find more details about the bond on the Nevada State Contractor Board's website.
Other key requirements that stick out include:
The contractor must provide the owner a copy of all documents signed and a receipt for all money paid to the contractor
The owner of the project is allowed to alter the contract to bring it up to date for any provisions agreed upon
Any provisions added to the contract by the owner are immediately enforceable
If the contract is missing any of the information required, including proof of the surety bond, the contract is voidable by the owner
Purchase Your Residential Consumer Protection Bond By Calling Surety Bonds Direct

If you elect to purchase this new surety bond, call Surety Bonds Direct. We will be able to answer any questions you have about the bonding requirement. Plus we can help with any additional contractor license bonds you may need in the future.
Surety Bonds Direct can provide you with pricing within a 24 hour period. Starting the process is easy as using our online bond quote form or calling a bond specialist at 1-800-608-9950.