Tennessee has many different levels of performing contractor and handyman work on residential properties. One of the classifications is called a Tennessee Home Improvement license. It comes with its own unique licensing and insurance requirements.
This short article will:
Outline the licensing requirements
The insurance and bonding requirements
Explain the licensing fees
And explain the tax requirements
3 Steps To Get Your Tennessee Home Improvement License
Where Does The Home Improvement License Fit In?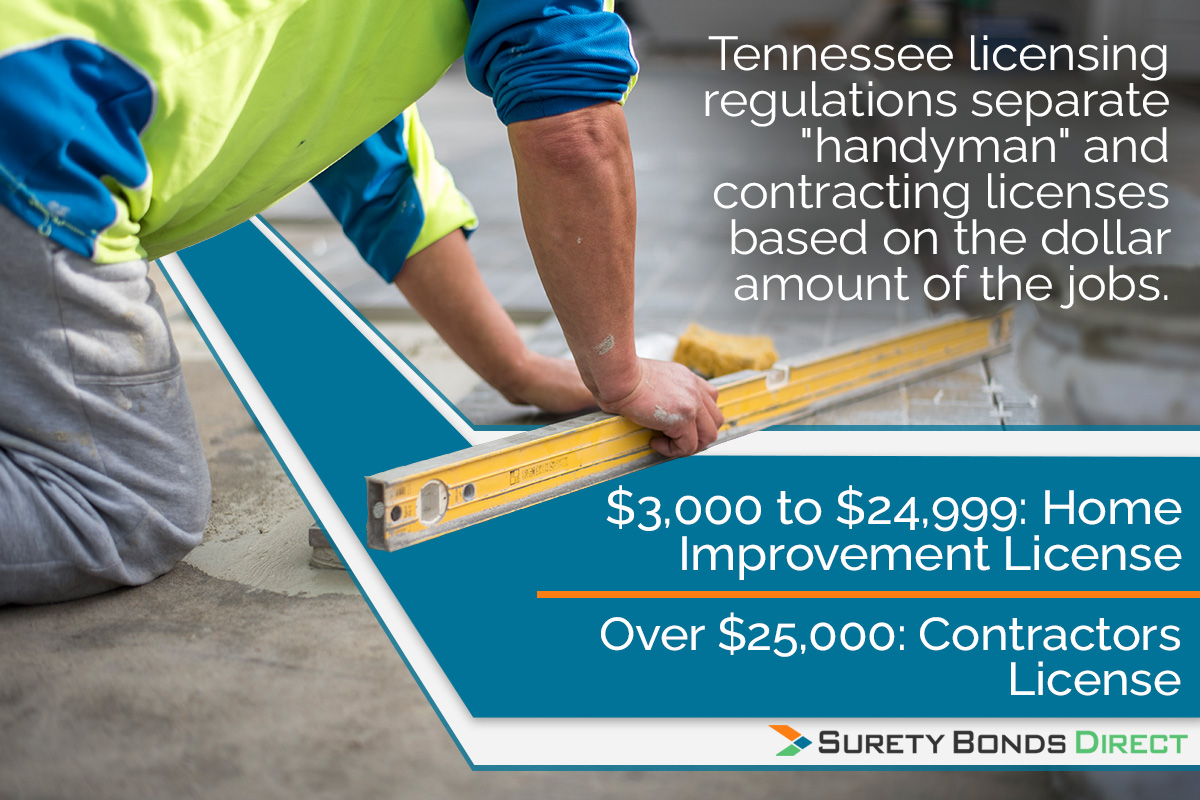 Tennessee licensing regulations separate "handyman" and contracting licenses based on the dollar amount of the jobs.
$3,000 to $24,999: Home Improvement License
Over $25,000: Contractors License
These cost levels include material and labor.
Anything under $3,000 does not require a license from the Tennessee Department of Commerce and Insurance. However, this level of work is not allowed to perform electrical, HVAC, or plumbing work.
The Home Improvement License is required in the following counties:
Bradley
Davidson
Haywood
Hamilton
Knox
Marion
Robertson
Rutherford
Shelby
This license allows for all work between the $3,000 to $24,999 level and no HVAC, plumbing, or electrical work unless you obtain the Limited Licensed Electrician or Limited Licensed Plumber license.
Finally, anything over $25,000 requires a Contractors license. HVAC, electrical work, and plumbing are specific classifications of a Contractor license.
What Are The Duties of a Home Improvement Contractor?
The Official Definition
Home improvement contractors repair, replace, remodel, alter, perform conversions, modernization, improvement, or build additions to structures and land.
Typical Jobs Home Improvement Contractors Perform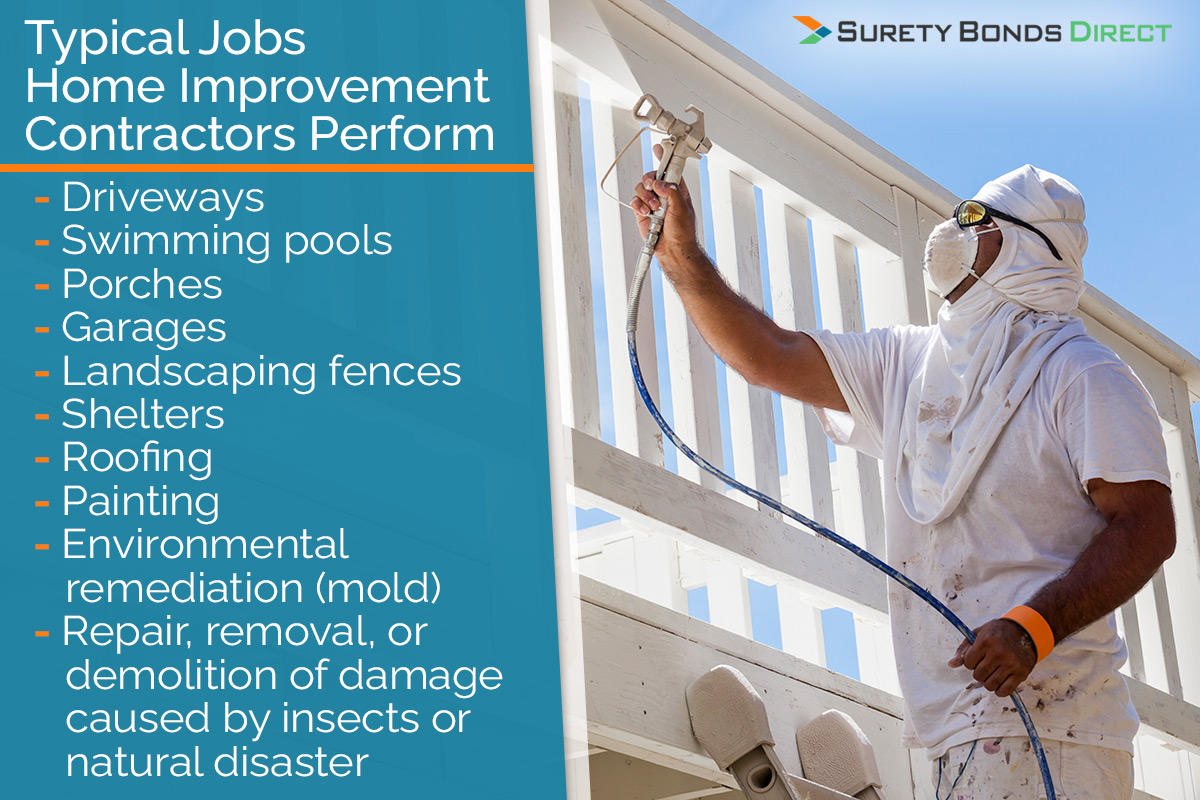 Driveways
Swimming pools
Porches
Garages
Landscaping fences
Shelters
Roofing
Painting
Environmental remediation (mold)
Repair, removal, or demolition of damage caused by insects or natural disaster
Any work that requires the following are required to obtain additional licenses:
Lead paint abatement
Well drilling
Security systems
Electrical
Mechanical HVAC
Plumbing
These are special classifications of the Tennessee Contractor license.
Step 1: Insurance Requirements
Home Improvement contractors are required to have:
General Liability
General liability insurance helps protect the contractor's business from claims that the business caused bodily injury or damage to someone else's property. A minimum policy coverage of $100,000 is required.
Workers Compensation
If you have employees, you must provide proof of a workers compensation policy. If you're a sole proprietor or partnership with no sub-contractors or employees you can apply for an exemption by registering as a "Construction Services Provider".
Surety Bond Requirement
Home Improvement contractors must submit proof of financial responsibility in the amount of $10,000. Financial responsibility means extending protection to your customers in case of any negligent or fraudulent behavior from your business or employees. Customers have financial protection up to $10,000.
In most cases a surety bond is purchased for this financial responsibility requirement. An irrevocable letter or credit can also be obtained, but this is not used as widely as purchasing a surety bond.
What is a Surety Bond?
A surety bond is an insurance agreement and legal promise that you will do what you say you're doing to do for your customers.
A surety bond is not the same as your typical insurance policies. Typical insurance, like general liability, is purchased to protect you and your business from claims against you or your business.
A surety bond is purchased by you for the protection of your customers in any case where negligent, fraudulent, or any type of harmful misconduct occurs.
Examples of misconduct and negligence are:
Not finishing contracted work
Performing contractor work below standards
Switching to cheaper materials without notice
Stealing customers property
In the event any of these acts occur the customer can make a claim against the bond, but only up the $10,000 bond amount for financial recourse.
If you're wondering how to get a surety bond, the process for a Home Improvement contractor is easy and fast.
How Much Does a Tennessee Home Improvement Surety Bond Cost?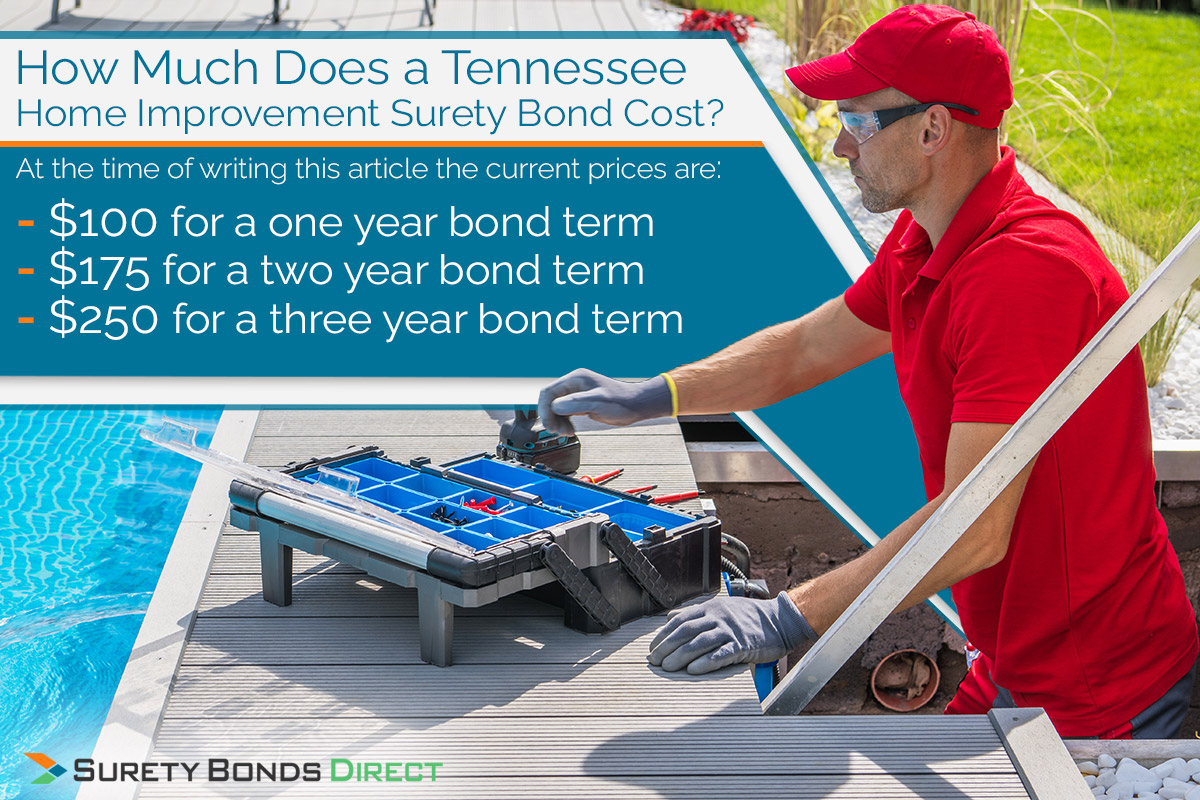 Surety Bonds Direct is a specialized surety agency. We work with multiple sureties, the insurance companies who write surety bond agreements, to secure the lowest possible prices for our customers.
This type of surety bond is commonly known as a contractor bond. We've secured Tennessee Home Improvement contractor bonds at low fixed costs that require zero credit check.
At the time of writing this article the current prices are:
$100 for a one year bond term
$175 for a two year bond term
$250 for a three year bond term
Make sure you consult our Tennessee Home Improvement bond page for the most up to date pricing.
What is a Contractor License Bond Term
The counties that require the Home Improvement license require an active bond to continually be on file as long as a license is active. Surety bonds are purchased for an active length of time called a term. Typically one year to three years.
Surety Bonds Direct makes it easy to keep your Home Improvement bond active by renewing the bond at the end of your bond term. This requires paying the premium again before the bond term expires and with a new effective date on the day the old bond term resets.
If Tennessee updates their bonding requirements, Surety Bonds Direct, will notify you of these changes and help you amend your bond if needed or renew it at any future new amount.
Step 2: Complete Home Improvement Application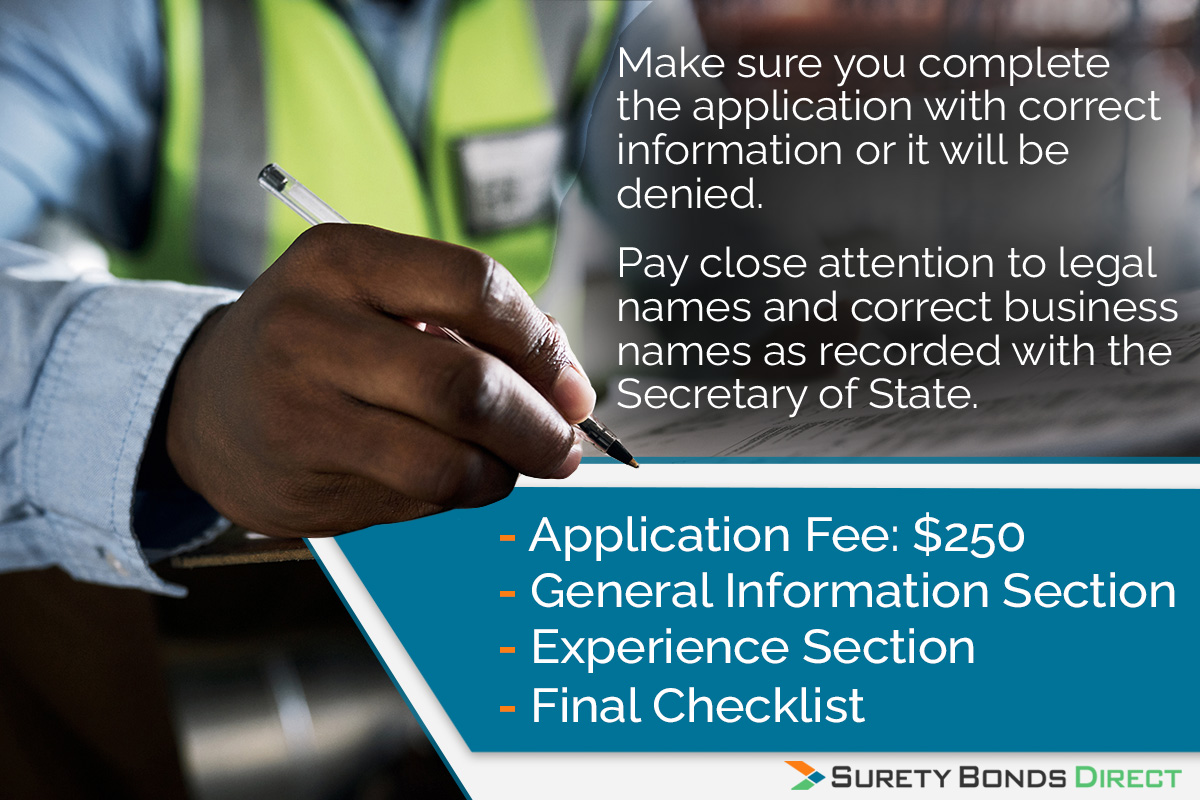 The application is straightforward. Make sure you complete the application with correct information or it will be denied. Pay close attention to legal names and correct business names as recorded with the Secretary of State.
Application Fee: $250
A Home Improvement license renews every two years. This application fee is due during initial application and any renewal or reinstatement application.
General Information
A general information section requires the disclosure of:
Criminal history
Business history
Complaints or judgement history
Proof of insurance
Experience Information
You must provide all of your experience as a contractor, subcontractor, or employee of other contractors. You must also include any prior Home Improvement experience and references are required.
You can attach resume-style documents in addition to the space the application provides. This is encouraged by the Department of Commerce and Insurance.
Final Checklist
Finally the application requires you to check off and provide documentation based on questions answered previously. This section primarily services as an application checklist to ensure you attach all required documents such as:
Resumes for experience
Insurance documents
Surety bond document
Business documents like an LLC charter
Proof of registration with the Secretary or State if you created a business entity
Step 3: Contract Guidelines
Tennessee outlines what is required in every contract for a job.
Contracts must be in writing and contain the complete agreement with the homeowner
State the full names of the parties involved and the license number of the contractors
A full description of the work to be done and the goods/materials and/or equipment to be used
A complete description of any additional documents contained in the agreement
All contracts must include the verbiage: "NOTICE TO OWNER: Do not sign this contract if blank. You are entitled to a copy of the contract at the time you sign."
The approximate dates when the work will begin and be completed
A notice that all contractors used in the job are licensed
Contain all other additional matters pertinent to the job that are not covered above
Contracts should not contain any power of attorney or confess judgment. No sales person, agent or employee to he home improvement contractor can make changes to the agreement
If accepting 1/3rd downpayment for a job, a disclosure and payment schedule must be included
Roofers paid by insurance must add a "right to cancel" in the contract
A more detailed list and explanation of these home improvement laws can be found on the contractor Commerce and Insurance's website.
What if jobs require electrical work or plumbing work?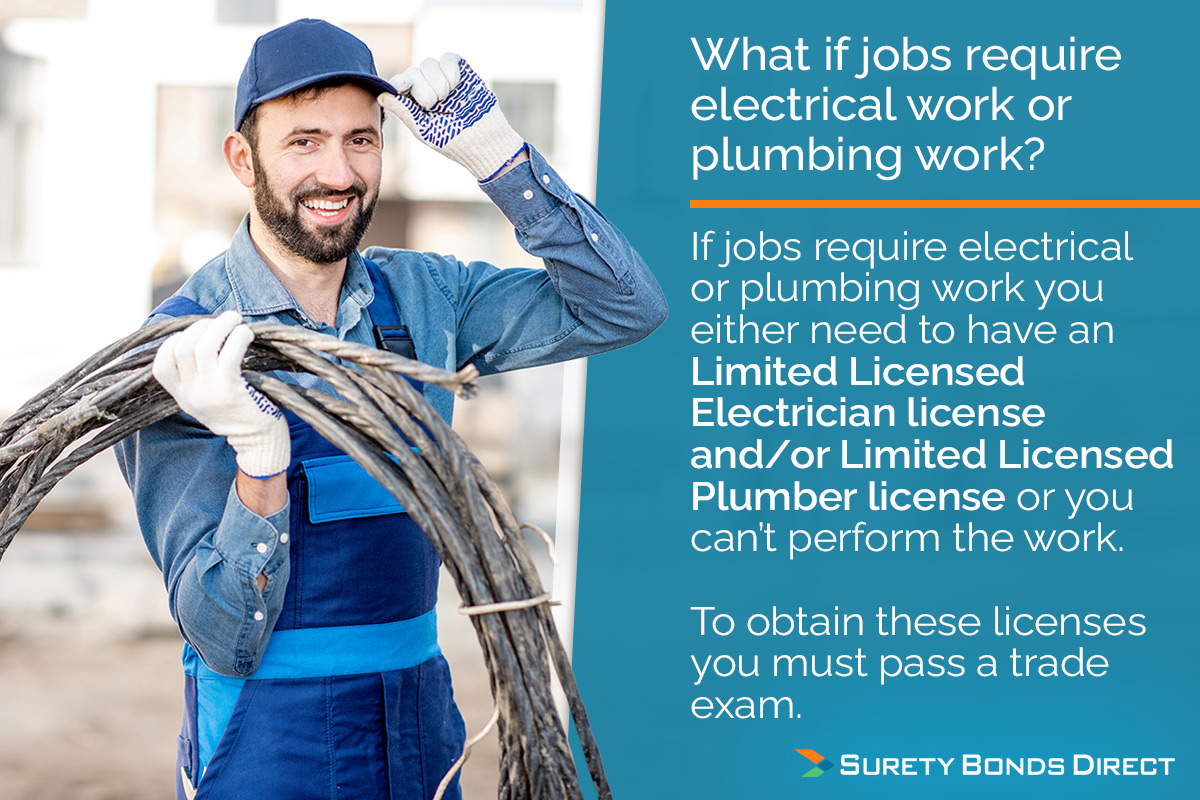 Limited Licensed Electrician
Like the Home Improvement license, many counties require a Limited Licensed Electrician (LLE) license for any project valued under $25,000.
To obtain this license, you must pass a trade exam. An LLE cannot advise as a contractor and must use a licensed electrician (Contractor) for HVAC installations.
Limited Licensed Plumber
Similar to the Limited Liability Electrician license, a Limited Liability Plumbing license is required in many counties for jobs valued under $25,000. And like the LLE, a trade exam and application must be completed to obtain this license.
Some cities and counties have their own plumbing regulations for journeyman or master licenses. Make sure the LLP is accepted in the county and city before you take on work.
A separate contractor surety bond is not required for either the LLE or LLP.
When You Need a Tennessee Home Improvement Bond Call Surety Bonds Direct
When you're getting your home improvement license, Surety Bonds Direct will help you purchase your bond for the lowest possible price. You can purchase your bond for a fixed price with no credit check required.
If you have any questions about the required home improvement bond, call one of our bond specialists at 1-800-608-9950.