Tennessee has unique contractor bonding rules compared to many states. Most contractor bonds are required at the county or city level or on a per project level. However, there is an official contractor license bond that may be required at the state level given certain circumstances.
This short article will cover:
What the official state level contractor license bond is
When the contractor bond is required
When a contractor may elect to purchase the bond
Plus how to purchase a contractor bond at the lowest cost
The State Level Tennessee Contractor License Bond
There are many contractors who require a surety bond to obtain a license. The most common in Tennessee are:
Tennessee Home Improvement Contractor
Fire protection system contractors
Plus other local level bonds
There is an "official" state level contractor license bond used in two specific cases:
Supplementing the contractor monetary limit
Bonding a subsidiary business entity that's getting licensed independently of the parent company
This bond is only applicable to individuals or entities who obtain a Tennessee contractor license for projects $25,000 and up.
The Tennessee Department of Commerce and Insurance determines the size of a project a contractor can take on by determining their monetary limit.
Determining The Contractor Monetary Limit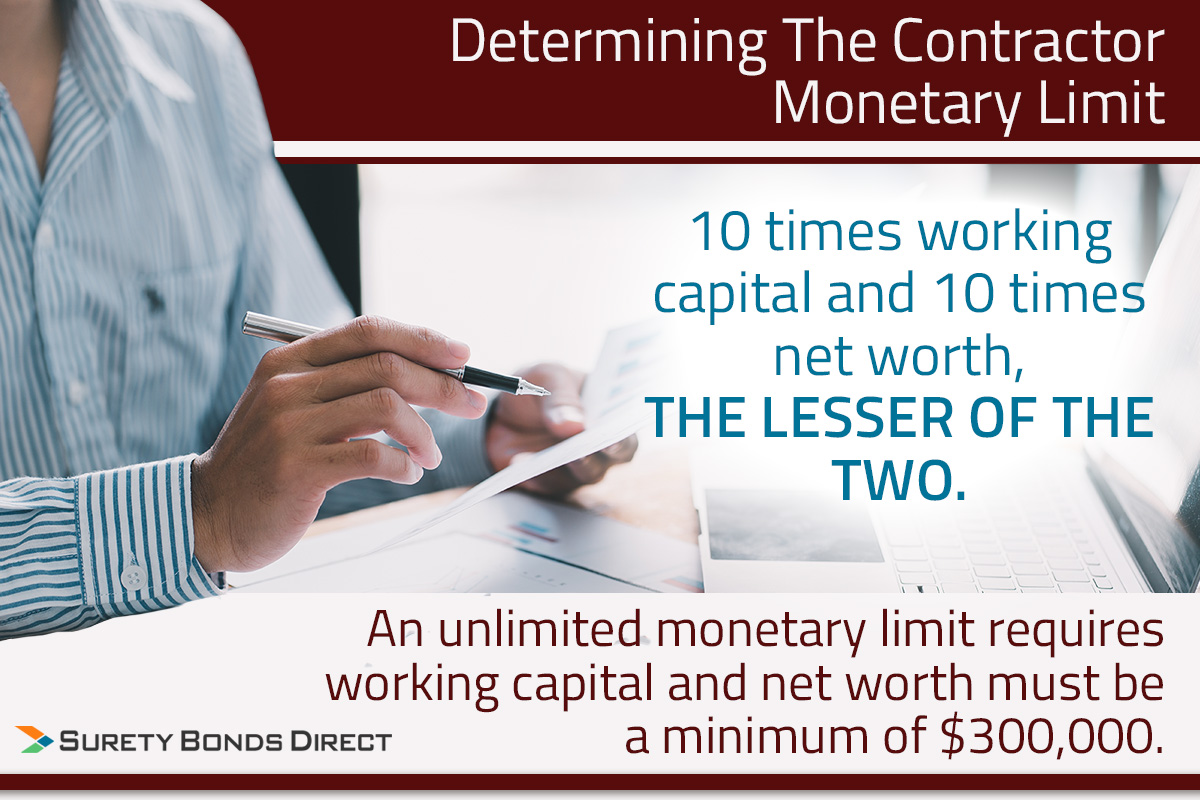 Upon initial licensing, every individual or entity must submit a financial statement prepared or reviewed by an independent account or Certified Public Accountant. This financial statement must cover the most recent 12 months. If you're trying to obtain a monetary limit of over 3 million you need to provide an audited financial statement. Less than 3 million, you must supply a reviewed statement.
The monetary limit will officially be assigned during the application review process. The monetary limit is based upon 10X of the working capital and 10X net worth, the lesser of the two. For an unlimited monetary limit, the working capital and net worth must be a minimum of $300,000.
An unlimited monetary limit means the contractor can take on projects of any size.
Working capital and net worth are determined by the assets and liabilities from the financial statement.
Based on this monetary limit is where the contractor license bond becomes an option. The bond is also an option for licensed entities who have a subsidiary entity seeking licensure.
Before we get into these bonding scenarios, what is a contractor's bond at a high level?
What Is a Contractor Surety Bond?
A surety bond is a legal document a contractor or entity purchases as a financial guarantee they will perform the work they're contracted to perform and follow all state, county, and city contracting licensing rules.
In most cases, contractor bonds are required to
In this case, the contractor's bond is a guarantee to cover additional monetary limit or to guarantee the debts and costs of a subsidiary business.
Let's go into more detail.
The Two Use Cases For The Tennessee Contractor License Bond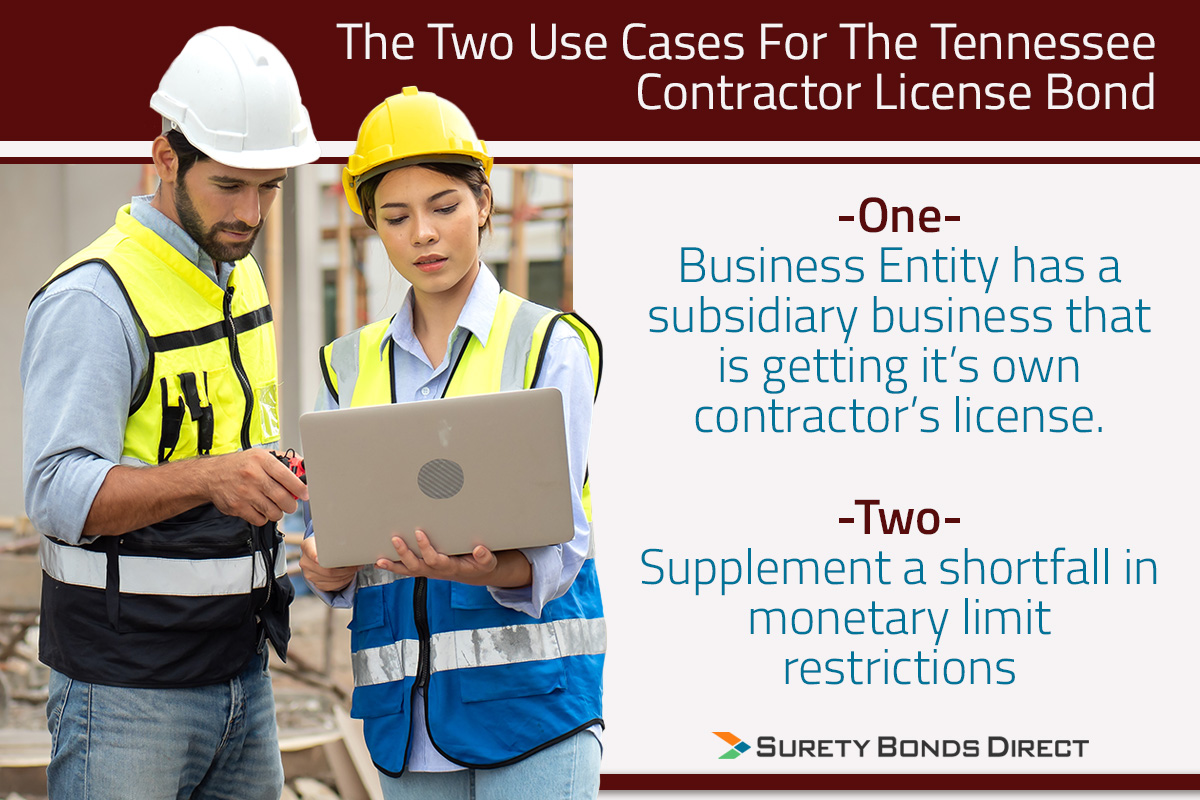 If a legal business entity has a subsidiary (another business entity) getting independently licensed, the parent company must:
Supply an audited financial statement
And, indemnify the subsidiary
There are two options for indemnifying:
A guarantee agreement
A contractor license bond
1. The Guarantee Agreement
The Guarantee Agreement is where the owners or members of the parent company guarantee the debts and obligations of the subsidiary through all of the its contractor activities. This guarantee will need to support the monetary limit of the subsidiary at double the value. The guarantee agreement liability is limited to 10% (of $3,000,000) at the high end for an unlimited monetary limit which would be $300,000.
Here's an example:
If a subsidiary is requesting a monetary limit of $500,000 the entity's financial statement must show $50,000 in both working capital and net worth ($50,000 multiple by 10 is $500,000).
The parent company providing the indemnity would need to show $100,000 in both working capital and net worth because 50% of $100,000 matches the working capital and net worth requirement of $50,000.
The limit of the guarantee in this example would be $50,000.
If the parent company elects not to guarantee this amount or they don't have the necessary working capital or net worth, they can request from the Board to purchase a contractor license bond.
2. Contractor License Bond
A contractor bond can be purchased as the financial guarantee "backing" the subsidiary.
For monetary limits less than 3 million the bond amount is $500,000
For monetary limits more than 3 million the bond amount is $1,000,000
There are no other bond amount options.
In the example, the parent company can purchase a bond to guarantee the $50,000 required amount. Below we go over examples of bond prices because the bond amount is not the cost to purchase the bond.
2. Supplement a Shortfall in Monetary Limit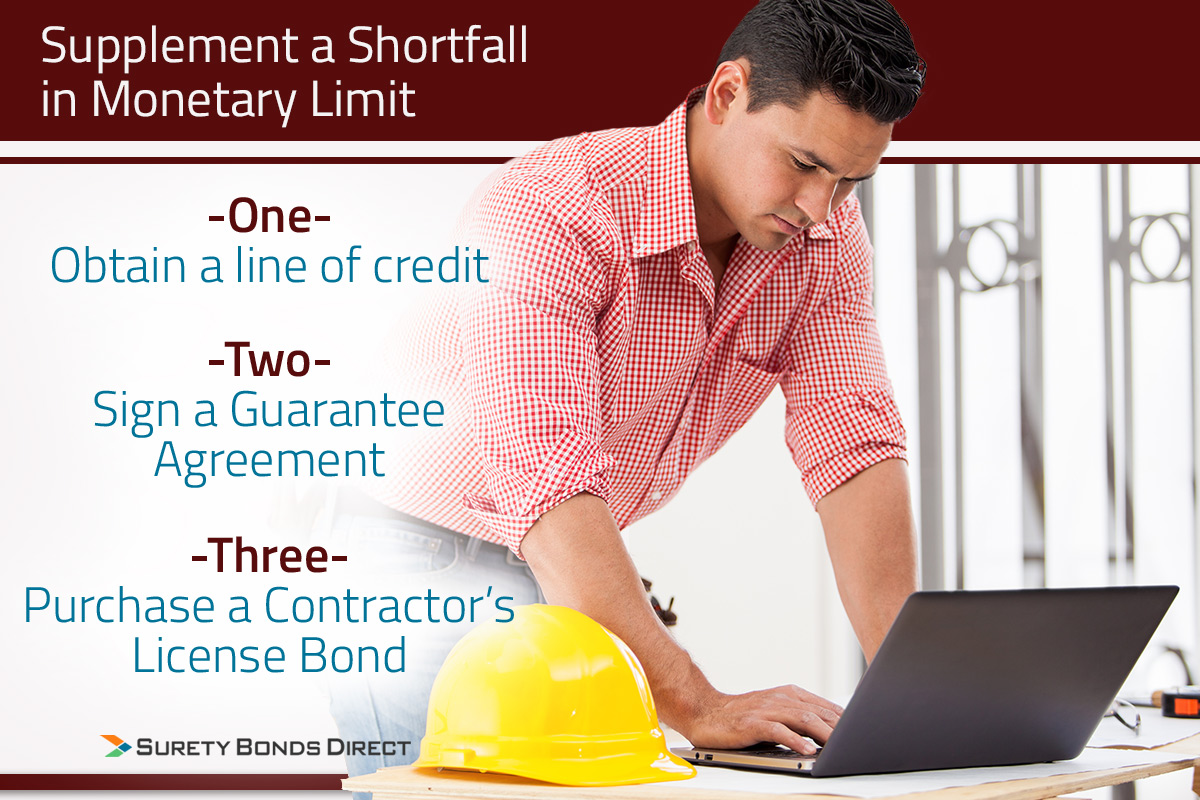 If a contractor or entity requires an increased monetary limit, but their working capital or net worth don't allow for the increase, a line of credit, Guarantee Agreement, or contractor license bond can supplement the shortfall.
Here's how this would work:
A contractor is seeking a monetary limit of $500,000. This would mean the contractor would need to show at least $50,000 in both working capital and net worth.
If this contractor has $40,000 in (business) working capital and a $100,000 (business) net worth, the lesser of working capital creates a shortfall of $10,000.
To supplement this $10,000 amount the contract has three options:
Option 1: Obtain a Line of Credit
The contractor can work with a bank and obtain a line of credit for the full $10,000.
Option 2: Personally Guarantee the $10,000
A Guarantee Agreement can be signed guaranteeing the $10,000 amount. Keep in mind, for a Guarantee agreement to be valid the individual would need to show a personal financial statement or a parent company's financial statement with working capital (or net worth) of double the monetary shortfall. In this case that would be $20,000 because 50% of $20,000 is the required $10,000.
Just to stress, this $20,000 would have to come from:
Personal financial statement
A parent company's working capital and net worth
If a parent company comes in to support this shortfall, they will need to make sure all subsidiaries who might be requesting a larger monetary limit can be supported as well.
Option 3: Contractor License Bond
Remember the bond amounts are:
For monetary limits less than 3 million the bond amount is $500,000
For monetary limits more than 3 million the bond amount is $1,000,000
In our example, the contractor could purchase a $500,000 contractor bond to guarantee the $10,000 monetary limit deficit. Of course this does not always make sense based on the amount of the shortfall.
When Does a Contractor License Bond Make Sense?
The Tennessee Department of Commerce does not recommend a contractor license bond unless there is a substantial shortfall amount for the monetary limit.
A bond will make sense if a larger contractor or business secures an important job. Their current monetary limit is far below the requirement for the job. A contractor bond makes sense because a personal or business Guaranty Agreement may not be feasible.
The contractor bond amount is not the cost of the bond. The bond amount is the available funds reserved in the case where a claim is made against the bond.
The cost is typically a small fraction - or rate - of the bond amount.
The rate is determined by a surety. The surety is the insurance company that writes surety bonds. Surety Bonds Direct is a surety agency. We work with multiple sureties to find our customers the lowest possible rate and therefore the lowest price.
Rates are calculated using:
Primarily personal credit
Industry and business experience
Business credit (if available)
Any prior bond claims (if applicable)
Typical rates for contractor bonds range from less than 1% on the low end to about 5% on the high end.
In our example, the contractor has the option to purchase a $500,000 contractor bond.
Here are the potential costs of this bond and you can clearly see if a rate of 0.5% to 1.5%, purchasing the bond may become the best option.
| Bond Amount | Surety Bond Rate | Price You Pay |
| --- | --- | --- |
| $50,000 | 0.5% | $250 |
| $50,000 | 1% | $500 |
| $50,000 | 2% | $1,000 |
| $50,000 | 3% | $1,500 |
If You Need a Tennessee Contractor License Bond Request a Free Quote
If you're looking to supplement your monetary limit or you're a parent company with a subsidiary that is getting independently licensed, get your specific contractor bond pricing today.
You can use our free online bond quote form and request a quote online or call a bond specialist at 1-800-608-9950.
I hope this article helped make sense of Tennessee's contractor license bond and when it might make sense for you and your contracting business.