The application process for getting a contractor license in Virginia is involved. It's not that there are many steps, rather, there are many details in each step you need to be aware of. Any wrong or missing information can delay your application from being processed and delay your business from hitting the ground running.
This article will help you:
Understand the four steps to get your Virginia contractor license
Know the small details so you don't make any mistakes
Explain the surety bond requirement
Understand the unique insurance requirements
Breakdown all the fees to get your application submitted
The 6 Steps To Get Your Virginia Contractor's License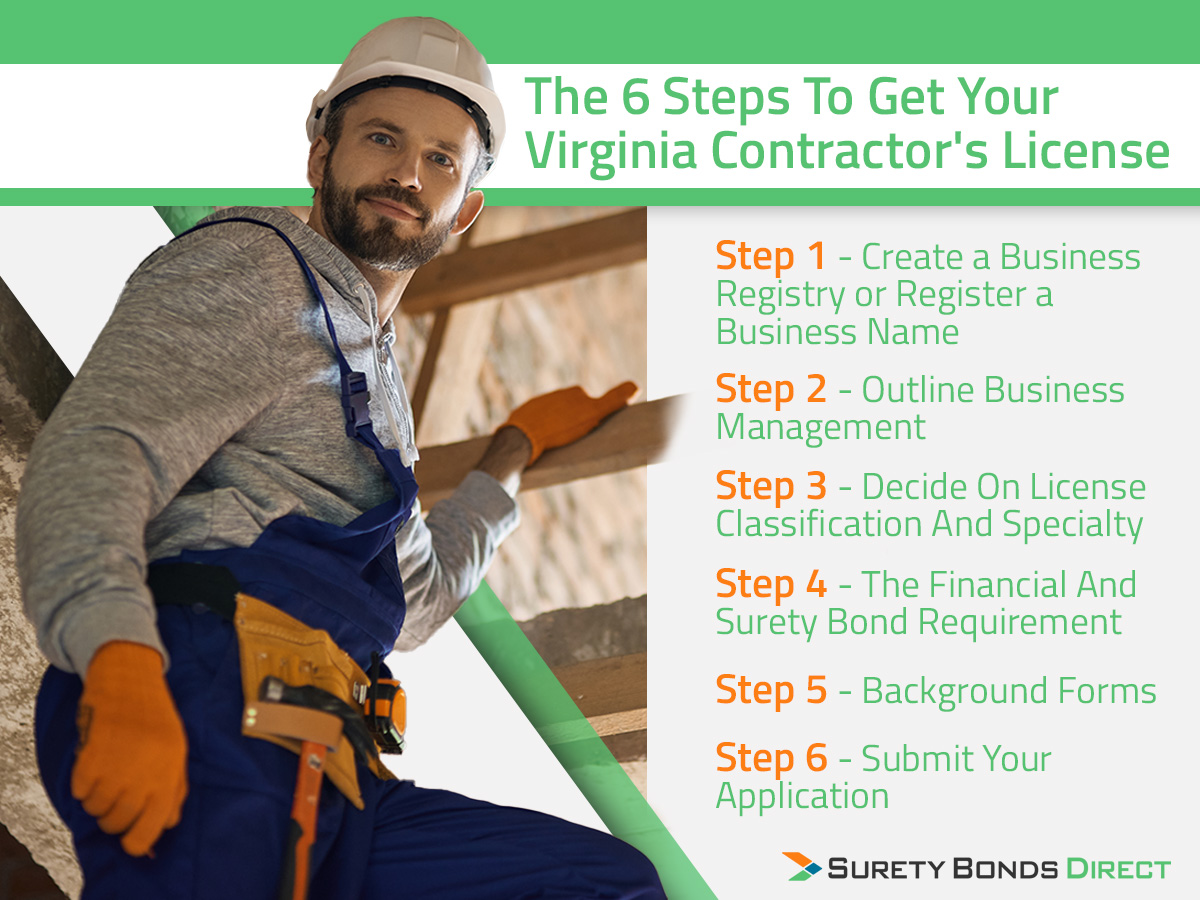 Before getting into the steps for completing the application process, here are the current statutes and laws regulating contractor businesses in Virginia. It's an easy site to use and it should be your source of truth from year to year.
Also, the DPOR (Department of Professional and Occupational Regulation) clearly states that even though you have a Virginia contractor's license, you're still regulated by local cities, towns, and counties. Before you start any project, consult with the local Commissioner of the Revenue and Building Official for local regulations, permitting, or additional licensing details.
Step 1 - Create a Business Registry or Register a Business Name
Virginia does not issue contractor licenses to individuals, only business entities. If you're a sole proprietor, you must register a business name or a "doing business as name" with the State Corporation Commission. This name is what you'll use on your application with an attached certificate.
All out of state businesses must register their business with the State Corporate Commission as well.
Finally, all applicants who are not sole proprietors or individually owned Limited Liability Companies must provide a Federal Employer Identification Number.
Make sure you use your legal name on your application and that all names and business names on the application match the names filed with the state.
Business names can't suggest you do any work not allowed by your license. The example the DPOR gives is a roofing company cannot call themselves, "builders."
Step 2 - Outline Business Management
All of the correct individuals, officers, members, and/or partners who formed the business entity must include all necessary information on the application. This includes information like:
Social security number or DMV control number
Legal name
Birthdate
Addresse
Copy of a government issued ID
Email address
Phone number
For the application process, email addresses are considered public information. Make sure you use the appropriate email as it will be listed.
Finally, any contractor licenses held outside of Virginia must be listed as well. It's possible a license from another state can count towards the experience requirement for the technical examination. But more on that in the exam section.
Step 3 - Decide On License Classification And Specialty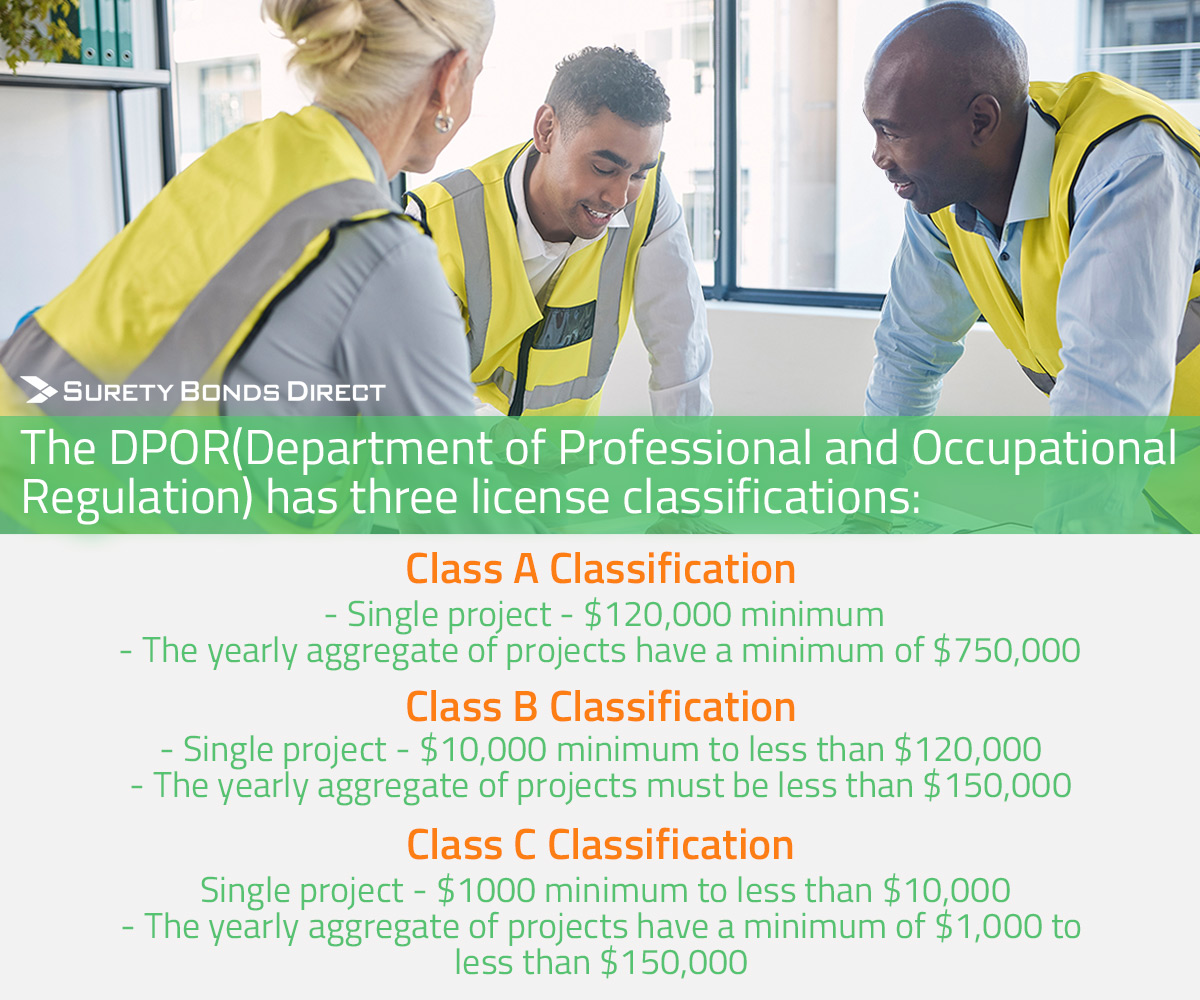 The DPOR has three license classifications:
Class A Classification
Class A licenses have no restrictions on how large a single contract or project can be. However Virginia does mention in the laws the official range is:
On a single project a $120,000 minimum
The yearly aggregate of projects have a minimum of $750,000
These minimums are in place as a way to force contractors into Class A once they reach these specific levels in their business.
Class B Classification
Class B licenses have a range of:
On a single project, a minimum of $10,000 to less than $120,000
The yearly aggregate of projects must be less than $150,000
Class C Classification
Class C license have a range of:
On a single project, a minimum of $1,000 to less than $10,000
The yearly aggregate of projects have a minimum of $1,000 to less than $150,000
These ranges impact the contractor bond requirement because the larger the project, the larger the risk involved. I'll explain this more in the surety bond section.
The Qualified Individual
A Qualified Individual must be named for each designation in Class A and B licenses. A Qualified Individual must:
Be a full time employee or one of the members or officers of the business entity
Have 5 years experience in the chosen designation for Class A licenses
Have 3 years experience in the chosen designation for Class B licenses
An Experience Verification Form must be filled out with proof of this experience.
If you hold a contractor license from another state, you can notify the DPOR to see if you can waive the experience requirements. This is done on a case-by-case basis.
Qualified Individuals must hold a Certification for the following designations:
Applicants must hold a Certification for the following
BEC - Blast/explosive
MHC - Manufactured home contracting
RMC - Radon mitigation
SPR - Fire sprinkler
Qualified Individuals must hold a license from the DPOR for the following designations:
Applicants must hold a valid license issued form DPOR the following
ADS - Alternative Disposal System
ASB - Asbestos
ASC - Accessibility Services
ASL - Accessibility Services with LULA
CDS - Conventional Disposal System
ELE - Electrical
EEC - Elevator/escalator
GFC - Gas Fitting
HVA - HVAC
LAC - Lead Abatement
LPG - Liquefied petroleum gas
NGF - Natural gas fitting provider
PLB - Plumbing
WWP - Water well/pump
Qualified Individuals must be pre-approved or pass an exam for the following designations:
Applicants must be pre-approved and pass examination for the following
AES - Alternative energy systems
H/H - Highway/heavy
PAV - Asphalt paving & seal coating
HIC - Home Improvement
BSC - Billboard/sign
IBC - Industrialized Building
CBC - Commercial Building
INS - Insulation & Weather Stripping
CIC - Commercial improvement
ISC - Landscape irrigation
CEM - Concrete
LSC - Landscape services
DRY - Drywall Company
MCC - Marine facility
ESC - Electronic/communication service
BRK - Masonry
EMW - Environmental monitoring well
PTC - Painting & wall covering
ENV - Environmental specialties
RFC - Recreational facility
EMC - Equipment/machinary
REF - Refrigeration
FIC - Farm Imporvement
RBC - Residential Building
FIN - Finish Carpentry
ROC - Roofing
DRY - Drywall Company
MCC - Marine facility
FAS - Fire alarm systems
STL - Steel Erection Contracting
FSP - Fire supression
POL - Swinning pool construction
FLR - Flooring & Floor Covering
TMC - Tile, Marble, Ceramic & Terrazzo
FRM - Framing Sub Contractor
UUC - Underground Utility & Excavating
GLZ - Glass & Glazing
VCC - Vessel contruction
Make sure you read more about the Qualified Individual for more details. The guide is under the Forms and Applications tab, the first tab.
The Designated Employee
Class A and B licenses must declare a Designated Employee who has successfully completed the correct examinations. The Designated Employee must be a full time employee working a minimum of 30 hours or be listed as a member of Responsible Management.
Class A must take the Advanced, General, and Virginia exams
Class B must take the General and Virginia exams
Step 4 - The Financial And Surety Bond Requirement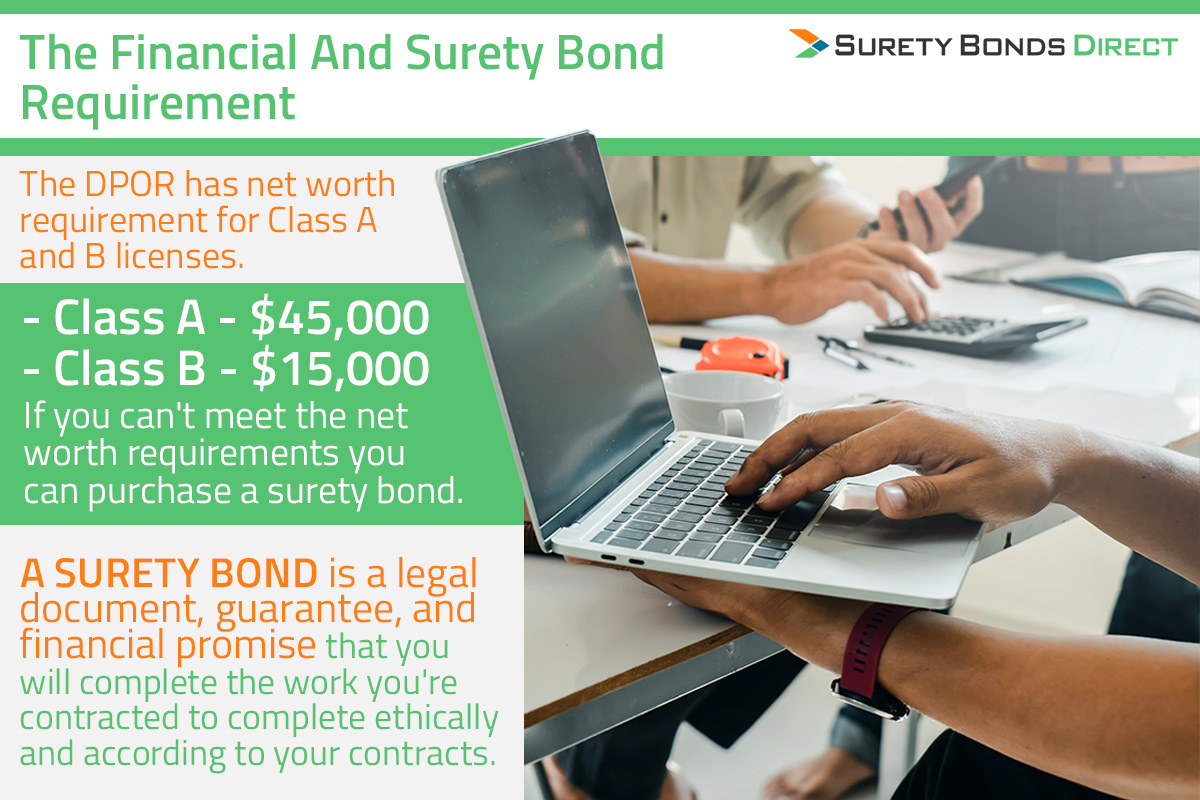 The DPOR has net worth requirement for Class A and B licenses.
Class A - $45,000
Class B - $15,000
The individual or business must provide a Financial Statement Form with supporting documentation, including a CPA review or audit as proof of the net worth figures.
If you can't meet the net worth requirements, or the time and cost of CPA-audited financials is not worth it, you can purchase a surety bond which is a much faster process.
Class C has no net worth requirement and therefore no need to purchase a surety bond.
What is a Surety Bond?
Watch our video explaining the Virginia contractor bond and why the DPOR requires it.
In this case the surety bond is referred to as a Virginia contractor license bond.
A surety bond is a legal document, guarantee, and financial promise that you will complete the work you're contracted to complete ethically and according to your contracts.
Think of a surety bond like an insurance policy the DPOR makes you purchase to protect your customers and subcontractors. Because you can't meet the net worth requirement, the DPOR wants to make sure your customers and subcontractors have financial protection.
It's unfortunate, but there are contractors who purposefully:
Fail to complete projects
Fail to follow Virginia building codes
Swap out cheaper materials to increase profit margins
Steal from customer deposits
Refuse to pay or mis-pay subcontractors
In any of these cases the customer or subcontractor can make a claim against the contractor bond to recoup their financial losses up to the amount of the bond.
The DPOR requires a $50,000 contractor bond.
$50,000 is the bond amount, not the price to purchase the bond.
How Much Does a Surety Bond Cost?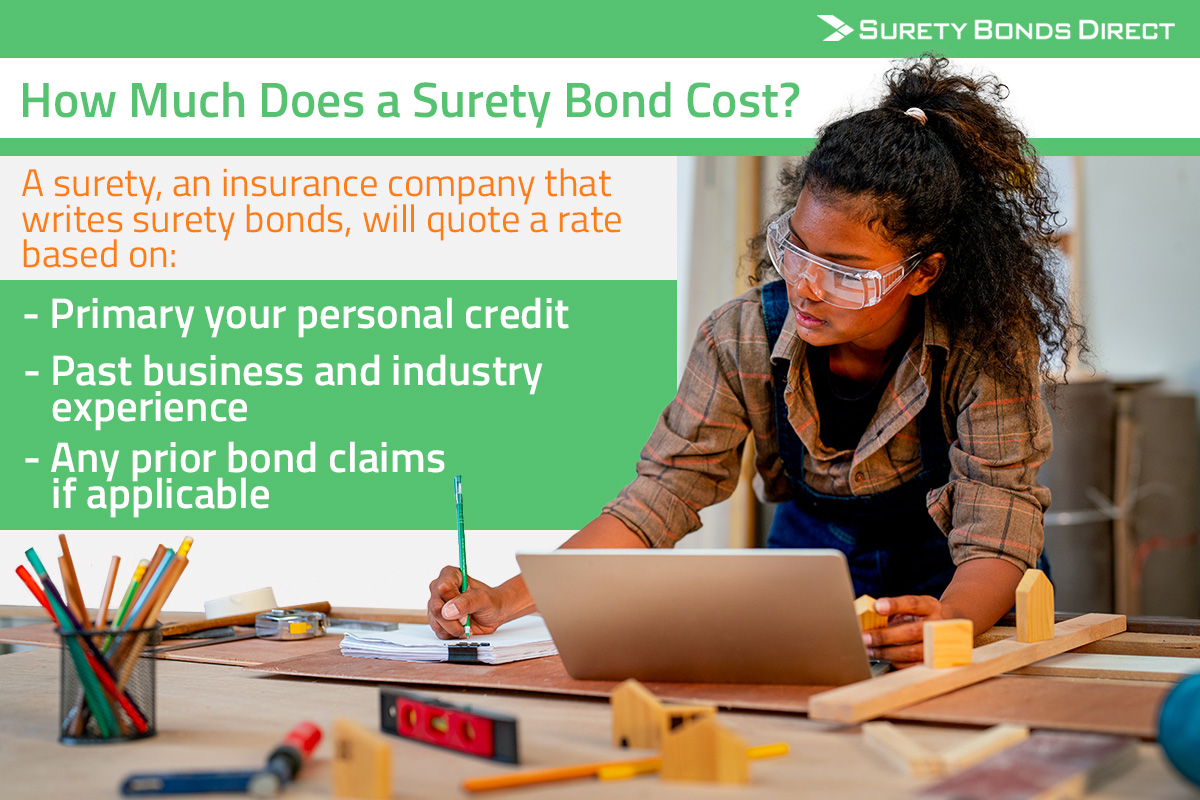 A surety, an insurance company that writes surety bonds, will quote a rate based on:
Primary your personal credit
Past business and industry experience
Any prior bond claims if applicable
The rates different sureties quote can vary drastically. This is why you should work with a specialized surety bond agency like Surety Bonds Direct.
Surety Bonds Direct works with multiple A-rated sureties and can quotes from multiple sureties to get the lowest possible rate.
The table below gives you an idea of the pricing with different rates for a Virginia contractor license bond. Remember the rate is determined by the above three factors.
| Bond Amount | Surety Bond Rate | Price You Pay |
| --- | --- | --- |
| $50,000 | 0.5% | $250 |
| $50,000 | 1% | $500 |
| $50,000 | 2% | $1,000 |
| $50,000 | 3% | $1,500 |
| $50,000 | 4% | $2,000 |
| $50,000 | 5% | $2,500 |
After You Purchase Your Bond
Once you purchase your contractor bond, Surety Bonds Direct will finalize your bond and email it to you, typically within one business day.
You can send a copy of your bond with your application.
To get started, fill out our online quote form or call a bond specialist (1-800-608-9950). All contractor bond quotes are free and there's zero obligation to purchase.
Step 5 - Background Forms
The following forms are only required if you meet the criteria for each form.
If the business entity, designated employee, qualified individual, or any officer or member of the business entity has:
Ever been subject to disciplinary action,
Found guilty of a felony
Has outstanding or past-due debts (including child support)
Has outstanding or past-due judgements
Has past due or "unpaid" claims or suits
Has outstanding tax obligations
Has claims on surety bonds
Has pending or past bankruptcies
You must complete the appropriate form.
Disciplinary Action Reporting form for any disciplinary action
Criminal Conviction Reporting form for any felony
Adverse Financial History Reporting form for any outstanding or past due obligations
In each case, you must also provide the final order of the case or final decision of the matter to the DPOR.
Step 6 - Submit Your Application
Once you have all of the above information together, you can submit your application. Here are the application fees for each license classification:
TABLE
Application signatures are required. The DPOR does not accept e-signatures unless it's a fax of the original signature.
Applications are processed in the order they are received. It typically takes 30 days to have your license issued or be notified of any problems with your application.
We're Ready To Help If You Need To Obtain Your Virginia Contractor Surety Bond
If you're getting licensed for a Class A or B classification and you need to obtain a Virginia contractor license bond, we are ready to help you.
Click here to use on online free quote form and get the quoting process started. It takes only 90 seconds to complete the form. A bond specialist will personally reach out to you once we've collected rates from several sureties.
If you'd prefer to speak to a bond specialist to get the quote process started, call 1-800-608-9950. A bond specialist can help answer any questions you have and get the information needed to get you the lowest price possible.