North Carolina has unique rules and requirements for obtaining a contractor license. Most states classify contractors based on the type of work they plan on doing. The North Carolina Licensing Board for Contractors uses classifications, but further branches contractors into, what they call, limitations. These limitations change the requirements for obtaining a license.
This article will cover:
The North Carolina contractor license classifications
Contractor license limitations
Financial and working capital requirements
Contractor license bonding requirements
Application and exam process
Increasing or decreasing your contractor limitation
Contractor License Classifications
There are five main contractor license classifications:
Building contractors
Residential contractors
Highway contractors
Public utility contractors
Specialty contractors
Building Contractor Classification
This classification includes all building and demolition activity for nearly all projects. Here are some examples of these common building activities:
Commercial and industrial construction
All residential building construction
Parking decks
Driveways and sidewalks
Indoor and outdoor recreational facilities
Natural and artificial athletic fields
Having a building contractor classification also covers work done by all Specialty classifications.
Residential Contractor Classification
As the name suggests the residential classification covers all work to only residential properties regulated by the residential building codes. Common activities include:
All site and structural work
Driveways
Sidewalks
Water and wastewater systems
Having a residential contractor classification covers specialty classification work pertinent to residential properties (listed below).
Highway Contractor Classification
This classification covers all highway and highway related activities including:
All paving
Relocation and laying or public and private utility lines
Parking decks
Sidewalks
Installation of guard rails and fencing
Signage and highway hardware
Paving and grading airport runways and taxiways
Like other classifications the Highway classification includes pertinent speciality classifications.
Public Utility Contractor Classification
This classification focuses on water and wastewater utilities and includes all work performed by Specialty classifications pertinent to public utility contractors.
Specialty Contractor Classifications
Building Contractors Specialties
Concrete construction
Insulation
Interior construction
Marine construction
Masonry construction
Roofing
Metal erection
Swimming pools
Asbestos
Wind turbine erection
Residential Contractors Specialties
Insulation
Interior construction
Masonry construction
Roofing
Swimming pools
Asbestos
Highway Secondary Classifications Specialties
Grading and excavating
Boring and tunneling
Concrete construction
Marine construction
Railroad construction
Public Utility Contractor Specialties
Boring and tunneling
Communications
Fuel distribution
Electrical ahead of point of delivery
Water lines and sewer lines
Water purification and sewage disposal
Swimming pools
For detailed explanations of each specialty, visit the North Carolina Licensing Board for Contractors. You can read their prepared PDF under the Specialty heading.
Each speciality contractor classification can be obtained individually based on the goals of the individual or company obtaining licensing. Plus each classification has its own application process and examination requirements.
If an individual contractor or company qualifies for all classifications, the Board designates them "unclassified".
North Carolina Contractor Limitations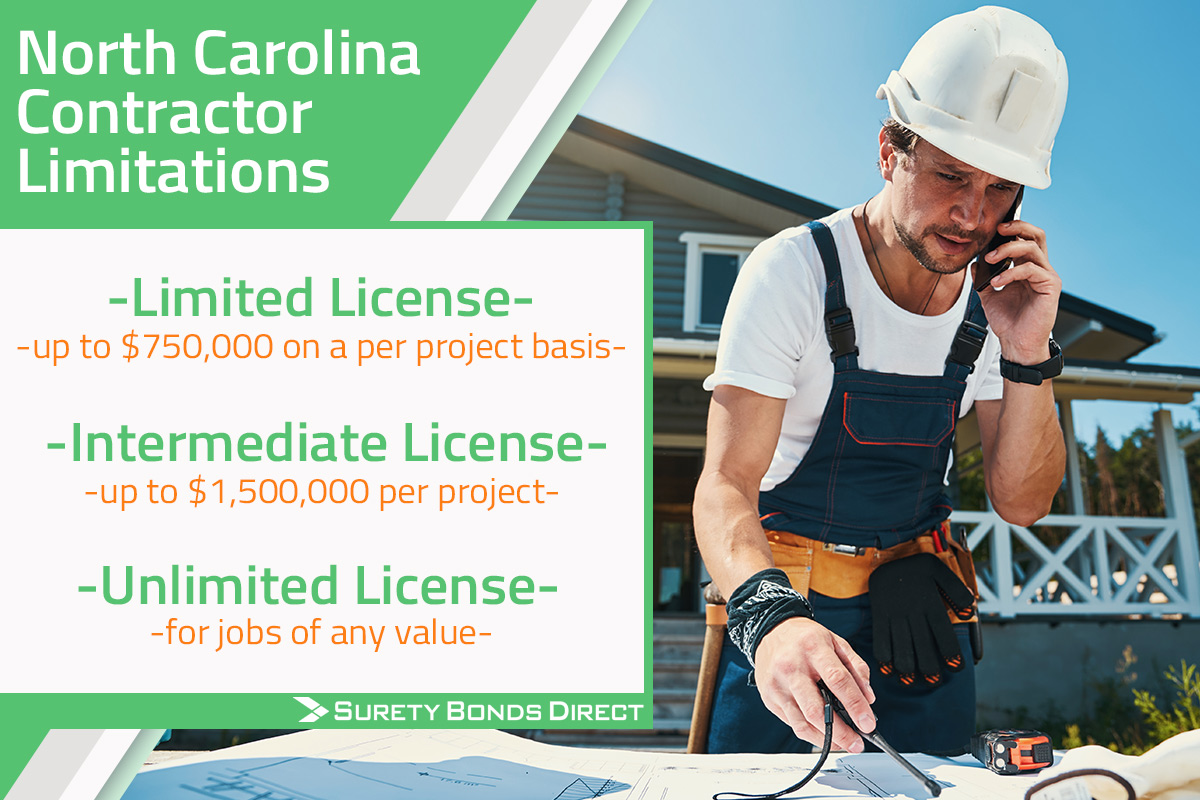 Again, the classification is the type of work you plan on performing. The limitations placed on each classification dictate the size of the jobs an individual or company can perform.
Plus each limitation sets for the the individual or company financial and working capital requirements to perform these projects. These financial requirements are important for the bonding requirements, which will be covered in the next section.
Limited License
A limited license allows the contractor or company to act as general contractor for a project with a value of up to $750,000 on a per project basis. This figure excludes the cost of the land and any added costs to improve the land to prepare it for the construction project.
Working Capital Requirements
There are two options of which one must be met:
Current assets must exceed total liabilities by at least $17,000.
A total net worth of at least $80,000
Intermediate License
An intermediate license allows the contractor or company to act as general contractor for projects valued up to $1,500,000 per project. This figure also excludes the price of and any necessary improvements to the land for the project.
Working Capital Requirements
Current assets must exceed total liabilities by at least $75,000.
Unlimited License
An unlimited licensee can act as the general contractor for jobs of any value. There are no restrictions.
Working Capital Requirements
Current assets must exceed the total liabilities by at least $150,000.
Proof of Working Capital
To prove your working capital level for the desired license limitation, the individual or company can either:
Let the Board conduct an audit
Have a licensed Certified Public Accountant prepare an Agree-Upon Procedure Report that conforms with the American Institute of Certified Public Accountants.
If you cannot meet these working capital requirements, a North Carolina contractor bond can be purchased instead.
North Carolina Contractor License Bonds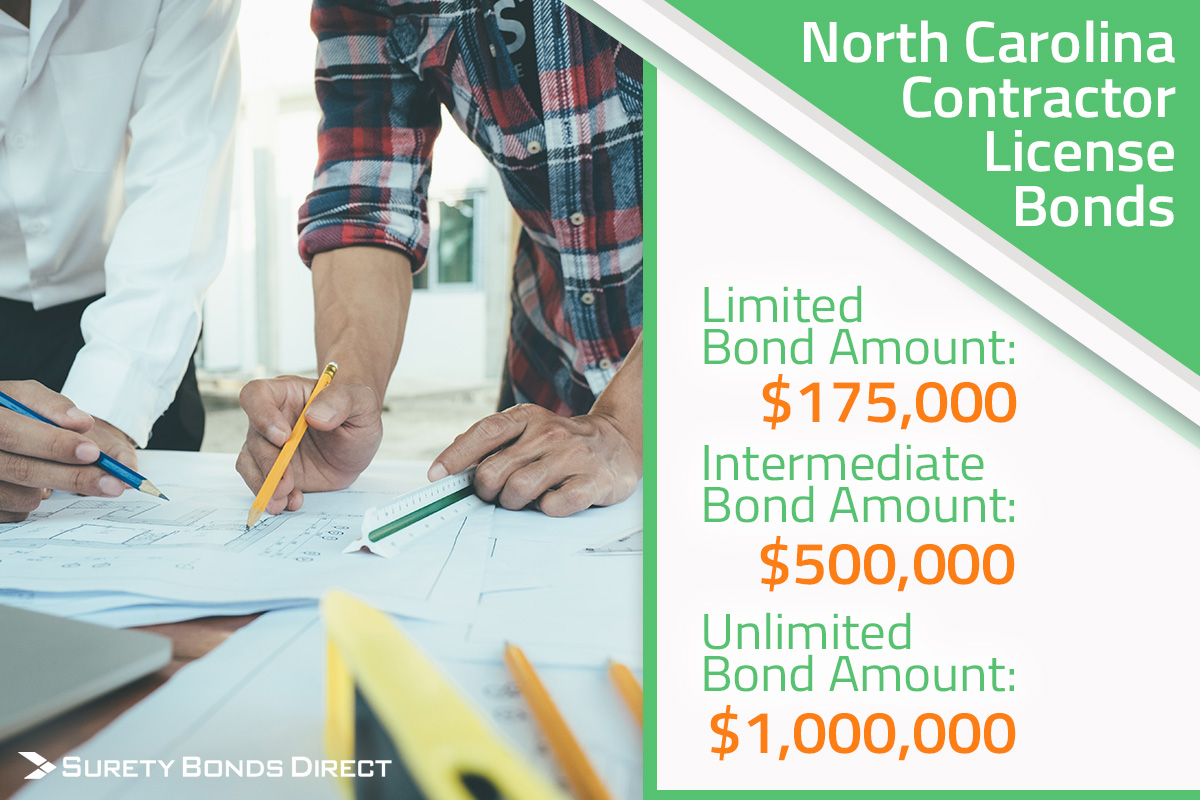 What is a Surety Bond?
The most common question we get at Surety Bonds Direct is, what is a surety bond?
It's easier to understand surety bonds when you understand the working capital requirements. North Carolina is unique, as most states don't have explicit financial requirements. Yet, most states require, by law, a surety bond to obtain a license.
The North Carolina Licensing Board for General Contractors requires working capital by contractors in the instances where:
Jobs run over budget
Unforeseen issues arise causes contract issues
Subcontractor issues
Contractual disagreements with customers
Plus contractors with the required working capital will be able to obtain the necessary insurance to protect all the parties involved in any given project.
A surety bond provides similar breach of contract protection, but only for the customers of the contractor or company. This protection includes:
Breach of contract for furnishing labor
Using or not providing agreed upon materials
Lack of professional construction services
Any unlawful act or omission related to the performance of the contract
In any of these cases, a customer can make a claim against the surety bond for financial recovery.
Contractor Bond Amounts Based On License Limitations
| License Limitation | Bond Amount |
| --- | --- |
| Limited License | $175,000 |
| Intermediate License | $500,000 |
| Unlimited License | $1,000,000 |
How Much Does a Contractor Bond Cost
Relative to other states, North Carolina has higher bonding amounts. The bond amount is not the cost of the bond.
The cost of the bond requires a quote by a surety underwriter. The surety is an insurance company who writes surety bonds. Quotes vary greatly from surety to surety.
Read our post about how the cost of a surety bond is determined.
In short, the quote is determined by:
The personal credit of the individual or Qualifier of the company seeking licensure
Past industry and business experience
This is why you want to work with a specialized surety agent like Surety Bonds Direct. We work with multiple sureties and obtain multiple quotes for the required bond. Surety Bonds Direct will deliver the lowest cost bond to you, a bond guaranteed to be accepted by the state of North Carolina.
Start Your Contractor Bond Quote Process Today

Learning how to get a surety bond is easy. We have an online free quote form you can use or you can call a bond specialist at 1-800-608-9950. It typically takes one to two business days to obtain multiple quotes from the most competitive sureties. The quoting process is free and there's no obligation.
This is the only way to determine your exact cost to purchase the required contractor bond.
How Long Does The Bond Last?
The Board requires the bond to be continuous. This means the bond renews on a yearly basis as long as you pay the renewal premium and a new bond is not required to be issued.
If the individual or company meets the required financial and working capital requirements for the active license limitation, the bond does not have to be renewed. Remember, the Board or a CPA must provide proof of the working capital requirements.
Contractor Classification Application And Examinations
Application
The application is straightforward. The only thing to make sure of is the name of the applicant. It's important for the license name to be the name you're planning on using to obtain contracts and operate.
According to the Board, licenses can be granted to individuals or to companies, but the name must be a legal entity. This means a full legal name or a business name registered with the Secretary of State.
| License Limitation | Application Fees |
| --- | --- |
| Limited License | $75 |
| Intermediate License | $100 |
| Unlimited License | $125 |
Exam Requirements
A completed application must be submitted and when everything is accepted by the Board, they will email you an eligibility letter with the necessary exam or exams that must be passed.
Most exams are administered through PSI exams.
Examination fees are non-refundable:
| License Limitation | Exam Fees |
| --- | --- |
| Limited License | $75 |
| Intermediate License | $100 |
| Unlimited License | $125 |
If the exam is failed or needs to be taken again... the Board may require a new application and fee.
However, the North Carolina Licensing Board accepts the NASCLA exam for the Building contractor classification. NASCLA is the National Association of State Contractors Licensing Agencies. It's a non-profit who helps states test in a uniform fashion for contracting standards and knowledge.
Because a collection of states have agreed to accept NASCLA exams, when you pass the exam it will be accepted by other states' exam requirements. This makes getting a contractors license in other states a lot easier.
Increasing or Decreasing License Limitation
Increasing Limitation
To increase a license's limitation, a new application must be filled out. However, limitations can't be increased during the current license year.
When you apply for an increase you have to fill out another application for the increased limitation. This includes paying the application fee and updating the current surety bond, if you don't meet the working capital requirements, for the new amount.
Decreasing Limitation
Decreasing a limitation must be processed before the online renewal application is completed. A written request must be signed by the owner of the current license.
If a surety bond is active, when the bond renews it can be updated for the new bond amount and renewal premium.
If You Need a Contractor Bond For Your North Carolina Contractor License Call Surety Bonds Direct
If you elect to purchase a surety bond to satisfy the working capital requirement, Surety Bonds Direct can help.
We offer a free online quote request form. It's secure and takes about 90 seconds to complete. Once you submit a request a bond specialist will begin the process of finding you the lowest quote for your bond.
If you would prefer to talk with a bond specialist, you can call 1-800-608-9950 to start the quote process.
Customers of Surety Bonds Direct are assigned a bond specialist. This makes purchasing your bond easier and faster. Plus if you increase or decrease your limitation in the future, your bond specialist will help make updating your bond simple.