Ohio has an array of rules and regulations for contractors depending on the county, city, or township the project is being conducted in. This short article will focus on Cleveland Heights, a suburb of Cleveland, and highlight:
How to get a contractor registration
The jobs that require permits
The surety bond requirement
Cleveland Height Contractor Registration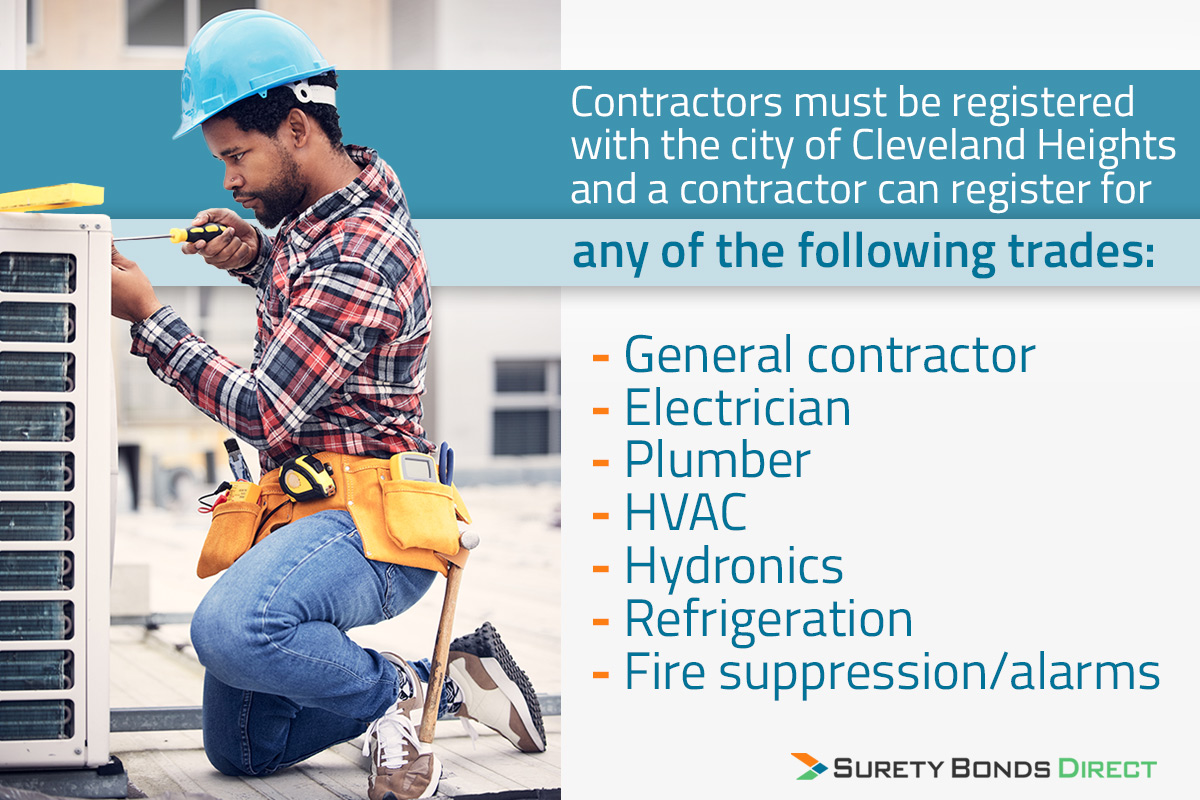 Contractors must be registered with the city of Cleveland Heights and a contractor can register for any of the following trades:
General contractor
Electrician
Plumber
HVAC
Hydronics
Refrigeration
Fire suppression / alarms
There is a $150 for the first trade and $100 fee for each additional trade.
If the contractor is registering for specific trades like electrician, plumber, HVAC, etc... the application must be accompanied by a State License for that trade. If the State License is missing the permit will not be issued.
Contractors cannot legally work under a "homeowner" permit. A "homeowner" permit is reserved for property owners who want to perform their own work. Homeowners have to apply for a permit but do not have to register as a contractor, nor are they subject to any of the insurance or surety bond requirements.
If a contractor is hired, the contractor is responsible for obtaining all the necessary permits.
Finally, all personal identification is required per individual contractor, member, or partner if a business entity is getting registered.
Construction Projects That Require a Permit
The projects that require a permit from the city are:
Any concrete or asphalt work involving replacement or resurfacing
Any electrical, plumbing, heating, or air conditioning work
Building any new structure or addition to existing structure
Grading or regrading yard areas
Exterior design changes
Commercial signage and awnings
Demolition or demoing part of a property
Window replacement, new siding, deck construction, or adding new steps
Any job that changes the structure:
Additions
Demolitions
Commercial signage
Adding awnings
All of these structure based jobs require approval from the Cleveland Heights Architectural Board of Review.
Surety Bond Requirement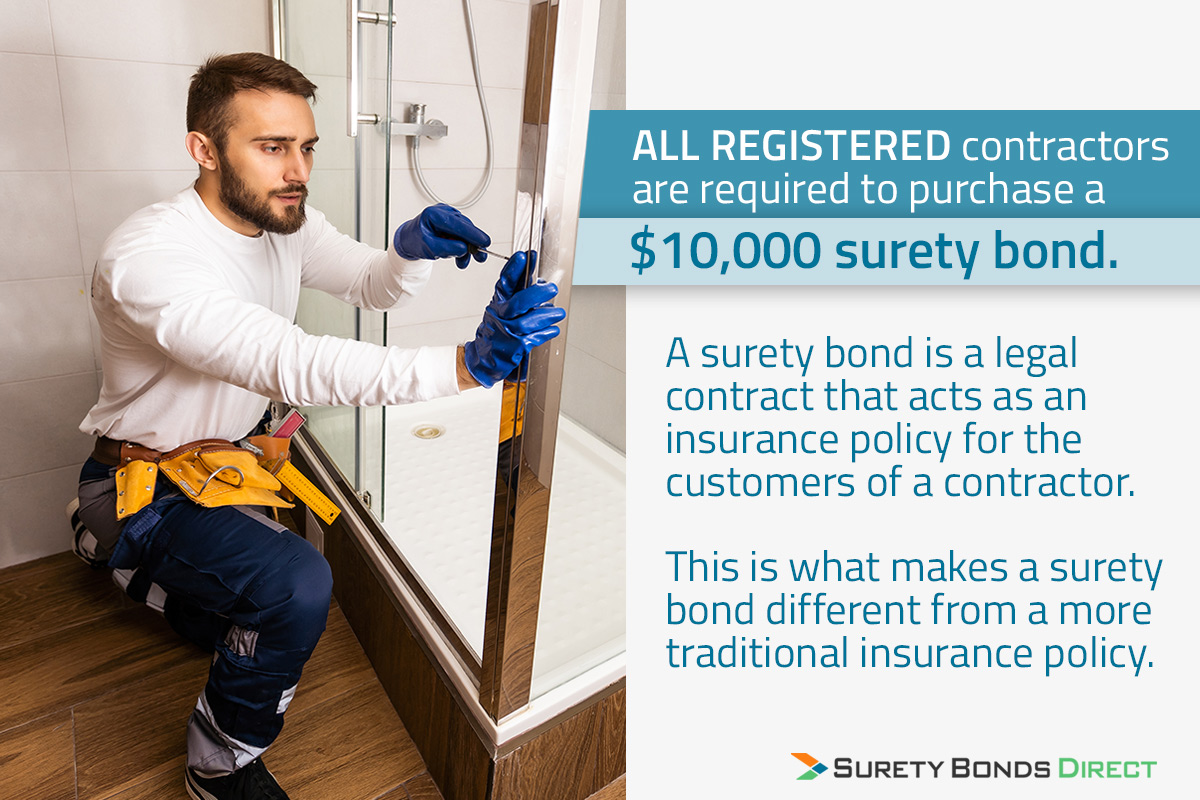 All registered contractors are required to purchase a $10,000 surety bond. This type of bond is typically called a contractor bond or contractor license bond.
A surety bond is a legal contract that acts as an insurance policy for the customers of a contractor. This is what makes a surety bond different from a more traditional insurance policy. The contractor is paying for the policy and it's the customers, not the contractor, who is protected.
This bond requirement is a very specific bonding requirement. Depending on the location of the job you may need a different Ohio contractor license bond. Surety Bonds Direct offers all of specific contractor bonding requirements for Ohio, so make sure you request your free quote so we can help you secure the exact bond you need at the lowest price.
The Purpose Surety Bond
The contractor purchases the bond for the benefit of their customers. It's unfortunate, but some contractors will purposefully cut corners and financially harm their customers:
Performing shoddy work that doesn't follow building codes
Swapping out cheaper materials to make more money on the job
Mishandling customer deposits
Failing to pay subcontractors for completed work
If the customer or subcontractor discovers they've been harmed, they can make a claim against the surety bond for financial recourse. However, the claim can only be up to the amount of the bond, $10,000 in this case.
The Cost of a $10,000 Surety Bond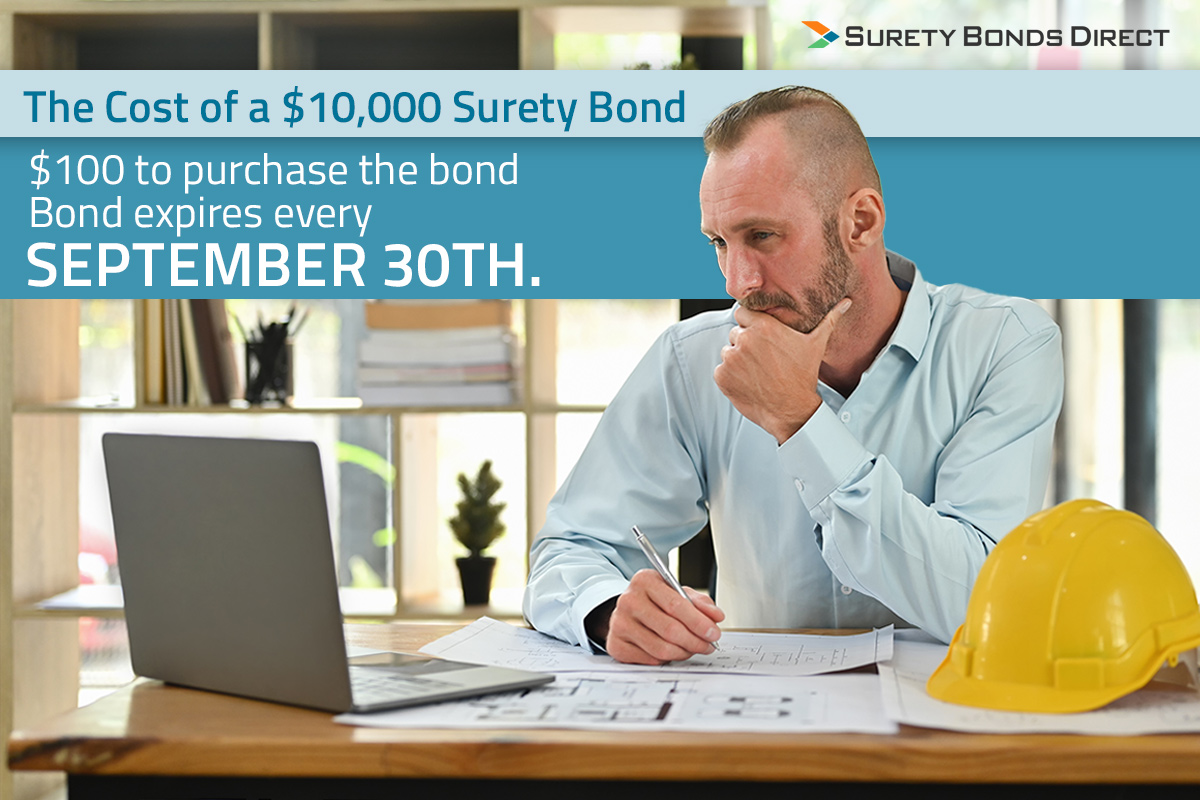 When purchasing a $10,000 surety bond, the cost will be a small fraction of the amount.
Surety Bonds Direct is a specialized surety agency that works with multiple sureties to find our customers the lowest possible price. A surety is an insurance company that writes surety bonds. The surety determines the final cost of a surety bond.
For city of Cleveland Heights, Surety Bonds Direct has secured low fixed prices. In this case the bond can be purchased for a fixed price of $100.
If you're ready to purchase your bond, you can quickly purchase it online, or call a bond specialist at 1-800-608-9950 and a bond specialist will help you complete the process. The city of Cleveland Heights requires the original bond with a raised seals to be submitted with the application.
After you purchase your bond, Surety Bonds Direct will send you the original copy to submit with your registration application.
Surety Bond Expiration
All city of Cleveland Heights contractor bonds have a fixed expiration date on the 30th of September. This means you will have to renew your bond on this schedule. The price remains the same no matter when you purchase it during the bonding period.
Surety Bonds Direct makes the renewal process easy. You will be emailed a link to pay online or you can call and complete your purchase over the phone. We take care of all the paperwork.
Insurance Requirements
The liability insurance requirements are:
$100,000 per person (per individual claim)
$300,000 per occurrence (claim) for bodily injury
$50,000 per occurrence (claim) for property damage
The city of Cleveland Heights must be named as Certificate Holder and as an additionally named insured.
When You Need To Meet Your Surety Bond Requirement - Call Surety Bonds Direct
Remember, every county, city or township has its own requirements for construction jobs. Make sure you consult with the city and town where you take on a job.
When it comes to getting bonded, visit SuretyBondsDirect.com or call a bond specialist at 1-800-608-9950. We will help you purchase your bond and get it mailed to you within one business day.
However, for bonds like this Cleveland Heights contractor bond, make sure you allow time for the bond to be mailed to you. This is an important reason not to put off purchasing your bond when you know you need it.