Getting your motor vehicle dealer license in Colorado requires being very detailed. Colorado compared to many states has very specific rules to successfully submit your motor vehicle dealer application.
This article will fill in the blanks and clarify some of the confusing steps the Colorado Specialized Business Group, the Auto Industry Division, lays out to get your application approved quickly.
You'll learn:
How to fill out the application
The education requirements
The surety bond requirements for all dealers
The business plan requirement
Plus the small details where if completed incorrectly can get your application denied
The 9 Steps For Getting Your Colorado Dealership License Application Accepted
Nine steps sounds like a lot, but many of these get wrapped into one piece of paperwork or requirement. For Colorado, it's about following the details as the Auto Industry Division is particular about how they want forms filled out.
1. Initial Requirements To Qualify For Dealership Licensing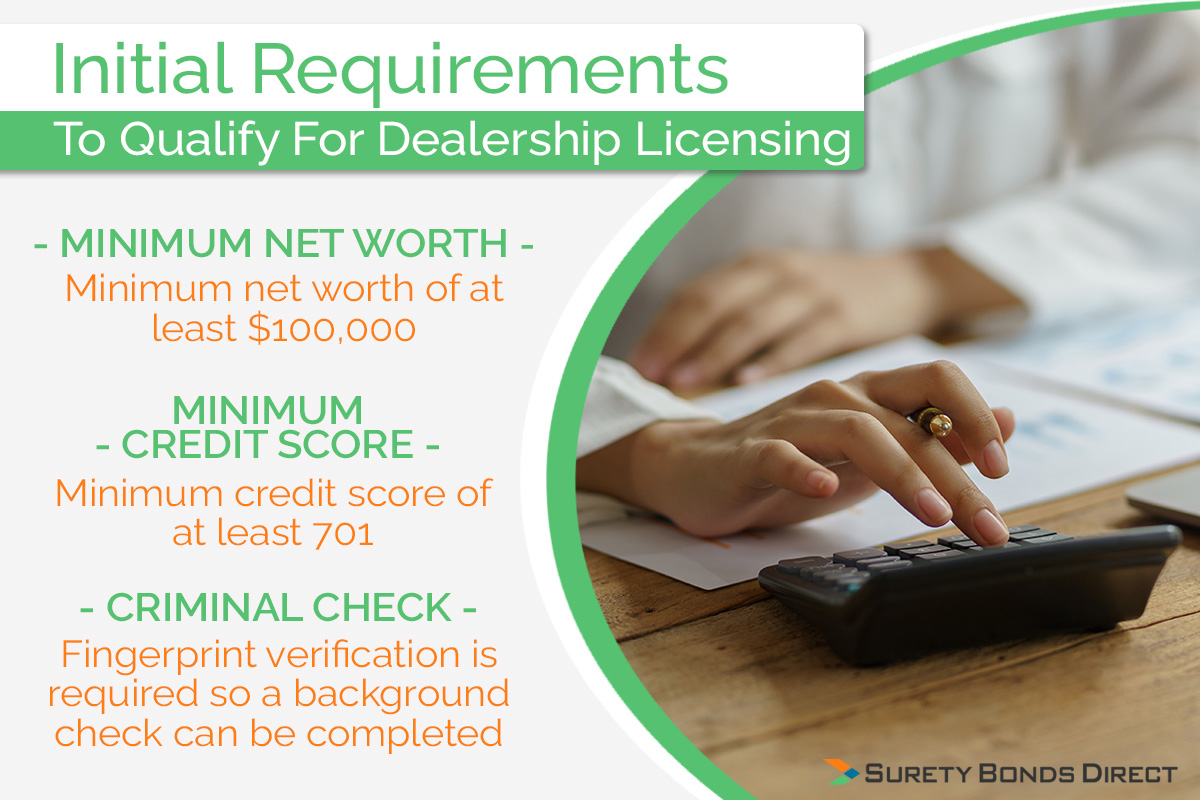 In order to obtain a motor vehicle dealer license, Colorado has some base requirements:
1. Minimum Net Worth
You must be able to prove a minimum net worth of at least $100,000.
Proof of this network will be shown through the Financial Condition requirement, step 7.
2. Minimum Credit Score
You must have a minimum credit score of at least 701. The Division will use Experian Vantage Score 4.0 credit to obtain your score.
It's a good idea to check your credit first and try to do any clean up. The Division states that any "derogatory" information must be cleaned up.
3. Criminal Check
Fingerprint verification is required so a background check can be completed on each applicant. This includes any individual listed on the owners addendum.
The background fingerprint fee is: $39.50
If there are any prior felonies or misdemeanors, the Division requires court documents included with the application. Plus you'll be able to include a full explanation with your application explaining the details of these offenses.
Finally, all applicants must be in compliance with any Colorado Division of Child Support Services Child Support Orders.
Once you check off these three requirements, you can start collecting all the necessary paperwork and fees to submit your application.
2. The Motor Vehicle Dealer License Application
Before we get into the details, the Division makes a point of saying...
"All documents submitted shall be on 8.5" x 11" size paper. Do not submit double sided copies. Do not submit Legal size copies."
The Colorado Auto Industry Division is very particular.
Complete the license application. Make sure if you're using your personal name as a sole proprietor that you use your full legal name.
If an LLC or business entity is getting licensed, use the full legal name of the business as recorded with the Secretary of State. In later documents you can state any Trade Names or DBA (doing business as) names.
The application fee currently is: $841.00
Complete The Owner Addendum (If Applicable)
If a LLC, Partnership, or other business entity is getting licensed, an owner addendum form must be completed.
This form lists all owners, partners, members, or officers that own 5% or more of company equity. These individuals must also physically sign the form.
This is where you must disclose any criminal history of the owners in the business entity.
Identification
You must submit appropriate identification, which in most cases will be a Colorado Driver's License. If an LLC or business entity is obtaining the license, every individual listed on the owner addendum must submit a copy of their identification.
Required Education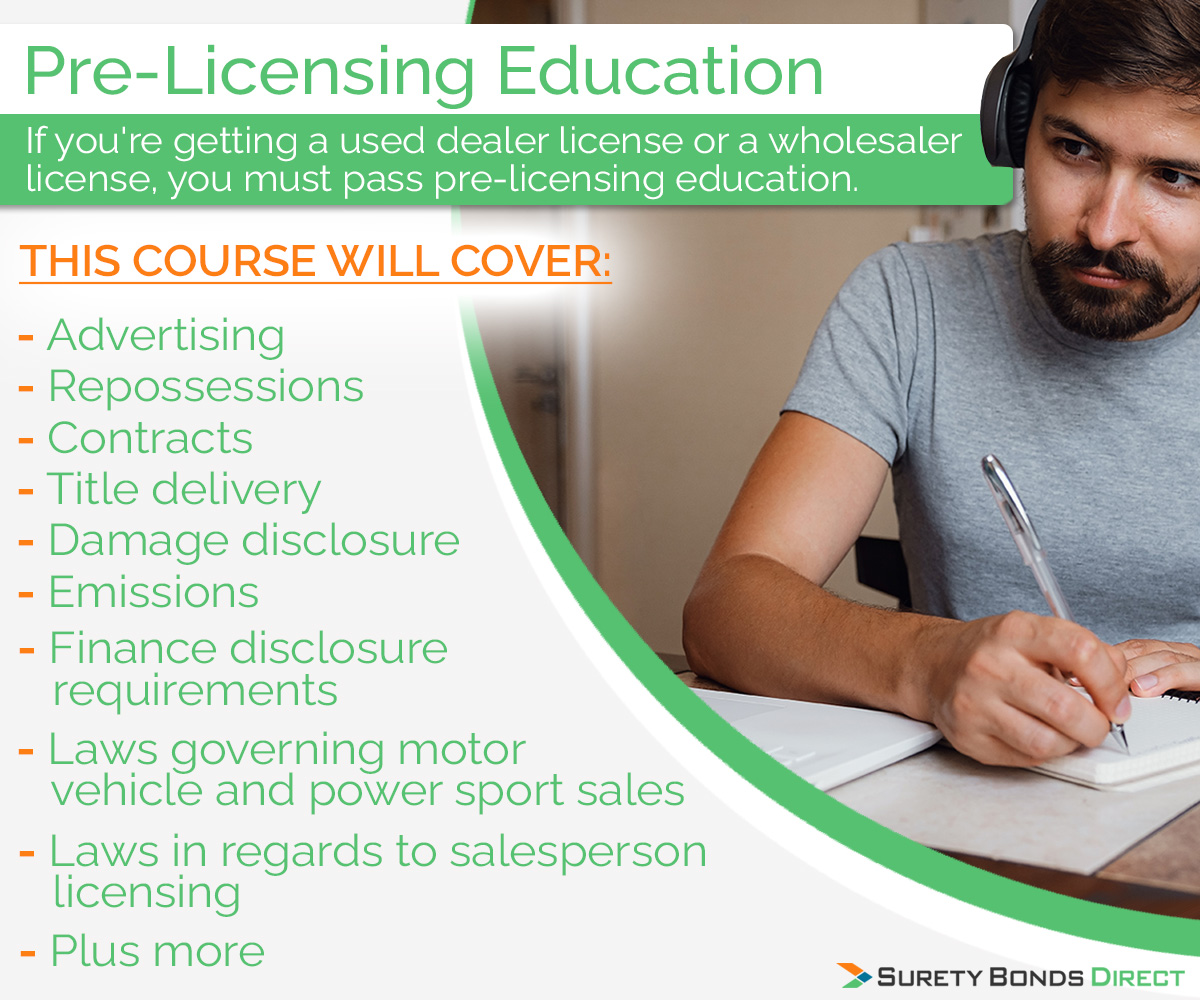 Pre-Licensing Education
If you're getting a used dealer license or a wholesaler license, you must pass pre-licensing education.
This course will cover:
Laws governing motor vehicle and power sport sales
Laws in regards to salesperson licensing
Advertising
Repossessions
Contracts
Finance disclosure requirements
Title delivery
Damage disclosure
Emissions
Plus more
You can obtain exemption from this course if you've held any of these licenses within the last 3 years:
Motor vehicle dealer
Used motor vehicle dealer
Wholesale vehicle auction dealer
Wholesaler
Powersports dealer
Use Powersports dealer
You will have to check with the Division to see if you can exempt the course if any of the owners listed on the owner addendum satisfy the licensing exemption.
Master Education
If the licensee is an LLC, corporation, or business entity all owners must take the Master education course. This is an in-depth course going over all of the laws and regulations in the Colorado motor vehicle dealer industry.
The state provides an in-depth study guide and will refer you to Colorado General Assembly laws page for the most up to date information regarding dealership laws.
Once all the necessary examinations have been taken and passed, an examination affidavit must be signed and submitted with the license application.
Motor Vehicle Dealer Surety Bond Requirement
All motor vehicle dealers in Colorado are required to purchase a $50,000 motor vehicle dealer bond. If you sell small trailers weighing less than 2,000 pounds, a $5,000 bond is required.
What Is a Surety Bond?
It's common for applicants to be unfamiliar with what a surety bond is or why it's required to obtain an auto dealer license.
A surety bond is similar to an insurance policy. But the beneficiary is not you or your business. The Auto Division requires dealers to purchase a surety bond to protect their customers from owners and employees who purposefully commit fraud or negligence during the course of business.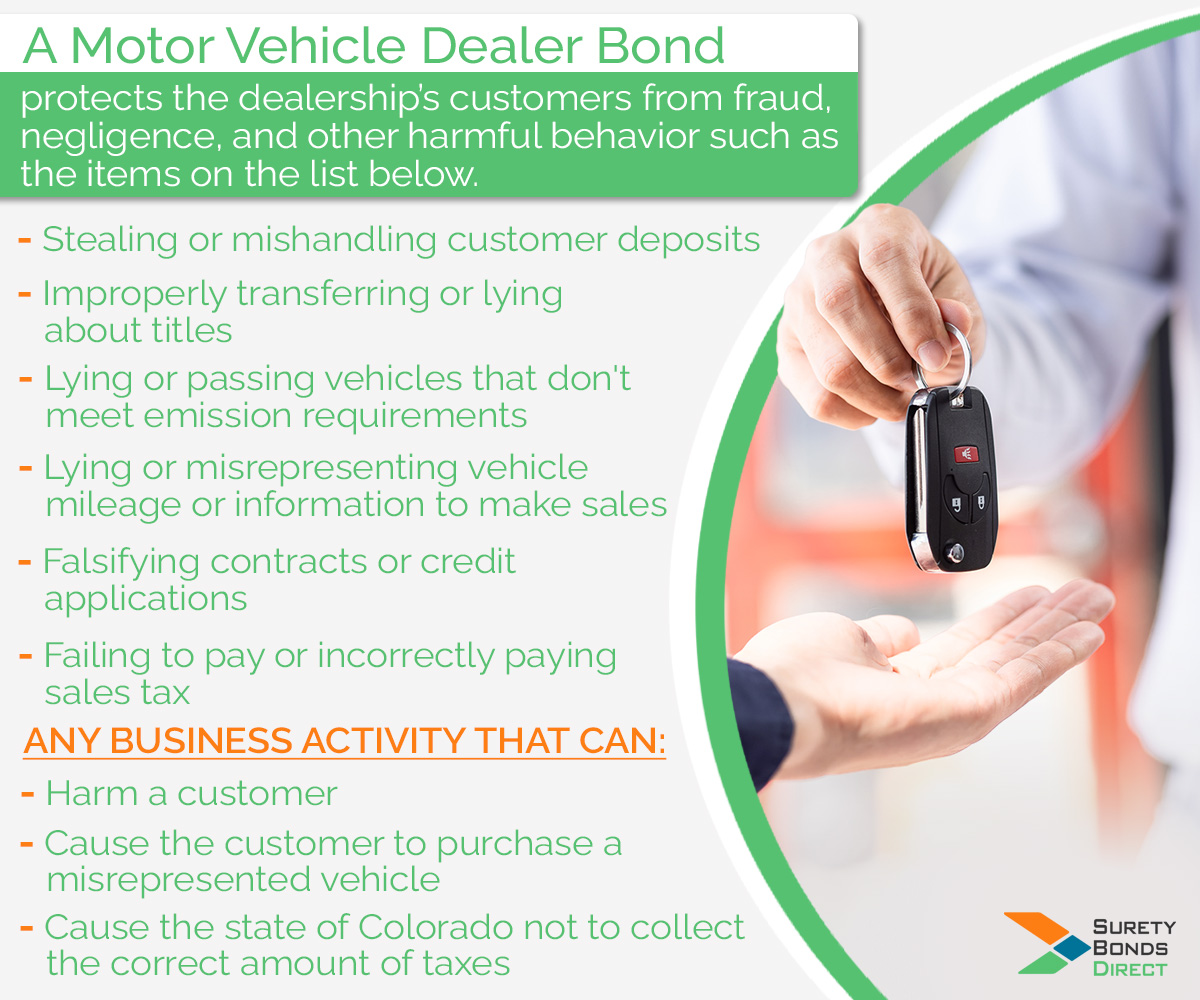 Examples of fraud or negligence include:
Stealing or mishandling customer deposits
Improperly transferring or lying about titles
Lying or passing vehicles that don't meet emission requirements
Lying or misrepresenting vehicle mileage or information to make sales
Falsifying contracts or credit applications
Failing to pay or incorrectly paying sales tax
Any business activity that can:
Harm a customer
Cause the customer to purchase a misrepresented vehicle
Cause the state of Colorado not to collect the correct amount of taxes
These are some of the acts that are "covered" by a motor vehicle dealer bond.
If any of these acts occur the customer or the state can make a claim for financial remedy.
How Much Does a Motor Vehicle Dealer Bond Cost
The cost of a Colorado motor vehicle dealer bond is going to be based on a rate quoted by the surety. The surety is an insurance company that writes surety bonds.
Surety Bonds Direct works with multiple sureties to find you the lowest possible quote for your bond. This quote multiplied by the $50,000 bond amount is your cost.
The rate is primary determined by:
The owners' credit history
Industry and business experience
Any claims on previous bonds (if applicable)
Here are example costs based on the best case rate (0.5% rate) up to a poorer credit scores (5% rate).
| Bond Amount | Surety Bond Rate | Price You Pay |
| --- | --- | --- |
| $50,000 | 0.5% | $250 |
| $50,000 | 1% | $500 |
| $50,000 | 2% | $1,000 |
| $50,000 | 3% | $1,500 |
| $50,000 | 4% | $2,000 |
| $50,000 | 5% | $2,500 |
Purchasing Your Motor Vehicle Dealer Bond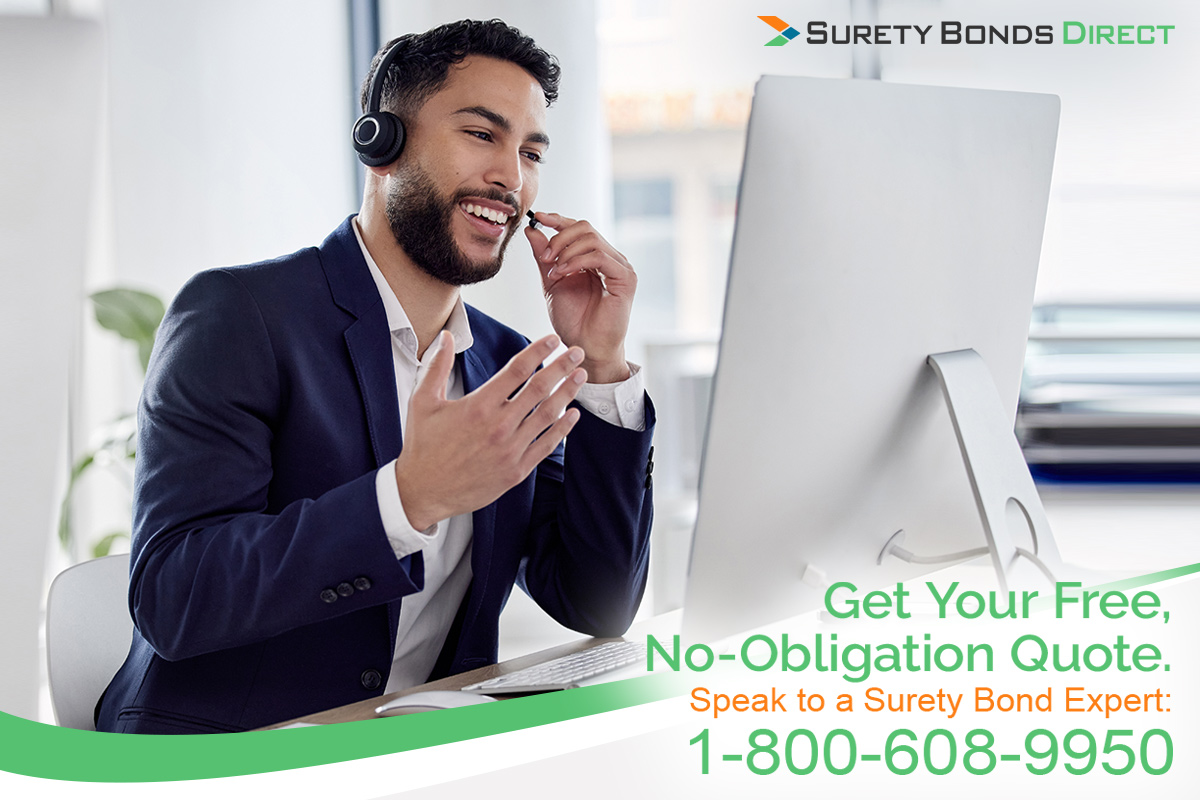 When you're ready to obtain pricing and purchase your motor vehicle dealer bond, use our free online quote form to start the quote process. You can also call 1-800-608-9950 and speak with a bond specialist if you'd prefer.
It takes a few business hours to obtain quotes from multiple sureties and find the best available rate for you. Once you have a quote and agree to purchase, your bond can be issued within one business day.
Statement of Financial Condition
A detailed financial statement is required by the applicant and each owner, member, or partner. This includes the business entity itself, not only the individuals.
All financial statements must be completed on form DR 2114. The Division will not accept any other financial forms, even if they are from a CPA. The Division stresses to not mix personal assets and liabilities with those of the business entity. Business financials must be listed separately.
Refer to the Division's financial condition checklist for the individual rules regarding:
Cash in the bank
Securities
Real estate
Vehicles
Business Entity Paperwork
If an LLC, partnership, or any business entity, is getting licensed, you need:
A Certificate of Good Standing from the Colorado Secretary of State
Constituent Filed Document and the articles of incorporation.
Bylaws of the business entity
Trade names or "doing business as" names
Certificate of Authority if the business is a foreign (out of state) entity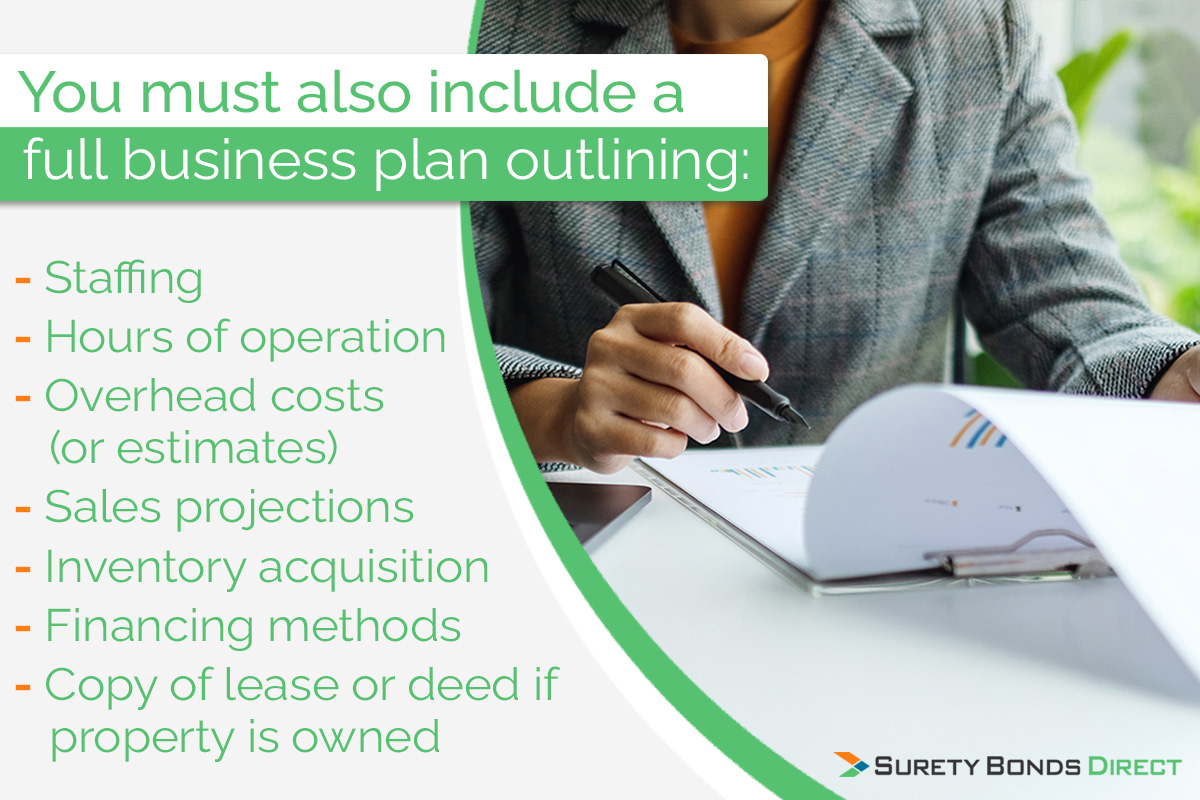 You must also include a full business plan outlining:
Staffing
Hours of operation
Overhead costs (or estimates)
Sales projections
Inventory acquisition
Financing methods
Copy of lease or deed if property is owned
Place of Business And Additional Requirements
Place of Business Affidavit
A legal agreement that the place of business meets or will meet all of the requirements under Motor Vehicle Dealer Law and Regulations as of the date of licensing.
Rules include items such as:
Location and property of the enclosed office
Adequate sanitary facilities (bathrooms)
Hours of operation posted
Permanent and temporary signage
And more
Financial Agreement
If you're applying as a franchised dealer you need to make sure the manufacturer is licensed to do business in Colorado. You must also submit a letter of intent outlining the the type and makes of vehicles you are authorized to sell from the manufacturer.
Dealer Plate Affidavit
A legal agreement for the issuance of dealer demo license plates and dealer full use plates.
Sales Tax License
A copy of the Colorado Sales Tax Withholding Account application and a Colorado sales tax account number or copy of the sales tax license.
Written Correspondence
This is where you can and should supply any additional information regarding:
The application
Credit history
Criminal history
The Division states that any failure to disclose any "licensing character, criminal character, or financial character" will be grounds for immediate application denial.
Provide full explanations for any instance.
When You're Ready To Get Your Motor Vehicle Dealer Bond Use Surety Bonds Direct
I hope this article help you get through the application process. Colorado has a very detailed and strict process compared to many states. As you go through the paperwork and documentation, make sure you double check everything.
Getting a surety bond is a fast process. Use Surety Bonds Direct and our free dealer bond quote form. You can also call a bond specialist at 1-800-608-9950. We've helped thousands of auto dealers across the country pay less for their dealer bonds.