Getting a dealers license in Michigan is a straight forward process. However, there are some considerations you'll need to make and important steps you should understand to make this process as easy and fast as possible.
This article will cover:
The five major factors for getting your dealer license in Michigan
The 10 license types
The rules for establishing your place of business
Insurance requirements
Surety bonding requirements
Handling dealer plates
Plus more
The 5 Major Factors For Getting a Dealers License in Michigan
Factor 1: Choosing Your Dealer License Type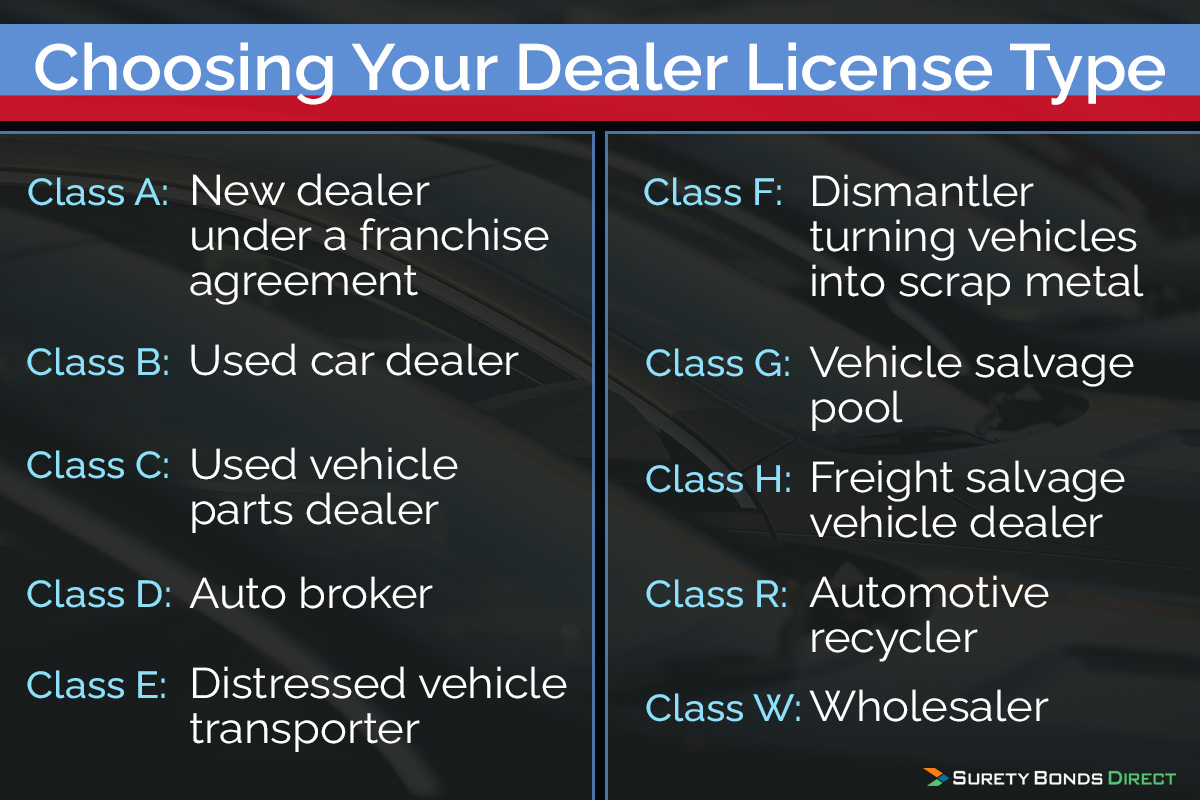 Class A: New dealer under a franchise agreement
Class B: Used car dealer
Class C: Used vehicle parts dealer
Class D: Auto broker
Class E: Distressed vehicle transporter
Class F: Dismantler turning vehicles into scrap metal
Class G: Vehicle salvage pool
Class H: Freight salvage vehicle dealer
Class R: Automotive recycler
Class W: Wholesaler
This article will primarily focus on Class B, used auto dealer, licensing. However, here are details about some of these licenses.
All licenses have a license fee of $160.
Class D: Auto Broker
An auto broker connects a buyer with a seller. Brokers typically work for a buyer to find a seller with a car that matches specific vehicle parameters.
Class E: Distressed Vehicle Transporter
This license buys, transports, and sells vehicles to Class C parts dealers, scrap metal processors and automotive recyclers.
Class G: Vehicle Salvage Pool
This license stores and displays damaged or distressed vehicles for insurance companies.
Class H: Foreign Salvage Vehicle Dealer
An individual or entity licensed in another state who can buy, sell, and deal with the wholesale of salvageable parts or late model distressed vehicles.
Class W: Wholesaler
A license responsible for selling vehicles to other dealers.
Dealer Licensing Is Required If
The Michigan Department of State requires a license if:
More than 5 vehicles (requiring a title) are sold per year
Buy, sell, exchange, broker, deal in salvageable parts for 5 or more vehicles per year
Buying 5 or more vehicles to sell vehicle parts or prices into scrap metal
All licenses expire on December 31st each year. There is a late fee of 50% of the specified renewal cost. The renewal cost is different for each license. Any renewal more than 30 days late will require the licensee to purchase a new license and go through the licensing process again.
As with most states, accessing dealer-only auctions requires a license. Learn more about how to get a car dealer license for auctions.
Factor 2: Establish a Place of Business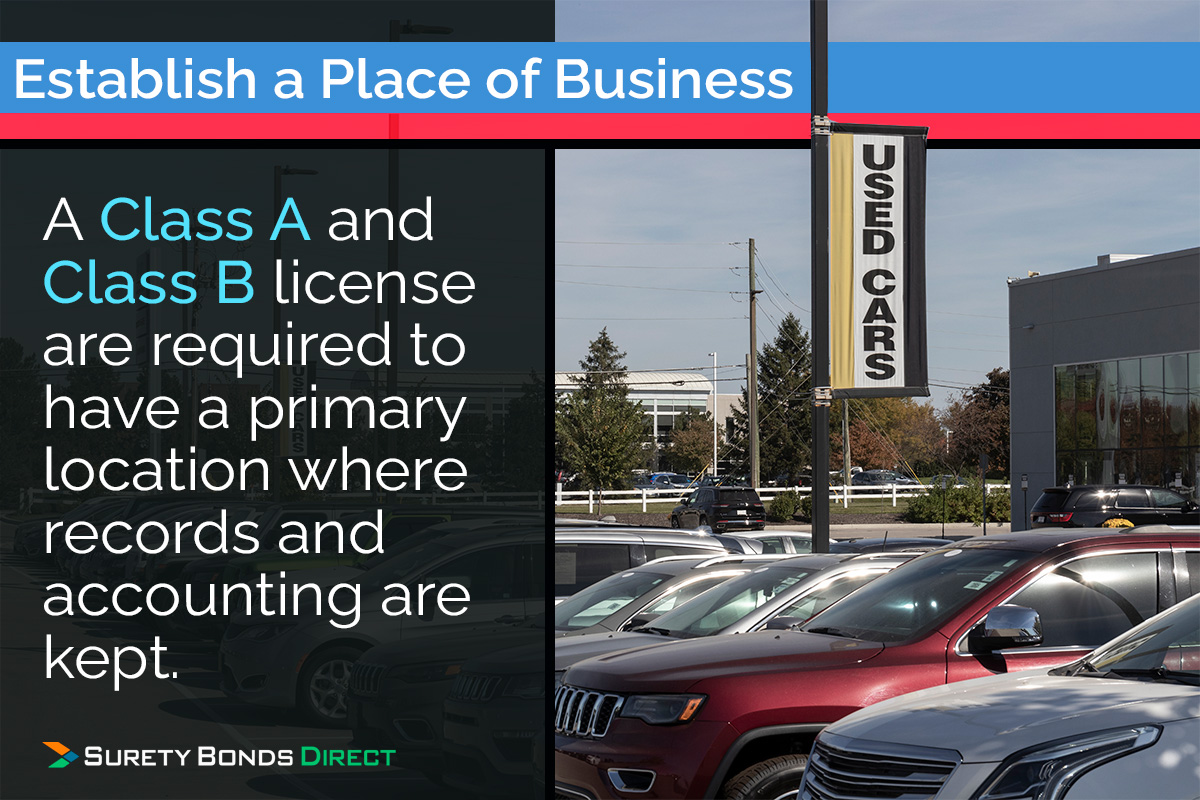 There must be a primary "established place of business" to serve at the main location for the dealership. For Class A and Class B licensed dealers, this location is the primary location where records and accounting are kept.
A Class A and Class B dealer can use a secondary location for record keeping, but it must be within 15 miles of the primary location. Plus written permission of the Michigan Department of State is required.
Location requirements:
A dealership cannot share a location with another licensed dealer
Additional locations in the same county, who conduct the same dealer activities, DO NOT require additional fees
Additional locations in different counties require a new license regardless of the dealer activities
Some of the physical building requirements:
The building must be permanently enclosed
The building must be owned, leased, or rented and it can't be a personal residence, a tent, or any type of temporary structure
The building must be at least 150 square feet with a working restroom and a telephone landline, matching the phone listed on the dealer license
Must have a repair and servicing facility unless the dealer has a written agreement (form AR-0012) with a registered repair facility at a location no more than 10 miles away
Property requirements:
The land space must be a minimum of 1300 square feet
There must be enough room to display a minimum of 10 vehicles
There must be an additional minimum 650 square feet for customer parking
Signage requirements:
A permanently fixed exterior sign displaying the name of the dealership as stated on the license
The sign can be fixed to the building or in the ground
The sign must be visible from the road
Clearly posted hours of operation on the exterior of the building
Hours of operation cannot be less than 30 hours per week where half of the stated hours must be between 8am to 5pm Monday through Friday
These are the major Class A and Class B license requirements for the physical location. Michigan's Department of State has a list of any additional requirements for other license types.
Factor 3: Insurance Requirements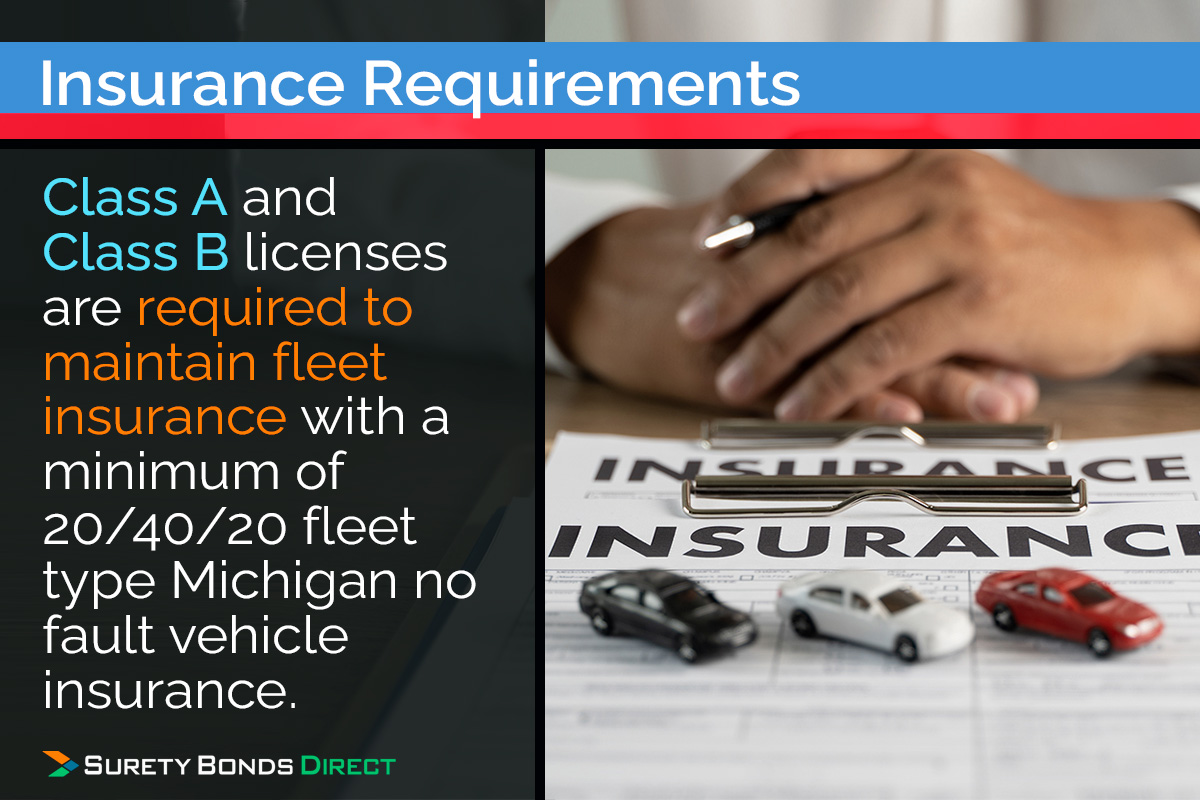 Class C and Class R licenses are required to hold worker's compensation insurance. Proof of workers comp insurance is not required for other license types.
Class A, B, and W licenses are required to maintain fleet insurance. Fleet insurance is an insurance policy protecting multiple vehicles under one policy. Michigan requires dealers to maintain a minimum of 20/40/10 fleet type Michigan no fault vehicle insurance.
A copy of the fleet insurance must be kept with each vehicle that leaves the lot, including test drives.
Factor 4: Surety Bonding Requirements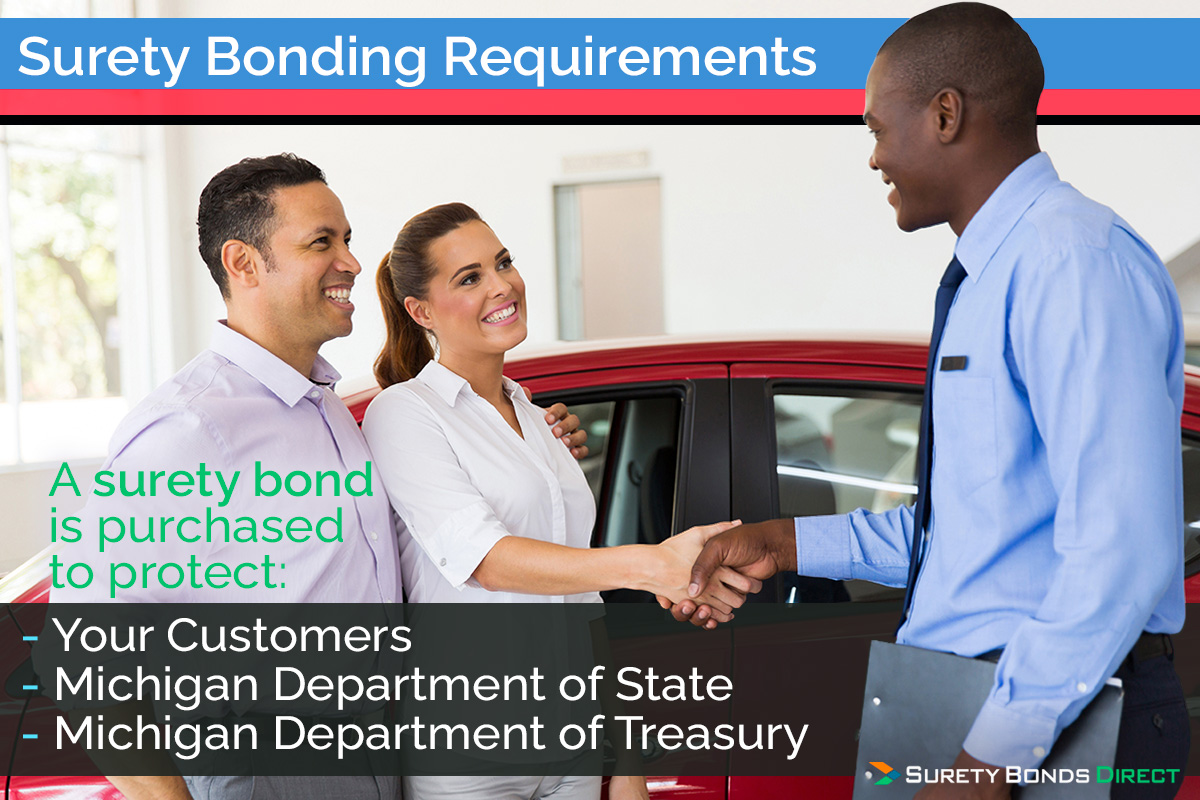 All Class A, B, and D licenses are required to purchase a $25,000 auto dealer bond.
Most new business owners are unaware of what a surety bond is. Michigan is one of the few states that helps business owners by providing a definition of a surety bond:
"The bonds are used to reimburse purchasers, sellers, financing agencies, and government agencies for monetary loss caused by any tax deficiency, fraud, cheating, or misrepresentation in the conduct of the dealer's vehicle business."
What Is a Surety Bond?
A surety bond, in this case a motor vehicle dealer bond, is similar to insurance. A bond is not purchased to provide protection for you and your business, rather its purchased to protect your customers, the Michigan Department or State, and Department of Treasury.
Here are scenarios where a surety bond provides recourse:
Misrepresenting titles
Falsifying titles
Failing to deliver titles on a timely basis
Mishandling customer deposits and funds
Falsifying vehicle information like year, odometer numbers, and prior vehicle history
Failing to report sales
Failing to pay sales tax
Failing to follow license requirements
Read through all title requirements (chapter 3) and sale tax requirements (chapter 8) for Michigan. The title requirements are extensive and specific.
How Much Does a Surety Bond Cost?
The required bond amount for Michigan dealers is $25,000. This is the amount of protection afforded to customers and government agencies. Any claim made against your bond can only be paid up to the $25,000 bond amount.
The cost to purchase a $25,000 bond will be a small percentage of this amount. The cost is based on a quoted rate determined by:
Personal credit history
Business and industry experience
Business financials
Prior claims from past bonds (if applicable)
Quoted rates can range from below 1% to above 5% depending on the specific situation. Here's a small table to give you an idea of bond prices based on a variety of quoted rates.
TABLE
Where To Purchase a Surety Bond
Insurance companies write surety bonds. However, most insurance companies do not write surety bonds. On top of that, insurance companies that write surety bonds do not work directly with consumers. So you need an agent or broker.
It's best to work with a specialty surety agency like Surety Bonds Direct. Surety Bonds Direct has relationships with multiple sureties. For every dealer customer multiple rates are collected and only the lowest rate is delivered.
Surety Bonds Direct offers free online surety bond quotes plus bond specialists available at 1-800-608-9950.
Factor 5: Dealer Plates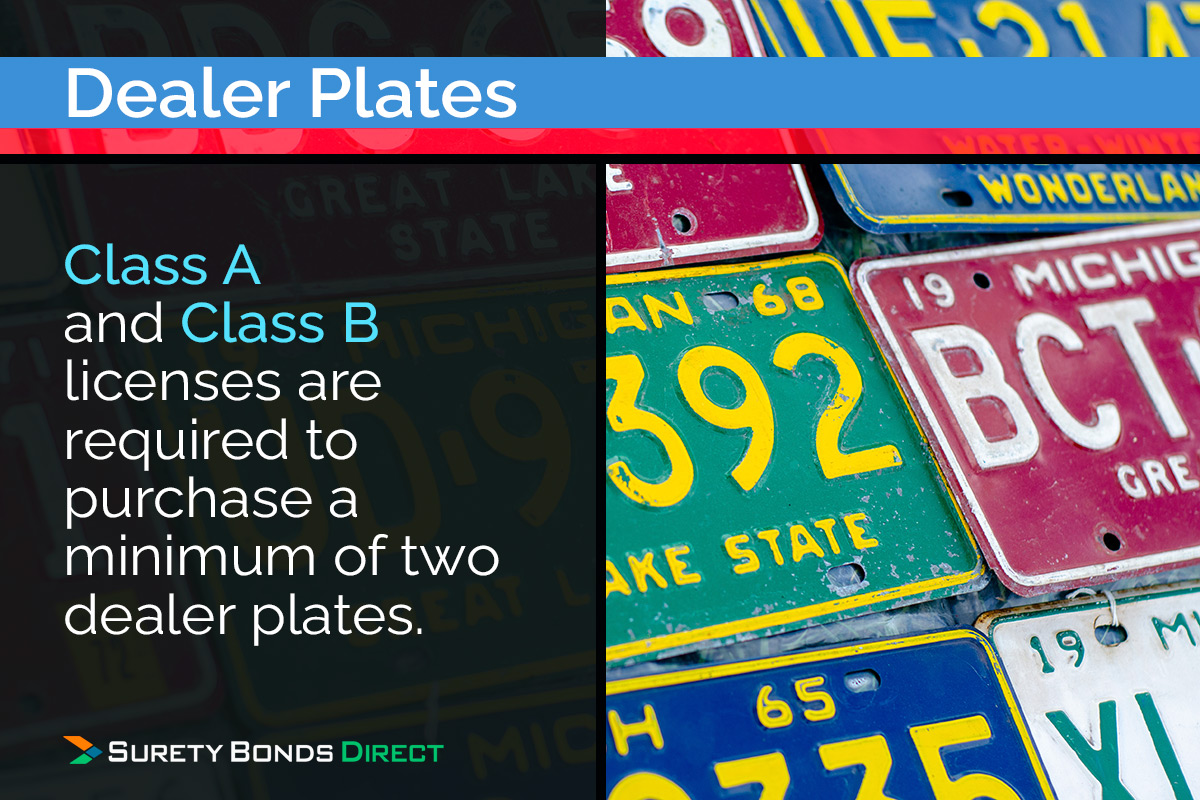 The last major factor for getting a dealer license in Michigan are the dealer plates. Both Class A and Class B licenses must purchase at least two dealer plates.
Dealer plates are used for:
Driving to repair facilities, storage lots, and other locations where vehicles are stored prior to sale
Moving vehicles to different locations to be bought or sold
Driven by prospective customers of the dealership for testing (up to 72 hours total)
Purchased vehicles can maintain a dealer's plate up to 72 hours after taking delivery
When driven to banks for transferring funds or other financial transactions
Dealer plates CANNOT be used for:
Vehicles not owned by the dealership
Service vehicles or wreckers
Vehicles owned by the dealership, but operated by a person who is not the dealer, an employee, agent, or prospective customer
Vehicles titled to be scrap or salvage
When You're Ready To Finalize Your Michigan Dealer License Call Surety Bonds Direct
These are the major factors required to get a Michigan dealer's license.
The key is to have your business plan ready so you know what license or licenses you're required to have. Plus make sure you maintain proper business and owner naming throughout the process. Mismatched names on license applications, insurance policies, surety bonds, and tax forms will cause delays in this process.
Do not delay getting your surety bond quote. While most quotes can be obtained within a business day, it's possible this process can get stretched to two days. So start the quote process now. This will make purchasing your bond fast when the time comes. You can request a dealer bond to be effective up to 60 days in advance. So if today is September 10th, and you're opening the dealership on November 1st, you're ready to request a quote.
Surety Bonds Direct will provide a free surety bond quote. It takes about 120 seconds to request your quote online. If you'd prefer to talk with a person, call a bond specialist today at 1-800-608-9950.