A vehicle's certificate of title provides basic legal information about the vehicle, including who owns it. Most vehicle owners receive their certificate of title when they purchase the vehicle and have it transferred into their name—but what happens when that process doesn't work out as planned?
In certain circumstances where a vehicle's title is not present, the state will require the titleholder to get a bonded title, also called a certificate of title surety bond. Getting a bonded title doesn't have to be difficult, but it's important to know the basics of how a bonded title works before you begin. What is a bonded title, what is a surety bond, and who might need a bonded title? Read on for the answers to these critical questions.
Vehicle Titles and Bonded Titles
A vehicle title is a government-issued certificate that lists key information about a specific vehicle. The information on a vehicle title includes the name of the legal owner, the vehicle's make and model, its VIN (vehicle identification number), and whether the vehicle has ever been wrecked or damaged by floodwaters. The vehicle owner needs the title to:
Register the vehicle with their state DMV.
Purchase insurance for the vehicle.
Sell the vehicle to a new owner.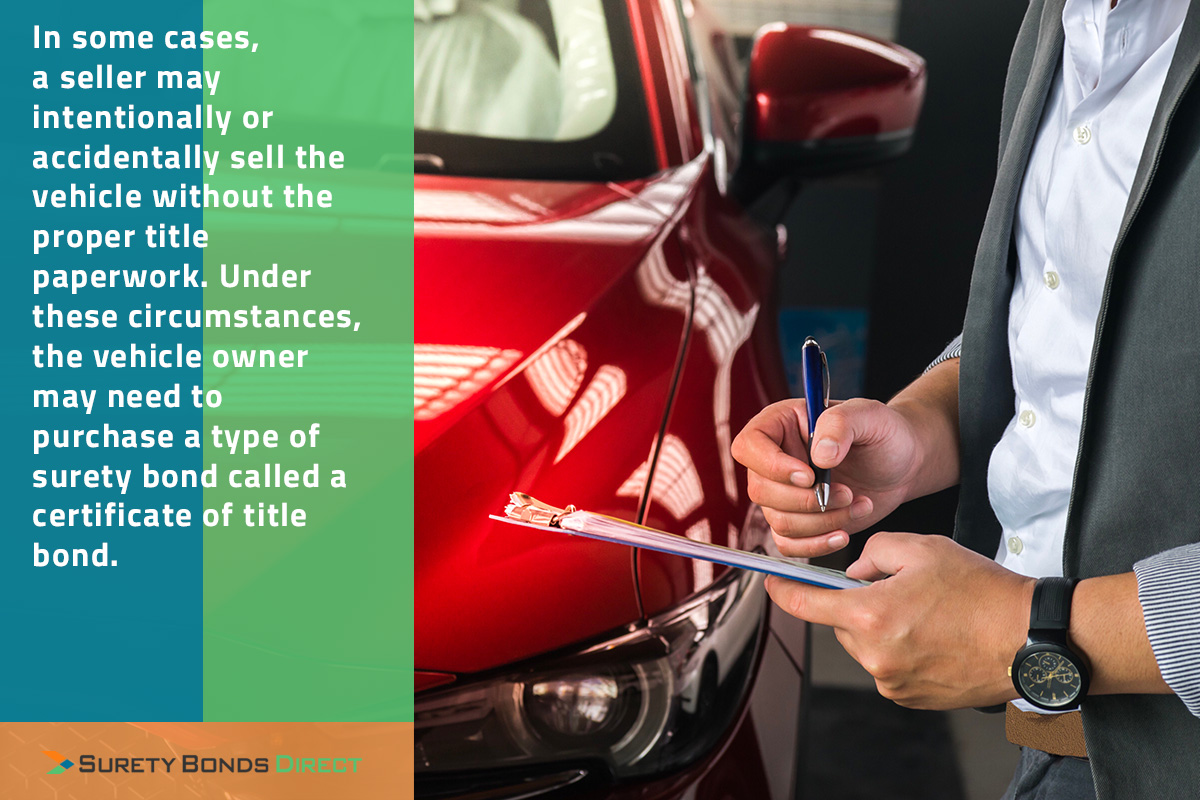 Normally, every vehicle sold should include a valid certificate of title. However, vehicle titles sometimes get lost, damaged, or stolen. In some cases, a seller may intentionally or accidentally sell the vehicle without the proper title paperwork. Under these circumstances, the vehicle owner may need to purchase a type of surety bond called a certificate of title bond.
Bonded Titles and Surety Bonds
A bonded title is a vehicle title that includes a surety bond to guarantee the vehicle owner's legitimate ownership of the vehicle. By purchasing a bonded title, a vehicle owner takes legal and financial responsibility for the truth of their statements regarding the vehicle.
What is a surety bond? Surety bonds are three-party agreements that use a neutral party to guarantee an obligation or contract. The party purchasing the bond, called the principal, pays a premium to the neutral party, called the surety, to cover their obligation up to a specified amount called the penalty sum.
If the principal misrepresents any aspect of their ownership of the vehicle, the DMV or another injured party can file a claim against the title bond. The principal is responsible for paying the surety back for any claims that the surety pays for them.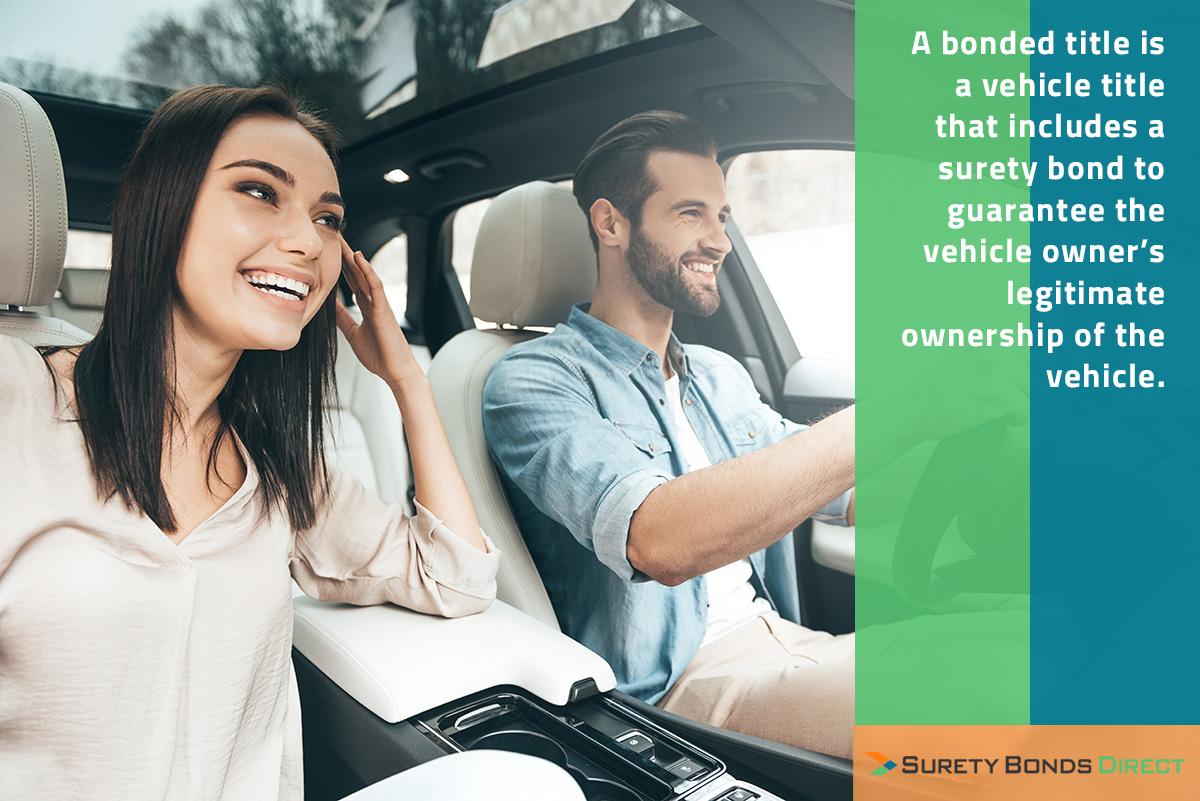 Do I Need a Bonded Title?
Several types of circumstances can require the titleholder to get a bonded title:
A seller sold you a vehicle without providing you with a title.
A seller sold you a vehicle without the name of the current owner on the title.
A seller sold you an antique or custom vehicle that doesn't have a title.
A seller provided the vehicle title, but you lost it before you were able to transfer it to your name.
After a period determined by state law, usually three to five years, your bonded title will become a normal title. You can still sell your car while it has a bonded title, although you'll need to disclose to any potential buyers that the car has a bonded title. The person who purchased the bonded title will remain responsible for the surety bond until the title becomes clear.
How to Get a Bonded Title
Before you purchase a bonded title, you'll need to take several important steps:
Make every reasonable attempt to find the correct original title, including contacting previous owners and relevant state authorities. Use certified mail so that you can provide receipts of your communications if the state requests them.
Ask your state DMV for instructions on how to calculate the required penalty sum (the amount of the bond) for your certificate of title bond. This will be based on the approximate value of your vehicle (or the value multiplied by a predetermined amount such as 2 X the value) and will usually involve getting the vehicle appraised.
Gather supporting documentation, including a bill of sale if you received one, and file any required paperwork with your state DMV. In some states, you'll need to pay certain taxes and/or fees.
Once you've completed the steps above, it's time to apply for your certificate of title bond. Surety Bonds Direct makes it easy—just find bonded titles in your state, and our wide network of sureties will get you a quote in just minutes.
Questions about getting a bonded title, certificate of title surety bond costs, or anything else? Give our surety bond experts a call at 1-800-608-9950 or request your bond online - we'll be glad to help with anything you need to know.