You need a purchase a $25,000 surety bond?
In this short article, I'll show you:
Where to purchase your bond
How much it will cost
The purpose of a surety bond
Plus examples of the most common $25,000 surety bond families
Where To Purchase a $25,000 Surety Bond?
Surety bonds are written by insurance companies or companies whose sole business is writing surety bonds. Examples of these companies are Western Surety company and Travelers.
Most surety companies do not sell bonds directly to businesses or individuals. Some do, but as a business required to purchase a surety bond you're best served going through a broker.
A survey bond broker will access multiple surety companies to obtain the lowest quote for you.
Surety Bonds Direct is a broker with bond experts who can guide you through the process of obtaining your surety bond. You can request a free quote online or call one of our bond experts at 1800-608-9950.
How Much Does a $25,000 Surety Bond Cost?
The cost of a $25,000 surety bond varies on the type of bond and your business's financial profile.
For example, notary bonds have a fixed price. Your personal credit or business credit is not taken into account.
Below you can find some examples of notary bond prices if this is the type of bond you're looking for.
Your Business and Personal Credit
The cost of most surety bonds depends on your business history and credit and your personal credit. Your credit history determines a premium rate. This rate will calculate your cost based off the bond amount. In this case, $25,000 is the bond amount, not your cost.
If you're an established business, the surety company will look at your business credit and/or history as a consideration. However your personal credit will be the main determining factor.
If you're a new business without business credit or history, your personal credit is the only factor for determining your rate.
Rates tend to range from 1% to 15%. To get an idea of your cost, you can use our surety bond cost calculator. But for an official number, request a free quote or call a bond expert at 1800-608-9950.
Here is a table of bond costs for a $25,000 surety bond with rates from 1% to 15%.
| Bond Amount | Premium Rate | Total Cost |
| --- | --- | --- |
| $25,000 | 1% | $250 |
| $25,000 | 2% | $500 |
| $25,000 | 3% | $750 |
| $25,000 | 4% | $1000 |
| $25,000 | 5% | $1250 |
| $25,000 | 6% | $1500 |
| $25,000 | 7% | $1750 |
| $25,000 | 8% | $2000 |
| $25,000 | 9% | $2250 |
| $25,000 | 10% | $2500 |
| $25,000 | 11% | $2750 |
| $25,000 | 12% | $3000 |
| $25,000 | 13% | $3250 |
| $25,000 | 14% | $3500 |
| $25,000 | 15% | $3750 |
Major $25,000 Bond Amounts Based On Business Family
There are five major business families requiring a bond amount of $25,000. And for each family only some states will require a $25,000 bond, other states may require more or less.
Here are the major business families:
Contractors
Auto dealers
Mortgage brokers
Travel agents
Notaries
Are You In A Different Business?
ADD CUSTOM CALLOUT
Contractor Bonds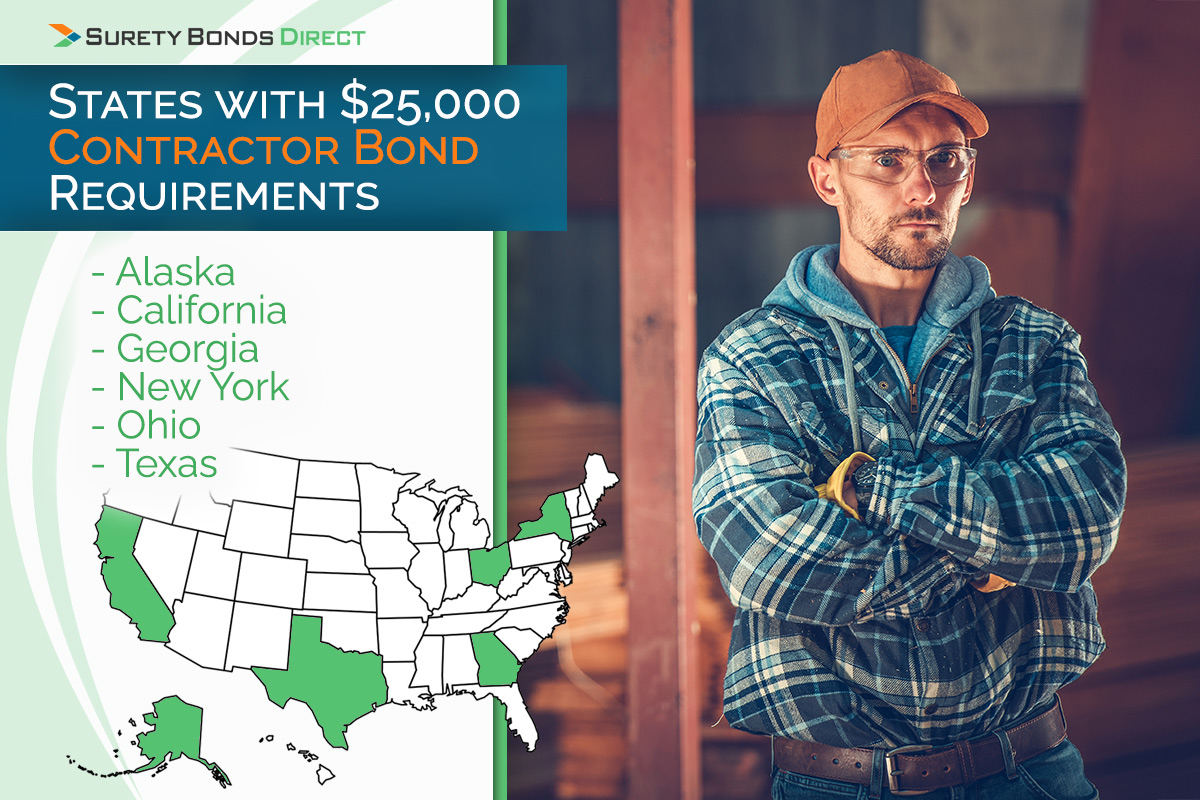 Contractor license bonds can have a value of $25,000. The states who require this amount for a surety bond are:
California
Georgia
Texas
Alaska
New York
Ohio
California raised their contractor license bond rates from $15,000 to $25,000, effective January 1, 2023. Increases in California contractor bonds seem to be occurring every three to four years. I would expect most states to raise their bond amounts as project prices continue to increase.
Ohio has variable bond amounts ranging from $5,000 to $25,000 depending on the city and county guidelines. For example, in Cuyahoga country, all plumbers are required to purchase and post a $25,000 surety bond. Numerous other counties and cities may require a $25,000 bond so make sure you check your local government license regulations.
A contractor bond protects the end customer and government who issued the license from:
Negligent behavior from the contractor
Not completing jobs
Not paying subcontractors
Poor workmanship
Not following licensing rules
Are you a contractor? Learn more about how a contractor bond works
Auto Dealer Bonds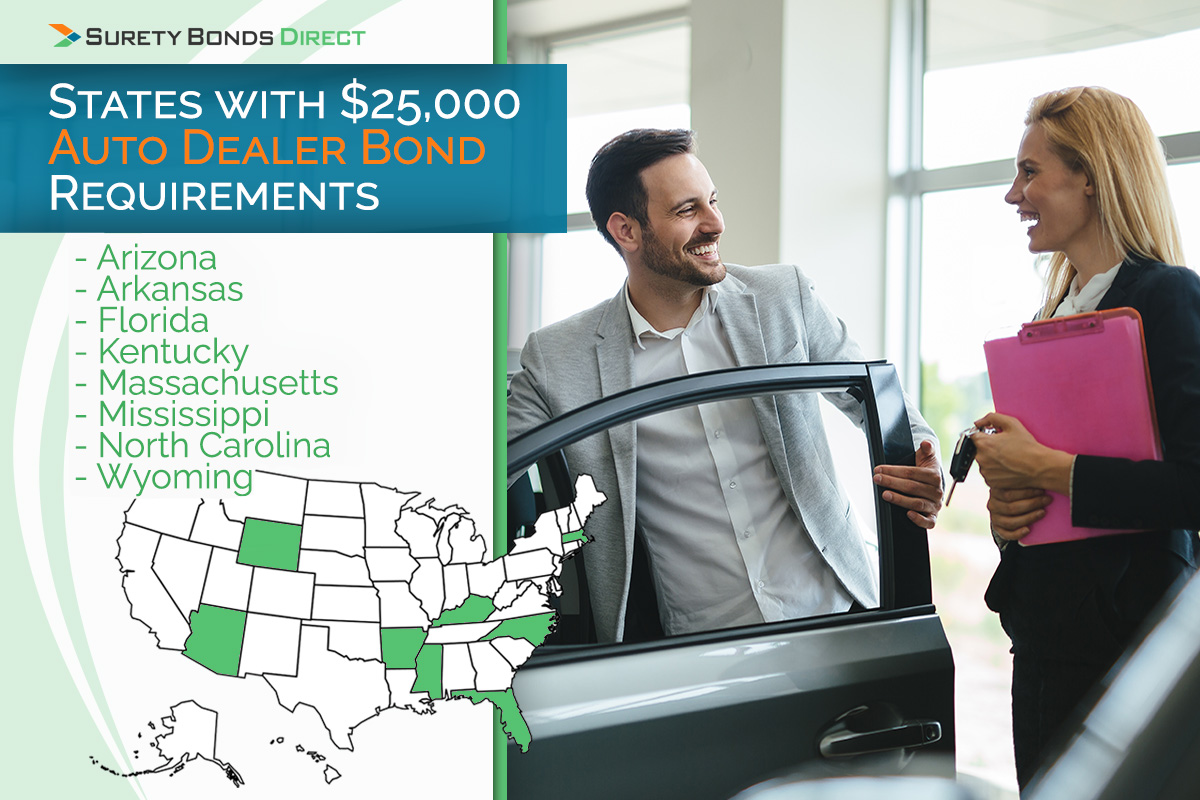 Auto dealer bond amounts vary from state to state, ranging from less than $25,000 all the way up to $50,000. The states who have surety bond values of $25,000 are:
Florida
Massachusetts
Kentucky
North Carolina
Mississippi
Arkansas
Wyoming
Arizona
Most states have a bond amount of $50,000. From the list above, Kentucky has a variable amount between $15,000 up to $100,000. The amount is based on city and county, plus how many show rooms you have.
For example, North Carolina requires each additional show room to post a $25,000 surety bond. In Mississippi, a single show room requires a $25,000 bond, but if you have multiple, you might have to post a $100,000 umbrella bond.
Auto dealer surety bonds protect the city who licensed the dealer and the customer from:
Passing off bad titles
Mishandling customer down payments
Avoid taxes on sold vehicles
Avoid paying appropriate taxes on inventory
Mortgage Broker Bond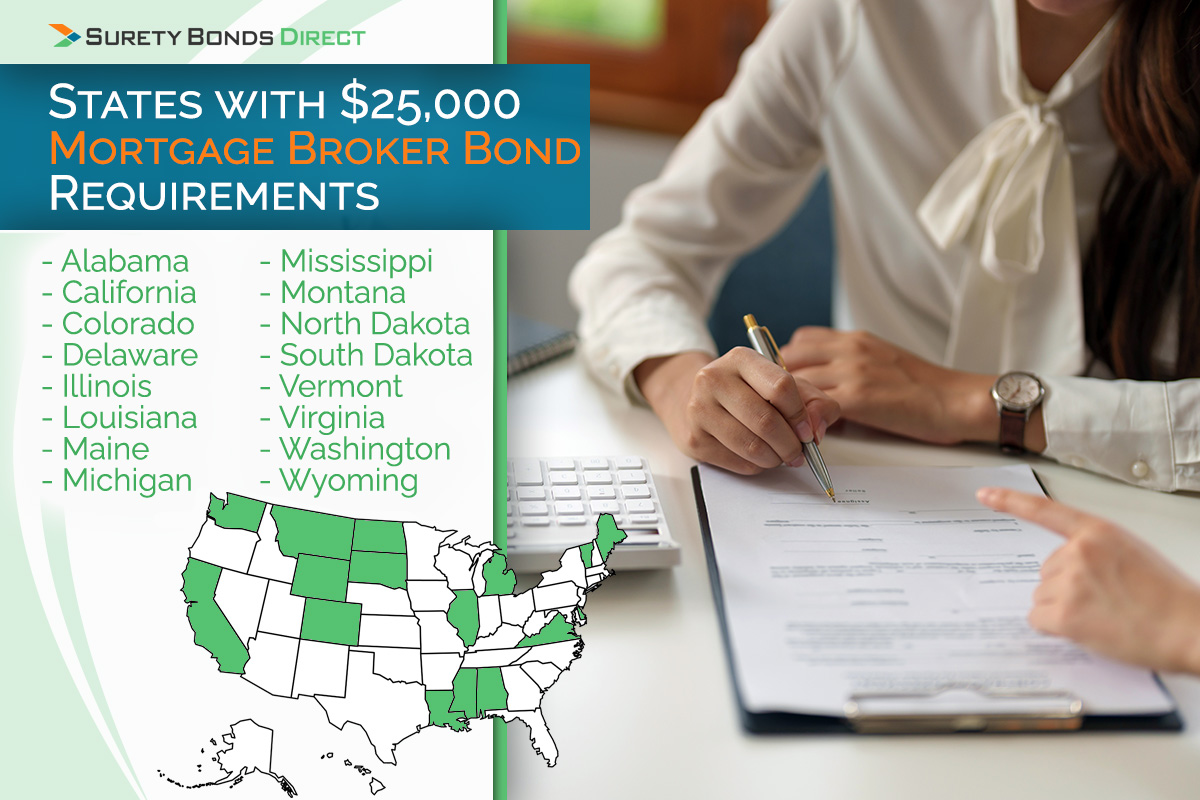 Mortgage broker bonds range all over the map, plus the surety bond amount depends on the total amount of mortgages originated.
States with a $25,000 surety bond value are:
California
Colorado
Montana
Washington
Wyoming
North and South Dakota
Alabama
Delaware
Illinois
Louisiana
Maine
Michigan
Mississippi
Vermont
Virginia
Montana has a variable amount from $25,000 to $100,000. Washington State is from $20,000 to $60,000. And South Dakota depends on the total dollar amount of loans originated by the licensee and the licensee's employees and agents, but not less than $25,000.
A mortgage broker surety bond protects the state government and the customer from negligence and fraud by the broker. This might include:
Misrepresenting property values
Identity theft
Appraisal fraud
Plus more.
Learn more about mortgage broker license requirements. Compared to other industries, the regulations are more complex.
Travel Agent Surety Bond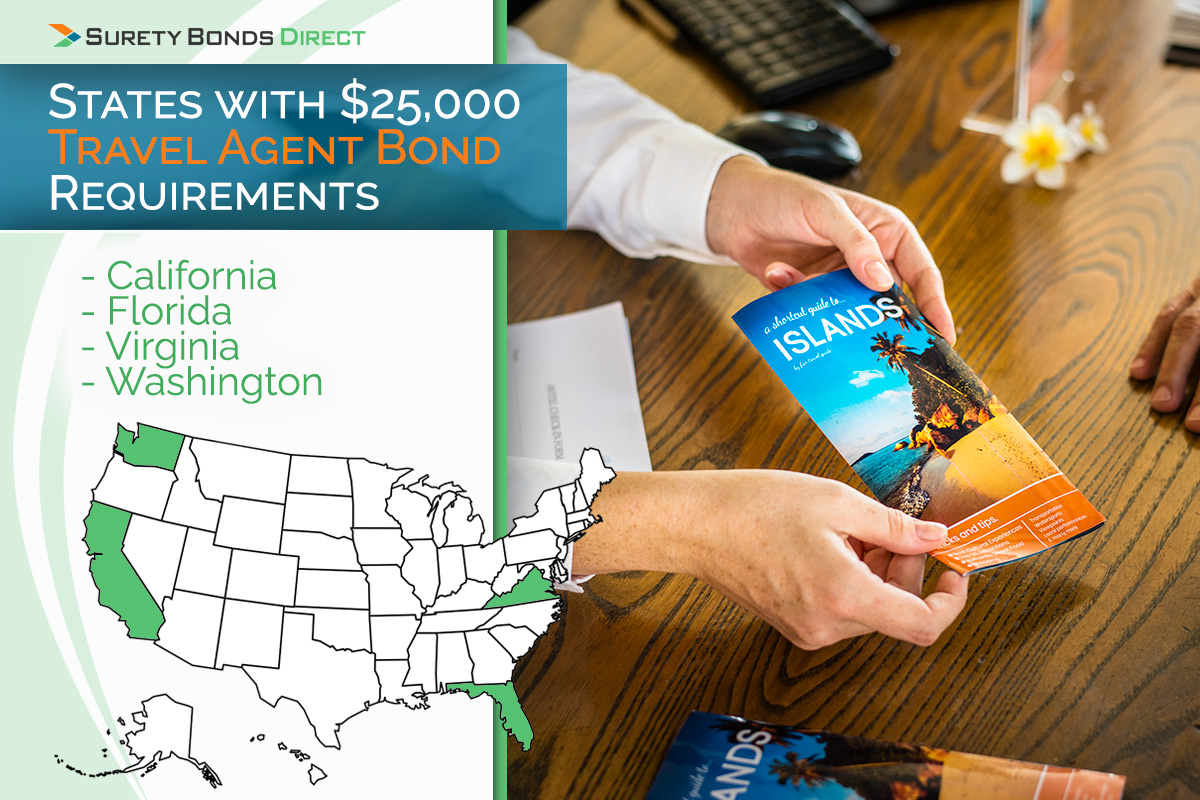 Seller of Travel (travel agents) need to purchase a surety bond. The amount of the required bond will depend on state requirements and your business's history.
States who require a $25,000 seller of travel bond are:
California
Florida
Virginia
Washington State
Each state is different. California and Virginia have bond amounts which are determined on a case by case basis. In California, the bond amount will be no less and at least equal to the amount required to be held in a trust account.
In Washington, the bond amount varies from $10,000 to $50,000, but in increments of $10,000. So there is no $25,000 bond, but close.
Florida require a $25,000 bond, yet the value can go down by $10,000 if you've been in the industry for over a year. Your business history makes you less of a risk compared to a brand new business.
A seller of travel bond will protect the state licensing authority and the end customer from:
Mishandling for money
False advertising and fake claims
Fraud with pricing
Plus other scenarios
Notary Bonds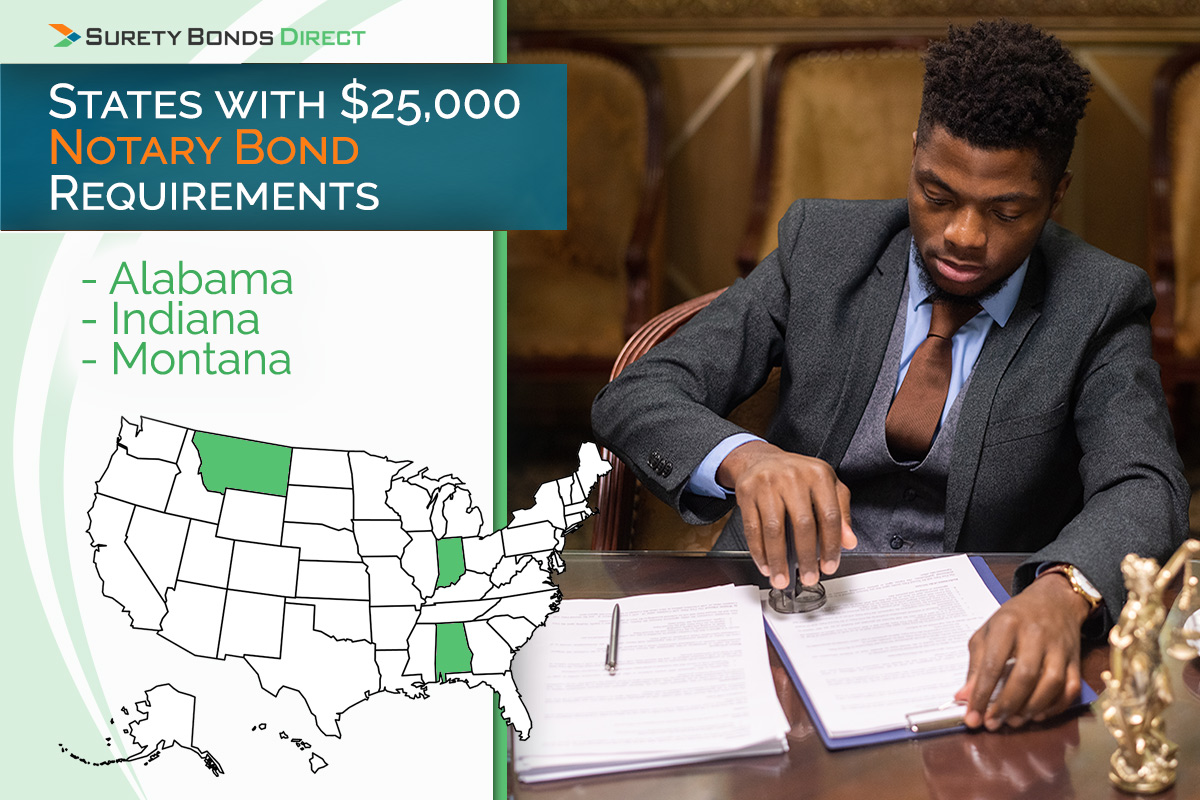 Notary bonds prices (as well as the bond term) vary from state to state for different reasons. States with a $25,000 bond amount are:
Notary bonds don't require a credit check to determine a rate. A notary bond has a set price for each state.
Here is a table of our $25,000 surety bond costs for notary bonds.
Get Your Bond So You Can Move On With The Rest Of Your Licensing
Now you know where to get your surety bond and how much it will cost you. Explore our site to learn more about the surety bond parties and what happens if a claim is ever brought against your bond.
If you're ready for a free quote, click here or call us at 1800-608-9950.
The process of obtaining a surety bond for your business or specific need is fast. We will help you know what you need and we'll get you a free quote immediately. You will have your bond in your hands in a day or two.