A lot of state licensing agencies, businesses, and courts require you to submit a surety bond. However, nobody helps you understand what a surety bond is, where to get one, and what the purpose of this bond is for your specific need.
This short article will help you understand where to get a surety bond.
To understand surety bonds, explore these articles and videos:
3 Options On Where To Get a Surety Bond
There are three options available to get a surety bond. As you'll see, the goal is to get the lowest possible price with an A rated surety company.
Let's start with the best option to hit these goals, a specialized surety agency, moving down to your local insurance agent.
Option 1. A Specialized Surety Agency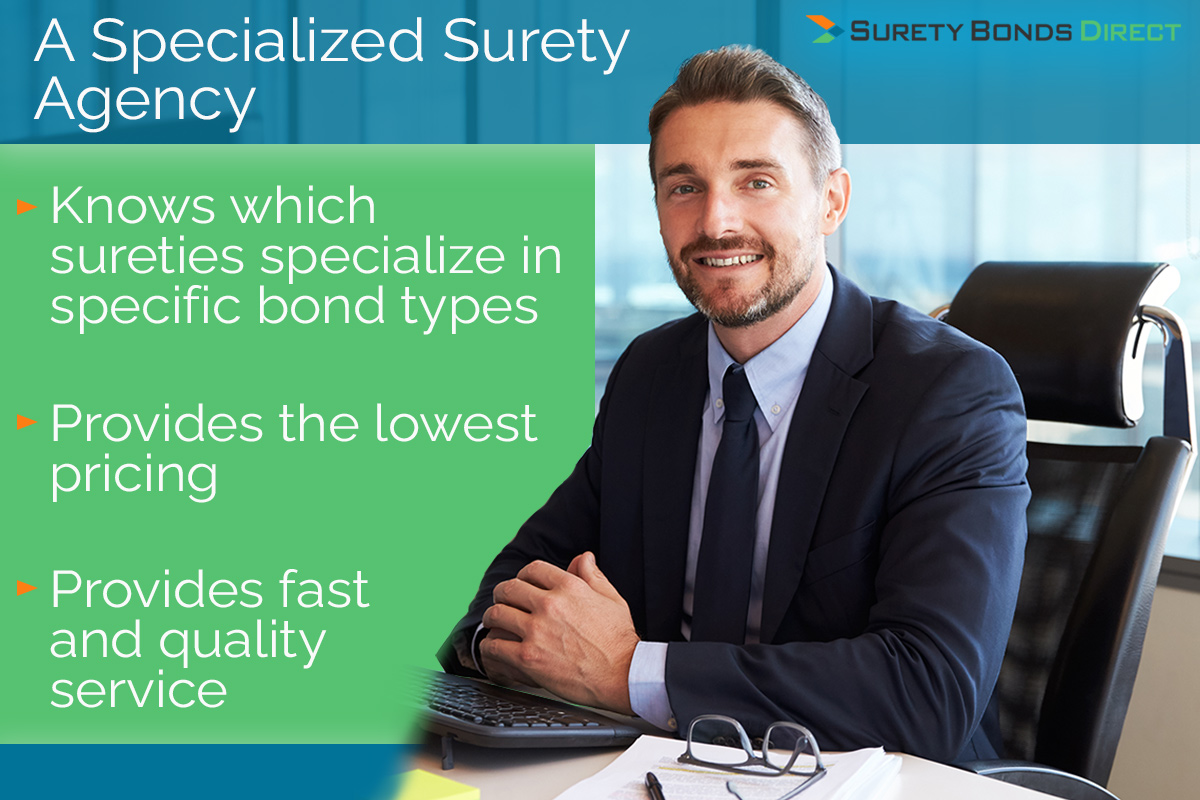 Surety bonds, similar to insurance policies, are written by insurance companies. Yet, not all insurance companies write surety bonds and are considered sureties. Further, very few insurance companies that write surety bonds work directly with consumers.
Surety Bonds Direct, among a few others, is a specialized surety agency who works with multiple sureties.
The benefits of a specialized surety agency are:
Getting The Bond You Need Fast
Surety Bonds Direct works with multiple sureties. These sureties don't work directly with consumers. A specialized surety agency, knows which sureties:
Specialize in specific bond types
Provide the lowest pricing
Provide fast and quality service
This ensures the surety bond you require will be available.
The Backing of a A Rated Sureties
Surety Bonds Direct only works with A rated sureties. The major benefit of having an A rated surety write your bond is the surety will properly investigate any claim against your bond.
As you can imagine, many claims made by consumers are invalid or made through misunderstandings. The surety does not want to frivolously pay claims where you're not at fault. The surety will conduct an in-depth investigation into the claim to prove the validity. This investigation protects you from:
Having to pay for false claims
Having your renewal bond rates increased
Having your business reputation damaged
Plus using an A rated insurance company allows Surety Bonds Direct to guarantee the obligee will accept the surety bond.
The Lowest Possible Pricing
Because Surety Bonds Direct works with multiple sureties, we are able to get multiple price quotes for the surety bond you need and you'll get it fast.
Remember, each surety assesses risk and sets rates according to their own terms. We've seen scenarios where the price difference between one surety and another is thousands of dollars. (Keep in mind this does not mean the bond you require will be thousands of dollars.) Only that the price difference can be large. Furthermore, sureties are required to file their rates with state departments of insurance, so having surety-specific experience allows us to know where to get the best rates.
This is why using an agency like Surety Bonds Direct is the only way to be sure you'll get the lowest possible price. Read our post about how the cost of surety bond is determined. There are a few action steps you can take to improve the chances you get a lower cost.
Surety Bond Servicing
Finally, Surety Bonds Direct takes the responsibility of managing your surety bond off your shoulders.
Like insurance policies, surety bonds have a specific term or duration. This term could be one year or several years. The term depends on the bond required and the surety writing the bond. When a surety bond renews, you must pay the renewal premium (cost) or the bond will be canceled.
If your surety bond is canceled you risk:
A licensing authority revoking your license
A business canceling a contract
A court fine or penalty
Surety Bonds Direct makes renewing surety bonds easy. We communicate with you during the renewal process so you don't miss the deadline. Plus the renewal process can be an opportunity for a lower renewal cost.
Option 2. Insurance Company (The Surety)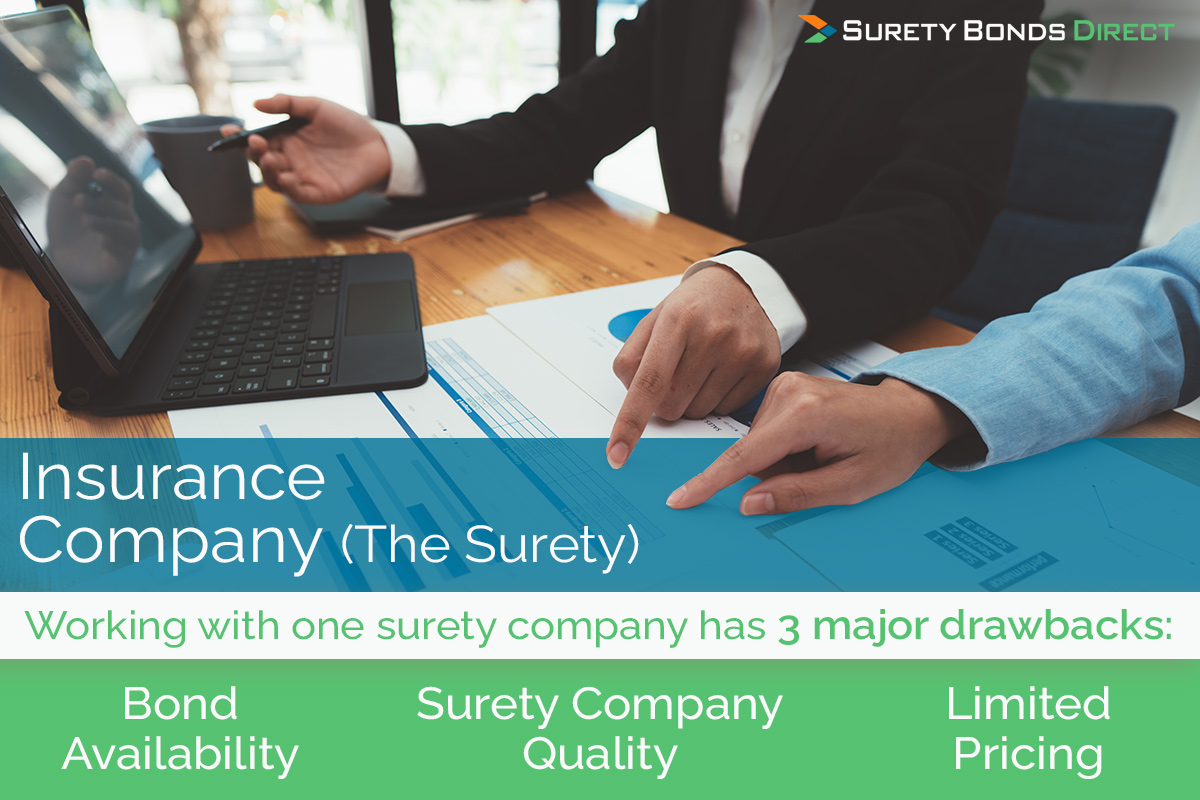 Very few sureties work directly with consumers. If you find an surety company that will work directly with an end consumer, there are three major drawbacks.
Drawback #1: Bond Availability
Just because a surety (an insurance company) writes surety bonds does not mean they write every type of surety bond.
There are thousands of different types of surety bonds used for thousands of unique license, business, court, and other scenarios. Each surety bond comes with its own risk assessment and it's up to the surety whether they want to assume that risk.
It's likely the bond you need will not be available from the surety you're talking to. Now you're required to hunt down another surety that works directly with consumers.
Drawback #2: Surety Company Quality
A poor surety presents risk to the purchaser of a surety bond and the obligee.
The obligee, the party requiring you to purchase a surety bond, wants a bond backed by a reputable insurance company. If a legitimate claim is made against the bond, they want to know the insurance company will properly investigate the claim and, if valid, pay the claim amount. In many cases, the obligee will require the bond be written by a treasury listed (T-listed) surety company.
Drawback #3: Limited Pricing
Working with only one or two insurance companies limits the pricing options you'll receive.
For example, if you require a contractor's surety bond to obtain your contractor's license, there is no significant difference between one contractor's surety bond compared to another, provided both are from A rated sureties.
To get the lowest possible price you need to obtain quotes from as many quality sureties as possible.
Option 3. Your Local Insurance Agent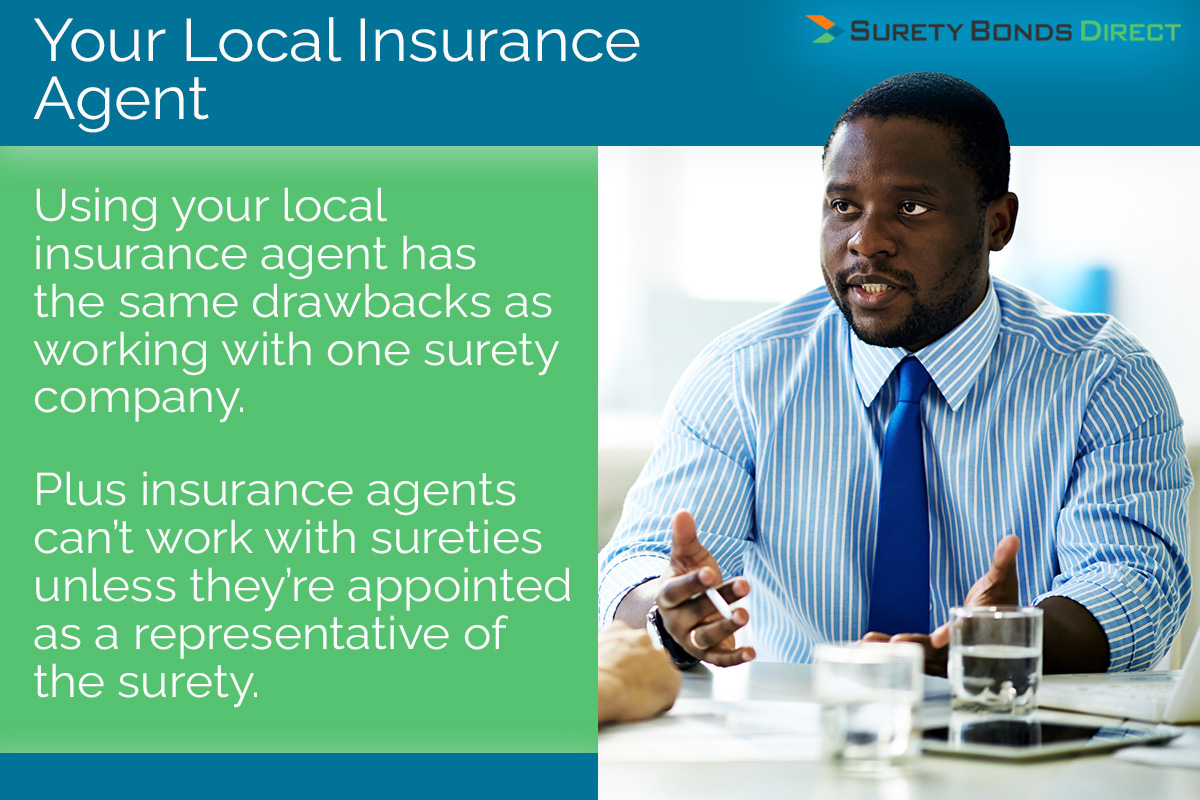 You could try your current insurance agent. However, you run into the same drawbacks as number 2. If your agent only works with one insurance company:
The insurance company may not offer surety bonds
You're limited to only one price quote
An agent cannot call or work with any surety company. A surety must appoint an agent as a representative of the surety. Most sureties only build relationships with agents that provide volume or specialization.
Insurance agents who don't have this relationship will seek out companies like Surety Bonds Direct to help obtain the surety bond their client requires.
Where Do You Get a Surety Bond? A Specialty Surety Agency
In the case of a license, permit, court, or a fiduciary scenario, a surety bond is required.
Some businesses aren't required to purchase a surety bond like a cleaning business. But being bonded helps provide customers the confidence that they are protected in the case of negligence, damage, theft, or fraud. Plus, nearly all commercial business contracts require a business to be bonded.
Whatever your specific surety bond need is, Surety Bonds Direct will help you obtain the lowest price possible with an A rated surety.
Getting a surety bond is a fast process. Don't push off getting your bond to the last second. Use our online quote request form to start the process. If you'd prefer, you can call a bond specialist to start the surety bond process at 1-800-608-9950.
All Surety Bond Direct quotes are free and there's no obligation to purchase. Get your quote and get the information you need to make the right decision so you can officially become bonded.