15 Things to Know Before You Buy Surety Bonds
Learn everything there is to know about surety bonds before you go through the process of buying one.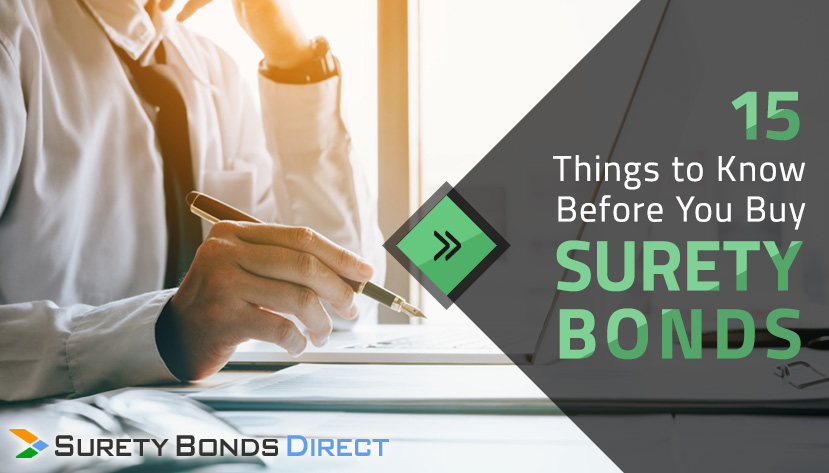 In many industries, obtaining a surety bond is a necessary but confusing part of the protocol. The fact is that surety bonds are good for business. They instill trust in your company, make it even more reputable and, in most situations, keep it compliant under the law or the governing body of your industry. Surety Bonds Direct is an excellent resource for anyone looking to obtain a surety bond, and we're particularly concerned with demystifying the process for first-time bond-buyers. Although there are some things you should understand before you start your surety bond hunt, the process is generally easier and more straightforward than you might expect, especially if you partner with a surety bond specialist like us.
Everything There Is to Know About Buying Surety Bonds
There are a few key things to know before you enter the bond-shopping world, all of which will help ensure that you get the right bond from the right company at the right price. Here are 15 of the most important things you need to know before you buy a bond.
Surety Is Different Than Insurance - Let's start with the basics: Insurance companies generally sell bonds, but bonds are not insurance. A surety bond ensures compliance with regulations and provides a guarantee of performance in order to protect the interest of a third party, whereas insurance is a two-party arrangement that generally protects the insured party. Obtaining a surety bond involves three specific parties: the principal (the business or individual buying the bond); the obligee (the agency, department or business requiring the bond); and the surety (the underwriter or issuer of the bond). Here are further details about surety bonds vs insurance.

There Are Different Ways to Know What Bond You Need - Regrettably, there is no one-size-fits-all surety bond for all industries. Some common surety bond types include contractor license bonds, freight broker bonds, construction bonds, title bonds and motor vehicle dealer bonds. So how do you know which one you actually need, or if you need one at all? The answer generally lies within the industry's governing body or a government agency, who acts as the obligee who sets the requirements for the industry. For example, it's the state's contractor licensing department that determines if a contractor in that state requires a surety bond.
Many Resources Are Available - Your surety bond agency (such as Surety Bonds Direct) will serve as your primary touch point for all things bond-related. However, there are other resources available to you that you should keep in your arsenal should you need additional information. It also helps to have a personal contact with your obligee in case you have questions regarding your specific industry and the laws of the municipality. The U.S. Small Business Administration (SBA) also offers great resources for industries where bonds are required.
There Are Different Types of Bonds - As you can see from the specific types of bonds listed above, there are many industry-specific bonds available. With that said, most surety bonds fall under one of the following categories: commercial bonds, court and probate bonds, fidelity bonds and contract bonds.

Commercial Bonds - Often referred to as License Bonds, these types of bonds generally cover business owners and professionals to ensure that workers do their jobs according to industry laws and regulations. They also help ensure that the business or individual acts honestly. Examples of commercial bonds include motor vehicle dealer surety bonds and alcohol beverage surety bonds.
Court & Probate Bonds - These bonds guarantee the duties of guardians, administrators, trustees and executors in the court and probate system. They ensure payment of legal obligation or proper management of trust or assets from an estate.
Fidelity Bonds - These bonds protect an employer from losses caused by employee dishonesty and fraudulent acts, including theft of monies or securities, embezzlement and forgery. This not only protects your business, but also your clients who may be affected by these acts.
Contract Bonds - These types of bonds are required specifically of contractors and construction professionals to ensure that they fulfill any contract obligations, including ensuring that they meet project deadlines and perform work that has been paid for. Although most contract bonds are related to construction and referred to as construction bonds, there are cases where a bond is required for a project work aside from construction. Note that contract bonds are NOT license bonds for contractors. Contract bonds relate to a specific contract or project and are very common when working for a government agency such as a city or county.

You May Need a Surety Bond to Get a License - One very common reason why many businesses and individuals acquire bonds is because they are required to before they can apply for a license of some sort. For example, most states require that contractors obtain a contractor license bond before they apply for a contractor's license through their state's governing body. Another good example of this practice is the auto dealer bond, which businesses are often required to have before the city, state or county will grant them a license to cell vehicles.
Bond Regulations Can (and Do) Change Frequently - Know that the bond that's required of your industry today may not be the same as the one that's required of it tomorrow. A good example of the ever-changing face of the surety bond is the freight broker bond. The Federal Motor Carrier Safety Administration (FMCSA) increased the surety bond amount required by a freight broker from $10,000 to $75,000 in 2012, causing quite the stir in the industry. A good surety bond agent will always make sure that you know if there have been any industry changes that require you to alter your bond or acquire a new one. Remember, it's your agent's job to monitor industry changes so that you don't have to think too much about it during your day-to-day work.
You Can Get a Bond Even if You Own a New Business - Many people assume that, in order to obtain a surety bond, one must have a long-established company with a flawless track record. In fact, the age or reputation of your business matters little and many new business need to obtain a bond in order to get their business license. We can help companies of all ages get the right bonds, even if they've only been up and running for a matter of days. With that said, new business owners may have higher bond costs if they have not had the chance to establish strong credit and accountability.
Your Credit May Be a Factor - Bond companies factor in your credit score because, in theory, lower credit scores translate to higher risk for the surety, so the cost goes up. Those with average credit can expect to pay less than 1 percent to 2 percent of the bond amount per year, depending on the type of bond obligation. Those with poor credit can expect to pay between 3 and 8 percent of the bond amount per year. Thus, it's definitely worth your while to work on boosting your credit score before applying for a bond, if possible. But this doesn't mean that those with bad credit are out of luck if they need a bond. Companies like Surety Bonds Direct can help you get a surety bond with bad credit by partnering with insurance companies that specialize in working with those with less-than-ideal credit.
You Can Have Someone Co-Sign - Many business owners don't realize that it is sometimes possible to have a co-signer on a surety bond in order to boost an applicant's credit worthiness and lower the rate and premium. If you have bad credit and want to avoid high premiums, it may be a good idea to consider a co-signer for your bond. Of course, any time the insurance company can lower their risk -such as by having a second party sign onto the bond- they will be able to offer lower rates. Naturally, this means risk for your co-signer, but a business partner or investor with stake in your company may make a good co-signer. Co-signers aren't available with all bonds or all sureties, so ask a bond specialist for your specific case.
You Will Need to Keep Your Surety Bond Up to Date - Keeping your bond up to date is not only a good idea, it's a requirement. You need to make sure that any major changes to your business are clearly reflected in the bond. If you change your business name, DBA name, business address, coverage amount or ownership structure, you will need to make changes to the bond through what's known as a bond rider. This is an official document issued by your agent, which amends the bond as needed. Renewal is also necessary, and your bond agent will notify you when you're up for renewal so that your bond never lapses.
You Can (and Should) Shop Around - Think of bond shopping like you would think of shopping for any other product-to get the ideal results, you have to do some solid research and comparisons. It's a good idea to partner with a specialized bond surety agency, like Surety Bonds Direct, so that you always get the best deal and the best partnership for your specific needs. We scour the industry and find all the top options for your unique situation, so you always get the best rate, the best service and the most reliable bonding process from start to finish. The simplest and most comprehensive way to shop around for surety bonds is to use an agent or broker who is specially trained in surety bonds. We can help you decide where to get a surety bond for your unique requirements.
You Can Estimate Your Bond Cost - Wondering how much surety bonds cost? It all depends on various factors, so getting a quick, accurate answer can be challenging. With that said, you can get a fast estimate by using our Surety Bonds Cost Calculator. Simply put in the type of bond you need as well as the bond amount and we'll provide you with an estimated bond cost per year. Still, know that the best and most accurate way to learn how much your bond will cost you is to request an obligation-free quote.

You Can Choose Your Effective Date - Thinking ahead? In general, sureties will quote a bond up to 60 days in advance of the effective date, and will often quote up to 30 days in arrears. This allows you to plan ahead and make decisions based on your own timeline.
Financing may be Available - You shouldn't let low cash flow prevent you from staying compliant or legitimizing your business. Remember that not getting bonded could cost you in the long run due to fines and lost business. Premium financing is available for some license bonds through Surety Bonds Direct and leading financing companies to allow you to pay for your bond over time at an affordable cost. After you receive a bond quote from us, you'll have the option to receive a premium financing offer if financing is available for your bond at no obligation to you. It's important to note that some types of bonds are exempt from premium financing, though, including contract, court and probate surety bonds.
Obtaining a Surety Bond Is Easy - One thing we always want our customers to know before they get started is that, overall, the bond shopping and buying process is relatively simple. Usually, we're able to do the vast majority of the heavy lifting for you. You simply let us know which type of bond you need (which you should first verify independently with the person or entity requiring it) and then we'll compare prices with different sureties in the market to get you the best price, then we'll provide you with a free quote. Pay for your bond and verify the information and you're all set to go! You can now officially declare yourself or your business bonded.

October 17, 2022

Jason O'Leary