Surety Bond Companies & What They Do
Specialized surety agencies can offer you the most options and save you money because they work with more surety companies (insurance companies).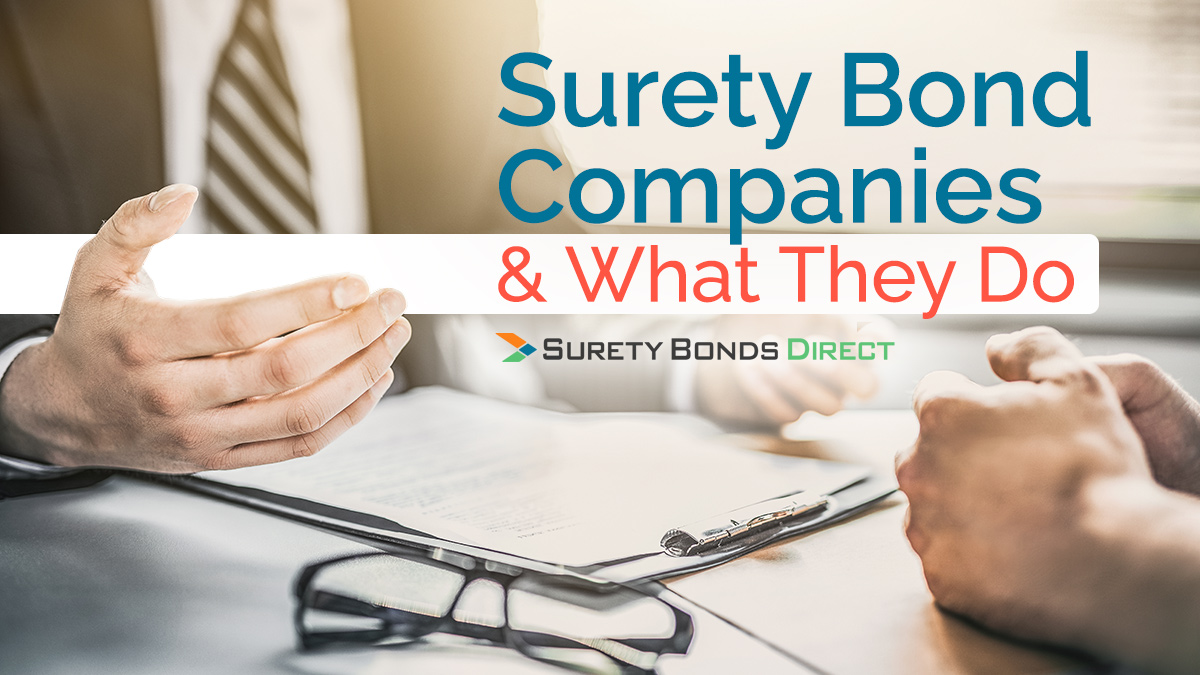 What is a Surety Bond Company?
Most people are under the impression that when they contact a bond specialist or insurance agent to assist with a surety bonding need, they are speaking with the surety company. In reality, you are speaking with a bond agent or broker.
A Surety Company is an Insurance Company that Issues Surety Bonds
Except in rare cases, surety companies do not deal directly with surety bond buyers. Instead, surety companies contract with agents to represent the surety company by advertising its rates and handling the customer service and management part of the surety bond life cycle.
What is a Surety Agent or Broker?
A surety agent (or broker) is an insurance agent that is properly licensed and properly appointed with surety bond companies. There are many differences between surety and insurance and there are specialized surety agents that understand bond requirements, bond eligibility, and bond-specific underwriting.
Specialized surety agencies are typically appointed with surety companies that most traditional property and casualty agents cannot access which allows customers access to a broader range of options.
Your surety agent's role is to find the best surety company for you to work with to get your bond. Surety specialists will know which surety companies offer the most competitive rates for the specific bond you need and should check with multiple surety companies to compare rates for you. The surety agent will guide you through the process to purchase your bond and will act on behalf of the surety company to issue your bond to you.
The surety agent will continue to serve as your representative for any changes made to the bond, but the agent is not part of the 3-party agreement of the surety bond. The agent is the "go between" for you (the principal) and the surety company.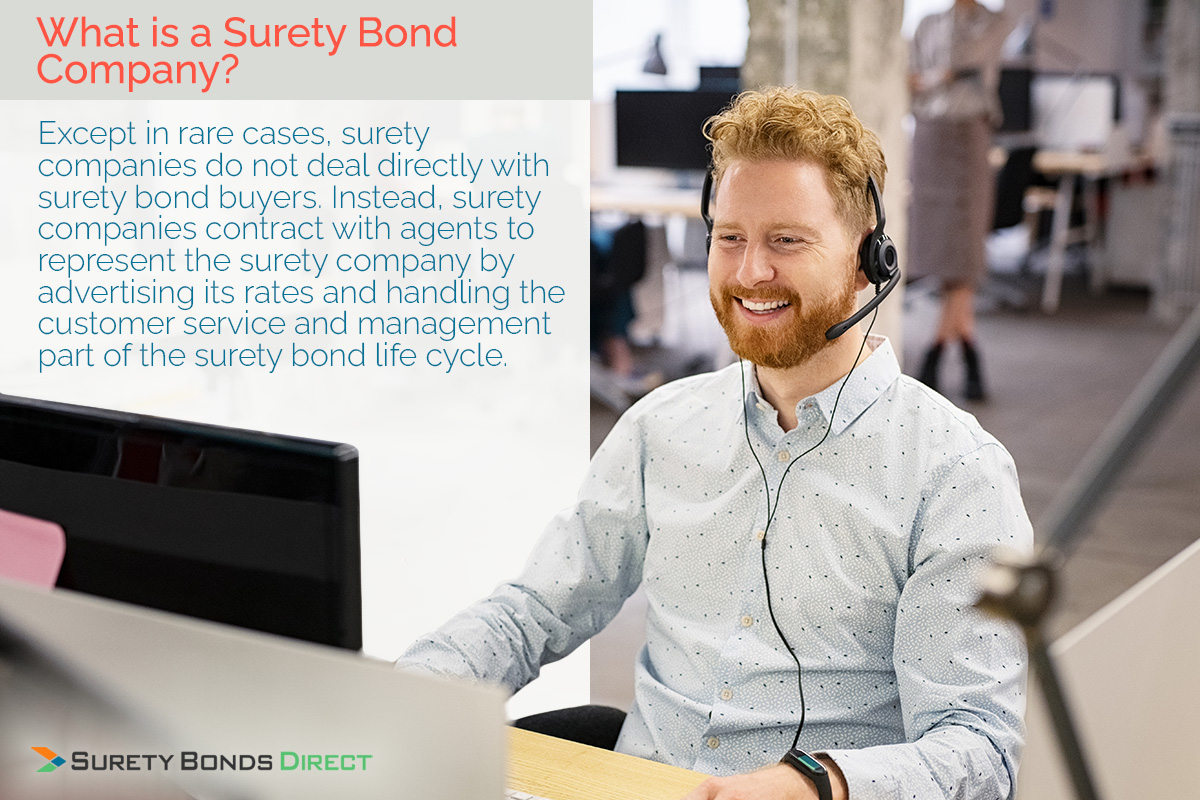 Agents vs Brokers: What's the Difference?
There is no practical difference between the terms "agent" and "broker" for the principal (you). The term agent is a broader term historically meant to reference a representative of the insurance company and the term broker usually implies that the agent has a variety of appointments with different insurance companies and represents the buyer. Surety Bonds Direct, and almost all specialized surety agencies are referred to as brokers within the industry because they work with a wide variety of surety companies.
Primary Roles of a Surety Bond Company
The surety company is actually just one of the parties to a surety bond and its primary role in the bonding process includes the following.
1. Evaluate the Surety Bond Types
The surety company determines which surety bond types or liabilities that the surety wants to assume. Like any other business, the surety company makes this decision based on expected profitability. A surety company makes money on a surety bond type or class when its total bond premiums collected exceed the total losses paid for claims, operating costs, and commissions paid for a particular bond type.
2. Establish Bond Pricing and Filing Rates
The surety company first must determine if it wants to offer certain types of surety bond. This typically involves internal actuarial work, historical analysis on potential claim activity, and a review of competitors offering each type of surety bond.
Once a surety company makes a decision to offer a type of surety bond, they must get the bond pricing approved by the state insurance departments where they plan to sell these bonds. This process is referred to rate filings. Different rates or prices will be approved based on different elements of the applicant and bond risks underwritten by the surety company.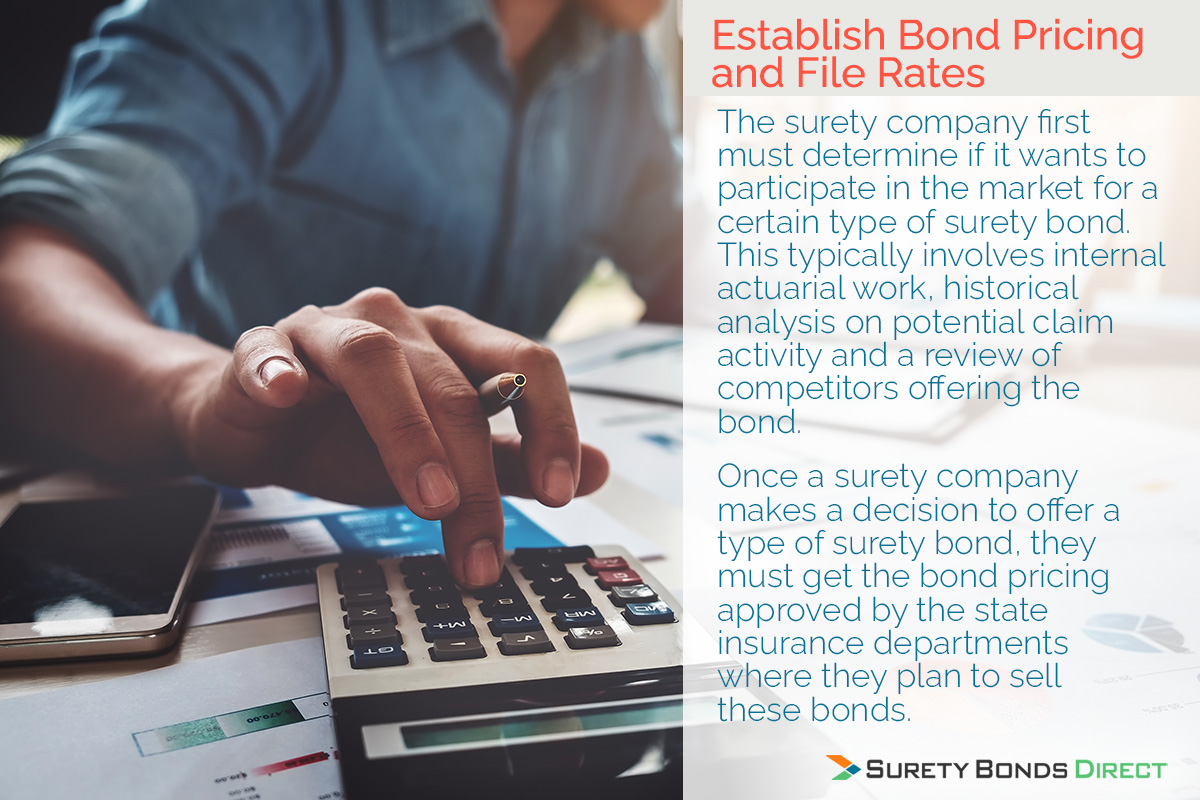 3. Underwrite Each Individual Application
The underwriting process involves establishing the appropriate rate tier or pricing for each individual surety bond application. The process usually involves a review of the applicant's credit history, industry experience, and other factors that may be needed as part of the bonding process. The underwriting process is typically handled by a surety company underwriter or, in some cases, by the bond specialist agency. For some surety bond types, the underwriting function is completely automated, allowing for instant pricing.
4. Surety Bond Claims Management
In the event of a claim filed against a surety bond, the surety company will investigate the claim to determine the validity of the claim. If the claim is determined to be valid based on the provisions of the bond (and the claim can't be resolved by the bonded principal), the surety company will usually be responsible for compensating the damaged party for financial losses including legal costs.
The liability of the surety company is typically limited to the bond amount (aka the bond penalty). In most cases, the bonded principals have provided their indemnity to the surety company as part of the bond application. This means that the principals are responsible for reimbursing the surety company for losses paid due to unresolved claims.
To file a bond claim, it is typically best to contact the surety company directly. Since most brokers and agents don't handle claims management, they will typically direct claimants to the surety company for faster response and handling.
What to Look for in a Surety Company
While your broker or agent, rather than the surety company, is your point of contact for the surety bond process, there are still some important criteria that you want in your surety company. After all, as discussed above, the surety company is the financial guarantor backing your bond so you want to make sure the surety company is reputable and financially strong.
The following criteria are what to look for to make sure you have the right company. Your bond specialist or agent should be able to provide the information on the surety company that will issue your surety bond. Always talk with your agent to make sure the surety company that will write your bond meets these criteria.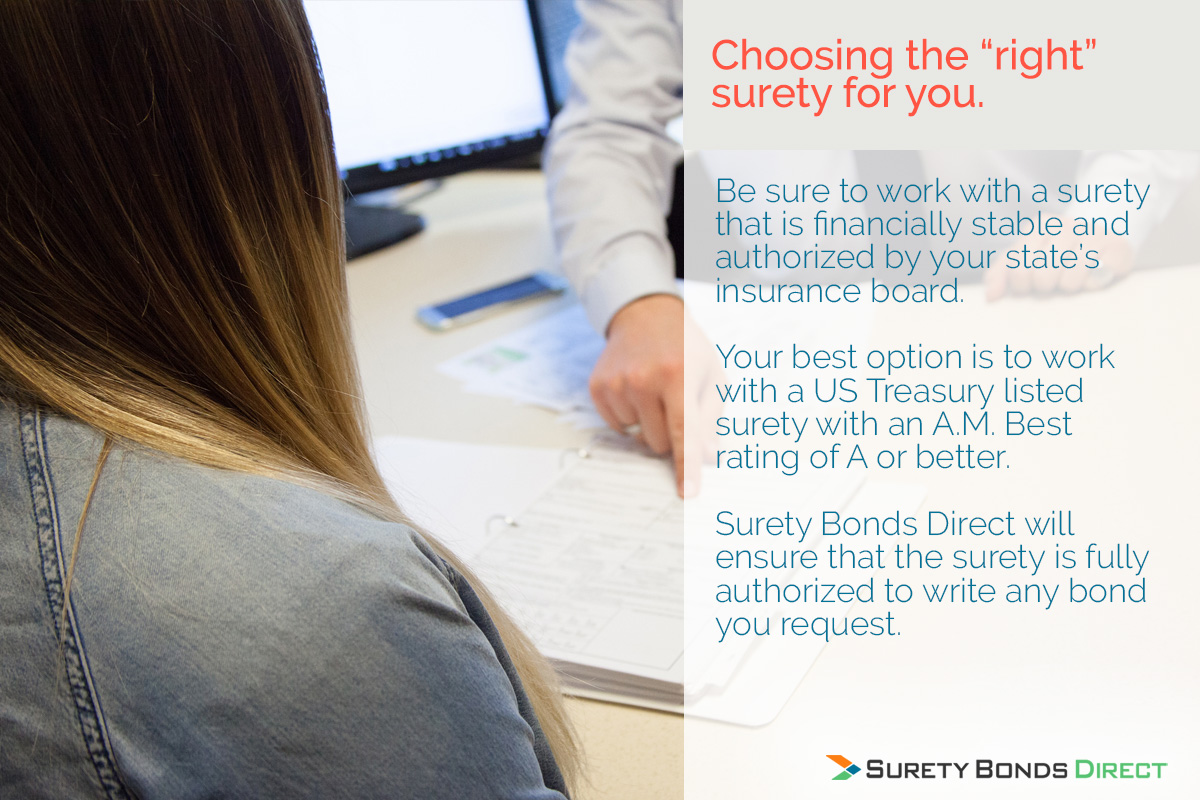 Financially Sound
You want your surety company to be financially sound with the ability to meet its obligations. Some of the most established and financially solid surety companies include CNA Surety (aka Western Surety), Hudson Insurance Company, Capitol Indemnity Corporation, and Platte River Insurance Corporation. You are in good hands with these companies backing your bond obligation.
That said, some other qualified smaller specialty surety companies are in the market as well. While not as large, these specialty surety companies meet the financial strength requirements and have the added benefit of surety bonds being their core business.
The best way to ensure that a specialty surety company is credible is to ask your broker or agent to provide the surety company's A.M. Best rating (Note: Only sureties are rated by A.M. Best, NOT surety brokers or agents). A.M Best is considered to be the premier authority for insurance company credit rating. Look for surety companies with an A (Excellent) A.M. Best rating or higher. Standard & Poor's (S&P) also provides independent financial information, analytical services, and credit ratings.
Licensed and Authorized
Make sure your surety company is licensed and authorized to transact business in your state. Most state insurance departments provide online resources to verify licensing status in the state. It is also a good idea to confirm that the surety company is a treasury-listed surety (aka "T-Listed") on the U.S. Department of Treasury's Listing of Certified Companies (Note: Only sureties are listed, NOT surety brokers or agents).
Get a Surety Bond
Surety Bonds Direct is a national specialized surety agency with customer-service focus. We only work with AM Best A Rated carriers. Read reviews from our customers.
Ready to get started? Take 2 minutes to request your bond. We'll compare rates from multiple surety companies and get back to you ASAP with the best rate. There's no obligation. Get started with your free quote.
May 2, 2023

Jason O'Leary