Janitorial services are an important part of the U.S. economy representing nearly fifty billion dollars in revenue and employing over three million people. They help keep our businesses, schools, medical facilities, and homes clean and sanitary. However, because clients give janitorial services access to their homes and businesses, these services often obtain janitorial service bonds (a type of surety bond) to protect their customers from theft and other employee misconduct.
If you own or manage a janitorial service business, it's important for your business to protect its clients and demonstrate your commitment to ethical business practices by obtaining a janitorial service bond. In this guide, we'll give a brief introduction to janitorial service bonds, how they work, and what a cleaning business can expect when obtaining one.
What Is a Janitorial Service Bond?
A janitorial service bond is a type of surety bond. Surety bonds are three-party agreements that provide a financial guarantee that a business or individual will comply with a certain obligation.
Janitorial service bonds exist to protect a business's customers from theft or unethical conduct by employees. Since clients must place significant trust in cleaning services to treat their homes, businesses, and other facilities with respect, cleaning services should provide a guarantee that their employees will conduct themselves according to the law and their professional ethical standards.
The cleaning service obtaining the bond, known as the principal, pays a surety to provide a financial guarantee (up to a certain amount, called the penalty sum). A client who believes that employees of the cleaning service have been responsible for theft or other unethical conduct can file a claim against the bond. The surety will investigate the claim and pay the claim amount (up to the penalty sum) if they find that the claim has merit.
To prevent fraudulent or frivolous claims, Surety Bonds Direct only sells janitorial service bonds with conviction clauses. Conviction clauses require that for a claim to be deemed valid, there must be a legal conviction of the alleged offense.
It's important to remember that a surety bond is more like a line of credit than traditional insurance. That's because the principal is responsible for paying the surety back for any money that the surety pays to a claimant. Businesses should keep this in mind when obtaining a surety bond.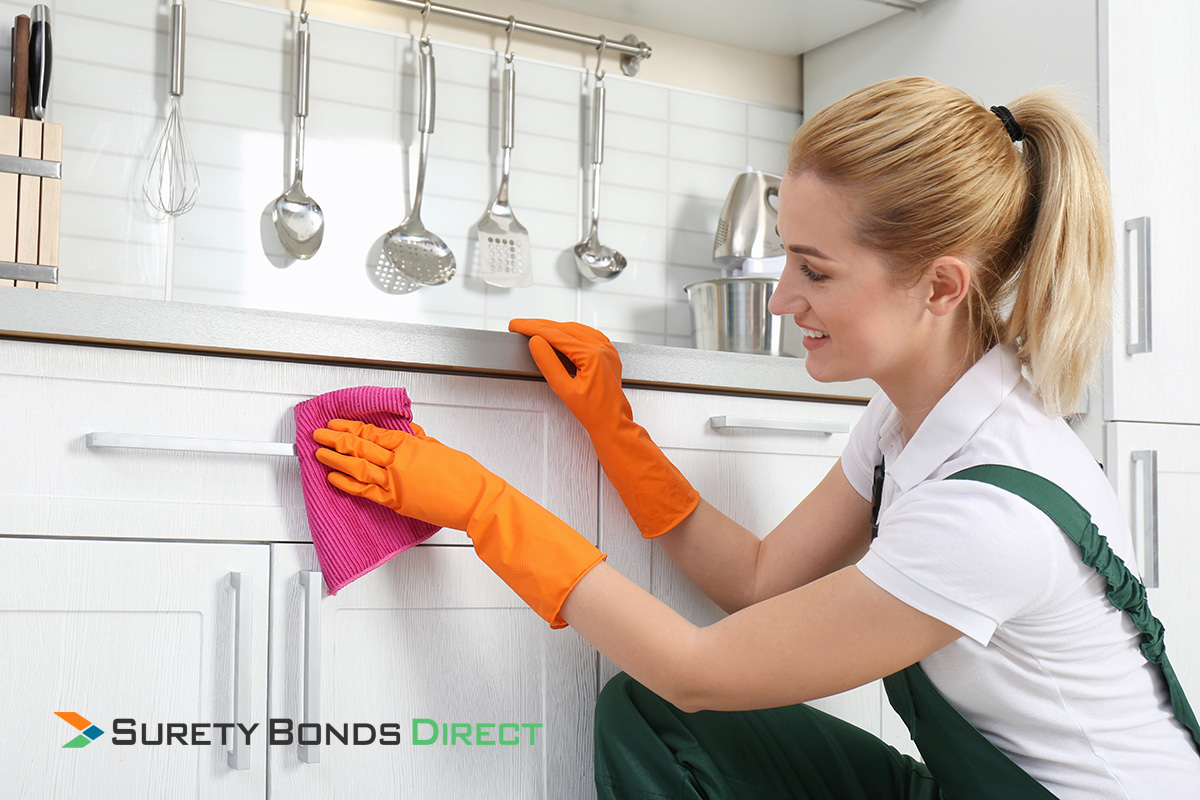 What Kind of Businesses Need Janitorial Service Surety Bonds?
Janitorial service bonds are recommended for many different types of janitorial businesses, including:
Housekeeping services
Window washing services
Power washing services
Medical cleaning services
Steam cleaning services
Commercial cleaning services
Janitorial service bonds are also sometimes called theft bonds, fidelity bonds, or business service bonds. Despite this last title, these are not the types of bonds that some businesses are required to file to obtain a business license. Some business owners also confuse a janitorial service bonds with employee-theft bonds (aka dishonesty bonds). Both are fidelity bonds, but a janitorial service bond protects end-customers from unethical practices by any owner or employee of the service business while an employee theft bond protects the business from theft or fraud by its own employees.
Janitorial Service Bond
Business Service Bond
Employee Theft/Dishonesty Bond
Type
Fidelity Bond
Fidelity Bond
Fidelity Bond
Who is protected?
Business's customers
Business's customers
Business owners
Common Bond Amounts
$5,000-$100,000
$5,000-$100,000
$20,000-$100,000
Cost to purchase
(for 5 employees)
$100-$350
Check Your Price
$100-$350
Check Your Price
Depends on credit
Get a Quote
---
Are Janitorial Service Bonds Required?
Unlike some other types of surety bonds, janitorial service bonds are typically not required by law. However, a janitorial service bond may be required by certain customers or to be awarded larger contracts. For most cleaning services, a janitorial service bond is a low-cost investment to help reassure customers that the business is trustworthy and has taken the appropriate steps to protect its customers and their property.
Many clients request that janitorial services obtain a janitorial service bond as a condition of offering a contract to the janitorial business. This is a particularly common requirement for large corporate contracts or environments in which employees will potentially have access to valuables. The janitorial service bond provides protection to the customer and that the cleaning business will abide by the conditions of the contract and will guarantee the safety and security of its clients' property.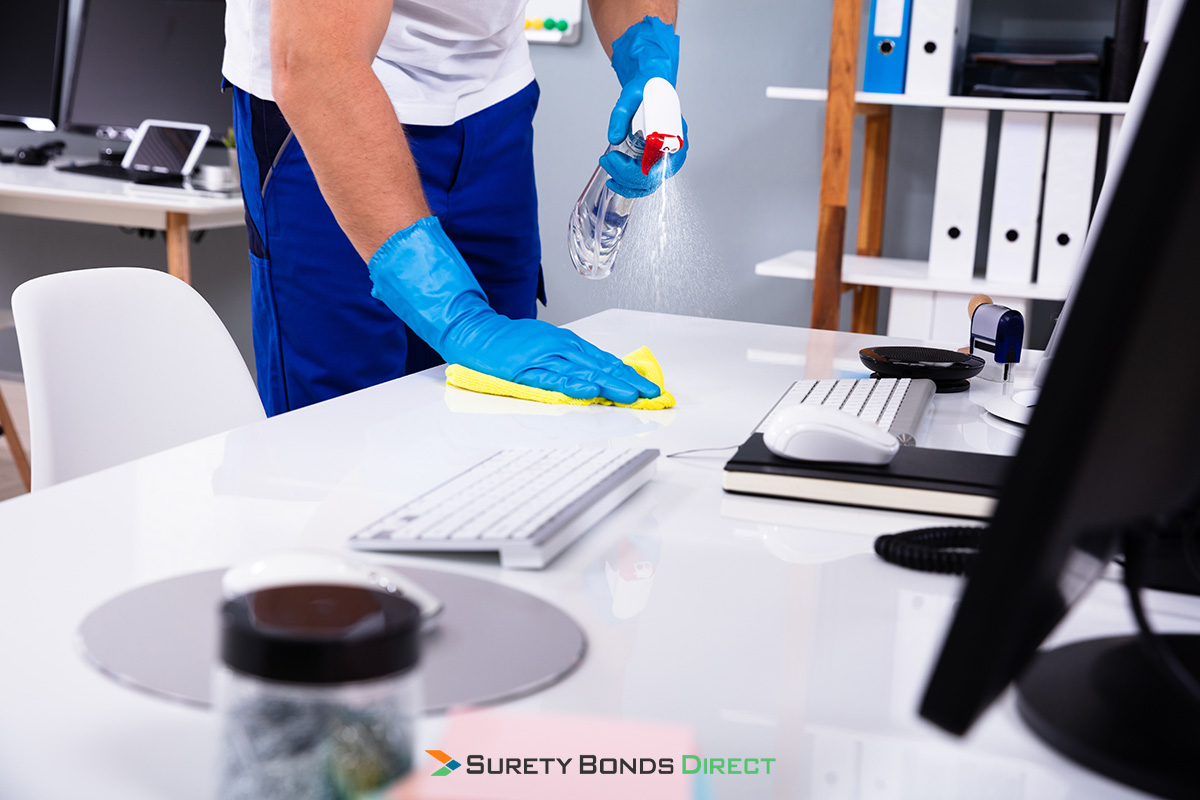 How Much Does a Janitorial Service Bond Cost?
The premium that a business pays for a janitorial service bond is a small percentage of the penalty sum. actors that affect the cost of a janitorial service bond include:
Amount of penalty sum
Previous bond claims against the business
Number of employees working at the business
Businesses with 25 or fewer employees can instantly get a janitorial service surety bond up to $250,000 from Surety Bonds Direct, without a credit check. Simply enter your bond amount and number of employees on our janitorial service bond request. Larger businesses or businesses that need a higher bond amount should request a free janitorial service bond quote.
Surety Bonds Direct is a leading supplier of janitorial service bonds for businesses. We have pre-negotiated rates to provide an excellent benefit at an exceptional price. Get started with a free online janitorial bond quote today, or call 1-800-608-9950 for expert advice on surety bonds.