All motor vehicle dealers intending to conduct operations in the state of New York must be properly licensed to comply with state laws and legally conduct business in the state. This requirement applies to all dealer types: New Retail Dealers, Used Retail Dealers, Wholesale Dealers, Boat Dealers, Transporters, ATV Dealers, and Yacht Brokers. The only exception to the licensing requirement is for those who display three or less vehicles for sale at one premise or within one month, and those who sell five or less vehicles over a twelve-month period.
Dealer licenses are issued by the New York Department of Motor Vehicles (DMV). Helpful information on the process and applicable regulations can be found in the state's manual titled Motor Vehicle Dealers & Transporters Regulations. One of the key steps, and one of the least understood, is the surety bond requirement for New York auto dealers.
Surety Bonds for Vehicle Dealers in New York
One key step in the dealer licensing process is purchasing a Dealer Surety Bond. The requirement and dollar amount of coverage for dealers in order to become, or remain registered, under Section 415 of the New York State Vehicle and Traffic Law is as follows:
| Dealer Type | Sales Volume | Surety Bond Amount |
| --- | --- | --- |
| New Vehicle Dealer | N/A | $50,000 |
| Used Vehicle Dealer | 50 or fewer vehicles | $20,000 |
| Used Vehicle Dealer | more than 50 vehicles | $100,000 |
| Wholesale Vehicle Dealer | 50 or fewer vehicles | $20,000 |
| Wholesale Vehicle Dealer | more than 50 vehicles | $100,000 |
| Automobile Broker | N/A | $100,000 |
| Automobile Broker | N/A | $100,000 |
Dealers that only sell trailers, motorcycles, vehicles over 10,000 pounds, ATVs, boats, or snowmobiles are not required to have a surety bond.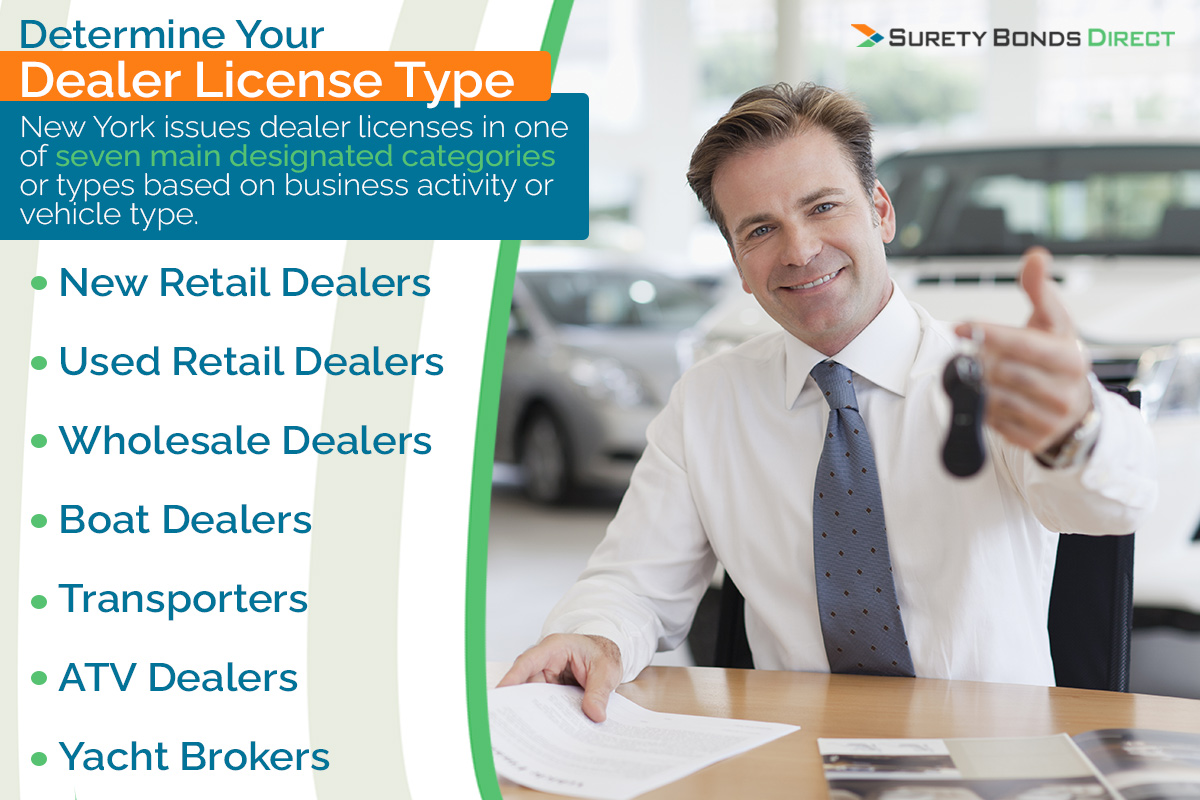 The purpose of the surety bond is to protect any party, including the State of New York, who obtains a valid judgment against the bonded principal for an act or omission that violates conditions of the bond set forth by state law. Bond conditions that must be met by the principal including; payment of all checks and other valid bank drafts made by the principal for motor vehicle purchases, good title transfer for each vehicle sold, proper safekeeping and maintenance of customer deposits, payment of any fines imposed by the Commissioner of Motor Vehicles pertaining to the Vehicle and Traffic Law, and repayment of overcharges to customers related to vehicle registration and titling.
The surety company is liable for total claims against the principal up to the full bond amount. The bond shall continue in full force until canceled by the surety company by providing 60 days written notice to the New York State Commissioner of Motor Vehicles.
You must obtain a surety bond before your dealer license application is submitted because the bond must be included with the application along with other requirements outlined below.
General Steps For Licensing
Following are the general steps and requirements for getting a motor vehicle dealer license in New York.
Determine Your Dealer License Type
New York issues dealer licenses in one of seven main designated categories or types based on business activity or vehicle type. The options for dealer type are as follows:
New Retail Dealers
Used Retail Dealers
Wholesale Dealers
Boat Dealers
Transporters
ATV Dealers
Yacht Brokers

Review Overall Licensing Requirements
The following basic information, documents and related paperwork from state regulatory authorities will be needed in order to engage in the licensing process. It is a good idea to review these items to ensure everything is in place before proceeding down the licensing path.
Copies of IDs of all individuals listed on your application
Business formation documents and entity type documentation from the Department of State, Division of Corporations, State Records & UCC
Certificate of Authority and Sales Tax ID number from the New York State Department of Taxation and Finance (DTF)
IRS Employer Identification Number (aka EIN, FEIN, TIN)
Personal details for all owners and officers (names, home addresses, SSNs, etc,)
Business location details (display area, signage, contact information)
Lease or ownership documentation for your dealership or business location
Obtain a New York dealer's starter kit and dealership signage
Franchise agreement (new retail dealers only)
Surety bond (as outlined above)
Workers compensation insurance (if applicable pursuant to state laws)
Complete and Submit State Application and Related Documents
Complete the Original Facility Application. Once you have completed the application and obtained all required documentation, all forms should be mailed to:
New York State Department of Motor Vehicles
Bureau of Consumer & Facility Services
Application Unit
P.O. Box 2700
Albany, NY 12220-0700
What Happens Next?
Once the New York DMV receives your completed application, an Automotive Facilities Inspector will conduct a site visit at your location to survey your operations and records. If everything is in order according to state guidelines and requirements, the DMV will issue your business a Certificate of Registration, MV-50s, and a dealer plate letter if needed. New York dealer licenses are issued for a period of two years and can be renewed for subsequent two year terms thereafter assuming all compliance requirements have been maintained.