Who Requires the Motor Vehicle Dealer or Broker Bond and Why Is It Needed?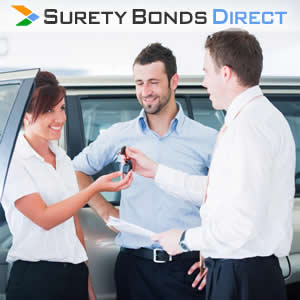 The New York State Department of Motor Vehicles, per Vehicle and Traffic Law section 415(6-b), requires that motor vehicle dealers secure a surety bond as a condition of the registration certificate. 
The amount of the bond, or bond limit, is based on the dealer type and number of vehicles sold. A surety bond in the amount of $50,000 is required of new car dealers. Used car dealers who sold more than 50 vehicles during the previous calendar year must post a $100,000 surety bond. Used car dealers who sold 50 or less vehicles during the previous calendar year must post a $20,000 surety bond. Automobile broker businesses must post $100,000 surety bond.
What Does the Bond Protect Against?
The surety bond protects any person, including the State of New York, who obtains a judgment against the bond principal for an act or omission that violates conditions of the bond. Bond conditions that must be met by the principal include:
payment of all checks and other valid bank drafts made by the principal for motor vehicle purchases,
good title transfer for each vehicle sold,
proper safekeeping and maintenance of customer deposits,
payment of any fines imposed by the Commissioner of Motor Vehicles pertaining to the Vehicle and Traffic Law, and
repayment of overcharges to customers related to vehicle registration and titling.  
The surety company is liable for total claims against the principal up to the full bond amount. The bond shall continue in full force until canceled by the surety company by providing 60 days written notice to the New York State Commissioner of Motor Vehicles.
What is Needed to Obtain My License or Registration?
Complete Original Facility Application (Form VS-1D).
Proof of business name if dealership plans to operate as a: Corporation or LLC: Filing Receipt from the NYS Department of State.
Partnership or individual using an assumed name: "Business Certificate of Assumed Name" from the county clerk who's local to your dealership location.
Copies of acceptable government-issued identification for all business owners, officers, and members.
Certificate of Authority from the New York State Department of Taxation and Finance or a valid NYS tax identification number.
Federal employer identification number (FEIN) 
Proof of acceptable workers' compensation insurance coverage
Business property ownership information as required including copy of the deed, mortgage, or receipted tax bill, rent or lease agreement, copy of the deed, mortgage, or paid tax bill from the property owner
Receipts showing purchased dealer starter kit and required signs from an approved vendor.
Motor Vehicle Dealer Surety Bond as mandated under New York State Vehicle and Traffic Law Section 415(6-b)(Form VS-3) for the following annual vehicle sale amounts; Up to 50 motor vehicles (that are not new vehicles) as retail or wholesale: $20,000. More than 50 motor vehicles (that are not new vehicles) as retail or wholesale: $100,000. New (franchised) motor vehicles including passenger cars, light trucks, and SUVs: $50,000.
The franchise agreement or letter of intent from the manufacturer for those selling new vehicles.
Pay dealer license fees, application and business fees as required by state law.