Who Requires the Motor Vehicle Dealer Bond and
Why Is It Needed?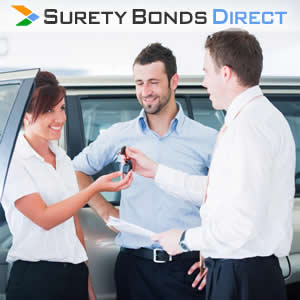 The New York State Department of Motor Vehicles, per Vehicle and Traffic Law section 415(6-b), requires that motor vehicle dealers secure a surety bond as a condition of the registration certificate. 
The amount of the bond, or bond limit, is based on the dealer type and number of vehicles sold. A surety bond in the amount of $50,000 is required of new car dealers. Used car dealers who sold more than 50 vehicles during the previous calendar year must post a $100,000 surety bond. Used car dealers who sold 50 or less vehicles during the previous calendar year must post a $20,000 surety bond. Automobile broker businesses must post $75,000 surety bond.
How Much

Will My Surety Bond Cost?

Take 2 minutes to provide the basic information required to get the best rates for your New York Motor Vehicle Dealer Bond. The quote request is free and there is no obligation to you. If you prefer, please call 1‐800‐608‐9950 to speak with one of our friendly bond experts. We can help guide you through the bonding process and identify the lowest cost in the market for your situation.

If you are interested in spreading out the cost of your bond over time, we can offer convenient financing plans for many types of surety bonds. More information will be provided with your quote.
What Does the Bond Protect Against?
The surety bond protects any person, including the State of New York, who obtains a judgment against the bond principal for an act or omission that violates conditions of the bond. Bond conditions that must be met by the principal include:
payment of all checks and other valid bank drafts made by the principal for motor vehicle purchases,
good title transfer for each vehicle sold,
proper safekeeping and maintenance of customer deposits,
payment of any fines imposed by the Commissioner of Motor Vehicles pertaining to the Vehicle and Traffic Law, and
repayment of overcharges to customers related to vehicle registration and titling.  
The surety company is liable for total claims against the principal up to the full bond amount. The bond shall continue in full force until canceled by the surety company by providing 60 days written notice to the New York State Commissioner of Motor Vehicles.