Texas is among America's best places to do business. From energy to logistics, to entertainment and tourism, many critical economic sectors thrive in the Lone Star State. To operate a successful business in Texas, business owners will need to make sure they're in compliance with state standards, including those issued by state agencies such as the Texas Department of Licensing and Regulation. Often, this will include obtaining an appropriate Texas surety bond to guarantee your business's obligations to its customers and to the Texas government.
In this article, we'll talk about how to get a surety bond in Texas, as well as some of the most popular types of Texas surety bonds. To start, let's establish the key principles of what a surety bond is.
The Basics of Texas Surety Bonds
First, let's establish the answer to a key question: What is a surety bond? Basically, it's a legally binding three-party contract that guarantees one party's performance or payment of an obligation to another party. There are special terms for each of the parties to the surety bond agreement. They are:
Principal

The party required to obtain a surety bond (usually a business or individual)

Obligee

The party that requires the principal to obtain a surety bond (usually a government agency)

Surety

The neutral third party that provides the financial guarantee (usually an insurance company or specialized surety company)
When an obligee believes that a principal has broken the law or violated their professional ethics, they can file a surety bond claim against the principal's bond for redress. The principal is responsible for paying back any money that the surety pays to the obligee for a valid claim. For an in-depth explanation of how surety bonds work, see our article on understanding the three-party agreement of surety bonds.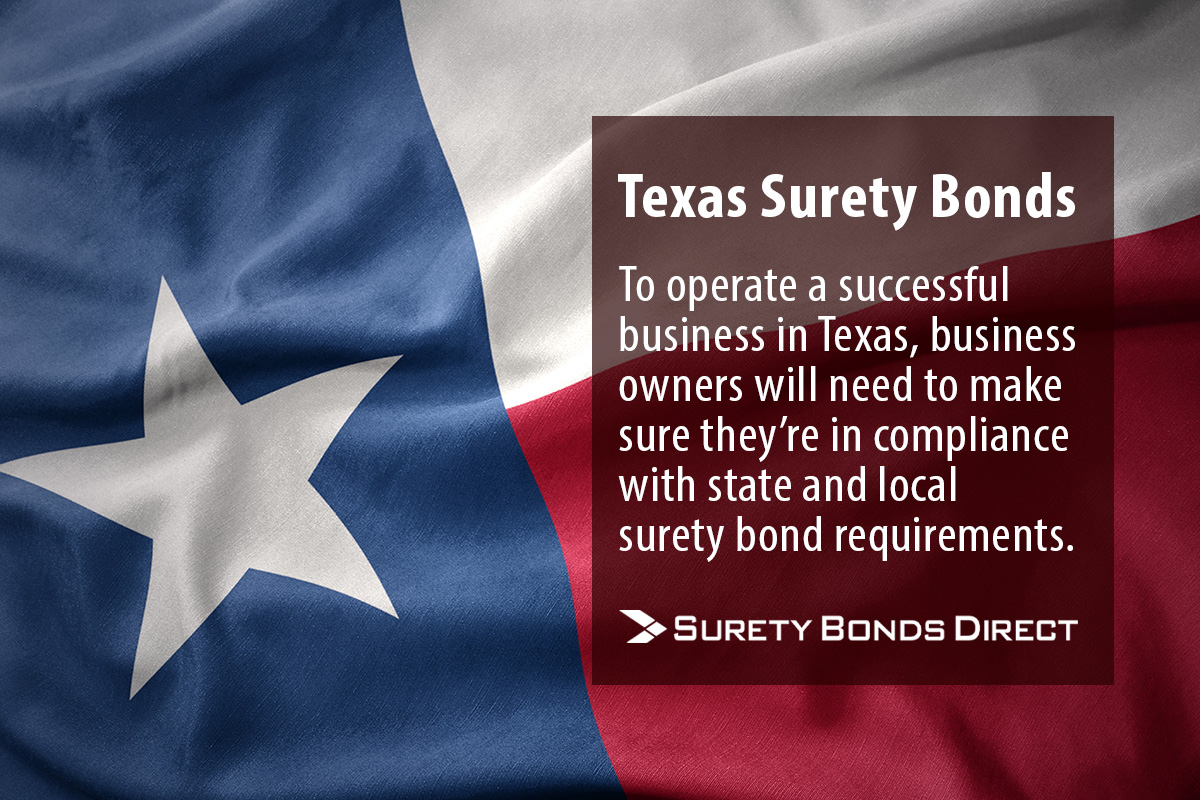 The Texas Surety Bond Process
The bonding process for a Texas surety bond works similarly to most other states. The key steps for how to get a surety bond in Texas are as follows:
Determine which type of surety bond your business needs.
Find a surety company or surety bond broker that offers that type of bond and submit an application for a surety bond quote. The surety may ask you for some basic information about your personal and financial history.
The surety will perform an underwriting process (much as an insurance company does) to determine your perceived risk level based on factors such as credit score and financial history.
The surety will send you a quote for a premium. You'll have the option to either pay the premium or shop around for another quote.
Many people find that the easiest way to get an affordable surety bond is to work with a surety bond broker with access to hundreds of different sureties, including sureties that specialize in bonding principals with bad credit. Next, we'll examine some of the most common surety bonds in Texas and how to get them.
The Most Common Surety Bonds in Texas
There are hundreds of different types of surety bonds required for different businesses in Texas. Here are a few of the most common. In addition to these common surety bonds for businesses, many consumers require a Texas Bonded Title if the title to a vehicle has been lost or damaged.

Surety Bonds Direct makes it easier and faster to get a surety bond in Texas. You can get a free online surety bond quote today—it takes just a few minutes for most types of bonds. Need more information? Just call 1-800-608-9950 to speak to our friendly surety bond experts.