Texas is among America's best places to do business. From energy to logistics, to entertainment and tourism, many critical economic sectors thrive in the Lone Star State. To operate a successful business in Texas, business owners will need to make sure they're in compliance with state standards, including relevant license and permit standards issued by state agencies such as the Texas Department of Licensing and Regulation.
Often, this will include submitting an appropriate Texas surety bond when you apply for a business license to guarantee your business's obligations to its customers and to the Texas government. In this article, we'll talk about how to get a surety bond in Texas, as well as some of the most popular types of Texas surety bonds. To start, let's establish the key principles of what a surety bond is.
The Basics of Texas Surety Bonds
First, let's establish the answer to a key question: What is a surety bond? Basically, it's a legally binding three-party contract that guarantees one party's performance or payment of an obligation to another party. There are special terms for each of the parties to the surety bond agreement. They are:
Principal

The party required to obtain a surety bond (usually a business or individual)

Obligee

The party that requires the principal to obtain a surety bond (usually a government agency)

Surety

The neutral third party that provides the financial guarantee (usually an insurance company or specialized surety company)
When an obligee believes that a principal has broken the law or violated their professional ethics, they can file a surety bond claim against the principal's bond for recourse. The principal is responsible for paying back any money that the surety pays to the obligee for a valid claim. For an in-depth explanation of how surety bonds work, see our article on understanding the three-party agreement of surety bonds.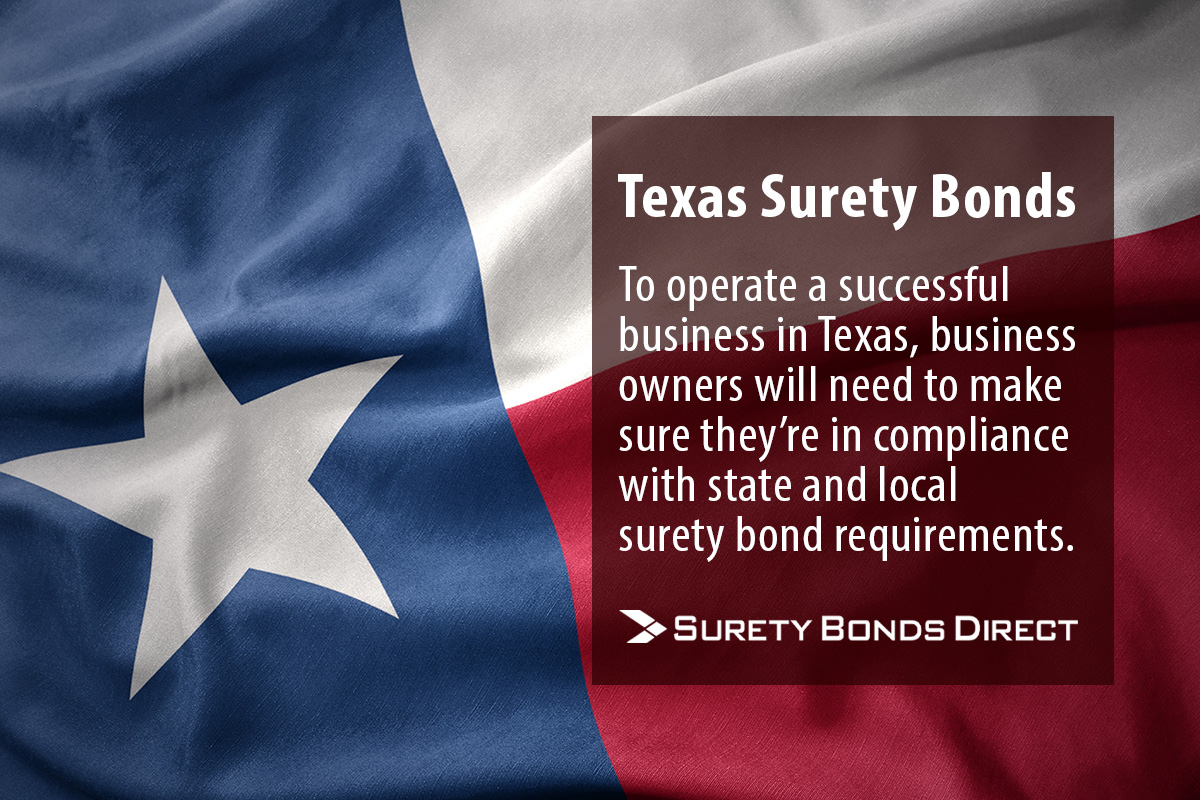 The Texas Surety Bond Process
The bonding process for a Texas surety bond works similarly to most other states. The key steps for how to get a surety bond in Texas are as follows:
Determine which type of surety bond your business needs to apply for.
Find a surety company or surety bond broker that offers that type of bond and apply for a surety bond quote. The surety may ask you for some basic information about your personal and financial history.
The surety will perform an underwriting process (much as an insurance company does) to determine your perceived risk level based on factors such as credit score and financial history.
The surety will send you a quote for a premium. You'll have the option to either pay the premium or apply for a quote from another surety.
Many people wonder how long does it take to get a surety bond? The fastest and easiest way to get an affordable surety bond is to work with a surety bond broker with access to hundreds of different sureties, including sureties that specialize in bonding principals with bad credit. Next, we'll examine some of the most common surety bonds in Texas and how to get them.
The Most Common Surety Bonds in Texas
There are hundreds of different types of surety bonds required for different businesses in Texas. Here are a few of the most common. In addition to these common surety bonds for businesses, many consumers will be required to apply for a Texas Bonded Title if the title to a vehicle has been lost or damaged.
Texas Contractor License Surety Bonds

A contractor license surety bond guarantees a contractor's obligations to its clients. These surety bonds protect clients by guaranteeing that contractors will complete projects, perform work to a high standard, obey building codes, and pay their subcontractors in full.

Unlike many other states, Texas doesn't have any statewide requirement for contractor license bonds. However, many individual municipalities in Texas, including several major cities, require contractors to be licensed and bonded before the municipality will issue a permit. During such a permit process, a contractor will also often need to provide proof of insurance and other credentials when they apply. Some cities and counties base their surety bond requirements on a contractor's credit score and other financial data. See our selection of Texas contractor surety bonds to find bonds for your city.

In the absence of a statewide license bond requirement to apply for a contractor's permit, many Texas contractors elect to purchase a Business Service Bond to provide customers with a similar level of re-assurance that the contractor operates an ethical business. Business Service bonds are commonly purchased by contractors specializing in home improvement, appliance repair, handy, landscaping, pool repair, and many other trades performed on a customer's property.

Texas Freight Broker (BMC-84) Surety Bonds

Texas freight brokers help arrange the transportation of freight through Texas's ports, highways, airports, and railroads. The Federal Motor Carrier Safety Administration requires a broker to submit a $75,000 BMC-84 bond when they apply for their freight broker permit to ensure that all freight brokers are accountable for following the law. Surety Bonds Direct offers Texas freight broker bonds at affordable premiums. We'll even file your bond paperwork electronically with the FMCSA for you at no charge when you apply for your freight broker permit.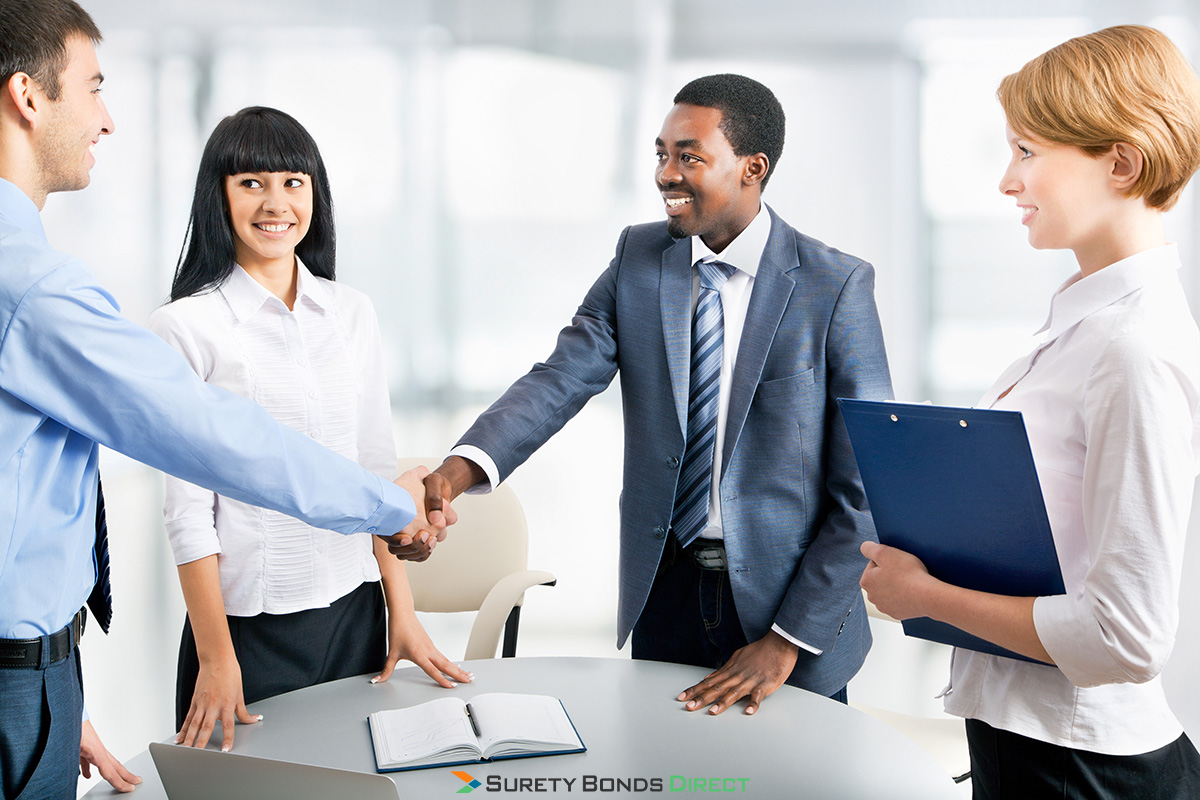 Texas Sales Tax Bonds

Any business in Texas required to collect sales tax on items they sell will also need to present a Texas sales tax bond (also known as a continuous bond of seller) when the business applies for a Texas business license. A sales tax bond guarantees that the business will pay all owed taxes to the Texas Comptroller of Public Accounts on time, including fees, penalties, and interest.

Business owners can get a free quote for Texas sales tax bonds through Surety Bonds Direct. Premiums will vary by bond coverage amount, which is determined by the comptroller's office based on the business's expected tax liability.

Texas Mixed Beverage Sales Tax or Gross Receipts Tax Bond

If you sell alcoholic beverages on-premises in Texas (such as at a restaurant or bar), you'll be responsible for paying both a Texas mixed beverage gross receipts tax and a mixed beverage sales tax collected from customers. A mixed beverage sales tax bond or gross receipts tax bond guarantees that your business will pay these taxes to the Texas Comptroller's office.

We offer both Texas gross receipts tax bonds and Texas mixed beverage sales tax bonds. Each type of Texas alcohol license requires a different level of minimum surety bond coverage, so be sure to check which your license type requires before you apply for a surety bond.

Texas Notary Bond

A Texas notary public is a person who has received a government permit allowing them to act as a legally binding witness for certain business transactions and legal procedures. People use notary services for many different purposes such as transferring vehicle titles, giving sworn statements, and creating wills and trusts. For more information on becoming a notary in Texas, see the National Notary Association (NNA)'s Texas notary guide. A notary bond guarantees that a notary will obey all relevant laws and rules of the notary profession, such as always requiring a valid ID from people signing documents. For a notary to apply for their notary permit from the state of Texas, the applicant must submit a valid notary surety bond with a coverage amount of $10,000. Texas notary bonds are available instantly from Surety Bonds Direct for a one-time fee, with no credit check when you apply.
Other Bonds Of Note Are:
Surety Bonds Direct makes it easier and faster to apply for a surety bond in Texas. You can get a free online surety bond quote today—it takes just a few minutes to apply for most types of bonds, and we work with principals with all kinds of credit. Whatever kinds of bonds are required in your industry, we invite you to contact us, apply for your free quote, and see how Surety Bonds Direct can get you the bonds you need. Need more information? Just contact us at 1-800-608-9950 to speak to our friendly surety bond experts.