Things that are most important to any business are its reputation and its customer base. These are the bedrock elements of success for almost any business, so it's important to have the tools to create a trustworthy reputation and a great relationship with one's customer base.
This is why many businesses purchase fidelity bonds.
This article will help you understand:
What a fidelity bond is
The 3 major types of fidelity bonds
How to know which fidelity bond is right for your needs
Where to purchase a fidelity bond for the lowest possible price
What Is a Fidelity Bond?
Watch our video explaining the three types of fidelity bonds.
Fidelity bonds are a type of surety bond that protects against dishonesty or financial misconduct by employees. Acts that a fidelity bond protects against may include theft, larceny, embezzlement, forgery, or any number of other financial crimes.
Finding the fidelity bond that's right for your businesses easy once you understand the three major types. Notice that probate bonds required by court are sometimes referred to as fidelity bonds too, but we won't be covering those here.
The Three Types of Fidelity Bonds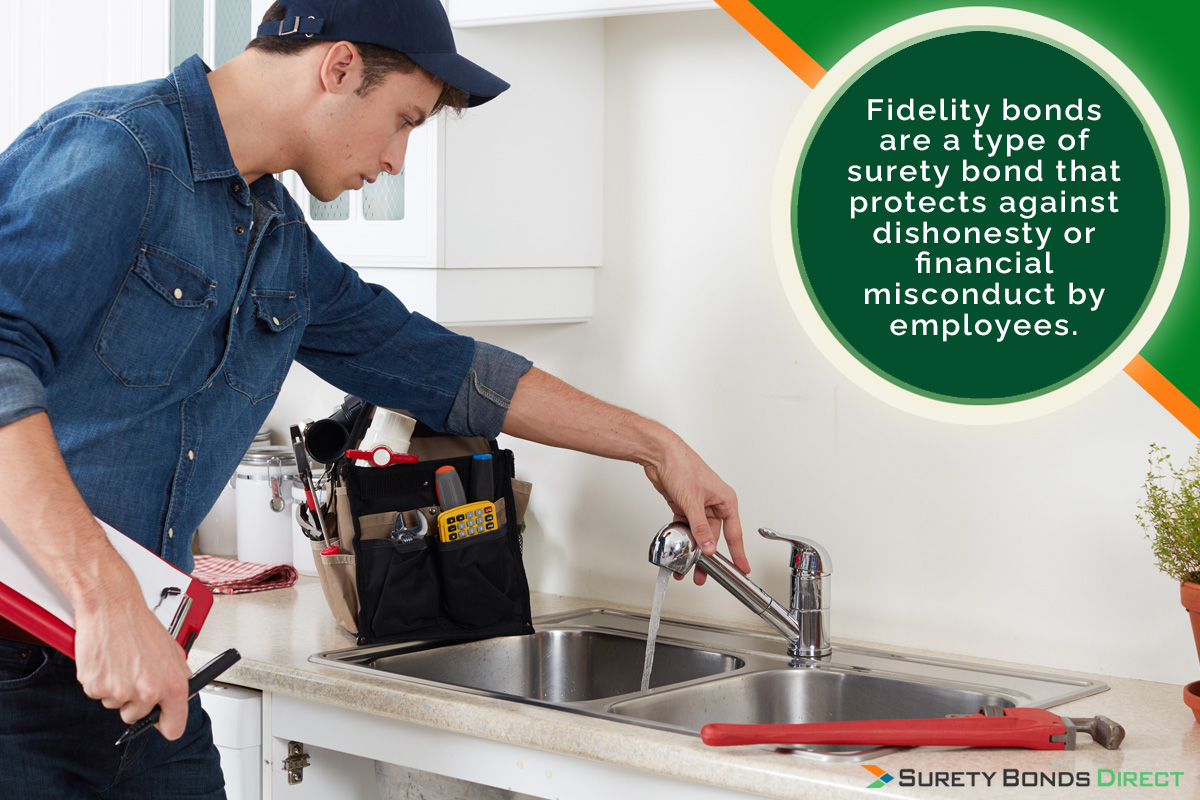 Business Service Bonds
A surety bond purchased to protect your customers while you or your company have employees on private property performing a service.
Employee Theft/Dishonesty Bonds
A surety bond purchased by a business to protect the business against employee theft from the business itself, or other such misconduct.
ERISA Bonds
A surety bond purchased by a business or individual responsible for managing 401k/pension investment funds.
Let's take a closer look so you know which type of fidelity bond is the correct one for your business.
Business Service Bond
Business service bonds are the most common type of fidelity bonds. These bonds are often called:
Business bonds
Janitorial service bonds
Cleaning service bonds
Caregiver bonds
Moving company bonds
A business service bond guarantees honest and ethical conduct by employees who have access to a client's home, business property, or physical pieces of property in the case of a moving company.
Types of businesses that often need business service bonds include:
Cleaning services such as maids and janitors (aka Janitorial services)
Home health care services
Landscape services
Swimming pool services
Pest control services
Pet sitting services
Locksmith services
Moving services
Home based caregiver services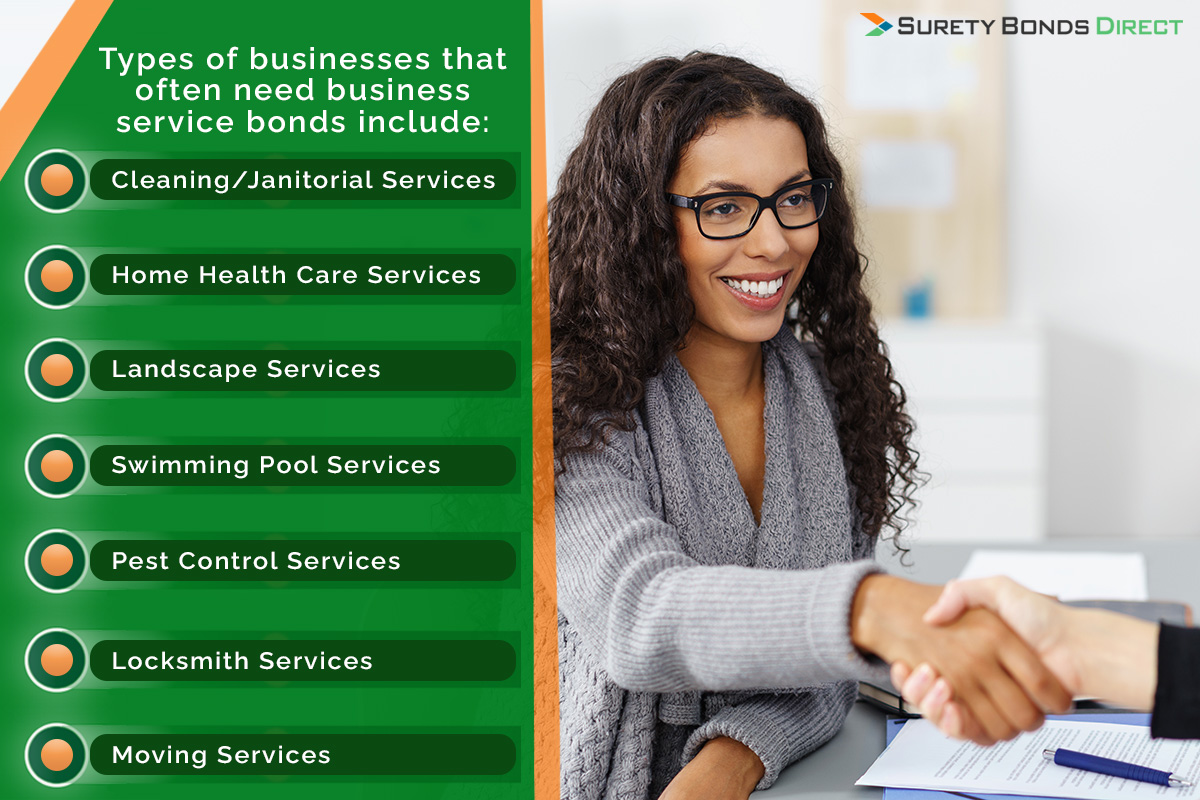 **Some states require a more specific bond for moving services or contractor license bonds for locksmiths and landscape contractors.
If you fall into one of these categories, check with your state and make sure you're getting the correct bond. Or you can call one of our bond specialists to help you at 1-800-608-9950.
Unlike most other surety bonds, business service bonds aren't required by a government agency. However, a service business's client may request the business to be bonded before bidding or accepting a contract.
Purchasing a business service bond creates a strong start to the relationship between the business and the client by providing a financial guarantee of employee conduct.
Even if a business service bond is not required, obtaining one will help build a trusting relationship with clients. If a business has 25 or fewer employees a business service bond can be purchased up to $250,000 instantly. No quote or credit checks are required. You business can quickly show proof of being bonded.
Employee Theft and Dishonesty Bonds
An employee theft bond protects a business from theft or misconduct by the business employees. This is a unique type of fidelity bond as the business purchases the bond for their own protection.
An employee dishonesty bond is especially important for small businesses, which can be financially devastated by the actions of a single dishonest employee.
As mentioned, an employee theft and dishonesty bond works a little different from most other types of surety bonds. These bonds are more like a traditional insurance policy. The business pays the surety to cover its losses in case an employee commits a crime against the business whereas most other surety bonds are purchased by a business to protect customers from negligent behavior by the businesses.
In order for a business to make a claim on an employee theft and dishonesty bond, the unethical employee must be properly convicted of the crime. This is what makes an employee theft and dishonesty bond different from an insurance policy.
Employee theft and dishonesty bonds are available with a variety of different bond amounts. Premiums vary according to the number of employees, the state the business is located in, and other factors. Request a free quote online or call a bond specialist today at 1-800-608-9950.
ERISA Bonds
ERISA surety bonds are fidelity bonds required for employees who have fiduciary duties on certain types of pension and profit-sharing plans. These bonds get their name from the Employee Retirement Income Security Act (ERISA), the 1974 federal law that established the requirement.
An ERISA bond protects plan beneficiaries from theft or other fraudulent actions committed by plan administrators.
Fiduciary employees whose duties include any of the following must be covered by an ERISA bond:
Physically handling plan assets such as cash, checks, or bond certificates
Transferring or disbursing plan funds
Signing checks or creating other negotiable instruments
Supervising other employees who perform any of these duties
ERISA bonds must cover at least 10 percent of the total assets under management by that employee. For coverage amounts under $500,000, ERISA bonds are available as an instant purchase without a credit check.
For bond amounts over $500,000, a customized quote is required. This quote typically takes about one business day to obtain for ERISA bond amounts over $500,000.
If this is the bond you require you can instantly purchase the bond or request your free quote. There's no obligation, but it's good to know the numbers. If you require the help of a bond specialist, call us at 1-800-608-9950.
How Can I Get a Fidelity Bond?
The term fidelity bond is a blanket name. Now you should understand the correct bond you require for your business or employees. To recap, the three major types of fidelity bonds are:
For a more detailed clarification on the basics make sure to read and watch:
You can request a free quote online for your bond or as mentioned, call a bond specialist for direct help at 1-800-608-9950.