Business Service Bond Basics
Watch our video explaining business service bonds and what businesses should consider this type of surety bond.
A Business Service Bond is a type of surety or fidelity bond typically purchased by small businesses that conduct business or work on someone else's property. The bond generally protects the customer from theft, larceny or fraud that may be committed by the business owner or his/her employees while working at the customer's office, work site, personal residence or other property locations. In effect, the bond provides the customer with peace of mind and shows professional credibility.
Business service surety bonds are highly recommended for those engaged in the business activities of appliance repair, pest control, security and surveillance, home health care, elderly or child care, and household or business cleaning (Janitorial Service Bond), pool cleaning and repair, moving, locksmiths, painting, landscaping and groundskeeping. In many cases, customers will require a contractor to furnish a business service bond in advance of conducting business at the customer's property.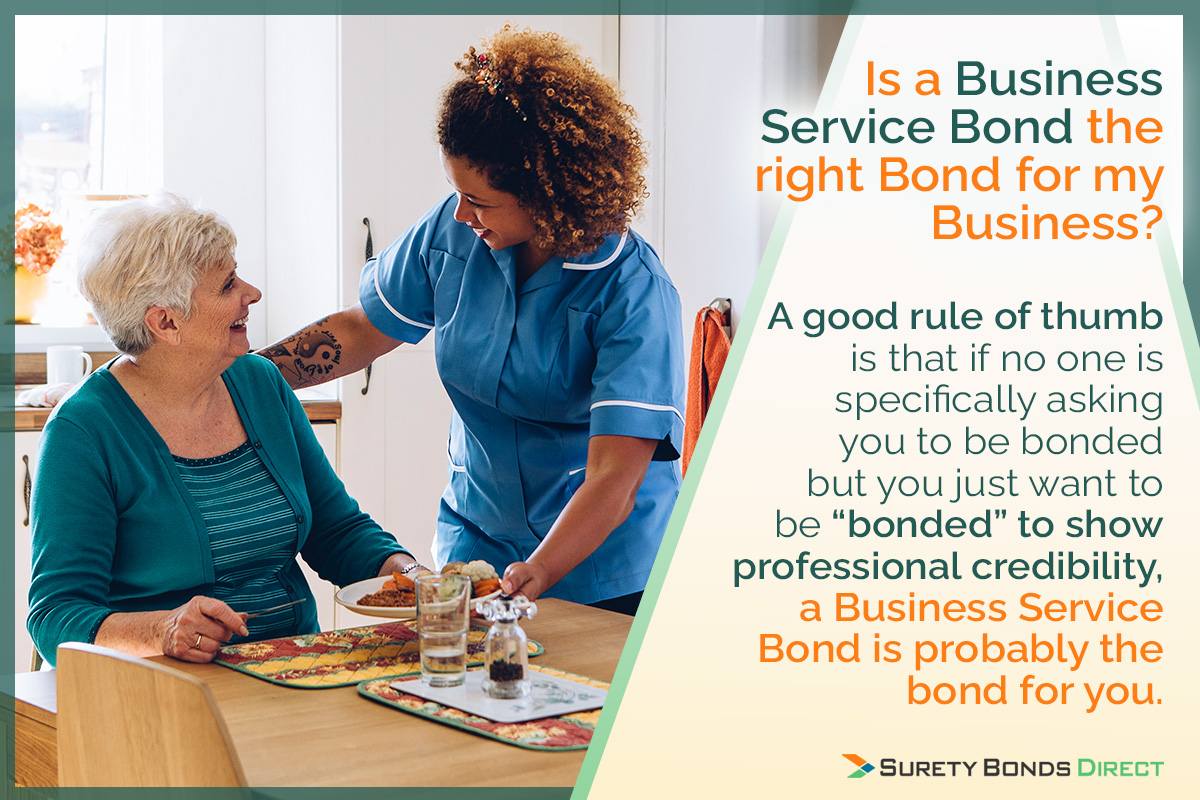 Is a Business Service Bond the right Bond for my Business?
A good rule of thumb is that if no one is specifically asking you to be bonded but you just want to be "bonded" to show professional credibility, a Business Service Bond is probably the bond for you. If a customer is asking you to get a bond to work on their premises, a Business Service Bond is also probably the bond for you. However, if a state, city, county, probate court or another governmental jurisdiction is requesting that you purchase a surety bond, you likely need a different type of surety bond. Lastly, if you need a bond in conjunction with a construction permit or other permit, you also likely need a different type of surety bond.
If you need a bond for any of the other purposes above, it is usually best to start by identifying the exact bond you need through a quick online surety bond guide. You will typically just need to know the state or local jurisdiction requiring the bond and the type of license you will be seeking. In these cases, the licensing authority will also usually provide some information on the bond type required and the coverage amount options. It is important to emphasize that a Business Service Bond is not the correct bond for submission to a probate court, state, city or other local government.
If you are a business owner looking for a bond to protect against your employees stealing from your business as opposed to your employees stealing from your customers, you also need a slightly different type of bond. In this case, rather than a Business Service Bond, you should explore an Employee Theft Bond.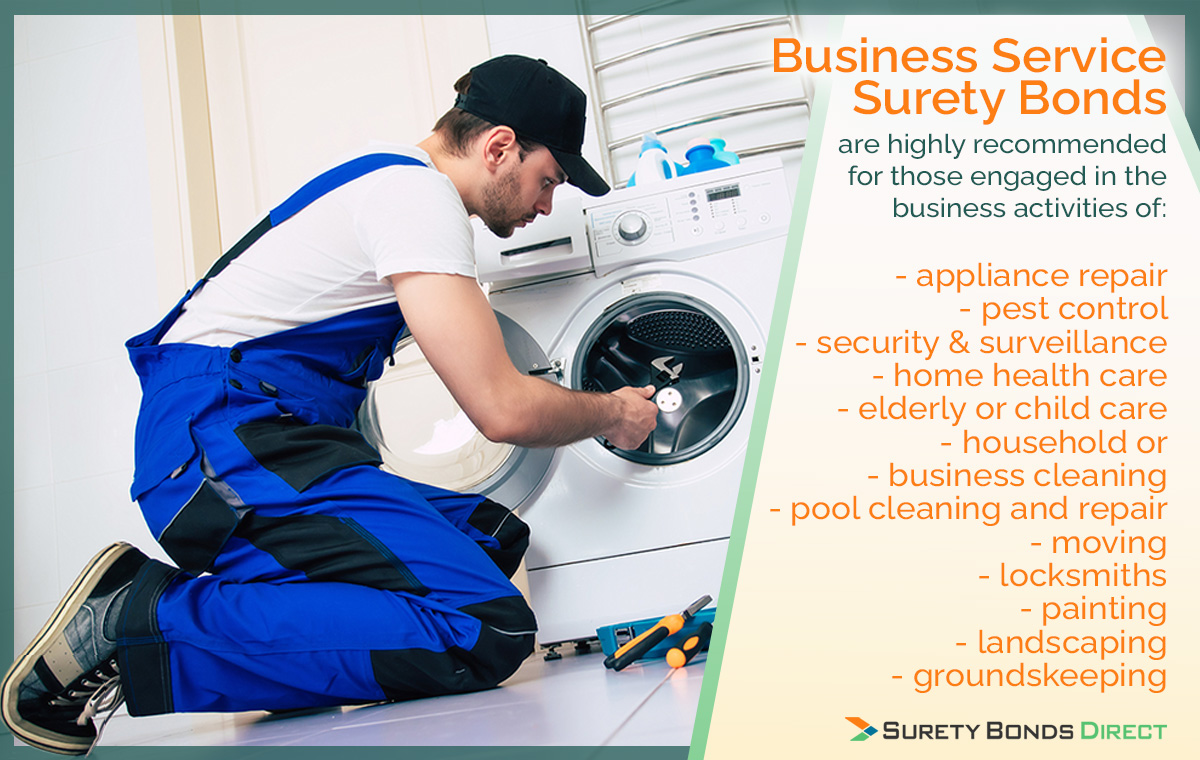 Business Service Bond Coverage & Details
Business Service Bonds typically range in coverage levels from $2,500 to $250,000. The amount of coverage needed varies based on the type of activities conducted, number of employees involved, and potential monetary risk involved with the customer (i.e. assets exposed to potential theft, fraud or forgery).
Business service bonds are usually issued for a one-year or three-term and can be renewed for subsequent periods as required. Costs for this type of bond will depend on the coverage amount and term but typically start around $100 per year. The bonds may also be canceled by the bonded business or the surety company subject to certain terms of specific surety bond provider.
One final nice feature of business service bonds worth mentioning is that they typically contain a "conviction clause". This means that the surety company will not pay out proceeds for a claim made by the customer unless the accused employee or employees have formally been convicted by a court of law. This clause helps protect your business in the unlikely event that a customer attempts to make a fraudulent claim against the bond and seeks a payout without proper evidence of the crime. In this case, the surety company will cite the clause and not issue a claim payout until valid evidence of a conviction is provided.