In 2021 there were well over 12 million pet sitting visits in the United States. And according to market trends, the pet sitting and walking business is projected to grow at a 10.5% rate all the way through 2032. Plus, the median salary is north of $66k. With this growth and opportunity, pet sitters should be prepared for new competition.
This short article will help to explain:
Why a surety bond is a good business decision
The insurance requirements of a pet sitter business
How insurance needs change as your business grows
Why Should You Care About Pet Sitter Insurance And Bonding?
At first glance, running a pet sitting business seems straightforward, and it is, but on deeper inspection there are a lot of things that can go wrong. This is why having the correct insurance is so important.
Here are some issues that can arise during a pet sitting job:
Your clients dog gets hit by a car and surgery is required
A cat was given too much medication
A dog got attacked by another dog while on a walk
You or an employee steal some private property from your clients home
You or an employee left the faucet running and the sink floods onto your clients floor
You get in a car wreck while taking your clients dog to the park
You're able to protect yourself from each of these situations, but only the correct insurance product will work.
Let's start with the scenario of employee theft from your clients private property.
Pet Sitter Surety Bond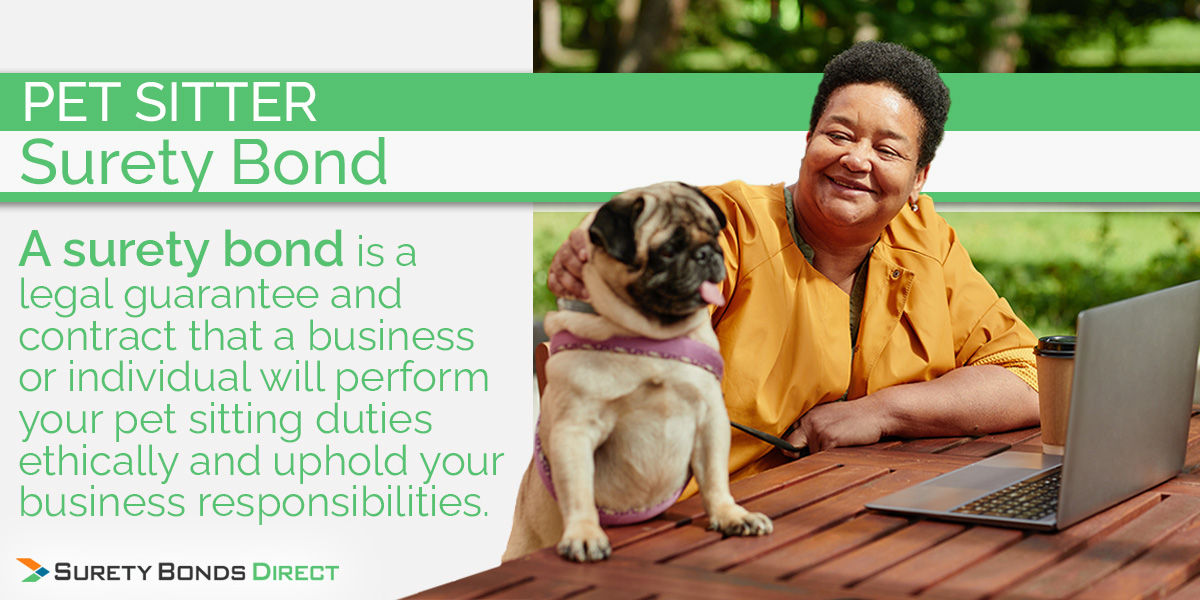 You've probably heard the term "bonded" and wondered what does being bonded mean? Being bonded means you've purchased a surety bond, but what's a surety bond and what does it do?
A surety bond is a legal guarantee and contract that a business or individual will perform the promised services ethically and uphold business responsibilities.
In your specific case, this bond is called a business service bond. Think of it like an insurance policy, but you're not purchasing the bond to protect you or your business. A surety bond protects your clients from theft and purposeful property damage. The key term is purposeful.
Other businesses that purchase this type of bond are:
Any business that requires you or your employees to work on or in your clients property.
You are not required to purchase a business service bond. However being able to say you're business is bonded will greatly increase how your potential customers view your business.
Most business service bonds will have a "conviction clause" to ensure that a client or customer can't make a false claim against you. In most cases, if a claim is deemed successful a conviction is required for the client or customer to receive a pay out on the bond.
Any successful pay out on the bond requires the business to pay back the surety the amount of the claim.
Client Protection From Theft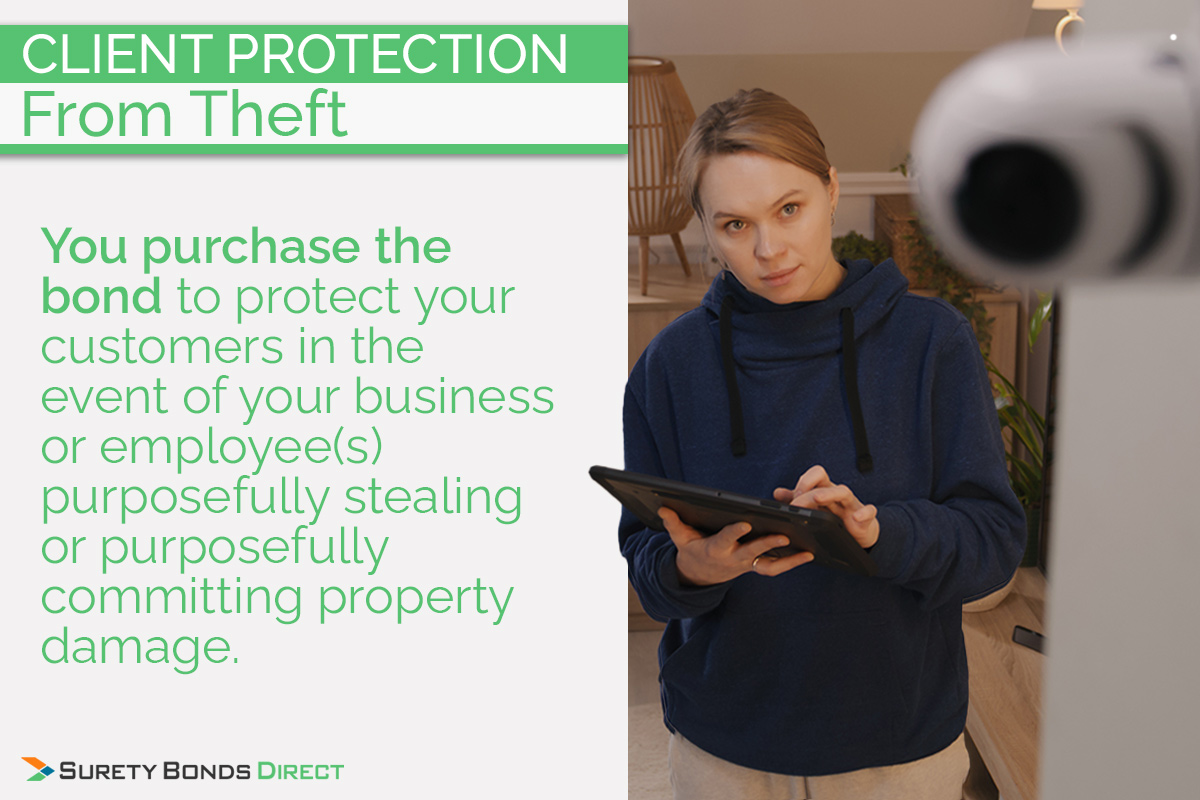 Before I explain further, I'm not implying you would steal from your clients. However, there are fraudulent pet sitters who do. With that said, let's continue.
Your clients most likely have a homeowners insurance policy that provides protection from theft. However, their insurance should not be responsible for covering individuals they have an agreement with to come into their home and temporarily care for it. This is what a pet sitter bond or business service bond is for.
You purchase the bond to protect your customers in the event of your business or employee(s) purposefully stealing or purposefully committing property damage.
In this case, your customer is able to make a claim against the bond, but only up to the bond amount. We'll talk about how to determine the bond amount next.
Determining The Bond Amount
A business service bond amount is similar to choosing the amount of "coverage" available to your clients. Here's are some guidelines for choosing the correct amount.
How Many Employees Do You Have?
Most sureties, the insurance companies that write surety bonds, determine risk based on the number of employees you have.
The more employees you have the higher the bond amount should be to cover the higher potential risk of theft and damage.
If you don't have employees, it's still a good idea to purchase a business service bond to demonstrate that you are bonded to potential customers. You can keep the bond amount low. I'll show you examples below.
The Social Status Of Your Clientele
If you service an affluent customer base, it's likely their possessions are more expensive. In this case it makes sense to increase the bond amount to cover a more expensive theft or damage scenario.
Bond Amount Examples
Here are some examples from a typical pet sitter bond with prices:
| Bond Amount | Number of Employees | 1 Year Price | 3 Year Price |
| --- | --- | --- | --- |
| $10,000 | 5 or fewer | $115 | $327.75 |
| $15,000 | 5 or fewer | $150 | $427.50 |
| $25,000 | 5 or fewer | $171 | $487.35 |
| $50,000 | 5 or fewer | $235 | $669.75 |
How To Purchase a Pet Sitter Bond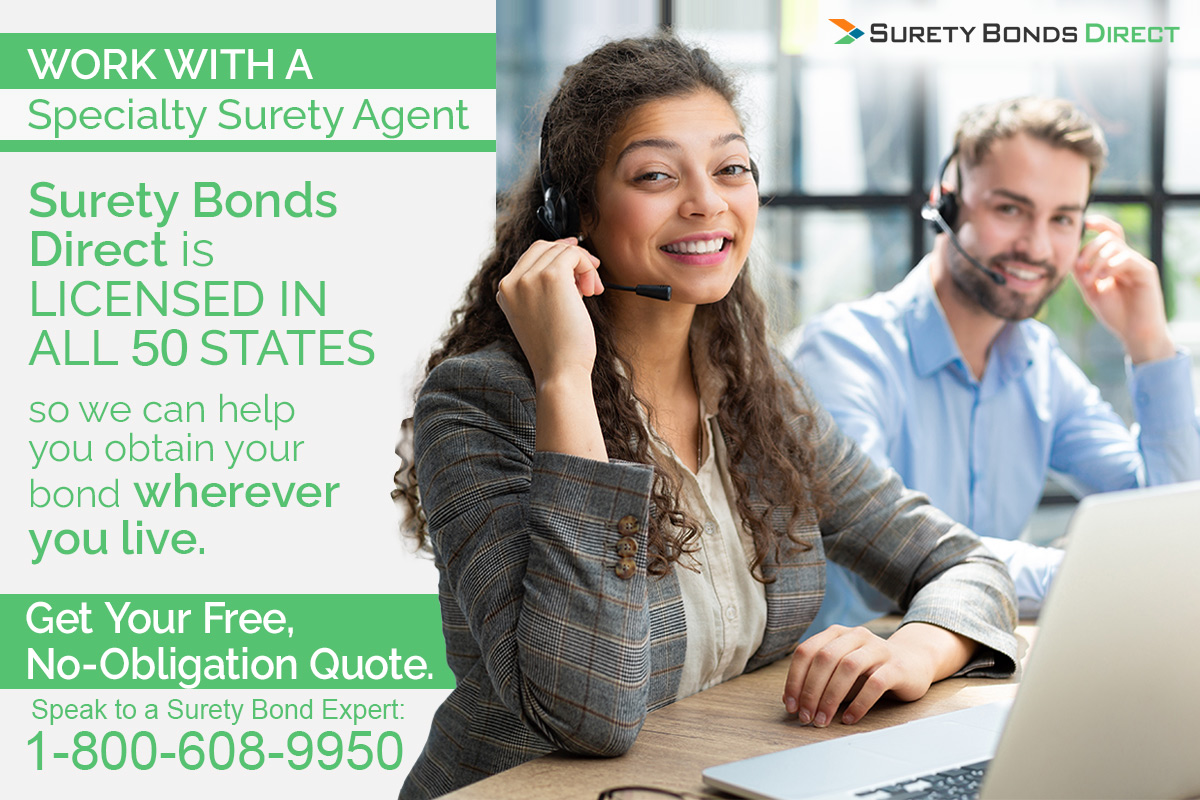 Purchasing a pet sitter bond is a fast and easy process.
First, work with a specialized surety agency like Surety Bonds Direct. We work with multiple sureties and have secured low priced pet sitter or business service bonds.
All you have to do is go to our business service bond page
Select the number of employees
Choose your bond amount (use the table above as guidance)
Select a one year or a discounted bond term
The bond term is simply how long the bond stays active. The longer the term the more of a discount you receive. Once your bond term is up just pay the renewal premium and your bond will remain active. Surety Bonds Direct makes this process very easy.
Liability Insurance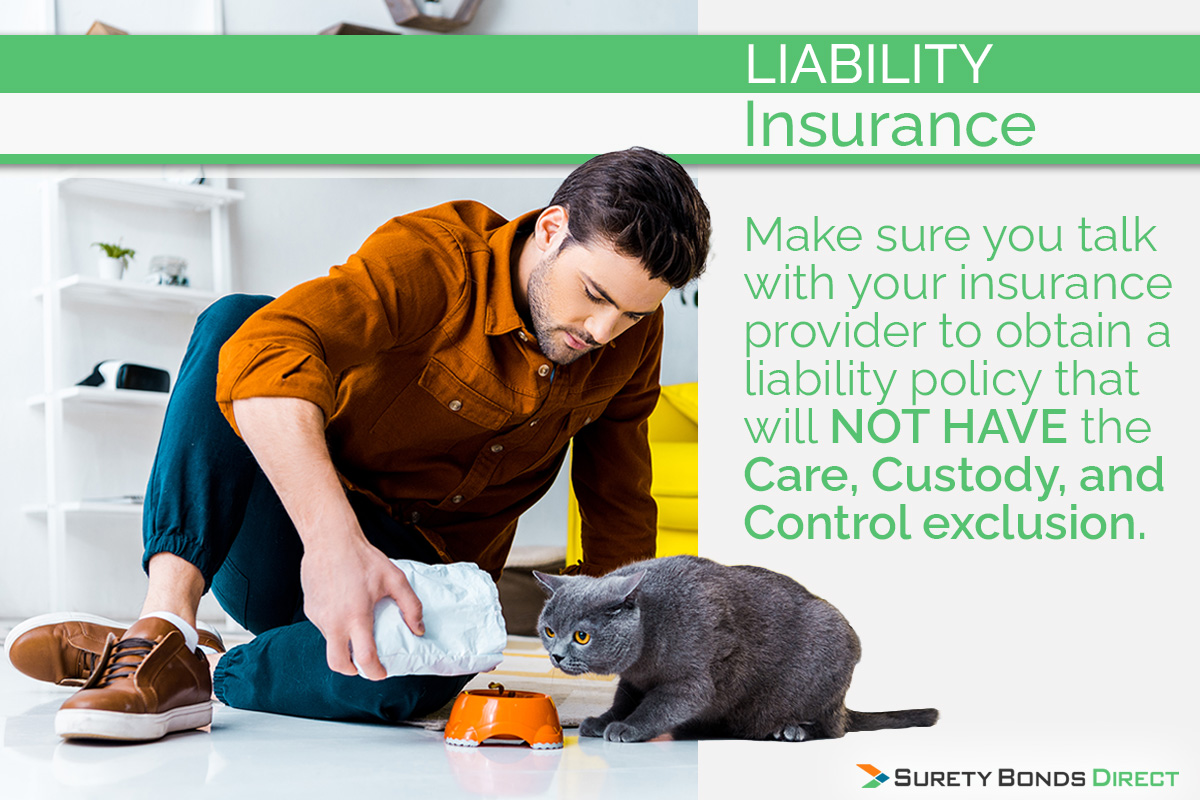 Here is where you need to be specific with the type of insurance you purchase. General liability insurance is purchased to protect individuals and businesses from injuries sustained on your property.
Nearly all general liability policies have a Care, Custody, and Control exclusion. This bares coverage for injuries and accidental property damage that occurs with a client's possessions or on a client's/customer's property.
Although it sounds strange, as a pet sitter you conduct your business by taking temporary position of your client's property. In the eyes of the insurance company, your client's dog is a piece of property like a TV or car. Obtaining coverage for accidental damage or injury to your clients property requires a specialized liability policy.
Make sure you talk with your insurance provider to obtain a liability policy that will not have the Care, Custody, and Control exclusion.
Difference Between Liability Insurance and a Business Service Bond
Just to reiterate, the key difference between a liability insurance policy and a business service bond is twofold.
One, liability insurance will not cover theft.
Two, the intent of any property damage is the distinguishing factor. Liability insurance covers accidental damage. The business service bond protects your customer in the event of purposeful theft or damage.
Other Type of Insurance You May Need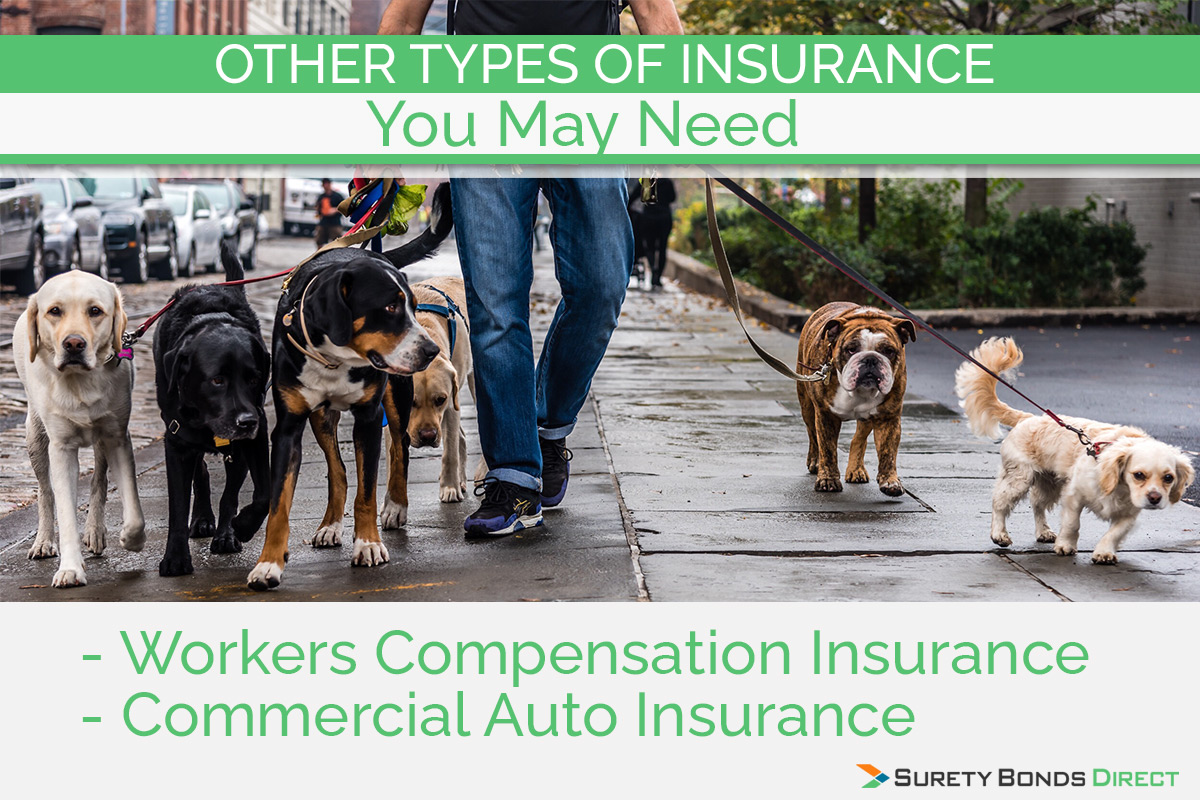 Workers Compensation Insurance
If you have employees, you already know the business service bond is a good idea. But you will need workers compensation insurance. Workers compensation protects your employees and in some cases yourself from on the job injuries.
Commercial Auto Insurance
If you have a company van or car you use for the sole purpose of your pet sitting business, you will need to get commercial auto insurance. This is straightforward and similar to your normal auto insurance policy.
Do You Plan On Growing?
If you grow your pet sitting business to include future services like grooming or boarding, there will be additional insurance policies like commercial property insurance and different types of liability insurance.
When You Want To Get Your Pet Sitter Business Bonded With Surety Bonds Direct
Get your pet sitter business bonded by purchasing a business service bond with Surety Bonds Direct.
On our business service bond page and use the steps outlined above to purchase the bond that fits your business and budget.
If you have questions or you feel you may have more nuanced needs, call a surety bond specialist at 1-800-608-9950. Once you purchase your bond it can be issued and emailed to you within a few business hours.
SOURCES: https://market.us/report/pet-sitting-market/ https://www.petsit.com/