The moving industry is a billion dollar industry consisting of local movers to large interstate moving companies. Each of these companies have a variety of insurance and surety bond needs.
This short article will cover:
What is a moving company surety bond
Bonding and insurance requirements for interstate moving carriers
Insurance requirements for interstate moving freight brokers
What Is a Moving Company Bond?
A moving company bond is a type of surety bond and it could mean two different things.
A Household Goods Carrier bond
A Business Service bond
At a high level, a surety bond is legal document purchased by a business showing good faith that they will follow through on their contractual promises. For example, a business service bond (a type of fidelity bond) protects customers from any fraudulent acts by the movers while at the customer's properties.
If an employee were to steal or damage property, the bond would provide the customer with financial recourse. Over the years, business service bonds aren't used as often. New types of insurance have been created to protect customer's property. However, a small, local, single truck operation might benefit from purchasing a business service bond.
Household Carrier Bonds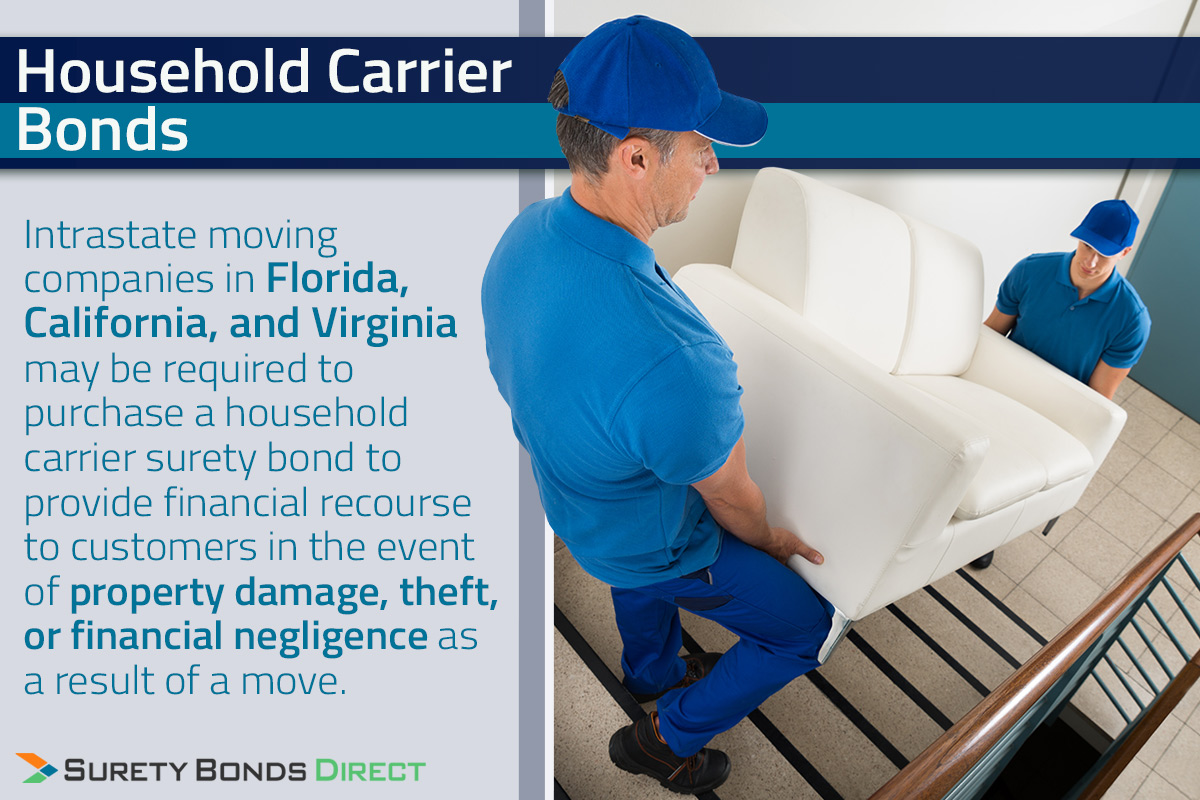 Florida, Virginia, and California require moving companies that move customer goods within state lines (intrastate) to be bonded. Each state is a little different.
Florida Household Carrier Bonds
Chapter 507 of the Florida Statutes require any person or company who moves individuals or businesses intrastate (within state lines) to register with the Florida Department of Agriculture and Consumer Services (FDACS). Moving companies in Florida may have to obtain local, municipal, or county license independent of the registering with the FDACS.
The licensing registration fee is $600 for a two year term at which time registration must be renewed.
Moving companies are required to purchase liability insurance to cover the loss or damage of customer property. Yet, if the company only operates one truck, a household carrier bond can be purchased instead.
This bond must have an amount - called the bond penalty - of $25,000 and be filed with the FDACS.
Surety Bonds Direct has secured a low price for this bond requiring no credit check. You can purchase the Florida household carrier bond with a 1 year term for $300.
The bond will have to be renewed on a yearly basis. Surety Bonds Direct makes this easy. We'll notify you 90 days before your renewal date so you can pay the renewal premium and keep your moving company bond active.
California Household Carrier Bonds
The California Bureau of Household Goods and Services requires a household carrier bond for collect on delivery (COD) shipments. A COD shipment is where the customer must pay in full for the move before the property can be unloaded from the truck.
These movers must:
Apply for a permit with a $500 application fee
Show zero net liabilities (or debt)
Have 45 days worth of working capital
Provide a profit and loss statement
Provide fingerprints
Insurance requirements
List all moving equipment to be used
California Insurance and Bonding Requirements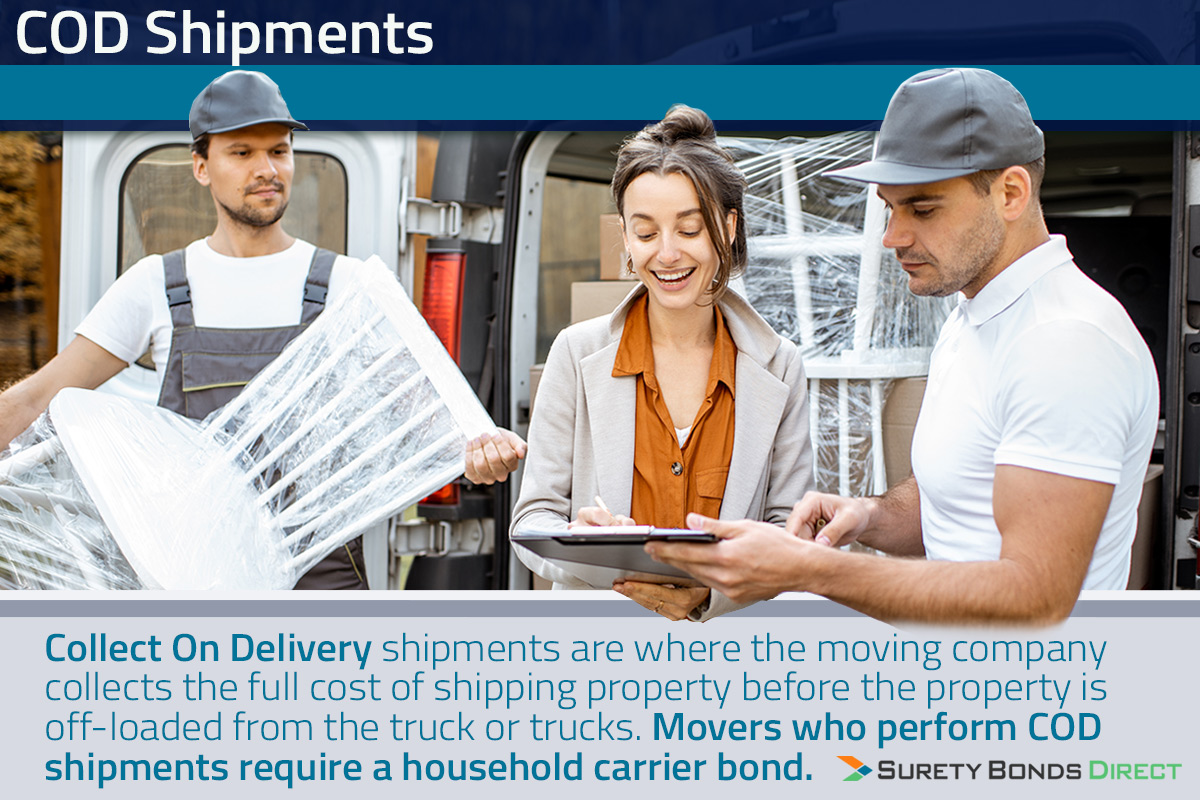 Intrastate movers in California must purchase:
Public liability and property damage insurance
Workers compensation
Cargo liability
Household carrier bond only for COD shipments
The household carrier bond in California is only required for movers who perform collect on delivery jobs. The bond amount has a minimum of $2,000, but can be raised depending on past shipment sizes and number of COD moves. Future increases will be set by the Bureau of Household Goods and Services during permit and bond renewal.
Virginia Household Carrier Bonds
Household goods carriers in Virginia must strictly transport:
Personal effects and property to be used in a residential home
Between residential properties
Between residential properties and storage facilities for the purpose of later transport to residential properties
The household goods carrier application has a $50 non-refundable fee.
The insurance requirements are:
Minimum bodily injury and property damage insurance of $750,000
Minimum cargo insurance of $50,000
A quote is required to determine the cost of the bond.
Quotes are based on:
Personal credit of the individual or primary business owner
Business financials and industry experience
The surety, the insurance company that writes the surety bond, will use this information to quote a rate. Surety Bonds Direct works with multiple sureties to find the lowest possible rate.
This rate multiplied by the $50,000 bond amount is the cost.
For example:
TABLE OF COSTS
Interstate Moving Companies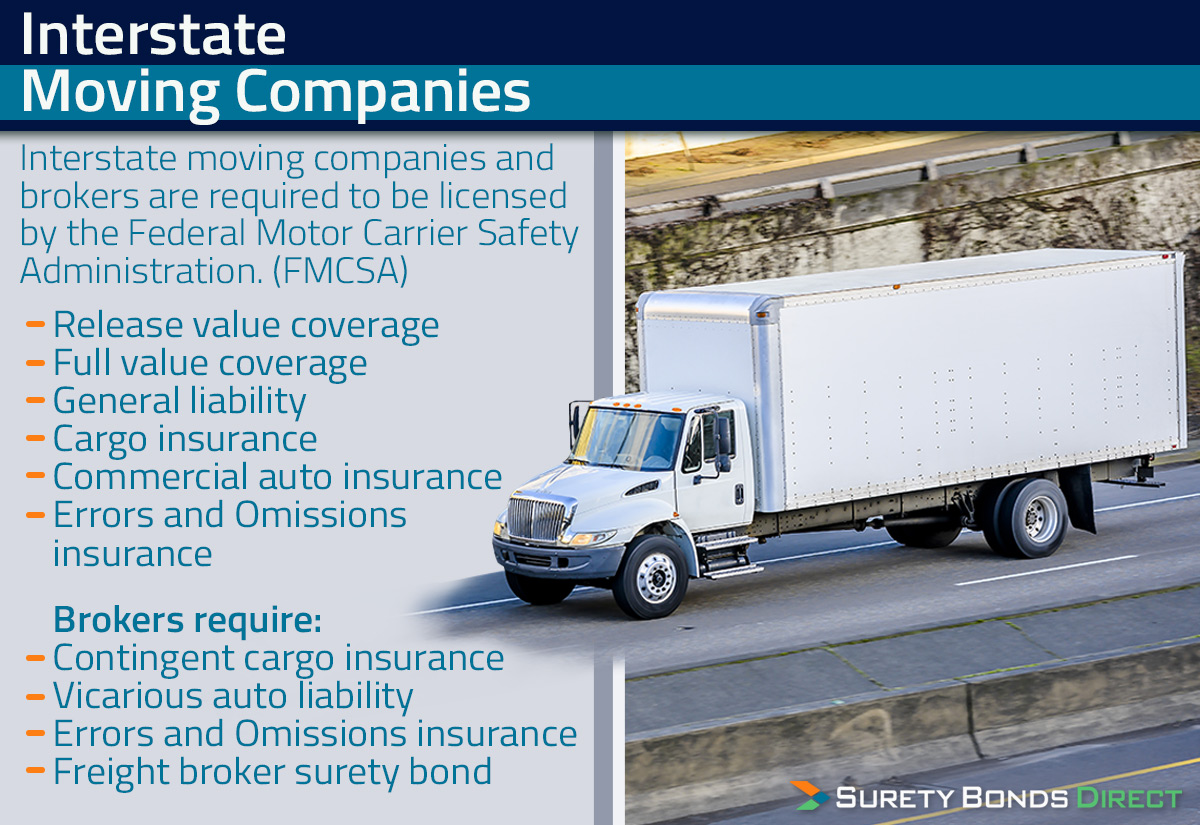 If you're an interstate moving company, insurance requirements get more complicated with more options.
All moving companies and moving brokers are required by the Federal Motor Carrier Safety Administration (FMCSA) to obtain a US DOT number.
Insurance Required By Law
The FMCSA requires movers to carry two types of insurance for their customers:
Release value coverage
Full value protection
Release Value Coverage
This is basic coverage. It's provided to the customer in all moving scenarios, paid for by the moving company. Any damage to a customers property during the loading, transporting, or off-loading would pay only 60 cents per pound.
For example, if a 50 inch TV weighing 25 pounds was damaged during the move, **release value coverage would over cover $15 (25 pounds * 0.6) of the TV**.
Most moving companies offer additional liability coverage paid by the customer to cover the remaining value of the property above the 60 cents per pound.
Full Value Coverage
Full value coverage is purchased by the moving company for the protection of the customer. However, the moving company can charge the customer 1% to 2% of the total value of the property being moved. The moving company sets the estimate for the total value of the property being moved.
This coverage is responsible for the replacement value of any property lost or damaged during the moving process.
Beyond these two types of insurance, the FMCSA does not legally require any further types of insurance. However, moving companies do purchase further insurance policies.
General Liability Insurance
General liability insurance covers personal injury lawsuits or property damage to the customer. General liability is only applicable during loading and off-loading and does not cover damage to property during transit.
Cargo Insurance
Cargo insurance covers the customer's property during transit.
Commercial Auto Insurance
A typical auto policy to protect the truck and injury during accidents while in transit.
Errors and Omissions Insurance
Called E&O insurance, this covers accidental negligence towards a client. For example:
Missing a deadline
Budget overruns
Incomplete work
The key with E&O insurance is the accidental nature of the coverage.
Employer's Liability and Workers Compensation
Employers liability protects the business when an employee is injured because of a work related accident and helps to pay for compensation.
There are many other types of insurance options a mover may consider like:
An umbrella (bundled) insurance policy
Cyber liability insurance
Carrier legal liability insurance
General business insurance
Moving Freight Brokers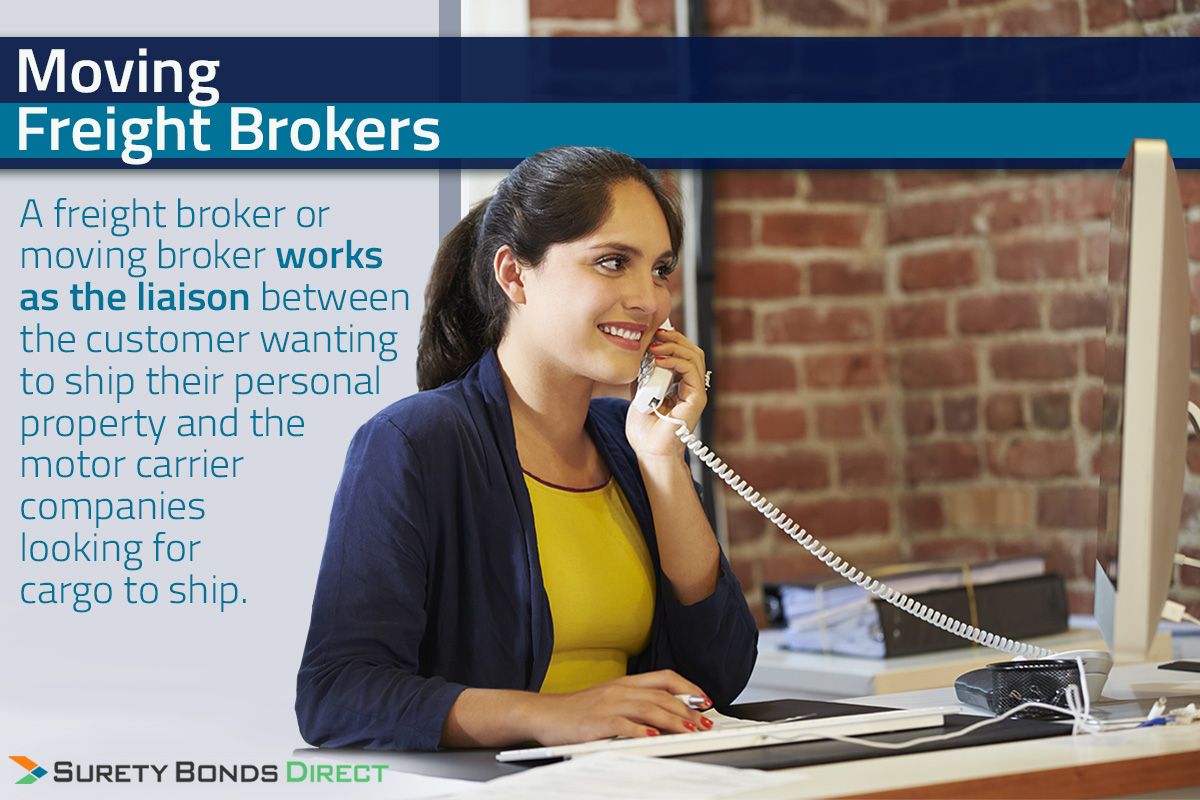 Brokers often work with customers looking to move. A broker does not own any moving trucks or handle any moving operations like loading, transit and unloading.
A moving broker often called a freight broker is a liaison between the customer wanting to ship their personal property and motor carrier companies looking to ship cargo.
A freight broker will:
Determine the route based on truck availability
Negotiate the shipping rates
Ensure the shipment arrives on time
Record keeping and reporting
Freight brokers have their own insurance requirements:
Contingent cargo
Vicarious auto liability
Errors and omission policy
Freight broker surety bond
Contingent cardio insurance is a policy used when the shipper's cargo insurance denies a claim or falls through for some other reason.
Vicarious auto liability insurance protects the broker from any lawsuits resulting from mistakes or damage caused on the shipping company during the moving process.
Unlike interstate moving companies (shippers), freight brokers are required to purchase a surety bond known as a freight broker bond. Read our post about how to become a freight broker and learn about how brokering shipments differs from being a shipping (motor carrier) company.
If You Are a Household Mover Carrier?
If you're a household mover carrier in:
Florida you need to purchase a moving company bond only if you operate one truck
California you need to purchase a moving company bond only if you conduct COD shipments
Virginia you must purchase a moving company bond
State requirements change all the time, so if you've been told by a state, county, or municipal agency you must purchase a surety bond (moving company surety bond), we can help.
Use our free online surety bond quote form to request an online quote if you live in Virginia. The process is fast and takes about 90 seconds to complete.
Remember Florida and California moving company bonds do not require a quote or credit check. These are available for instant purchase and one business day issuance.
If you would rather talk with a bond specialist, call 1-800-608-9950. A bond specialist will help you determine the exact bond you need and start the quote process immediately.