"Fidelity" means honesty, integrity, and good faith in honoring one's obligations. For any business or employee entrusted with someone else's assets, fidelity is a critically important trait. To provide a legal and financial guarantee of fidelity and honesty, many businesses use fidelity bonds. What is a fidelity bond? It's a type of surety bond that guards against a person's misconduct when entrusted with other people's property.
But there are several types of fidelity bonds, and it's important to know which one you need. How are fidelity bonds different from other types of surety bonds, which different types of fidelity bonds are available, and how can someone who needs a fidelity bond obtain one? You'll find the answers below.
What Is a Fidelity Bond?
Let's look more closely at how fidelity bonds work. First, remember that they're a type of surety bond. A surety bond is a three-party agreement that uses a neutral guarantor called a surety to guarantee a contract, obligation, or standard of conduct. See our guide to surety bond basics for more information. "Fidelity bonds" is a blanket term that includes several different types of surety bond, including:
Who is protected by the bond?
| Fidelity Bond | Who is protected? | Protected from unethical acts by |
| --- | --- | --- |
| Business Service Bond | Clients of the bonded company | Owners and employees of the bonded company |
| Janitorial Service Bond | Clients of the bonded cleaning company | Owners and employees of the bonded cleaning company |
| Employee Theft / Dishonesty Bond | Bonded company | Bonded company's employees |
| ERISA Bond | Employees whose investments are managed | Bonded plan administrator |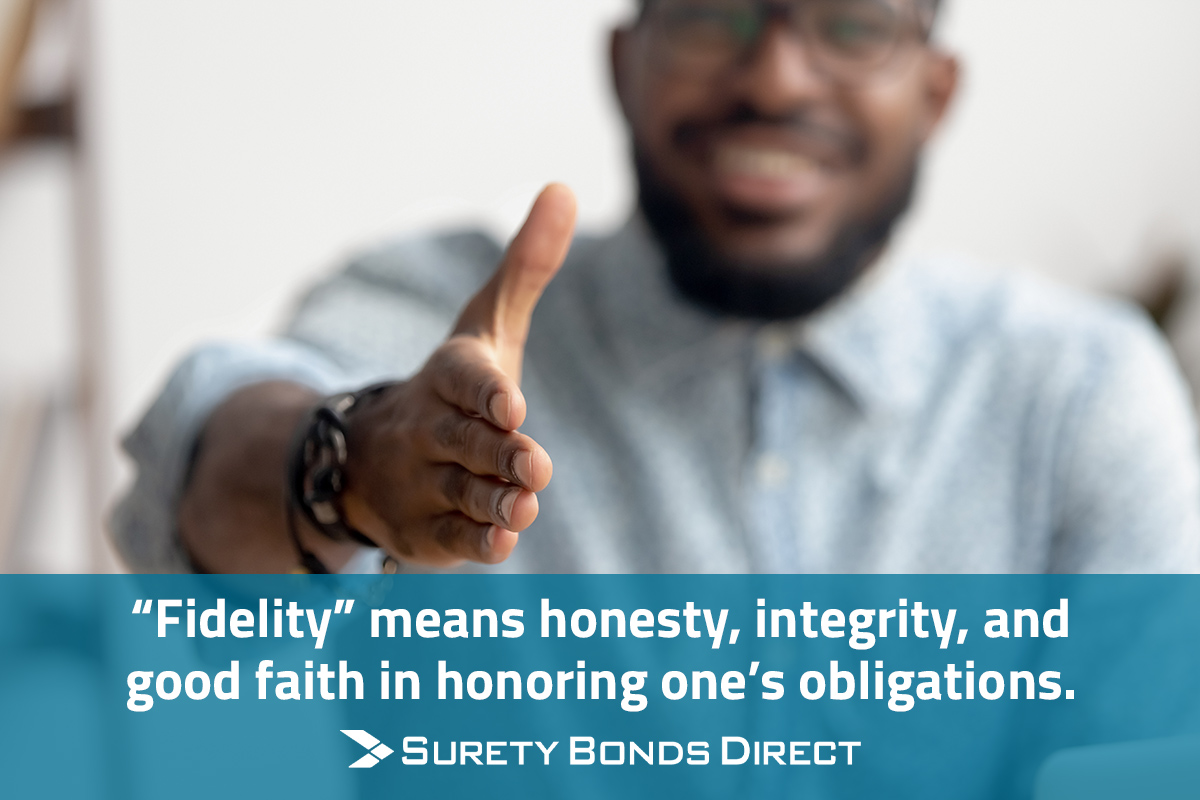 What all of these bonds have in common is that they protect against acts of theft and professional dishonesty. Next, we'll provide a brief look at each type of fidelity bond and how they differ from one another.
Business Service Bonds and Janitorial Service Bonds
What is a business service bond? Consider this: If your business requires access to client property, it's critically important that your clients can trust your employees to behave honestly. Business service bonds protect clients if employees commit any misconduct against their property. Businesses that typically need business service bonds include:
Janitorial services (a particularly common type)
Locksmiths
Appliance repair
Pest control
Home health care
Home child care
Landscaping
Pool cleaning and repair
It's common for clients to require a business service bond from businesses that they offer a contract to the vendor. But many business owners also choose to purchase business service bonds of their own accord because it demonstrates a commitment to ensuring that their clients' property is safe and secure.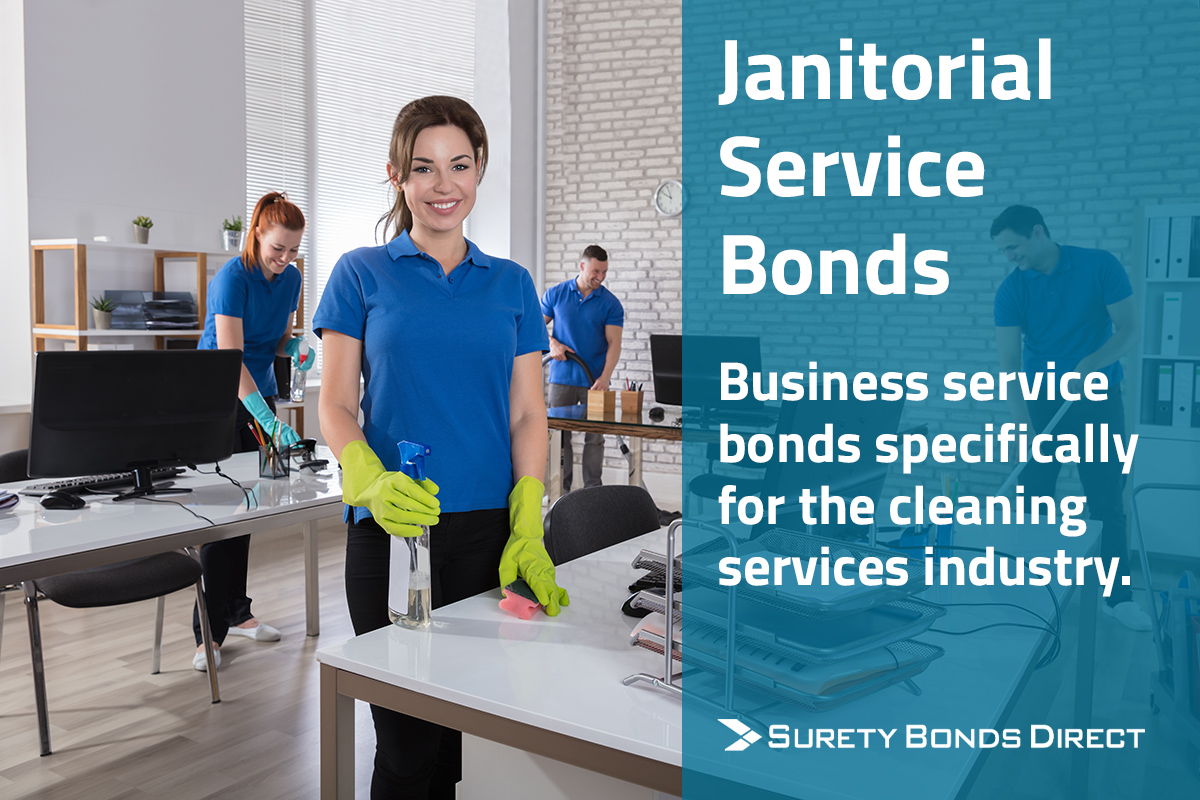 Employee Theft and Dishonesty Bonds
Employee theft and dishonesty bonds protect an employer from theft or other dishonest acts committed by their employees. An employee dishonesty bond is more like a traditional insurance policy than most other types of surety bonds because the party purchasing the bond is the one protected by it.
Imagine that a small business hires an employee who steals $1,000 out of the cash register over the next several months. If the business owner is covered by an employee dishonesty bond, they can file a claim against the bond and recover the embezzled money once the surety investigates the claim. Employee theft is, unfortunately, much more common than many people realize, so having an employee dishonesty bond can offer critical protection for a small business.
ERISA Bonds
ERISA bonds are a type of surety bond mandated by the Employee Retirement Income Security Act (ERISA). One of ERISA's many requirements is that employees who administer retirement benefit plans (such as pensions and 401(k) plans) must obtain a surety bond. An ERISA bond protects against the misconduct of employees who handle the funds and other assets of such a plan. If your job includes any or all of the following responsibilities, it's likely that you need an ERISA bond:
Physically handling plan assets such as cash or checks
Disbursing or transferring funds on behalf of the plan
Negotiating or executing contracts and documents on behalf of the plan
Managing employees who perform the above activities
See our guide to ERISA bonds for more information about these important surety bonds.
How to Get a Fidelity Bond
Unlike many other types of surety bonds, fidelity bonds usually don't require a credit check or surety bond underwriting process. Instead, a principal can purchase many types of fidelity bonds instantly online for a one-time standard fee. Employee dishonesty bonds are an exception.
If you're purchasing a fidelity bond at the request of another party, such as a client or employer, the other party will usually specify the coverage amount required. Fidelity bond cost generally increases correspondingly with the bond's coverage amount—also called the penalty sum.
Once you know the amount of bond coverage you need, simply search for the correct type of fidelity bond in your state. You'll fill out and submit an application with basic personal information, and Surety Bonds Direct will send you your bond certificate via email.
Note that if you need a fidelity bond with a very high coverage amount, or if your company has more than 25 employees, a credit check may be required. For example, an ERISA bond with coverage of $500,000 or more or a business service bond with coverage of $250,000 or more would require a credit checks.
More questions about fidelity bonds? Our surety bond professionals will be glad to assist—just call Surety Bonds Direct at 1-800-608-9950 or contact us online.