The landscape industry has a lot of classifications. Each type of landscape profession has different requirements from getting licensed, to obtaining permits, and even getting bonded. For a landscape business, getting bonded may be a requirement or it may be a choice made as a business performing work on a customer's property.
This article will help explain:
Which landscape professionals require a surety bond
What it means to be bonded
Examples of states requiring bonds to get a landscape contractor license
When getting bonded is a good business decision
How to get bonded quickly and for the lowest price possible
The Types of Landscape Professionals Requiring a Surety Bond
Having a surety bond classifies an individual or business as bonded. But what does being bonded mean?
A surety bond is a legal document similar to an insurance policy. However, unlike insurance, a surety bond is purchased by an individual or business owner for the protection of their customers.
In most cases, homeowner's insurance will not cover damage caused by landscape work crews. A surety bond provides protection to customers if a worker or piece of equipment causes damage to customer property. The customer would not be responsible for fixing any issues.
In most cases, a claim against the surety bond would only be applicable if the landscaping business caused damage and refused to fix it themselves.
Who is required to purchase a surety bond?
Landscape Contractors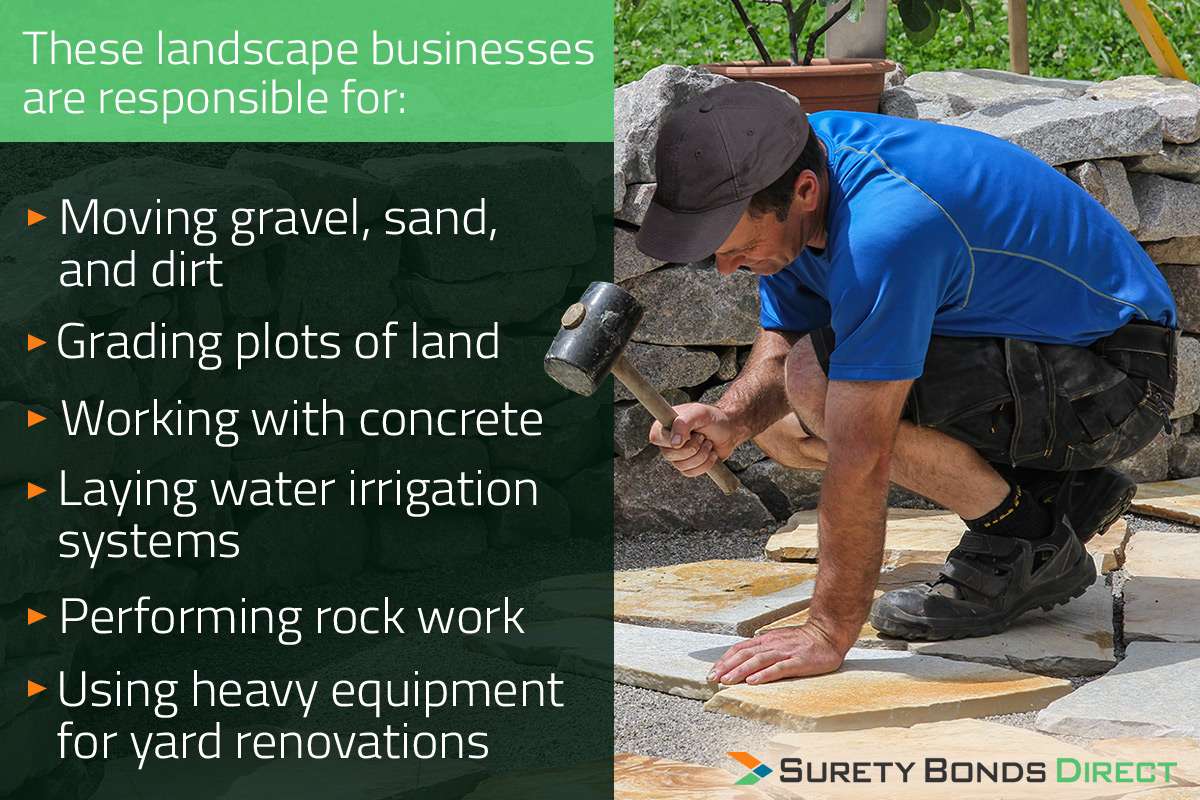 In many states, the state or local contractor licensing board classifies landscape businesses as a contractor. These landscape businesses are responsible for:
Moving gravel, sand, and dirt
Grading plots of land
Working with concrete
Laying water irrigation systems
Performing rock work
Using heavy equipment for yard renovations
And in many cases, if a state has a landscape contractor classification, a landscape bond is typically a requirement. A landscape bond is a specialty contractor license bond.
Here are some states with a landscape contractor classification:
California
A landscape contractor has the C-27 contractor classification. According to California:
"A landscape contractor contracts, maintains, repairs, installs, or subcontracts the development of landscape systems and facilities for public and private gardens ... or functionally improve the grounds within or surrounding a structure or a tract or plot of land."
California's Contractors State Licensing Board (CLSB) requires all contractors to purchase a $25,000 contractor license bond.
Oregon
Oregon has its own Landscape Contractor Board. There are multiple bonding requirements in Oregon depending on the:
License types or phases
Business setup
Size of the job
Bonding requirements range from $3,000 to $20,000. We'll talk about price in more detail, but you can instantly purchase an Oregon landscape contractor bond from Surety Bonds Direct for a low fixed price. The price is a small fraction of the required bond amount.
North Carolina
North Carolina has its own Landscape Contractor Board. The bond amount in North Carolina is $10,000.
Like Oregon, the North Carolina landscape contractor bond can be purchased for a fixed price, a small fraction of the $10,000 bond amount.
Mississippi
Mississippi has a Department of Agriculture and Commerce. The department has set a bond requirement for:
Wood destroying and insect control
General pest and rodent control
Landscape horticulturist
And many more. Besides the landscape horticulturist, most other license categories are responsible for using chemical agents for pest or weed removal.
Bonding requirements for a landscape horticulturist start with a minimum of $1,000. Additional bonding amounts can be determined by the individual or business getting bonded.
If no fee is collected for applicable work, a surety bond does not have to be purchased.
Hawaii
Landscape professionals in Hawaii are classified as contractors. Hawaii requires all contractors to be bonded, but the state licensing board only requires a surety bond on a case by case basis.
In most of these cases, a surety bond is only required when a contractor:
Has poor personal or business financials
Has conducted negligent business practices in the past
Depending on these conditions the state of Hawaii will set a specific bond amount.
Maryland
Landscape professionals are required to obtain a Home Improvement contractor license. Similar to Hawaii, if the individual or business does not meet base financial solvency guidelines, a surety bond will be set by the Maryland Department of Labor.
Nevada
Landscape professionals who install rocks, sand, gravel, and trees are required to obtain a C-10 Contractors license.
The bond amount varies from $1,000 to $500,000 depending on the type of jobs to be contracted and the history of the individual or business getting licensed.
Landscape Architects and Designers
Landscape architects and designers typically are responsible for designing and specifying project and project requirements.
In most states, architects and designers must obtain licenses, but there are no specific bonding requirements. Many landscape architecture businesses will not only conduct the design work, they will have a license to perform the heavy contracting work to get jobs complete.
Even if you're not required to purchase a surety bond to obtain the appropriate licenses, you may still want to purchase a different type of surety bond called a business service bond.
Landscaping and Lawn Care Businesses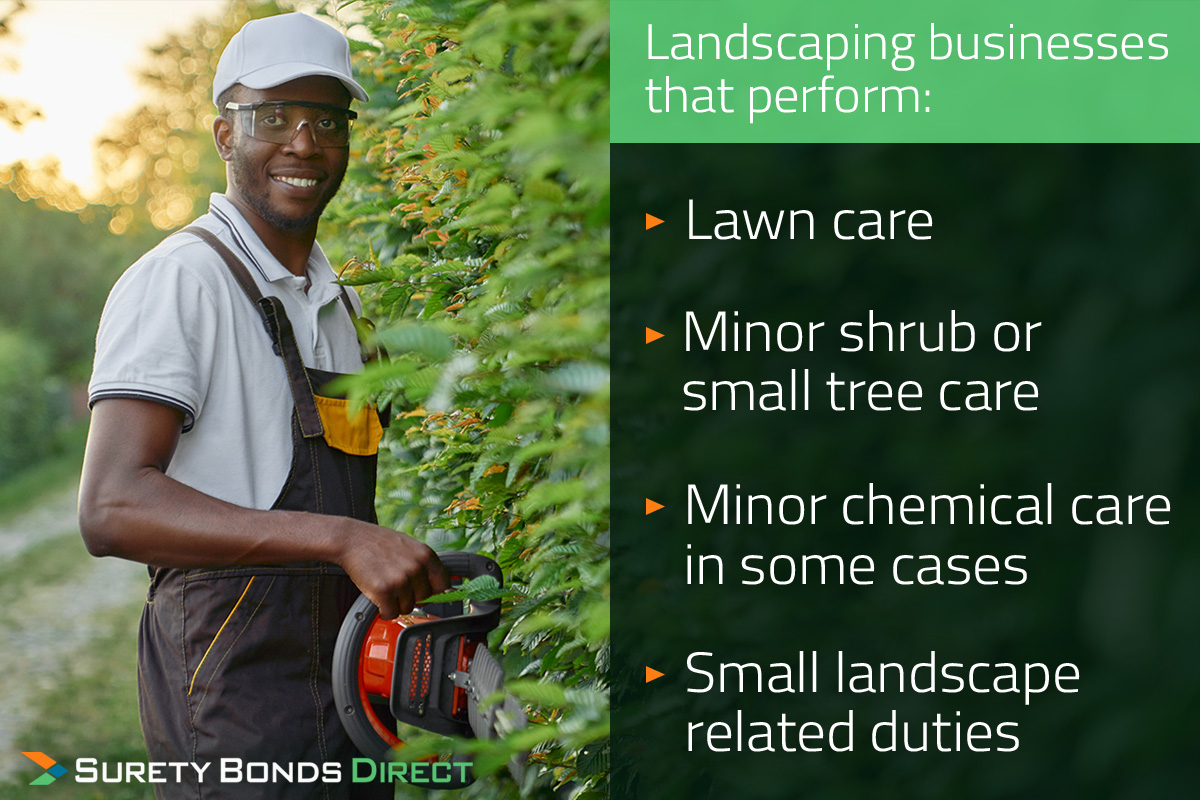 Landscaping businesses that perform:
Lawn care
Minor shrub or small tree care
Minor chemical care in some cases
Small landscape related duties
...may choose to purchase a surety bond called a business service bond.
A business service bond is a type of surety bond purchased by a business that has employees performing work on a customer's private property.
This bond provides protection in the case of purposeful and negligent employee theft or damaging customer property. In the case of a landscaping company this may include:
Stealing customer equipment or property
Damaging rock work
Causing water line leaks
Most landscaping businesses, even landscape contractors or architects who have employees performing work on a customer's property will choose to purchase a business service bond. Unlike a license bond, this bond is not required by law, but provides customers with confidence that they're dealing with a trusted authority.
How Do You Purchase a Surety Bond?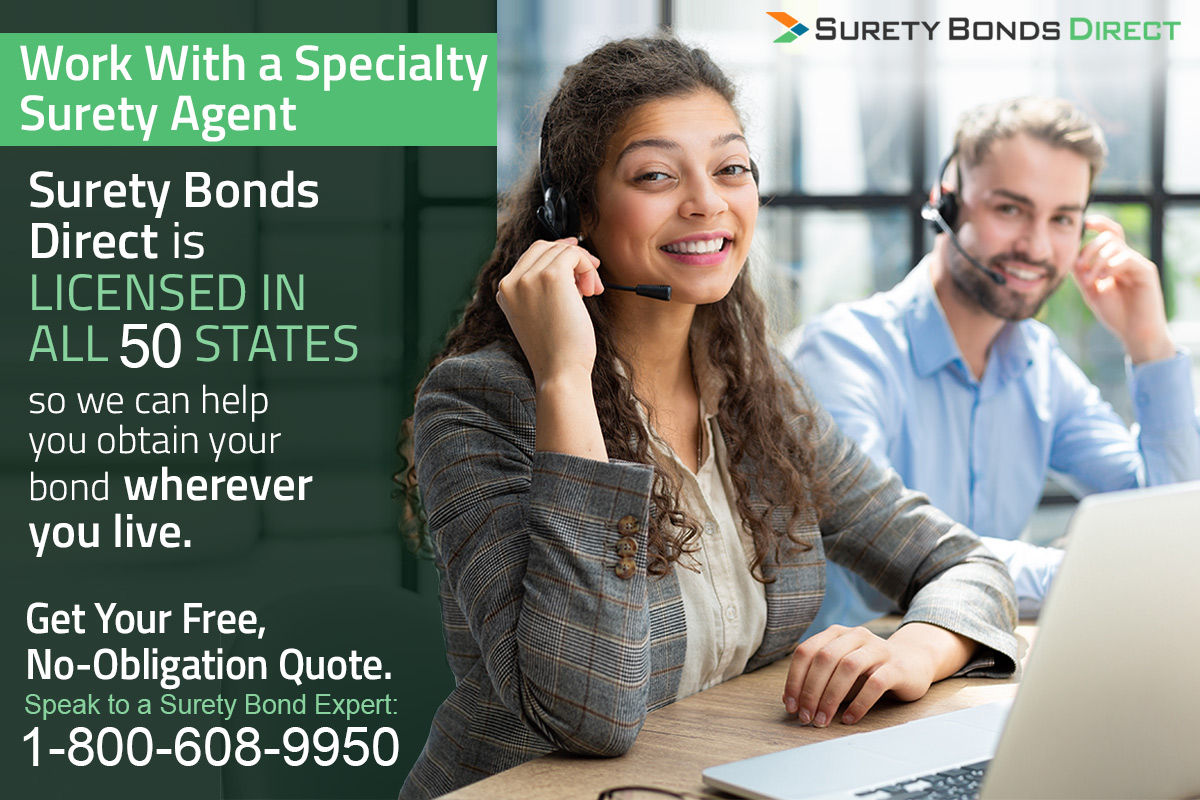 Purchasing a license bond or business service bond is a fast process.
Surety Bonds Direct is a specialized surety agency that works with multiple sureties. A surety is an insurance company that writes surety bonds. Working with a specialized surety agency, like Surety Bonds Direct, means you'll get the lowest price possible.
In the case of state landscape contractor bonds and business service bonds,Surety Bonds Direct has secured low, fixed priced bonds that do not require a credit check.
If you require a landscape license bond:
Choose the appropriate bond for your license
Choose the bond term (the duration)
If you choose to purchase a business service bond:
Select the number of individuals you employ
Choose ow much you want your bond amount to be
Choose a 1 year or 3 year term (duration)
For a business service bond, determining the bond amount depends on the jobs you're doing. Most customers of Surety Bonds Direct who service residential homes choose a bond amount between $15,000 to $25,000.
Individuals or businesses who service commercial properties choose $50,000 upwards of $250,000 depending on the commercial client. If you need help determining the correct amount, call a bond specialist at 1-800-608-9950. A bond specialist will help you choose the correct amount based on our experience of helping thousands of businesses get bonded.