Getting a motor vehicle dealer license in North Carolina is not a complicated process. Compared to many states, North Carolina makes it easier to get your license application submitted and accepted. And this article will help make it even easier breaking down each step.
This article will cover:
The 9 required steps to getting your license
The required insurance policies
The required surety bond for a single location or multiple locations
Exam and continued education requirements
Plus an outline of the costs to get a dealer license
This article will only look at getting your motor vehicle dealer license.
This article will not cover:
Factory Branch license certificate
Manufacture license certificate
Learn more about the Factory Branch license requirements here. And learn more about Manufacture license requirements here.
The 9 Steps To Get a Dealership License In NC
Step 1: Secure An Established Salesroom And Office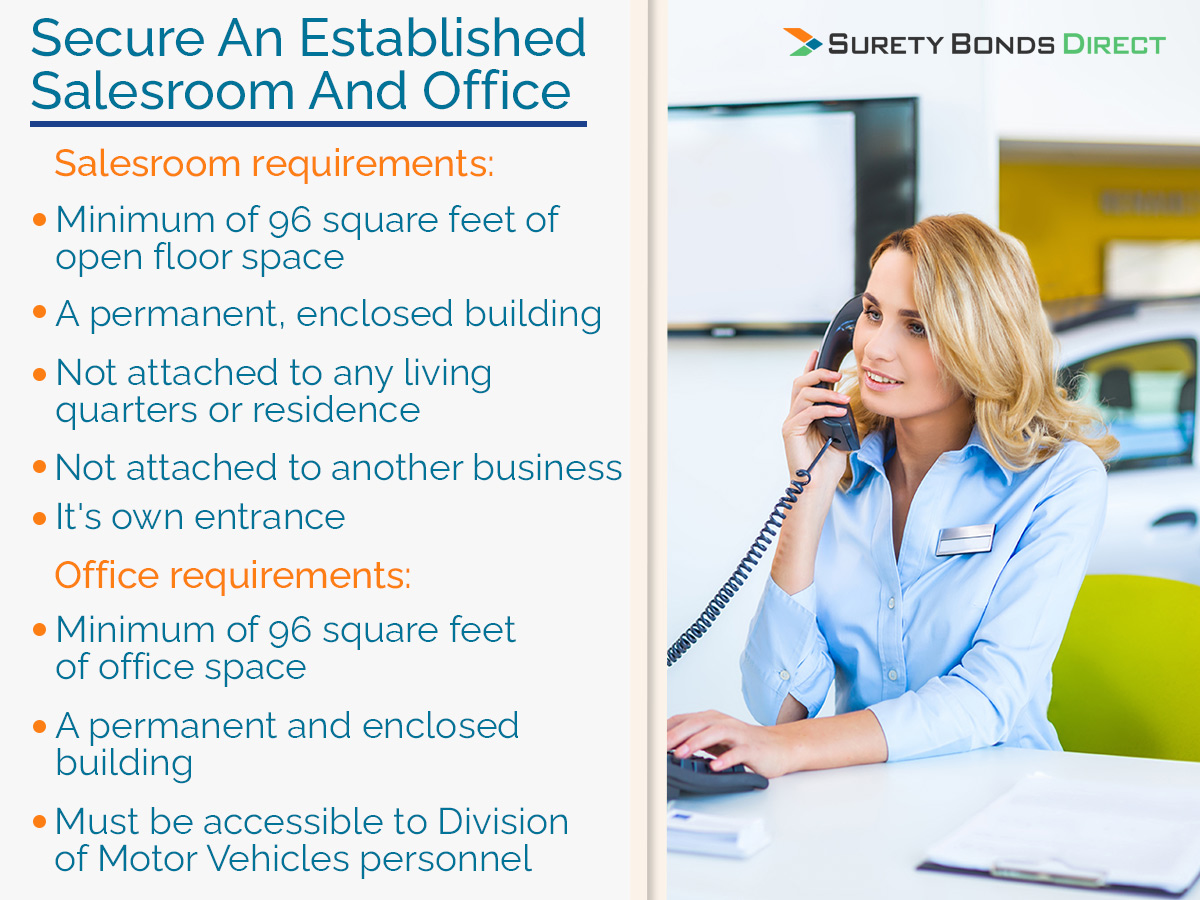 You must first secure a salesroom/showroom for your dealership. The requirements for this salesroom are:
Minimum of 96 square feet of open floor space
A permanent, enclosed building
No attached to any living quarters or residence
No attached to another business
It's own entrance
To give you some perspective, a 96 square foot salesroom is only big enough to showcase about two vehicles. Most new and used dealerships will have more space.
The requirements for the office are:
Minimum of 96 square feet of office space
A permanent and enclosed building
Must be accessible to Division of Motor Vehicles personnel
Both the showroom and the business office are required to be in compliance with all North Carolina state, county, and municipal zoning ordinances and regulations.
Follow Important Record Keeping Guidelines
This office is where the official address of the business is located and where financial record keeping is required to be kept. According to the North Carolina Division of Motor Vehicles, records must be kept for all:
Sales
Exchanges
Receipts of vehicles for the purpose of sales
These records must contain the vehicle identification number. If the identification number is destroyed or unreadable, a statement indicating this must be kept on record for five years.
Step 2: Secure Approved Dealership Signage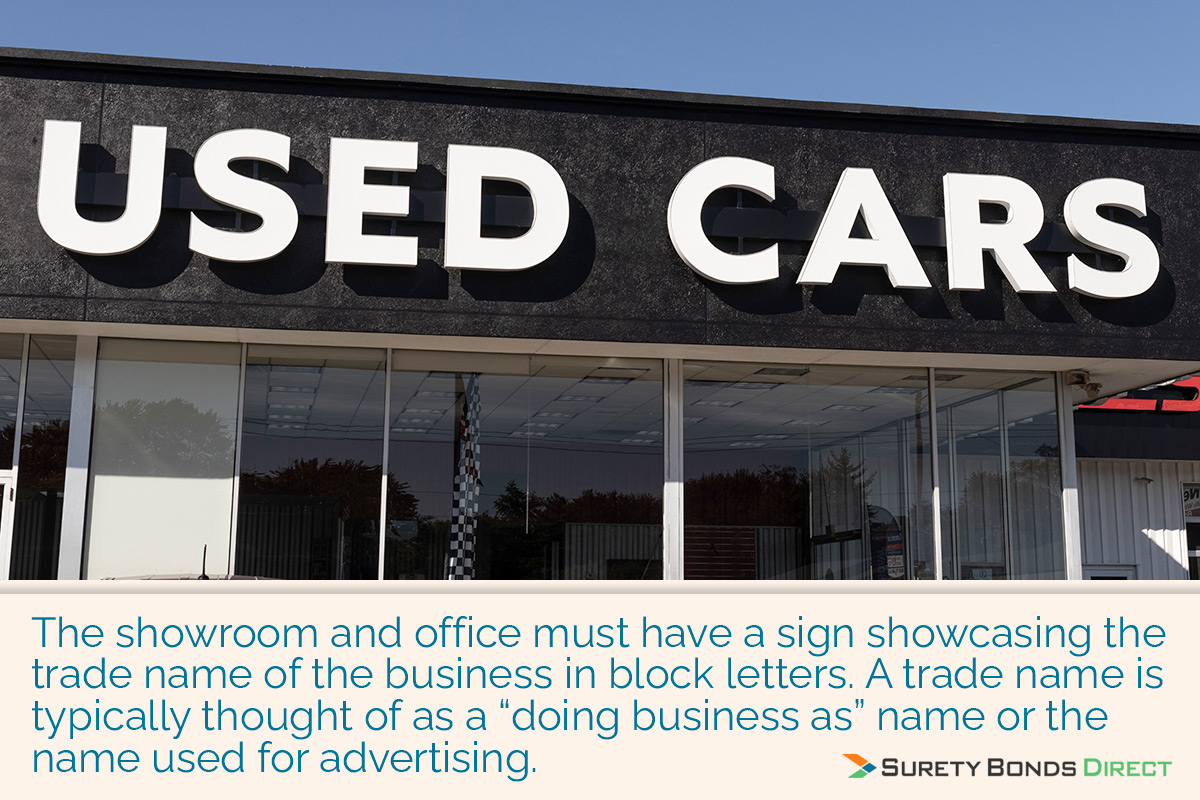 Finally, the showroom and office must have a sign showcasing the trade name of the business in block letters. A trade name is typically thought of as a "doing business as" name or the name used for advertising.
A good example would be a dealership setup as an LLC. For this example, let's say Harry's Auto. The legal name of the business would be Harry's Auto, LLC. The trade name is Harry's Auto.
The trade name on the sign must use block letters (no cursive or script letters) and the letters must be no less than 3 inches in height. The background of the sign must contrast with the color of the letters so the business name is easily read.
Step 3: Register Trade Name With Register Of Deeds
North Carolina requires the trade name (the Division uses assumed name as well… it's the same a trade name) of your business be registered with the Register of Deeds in the county where the business address is maintained. This name must match the name on your auto dealer license application.
The Register of Deeds handles filing for sole proprietorships, partnerships, and corporations doing business under trade (or assumed) names. The North Carolina Secretary of State handles the incorporation of business entities.
Step 4: Obtain The First Page Of Corporate Charter
All dealerships going through incorporation must file the articles of incorporation with the Secretary of State. This is important, the first page of the corporate charter must accompany the dealership license application.
If an out of state (referred to as foreign) corporate entity is obtaining licensure in North Carolina, the Secretary of State must grant a certificate of authority to the corporation before licensing applications are completed.
A certificate of authority is official paperwork from North Carolina allowing the business to conduct operations in the state.
Step 5: Purchase And Provide a Surety Bond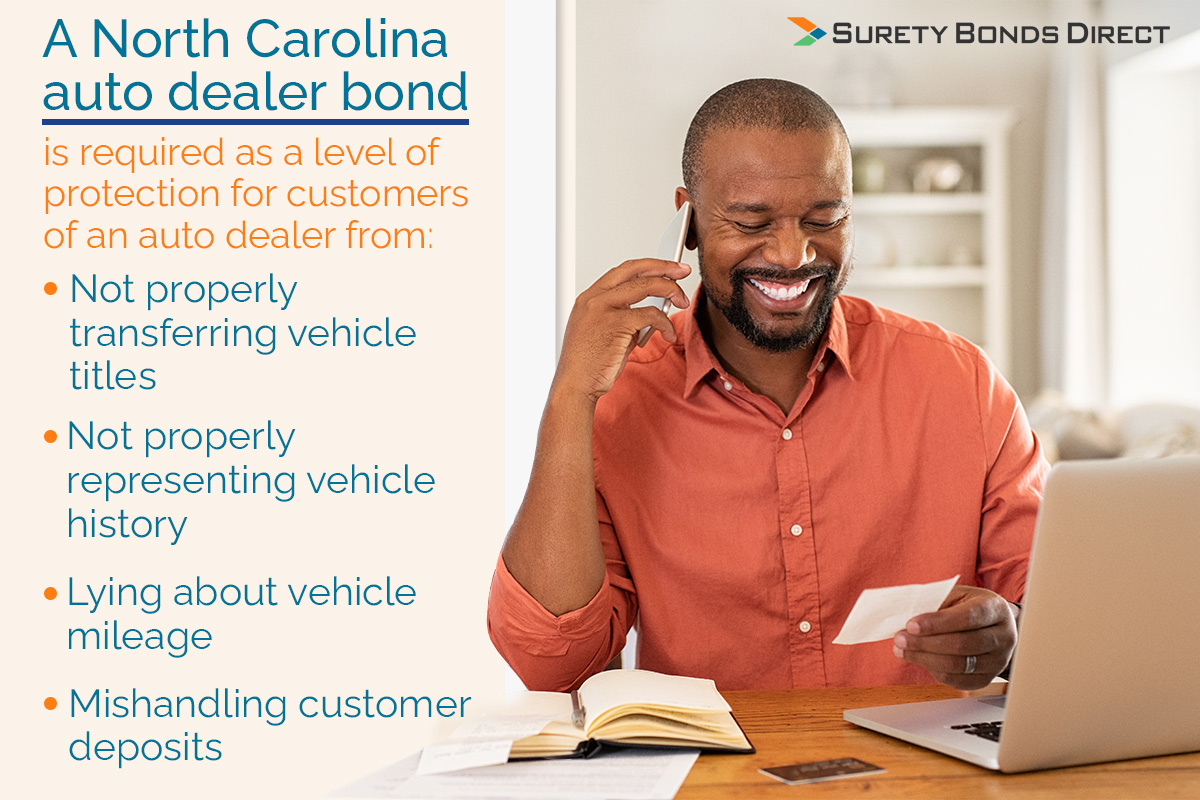 What Is A Surety Bond?
Every dealer (including franchised dealerships) must purchase and submit a valid surety bond (dealer bond) with the license application.
A surety bond is financial proof that the dealership will provide ethical and responsible services to customers as well as fulfill the tax obligations to the state of North Carolina.
Learn more about a bond vs insurance, but the main difference is the beneficiary of the agreement.
A North Carolina auto dealer bond is required as a level of protection for customers of an auto dealer from:
Not properly transferring vehicle titles
Not properly representing vehicle history
Lying about vehicle mileage
Mishandling customer deposits
The state of North Carolina also is afforded protections in the case of a dealership not paying sales tax on sold or exchanged vehicles.
How To Get A Surety Bond
Most new auto dealers wonder how to get a surety bond and how long does it take a get a bond?
The good news is getting a surety bond is typically a fast process that requires a day or two.
North Carolina Requires a $50,000 New Dealership Bond
A new dealership is required to purchase a $50,000 surety bond.
Additional showrooms are required to purchase a $25,000 bond per location.
These dollar figures are the bond amount, often called the bond penalty. It's the max dollar figure a customer can make a claim for against your dealership.
The cost of a $50,000 or $25,000 dealership surety bond requires a quote based on:
The personal credit of the primary dealership owner
The business or industry experience of the owner(s)
Past claims on prior bonds (if applicable)
Surety Bonds Direct is a specialized bond agency. A bond specialist will collect the necessary information and shop for the lowest possible quote from multiple surety companies. A surety company is an insurance company who writes the surety bond.
Typical rates for an auto dealer bond range from below 1% to 5% based on the conditions above. Here's a sample table of costs based on these rates:
| Bond Amount | Premium Rate | Total Cost |
| --- | --- | --- |
| $50,000 | 0.9% | $450 |
| $50,000 | 1.5% | $750 |
| $50,000 | 2% | $1,000 |
| $50,000 | 3% | $1,500 |
| $50,000 | 4% | $2,000 |
| $50,000 | 5% | $2,500 |
In most cases, obtaining the required surety bond only takes one to two days. Use Surety Bonds Direct's free online quote request form to get the process started today. If you'd prefer to speak with a bond specialist, call 1-800-605-9950.
Step 6: Business Insurance Requirements
Dealerships must have comprehensive liability insurance or Garage Coverage. Garage policies are written for all businesses that work with vehicles. This policy covers claims for the businesses property damage or injury that occur while customers are on the property.
A liability policy covers damage to customer's vehicles while on business premise.
Step 7: Education Requirements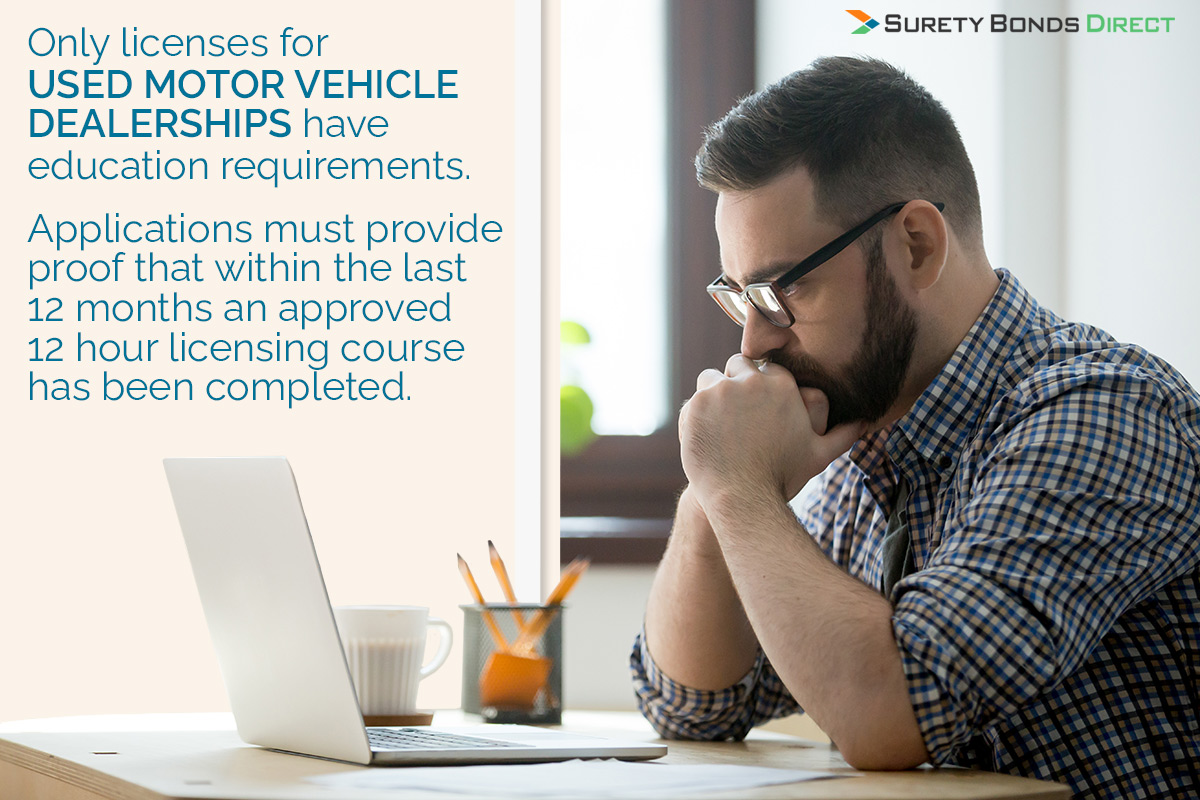 Only licenses for used motor vehicle dealerships have education requirements. Applications must provide proof that within the last 12 months an approved 12 hour licensing course has been completed. If a dealership is seeking renewal of a license, an approved 6 hour licensing course is required as continuing education.
Examination requirements are waived for:
Manufactured home dealers
Any individual who is 62 years or older and seeking a renewal of an individual or partnership license
Step 8: Application And Costs
The final step is filling out the North Carolina motor vehicle dealer license application.
Here are the relevant fees associated with submitting an application.
| License Process | Cost | Notes |
| --- | --- | --- |
| Dealer/Wholesale/Distributor License Fee | $97 | -- |
| Dealer Plates | $38.75 per plate | Good for one year and must be renewed. Wake, Orange, Durham counties pay $15 additional per plate. Randolph cost additional $1 per plate. |
| Additional Dealer Plates | $19.50 per plate | Renewed at the same cost. |
| Dealer Transporter Plate | $19.50 per plate | -- |
| Sales Representative Application | $21.50 per application | Same cost on yearly renewal. |
| Temporary Tags In-State Residents | $25 for set of 25 tags | Temp tag for when a resident purchases a vehicle. |
| Temporary Marker Sets | $25 for set of 25 tags | Issued to a non-resident for the purpose of getting the vehicle back to place of residency. |
| New Dealer Surety Bond | $50,000 amount cost is variable - See table above | Must obtain a personalize quote. Use our free quote form or call us at 1-800-608-9950. |
| Additional Showroom Surety Bond | $25,000 per showroom - amount cost is variable - See table above | Must obtain a personalize quote. Use our free quote form or call us at 1-800-608-9950. |
| Education Costs | Variable based on where course taken ($137 at Wake Tech for example) | Only applicable for used vehicle dealers. |
Step 9: Property Inspection
Before the license can be issued, the showroom and office locations must be inspected by an agent of the License and Theft Bureau. This inspection can be set up by calling 919-715-7000.
A record of the inspection must accompany the final application for licensure.
Required Forms
VS-400 : The license application (must be notarized)
VS-409 : Surety bond form (must be notarized)
VS-426 : Sale representative license application (must be notarized)
12 hour education certificate or declaration page if required
Copies of corporate entity meeting minutes and first page of Secretary of State filing if incorporated
Copies of franchise agreement if dealership is a franchise
When You Need To Get Your Surety Bond Call Surety Bonds Direct
The process to get your auto dealer license in North Carolina is slightly easier compared to other states. When you're going through this process, don't let the surety bond requirement be the step that delays the process.
Request a free quote today. Quotes are good for thirty days and this is the only way to know the exact surety bond cost. Plus Surety Bonds Direct can future date a surety bond so if you get the pricing you want, purchase it and set the effective date for when you submit your application.
If you have specific questions regarding the North Carolina auto dealer bond, call a Surety Bonds Direct bond specialist at 1-800-608-9950.