Who Requires the Motor Vehicle Dealer Bond and
Why Is It Needed?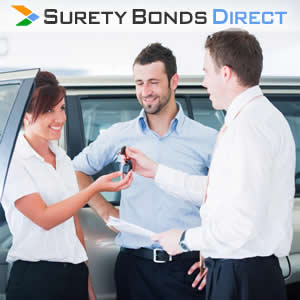 The North Carolina Division of Motor Vehicles requires that motor vehicle dealers, manufacturers, factory branches, distributors, and wholesalers in the state post a $50,000 corporate surety bond for the primary salesroom or business location. An additional surety bond in the amount of $25,000 must be posted for each secondary salesroom or place of business.
What Does the Bond Protect Against?
The surety bond protects any purchaser of a motor vehicle who suffers any loss or damage due to the bonded individual's failure to deliver free and clear title for any vehicle. The surety bond also a protects purchaser in the event of motor vehicle odometer alteration and other acts that constitute violations by a vehicle dealer as defined in Article 12 and 15 of Chapter 20, North Carolina General Statutes. Damaged parties have the right to institute action to recover against the license holder and surety company up to the full amount of the bond.
North Carolina motor vehicle surety bonds must remain in force for the full bond term. The bond may not be canceled by the surety company unless the bonded principal neglects to pay premium, commits an act of material misrepresentation, or ceases business activity. The bond may also be canceled if the license is denied, suspended or revoked under North Carolina General Statute 20-294.  Initiation of cancelation requires 30 days advance written notice to the Commissioner.
What is Needed to Obtain My License or Registration?
The following is an overview of key North Carolina motor vehicle dealer licensing requirements.
An application on a form provided by the Division and contain the information required by the Division.

The required fee submitted with the application.

Proof that the applicant, within the last 12 months, has completed a 12-hour licensing course approved by the Division if the applicant is seeking an initial license and a six-hour course approved by the Division if the applicant is seeking a renewal license (when applicable).

If the applicant is an individual, proof that the applicant is at least 18 years of age and proof that all salespersons employed by the dealer are at least 18 years of age.

The application for a dealer license plate.

The corporate surety bond once applicant is approved for license.

Additional items may be needed and exact requirements may vary based on applicant, license type or obligee discretion. Please see obligee and state links in the Other Helpful Information and Links section below or contact the obligee directly for more information.