A Guide on How to Start a Business in NC
Learn all about how to start a business in NC, from developing a business idea to purchasing an NC surety bond and getting registered.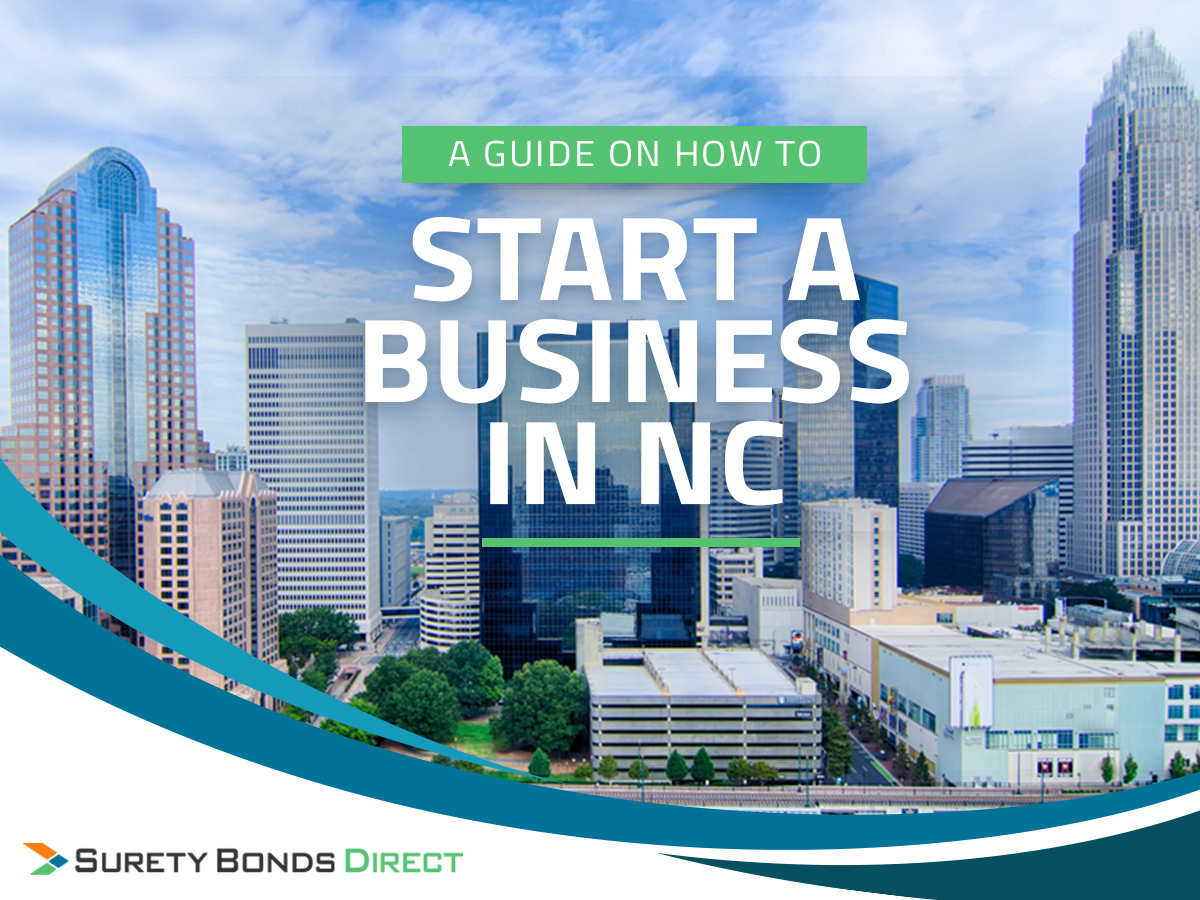 It's not hard to understand why North Carolina has seen a recent influx in migration from around the U.S. and the world. The Tar Heel State is packed with natural beauty, from the Outer Banks to the Smoky Mountains, and it also has a dynamic and fast-growing economy. For business owners, all of these factors add up to an excellent state for starting a new business.
Business owners in North Carolina, like entrepreneurs anywhere, must take care to create a solid foundation that allows their businesses to succeed. That means choosing a strong business idea, researching market conditions, creating a detailed business plan, and fulfilling all required regulatory steps, including getting a surety bond in NC.
Our step by step guide will help you create a business that's built to prosper. Join us as we discuss the key steps of how to start a business in NC, from drawing up a business plan to making your regulatory compliance airtight.
Decide which type of business you'll start.

North Carolina offers a wide, diverse range of business opportunities to entrepreneurs. Below are some of the industries that are in high demand in North Carolina:

Beer or Wine Wholesaler: North Carolina's beer and wine industries are thriving and growing rapidly, and the state needs beer and wine distributors to connect restaurants, bars, and stores with a great selection of beverages.
eCommerce Business: An innovation-friendly business climate and the increasing presence of large tech companies in the state have made North Carolina a hotbed for new eCommerce businesses.
Construction Contractor: North Carolina's growing population means that the state needs construction contractors to build new homes, businesses, and civic infrastructure.
Freight Broker: With numerous major highways running through North Carolina, freight brokerage is a key industry for keeping the state's complex supply chains running.
Landscape Contractor: Abundant land and warm weather make North Carolina a great place to start a landscaping and lawn care business.
Public Insurance Adjuster: North Carolinians often hire public insurance adjusters to help them negotiate claims with insurance companies, especially after natural disasters like hurricanes.
Cleaning Service: Janitorial services play a vital role in cleaning homes and businesses throughout North Carolina by helping property owners maintain safe, hygienic, and pleasant conditions.
Vehicle Dealership: Both new and used vehicle dealerships supply North Carolinians with cars, trucks, and other vehicles to keep them moving throughout the state's highways and scenic roads.

Research market conditions.

With several distinct regions and a highly diverse population, North Carolina requires business owners to pay especially careful attention to local market conditions. There's no one-size-fits-all approach to market research, but the following are some basic steps that will orient your business in the right direction:

Identifying whether the intended market is local, regional, national, or international
Researching the population demographics in a target market
Identifying prominent competitors in your market and performing a competitive analysis
Analyzing the level of demand for a product or service
Determining the approximate startup cost of your intended business model
Learning about your business's tax and compliance obligations

Every business owner hopes that their market research will indicate robust demand for their products and services. But you might also discover that you need to adjust your business model, which will help your business better align its offerings with demand and lay the foundation for success.

Write a business plan.

Your business plan is the blueprint that will help you systematically grow a successful North Carolina business. A business plan will guide your decisions throughout the life of your business, and banks and other creditors will typically require you to submit a business plan before they will approve your business for a loan.

According to the U.S. Small Business Administration, these are some of the basic elements of a well-developed business plan:

Executive summary
Basic description of the company and its business model
Services and/or products offered
Market and competitor analysis
Ownership structure
Management and organization structure
Estimated startup costs and cash flow

The Economic Development Partnership of North Carolina is a state agency that offers many free resources on how to start a business in NC. Business owners can use these to craft a stronger and more detailed business plan, especially resources like the incentives and credits guidebook and the University of North Carolina's business start-up and resource guide.

Decide on a name and legal structure
for your business.

Next, you need to choose a name and a legal structure for your business. Use the North Carolina Secretary of State's Business Registration Search to ensure that the business name you choose is not already in use.

Then, review the differences between the types of legal business structure and decide which one you will choose for your business. The SoS website provides a detailed comparison chart of business structures to help business owners choose the best one for their organization. Many new small businesses begin as one of the following:

Sole Proprietorship: An extremely simple business structure that's best suited for very small businesses. A sole proprietorship does not differentiate between business and personal assets, which makes it appealingly simple, but it can potentially expose business owners to personal liability.
Partnership: Similar to a sole proprietorship, but for a business in which two or more business partners share revenues and leadership responsibilities.
Limited Liability Company (LLC): A more complex business structure that requires more paperwork, but which limits the personal liability of the business owner(s). An LLC is a great choice for a business that plans to expand and grow quickly.

Register your business with the
North Carolina Secretary of State.

To establish a business as an official legal entity, you'll need to register the business with the North Carolina Secretary of State's office. A sole proprietorship business operated under the owner's legal name does not require official registration, but a sole proprietorship operated under a different name requires the owner to file an assumed business name with the SoS. Partnerships operate under similar registration rules as sole proprietorships.

Businesses with more complex structures, such as LLCs, S corporations, or C corporations, must file their articles of incorporation with the SoS office. This crucial document defines the business's organizational and ownership structure, so make sure to read the SoS office's tips on submitting your articles of incorporation in North Carolina.

You'll also need to sign up for an Employer Identification Number (EIN) from the IRS and register your business for any taxes that you'll be required to pay. These will often include:

Register for any local, state, or federal licenses
that your business requires.

North Carolina doesn't require business owners to apply for a general state business license. However, many cities and towns in the Tar Heel State require business owners to register for a business license at the local level. Your business may also require an occupational license specific to your profession.

Some types of North Carolina businesses have to apply for special professional licenses from the North Carolina state government, or even from the federal government. Generally, these licensing processes are intended to protect the public interest by certifying that certain businesses meet basic standards of competence, accountability, and integrity.

Wondering if your business will need a professional license? EDPNC offers free consultations with small business advisors who can help you identify and meet all of the regulations your business must comply with. They'll help you determine, for example, whether you'll need an NC surety bond for your license, and whether you'll have to pass a professional exam. Some types of North Carolina businesses that require a special license include:

Purchase a North Carolina surety bond.

North Carolina, like other states, requires certain types of businesses to purchase surety bonds as part of the process of applying for a professional license. Surety bonds are a type of legal contract that help protect a business's customers against illegal or unethical conduct by providing a financial guarantee through a neutral third party. If you need more information about how surety bonds work, we answer your questions in What Is a Surety Bond?

First, determine if the application process for your professional license requires a surety bond. Use our list of surety bonds NC requires to make sure you're purchasing the correct bond for your business, and don't hesitate to contact our surety bond professionals for advice on choosing the right bond. Once you know which bond you need, you'll choose a surety or surety bond broker and submit an application for a price quote.

A surety will provide you with a quote for the surety bond cost, based on factors such as your credit score and financial history. If your credit is below average, don't worry—it's still possible to get a surety bond with bad credit. To purchase your bond, simply accept the quote, pay the premium, and sign the bond paperwork. When you go through Surety Bonds Direct, our bond professionals will even file the paperwork with the appropriate state or federal agency for you.

Find funding for starting your business.

Start your search for funding by investigating financial resources available from the government. One of the best options is the federal Small Business Administration's loan guarantee program, which helps small businesses secure affordable loans from banks.

The State of North Carolina offers financing resources as well, including the North Carolina Rural Center's Microenterprise Loan Program for rural small businesses. For startups eager to succeed in North Carolina's burgeoning tech industry, the Small Business and Technology Development Center is a great resource that offers programs to help connect entrepreneurs with private equity investors.

Other options for financing a business in North Carolina include traditional bank loans, personal loans from family and friends, or crowdfunding. Business owners who choose the last option should make sure to explore the Secretary of State's crowdfunding resources to help them understand their legal rights and responsibilities as the owners of a crowdfunded business.

Identify your responsibilities as a
North Carolina employer.

Any North Carolina business owner who employs other people should be aware of their responsibilities as an employer. These responsibilities come from both state and federal employment laws, and some of the most important ones include:

Providing paid sick leave, health insurance, workers' compensation, and other employee benefits as required by law
Ensuring that your work environment is free of harassment and discrimination
Displaying required information in a clearly visible place
Filing a federal Form I-9 to certify that your employees are authorized to work in the U.S.

Surety Bonds Direct is proud to help North Carolina business owners save time and money with our fast and affordable surety bond service. Investopedia named us the number one surety bond company of 2021 because we make it easier than anyone else to get the surety bond you need at a price you can afford.

See for yourself how Surety Bonds Direct makes it simpler to get a North Carolina surety bond for your business. Get your free surety bond quote today through our easy online form, or call our bond experts at 1-800-608-9950 to get personal assistance with anything you need.
October 18, 2021

Jason O'Leary