Logistics is one of the major industries driving 21st-century commerce, and freight brokers live and work at the heart of that industry. These logistics professionals provide a critical liaison between shippers and carriers and smooth the way for cargo to reach its destination. Many individuals looking for an interesting and profitable career in logistics consider becoming freight brokers. It can be a great career—but you should understand the process of how to get a freight broker license before embarking on this journey, including how to get a freight broker surety bond.
Freight Broker Basics
First, let's understand the basics of the question, "What is a freight broker?" Freight brokers are logistics professionals who help connect cargo owners who need to ship goods with carriers looking for cargo to transport. Freight Brokers are also sometimes called Property Brokers, or Transportation Brokers. A freight broker's typical duties include:
Networking with both shippers and carriers
Negotiating rates and booking cargo loads with freight carriers
Coordinating paperwork and shipping requirements between shippers and carriers
Tracking cargo loads and ensuring they arrive at their destination
Some freight brokers start businesses and work independently. Others work as freight agents for larger freight brokerage businesses. Qualifications for a freight broker usually include a high school diploma or GED, though a college degree in business or logistics certainly doesn't hurt. You'll also need experience in the logistics industry, which many brokers acquire through participation in a freight broker training school.
Steps of How to Get a Freight Broker License
Apply to the FMCSA for MC authority.

The first step to becoming a freight broker is to get your Motor Carrier (MC) authority from the FMCSA. Begin by applying for a PIN from the FMCSA. It doesn't cost anything but requires a valid credit card. The FMCSA will mail your PIN to you, typically in four to seven business days. When you've received your PIN, you'll fill out and submit FMCSA Form OP-1, the application for MC authority. This application requires a $300 non-refundable fee, so triple-check your paperwork to ensure everything is correct before you submit. Like all other paperwork you submit during this process, you should keep an extra copy of your Form OP-1 on file.

Designate process agents for every U.S. state in which you'll operate.

Next, you'll need to designate process agents for each U.S. state in which your freight brokerage will maintain an office or execute contracts. A process agent is a point of contact who will be served papers if someone in that state files a claim against your business. Many different FMCSA-approved services are available that will connect your business with process agents. Once you've selected a process agent service, they'll need to file Form BOC-3 on your behalf to officially designate your process agents with the FMCSA. Again, make sure to keep a copy of this form for your records.

Obtain a BMC-84 surety bond or BMC-85 trust fund.

All freight brokers are required to either obtain a BMC-84 freight broker surety bond or establish a BMC-85 trust fund to guarantee their compliance with the law. The surety bonds are sometimes called Freight Broker Bonds, Transportation Broker Bonds or Interstate Commerce Commission (ICC) Bonds but all of these are referring to BMC-84 Bonds. Here's the difference between a BMC-84 and a BMC-85:

Many brokers choose BMC-84 surety bonds because they require payment of only a small percentage of the penalty sum as a premium. See our comparison of BMC-84 surety bonds vs. BMC-85 trust funds for more information.

Apply for your Unified Carrier Registration.

Last, you'll need to apply for the Unified Carrier Registration (UCS) system. The FMCSA uses this system to monitor and regulate freight businesses that are licensed for interstate and/or international commerce. Freight brokers will need to register through the UCR website or UCR mobile app and pay a $76 application fee. The following states don't currently participate in the UCS and require separate registration:

Arizona
Florida
Maryland
New Jersey
Nevada
Oregon
Wyoming
Vermont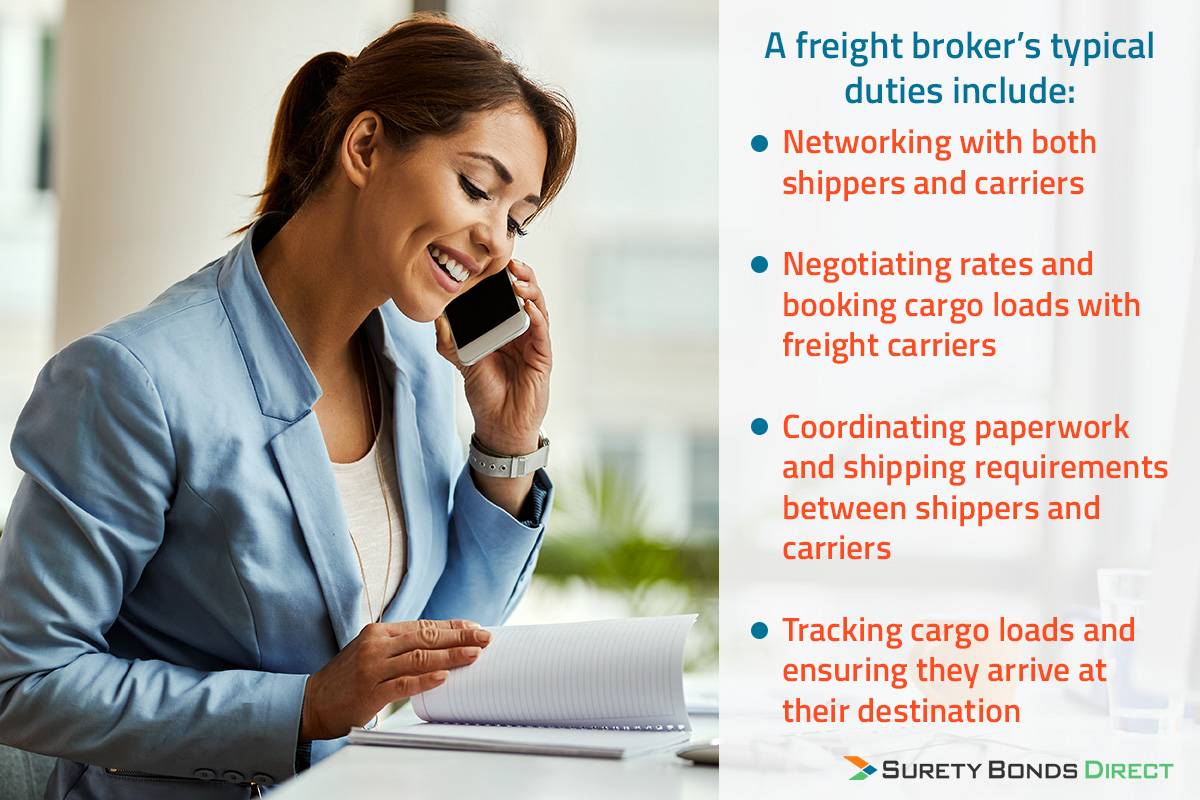 Updates and Renewals
Freight brokers will need to complete some periodic licensing updates and renewals of their information. Most sureties issue BMC-84 surety bonds for a one year term so the bond will typically need to be updated on an annual basis as well. You'll need to renew your UCS registration through the UCS site by December 31st of each year.
Additionally, you'll have to file a biennial update of your business information with the FMCSA through Form MCS-150. This is required every two years, even if you haven't changed your business's information, your business no longer engages in interstate operations, or you have closed your freight broker business unless you've already notified the FMCSA.
Freight brokers choose Surety Bonds Direct for their BMC-84 freight broker bonds because we provide the fastest, friendliest service and the most affordable premiums. Get your freight broker bond quote now, or contact our surety bond experts at 1-800-608-9950 for more information.