It's a strong time to enter the market as a supplier of durable medical equipment (DME), as the durable medical equipment market is expected to surpass $76 billion in value by 2026. What's more, the DME market is essential to serving the medical needs of many different people, including seniors and people with disabilities, which makes it a key component of the standard of care for medical practices that serve these populations.
The ability to bill Medicare is a vitally important component of most DME suppliers' businesses since Medicare provides health insurance for many of the people who need DME the most. In today's article, we'll discuss the basics of how to become a DME supplier and the DMEPOS surety bond requirements that each practice will need to fulfill.
What Is a DME Supplier?
A DME supplier is any business that sells or rents certain types of medical equipment intended for the management of chronic conditions. These types of medical equipment include, but are not limited to:
Prosthetics and orthotics
Blood sugar meters and test strips
Dialysis supplies
Enteral or parenteral nutrition supplies
Continuous positive airway pressure (CPAP) devices
Therapeutic footwear
Wheelchairs
Canes
Walkers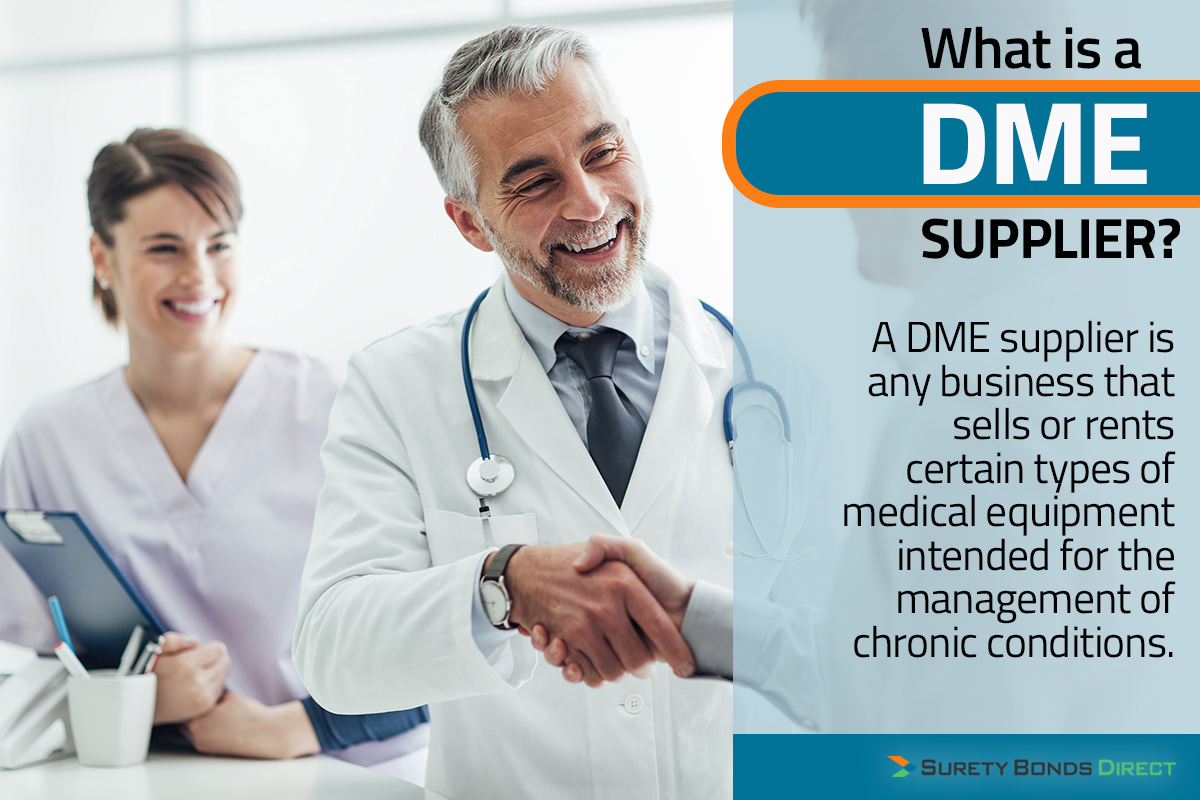 DME must be prescribed by a medical professional, which is why many medical practices choose to make DME supply part of their business. But many different kinds of businesses, including pharmacies and medical supply businesses, will also want to accept and bill Medicare for DME patients.
How to Become a DME Supplier: The Basic Process
These are the basic steps of how to become a DME supplier, but be sure to read all relevant rules in detail before applying for CMS accreditation. If you're registering a hospital, home health care service, or another institution, make sure to read CMS's Medicare enrollment guide for institutional providers.
Surety Bonds Direct can help your practice obtain a DMEPOS surety bond quickly and for an affordable premium. Contact our DMEPOS surety bond specialists by phone at 1-800-608-9950 or get a free DMEPOS surety bond quote online in just a few minutes.