The telemarketing industry has changed a lot over the last few years. The Federal Do Not Call Registry gives the option of receiving telemarketing calls to the public. Most people elect to be on the registry. Plus, there are an assortment of laws regulating businesses and charities that use telemarketing.
Because of these laws and the nature of telemarketing businesses, most states require businesses and charities that utilize telemarketing or fundraising by phone to purchase a surety bond.
This short article will explain:
What a surety bond or telemarketing (charity or solicitor) bond is and why it's required
How to purchase a telemarketing bond for a low price
Examples of specific state rules
How to find your specific states telemarketing and charity license guidelines
What is a Telemarketing Surety Bond?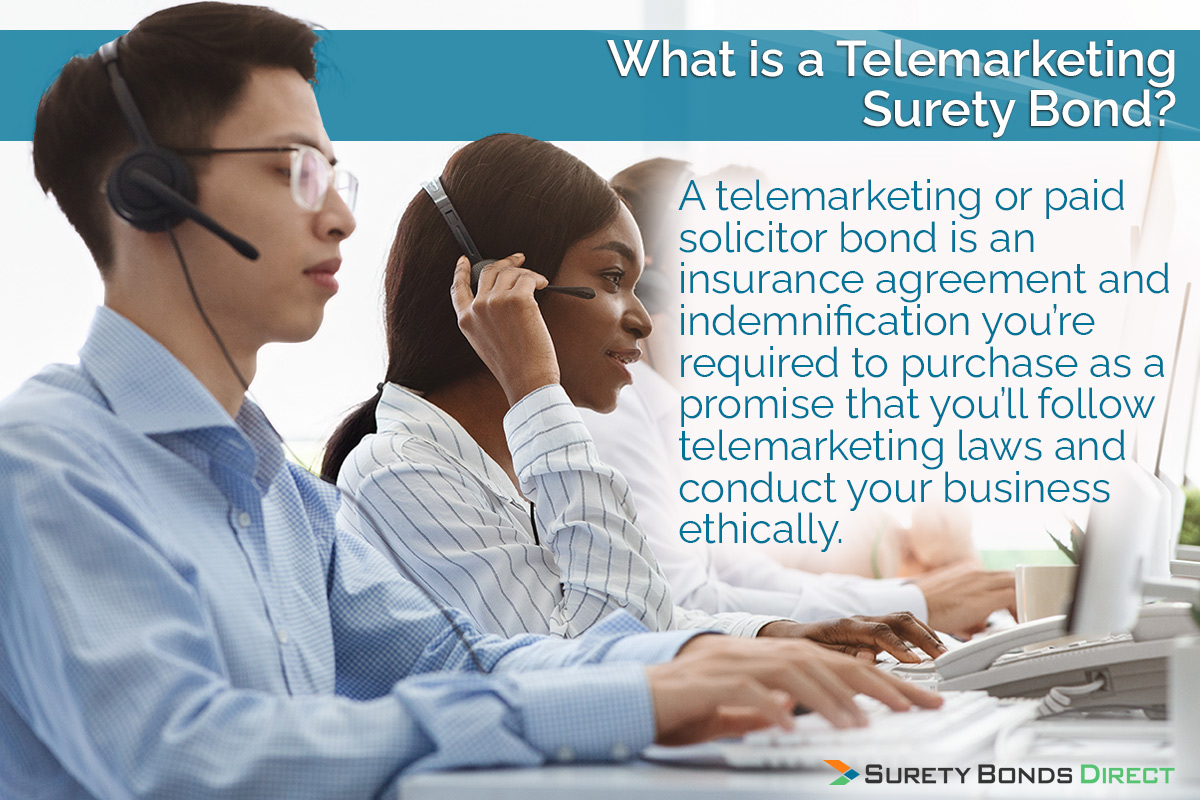 It's common to wonder, what is a surety bond? State licensing agencies don't explain this requirement in detail. They typically only tell you to "purchase a surety bond."
A surety bond, or in this case, a telemarketing bond or charitable paid solicitor bond is an insurance agreement and indemnification you're required to purchase as a promise that you'll follow telemarketing laws and conduct business ethically.
Think of a telemarketing bond, like purchasing an insurance policy. However, rather than insurance to protect you and your business, you're required to purchase the surety bond to protect the public you will be calling on.
As mentioned above, the telemarketing industry is highly regulated requiring telemarketers to:
Make specific disclosures of material information
Refrain from misrepresentation
Abide by times telemarketers can call on consumers or donors
Respect consumers or donors who ask to not be called
Set payment restrictions for the sale of certain goods and services
Plus, each individual state has its own requirements. Since the industry is strictly regulated, many states require telemarketing bonds only for charitable organizations.
What Does a Telemarketing Bond Protect Against?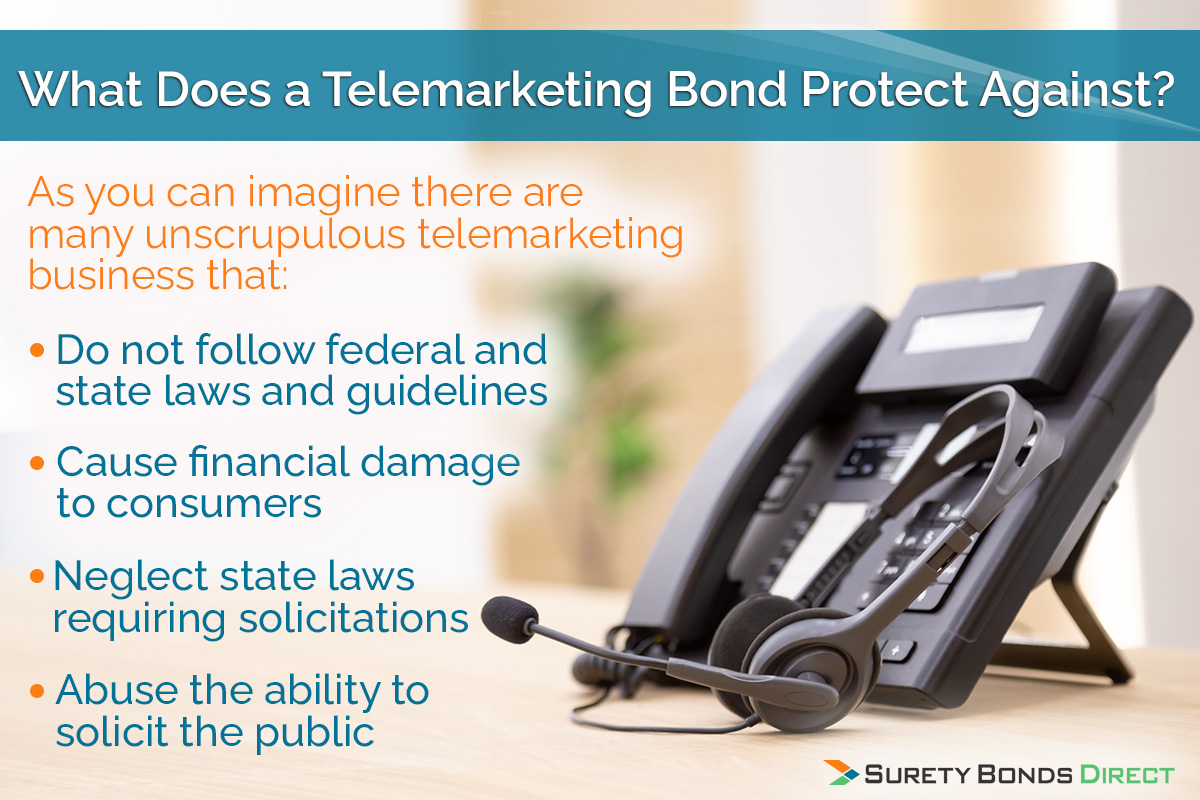 As you can imagine there are many unscrupulous telemarketing business that:
Do not follow federal and state laws and guidelines
Cause financial damage to consumers
Neglect state laws requiring solicitations
Abuse the ability to solicit the public
The telemarketing surety bond provides consumers or donors harmed, both financially and non-financially (from continued harassment), an avenue to recoup any losses or damages.
The financial limit for any damages is determined by the bond amount which is also sometimes referred to as the "bond limit" or "bond penalty."
The Telemarketing Bond Amount And Price
The bond amount is the amount of protection available to consumers or donors when they are damaged by telemarketing activities. Each state sets its requirement for the bond amount.
The price of a surety bond is determined by a rate quoted from a surety. A surety is the insurance company that writes bonds.
This rate multiplied by the required bond amount is the price to purchase the bond.
In most cases the rate will be quoted based on your:
Personal credit history
Business and industry experience
Prior bond claim history, if any
Here's a table giving example prices based on an example $20,000 bond amount.
| Bond Amount | Surety Bond Rate | Price You Pay |
| --- | --- | --- |
| $20,000 | 0.5% | $100 |
| $20,000 | 1% | $200 |
| $20,000 | 2% | $400 |
| $20,000 | 3% | $600 |
How to Purchase a Telemarketing Bond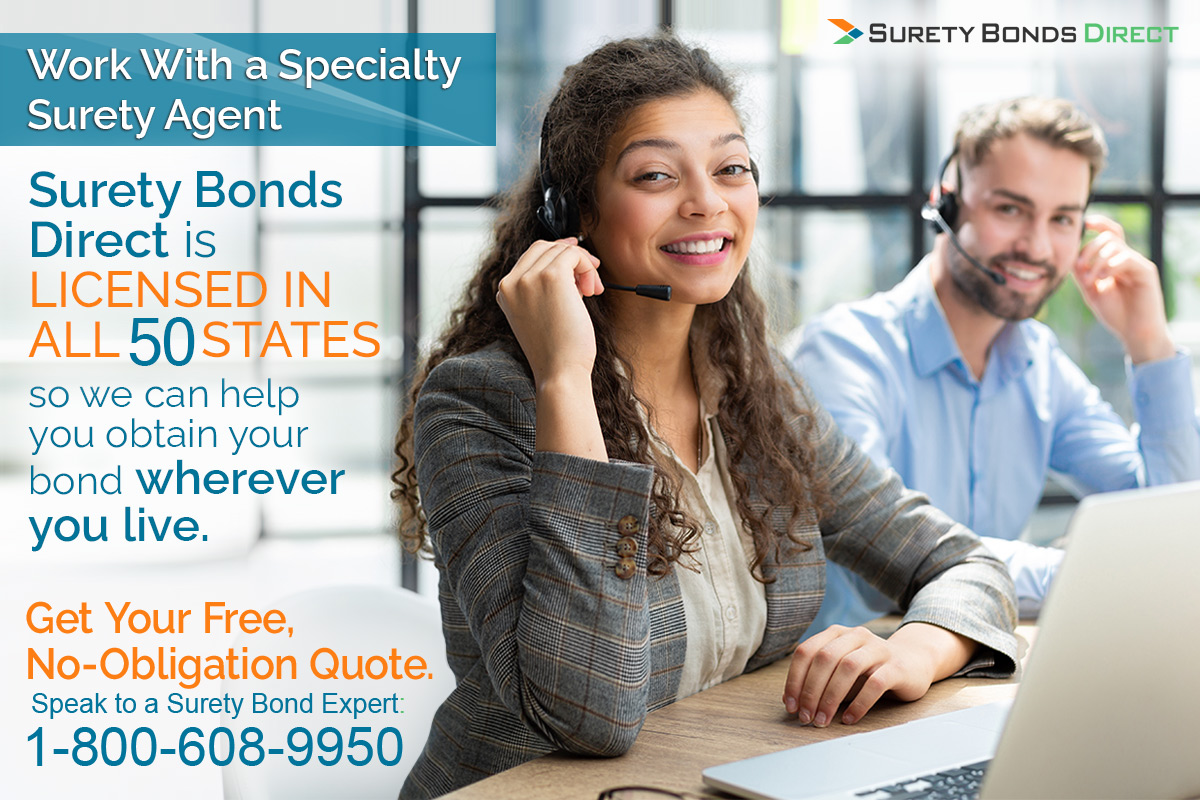 To purchase a telemarketing bond for the lowest possible price, work with a specialized surety agency like Surety Bonds Direct.
A specialized surety agency works with multiple sureties and is capable of obtaining multiple quotes to find the lowest rate. It doesn't sound like the quotes would be that different, but we've found these rates can vary greatly.
By using a specialized surety agency like Surety Bonds Direct you can save hundreds of dollars purchasing your bond.
Examples Of Telemarketing Bonds From Different States
Below are examples from a variety of states. If you don't see your state listed, it does not mean your state does not require this bond. First check with our telemarketing bond page. Even then, it's still good to check with your state as rules, regulations, laws change all the time.
South Carolina Charitable Solicitor Bond
South Carolina has a Charitable Funds Act that regulates the activities of state charities. One of these requirements is a $15,000 telemarketing bond or a cash deposit of $15,000. According to South Carolina law, the bond protects from losses due to:
Malfeasance (legal wrongdoing)
Nonfeasance (failure to perform an act according to the law)
Misfeasance (a wrongful transgression)
This is a good example of how a bond can save money. The price to purchase the bond is far lower than tying up $15,000.
Georgia Paid Solicitor Bond
The Georgia Secretary of State regulates paid solicitors. Any paid solicitor who has legal control over any contributions collected must submit a $10,000 surety bond.
While "paid solicitor" sounds like any telemarketer, Georgia limits this definition and bond to charitable organizations.
Florida Commercial Telephone Sales Bond
Florida regulates commercial telephone sales and and business entities offering substance abuse marketing services.
Florida requires a minimum $50,000 bond amount, letter or credit, or certificate of deposit. Notice the bond amount in Florida is a minimum. This means the business license application will be reviewed and based on the telemarketing activities, a larger bond amount may be required.
North Carolina Professional Solicitor & Charitable Bond
North Carolina's Department of Revenue regulates solicitors, mostly charitable entities. The bond requirements depend on the amount of contributions received the prior fiscal year.
| Contribution Amount | Bond Amount |
| --- | --- |
| Less than $100,000 | $20,000 |
| $100,000 to less than $200,000 | $30,000 |
| $200,000 and above | $50,000 |
California Telephonic Seller & Telemarketer Bond
California regulates telephonic sellers. A telephonic seller is a telemarketer deemed to do business in the state if the seller solicits any prospective purchaser with legal addresses in the state. Telephonic sellers are required to have a $100,000 surety bond.
Colorado Paid Solicitor Bond
Colorado regulates paid solicitors including charities and any paid solicitation. The amount of the bond in Colorado is $15,000.
Pennsylvania Telemarketer & Charitable Solicitation Bond
Pennsylvania regulates professional solicitors through The Solicitation of Funds for Charitable Purposes Act. Like many states, only charitable organizations are required to purchase a surety bond through this act. The bond amount is $25,000.
Pennsylvania also has a Telemarketer Registration Act (Act #147) which mandates that any business using the telephone to induce the purchase of goods and services is required to purchase a $50,000 bond.
Remember, each state has its own unique laws and requirements. Make sure you check with the appropriate state department for the specific requirements you will have to follow.
Get The Lowest Priced Telemarketing Surety Bond
When you're ready to get pricing for your telemarketing surety bond, use our free bond quote form. It only takes about two minutes to complete. Your bond specialist will receive your quote request and email or call you back with pricing. It typically takes under one business day to collect rates from multiple sureties and issue your bond.
If you'd prefer to speak with a bond specialist immediately, call 1-800-608-9950. Your bond specialist can answer any questions you have and get the quote process started.