California Cannabis Bonds – Different Types, Agency Requirements, and More
Cannabis isn't just another consumer good: many different California regulations affect how, where, when, and by whom cannabis can be sold.
With medical and recreational marijuana both legal in California, this relatively new industry is flowering in the Golden State. Hundreds of dispensaries, manufacturers, and cultivators have opened throughout California in an explosion of new businesses, products, and business models. With the market booming/blooming, it could be the perfect time to start a California cannabis business.
However, cannabis isn't just another consumer good. Many different California regulations affect how, where, when, and by whom cannabis can be sold. Thus, budding business owners will first need to make sure that they've obtained the necessary California cannabis licensing and cannabis surety bonds. In this article, we'll discuss the key basics of getting a recreational license or medical marijuana business license in California, including how cannabis bonds work and how to get one. We'll start with a closer look at how California regulates both recreational and medicinal cannabis sales.
The Three California Cannabis Regulatory Agencies
California regulates its cannabis trade primarily through three agencies:
Bureau of Cannabis Control (BCC): The BCC is California's primary cannabis regulatory agency. All cannabis distributors, retailers, microbusinesses, and testing labs must be licensed through the BCC. The BCC also regulates miscellaneous marijuana-related ventures such as cannabis consumption events.
Manufactured Cannabis Safety Branch (MCSB): The MCSB is a division of the California Department of Public Health that regulates manufactured cannabis products. They primarily regulate the manufacturing and sale of cannabis-infused consumer products and cannabis concentrates.
CalCannabis Cultivation Licensing: CalCannabis is a division of the California Department of Agriculture that regulates commercial cannabis cultivation in California. They're also responsible for the California system that tracks and traces all legally farmed cannabis, from the seed to its point of sale, to the end-user.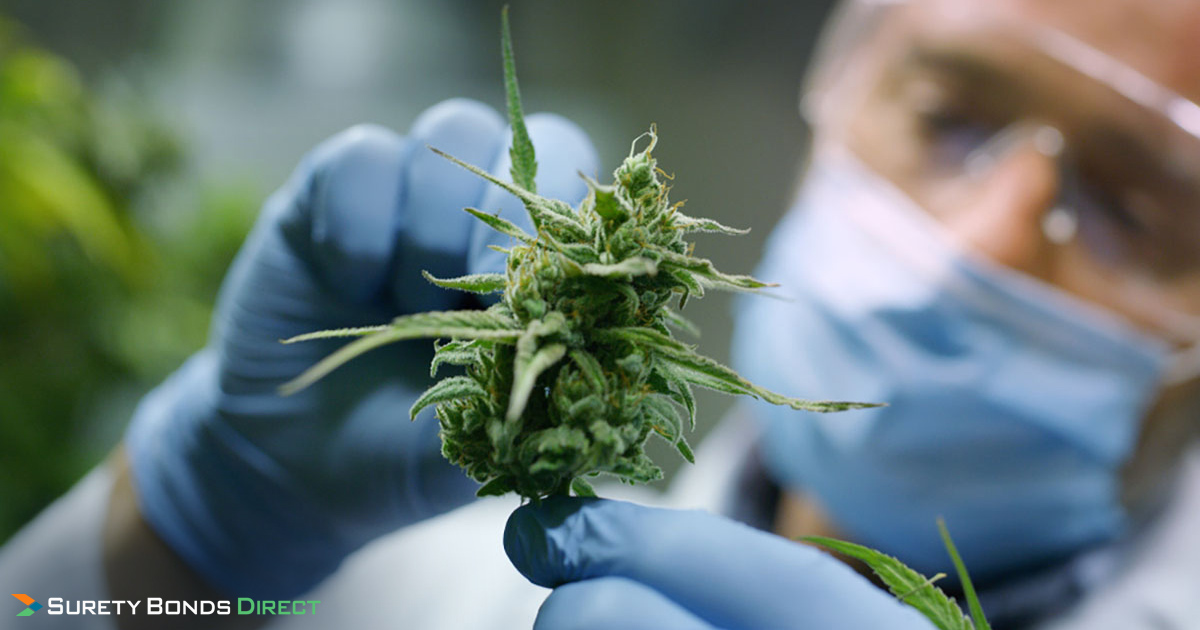 These agencies control the process of becoming a licensed seller of legal cannabis in California. Next, we'll investigate the various types of licenses that California cannabis businesses need to operate legally.
Types of California Cannabis Licenses
First, aspiring cannabis business owners will need to decide whether they need to get a recreational marijuana or medical marijuana business license in California. A California cannabis business can have one or both of these two types of licenses:
Adult Use (A-License): For businesses selling recreational products to adult users
Medicinal (M-License): For businesses selling medicinal products to adult users with a California medical cannabis card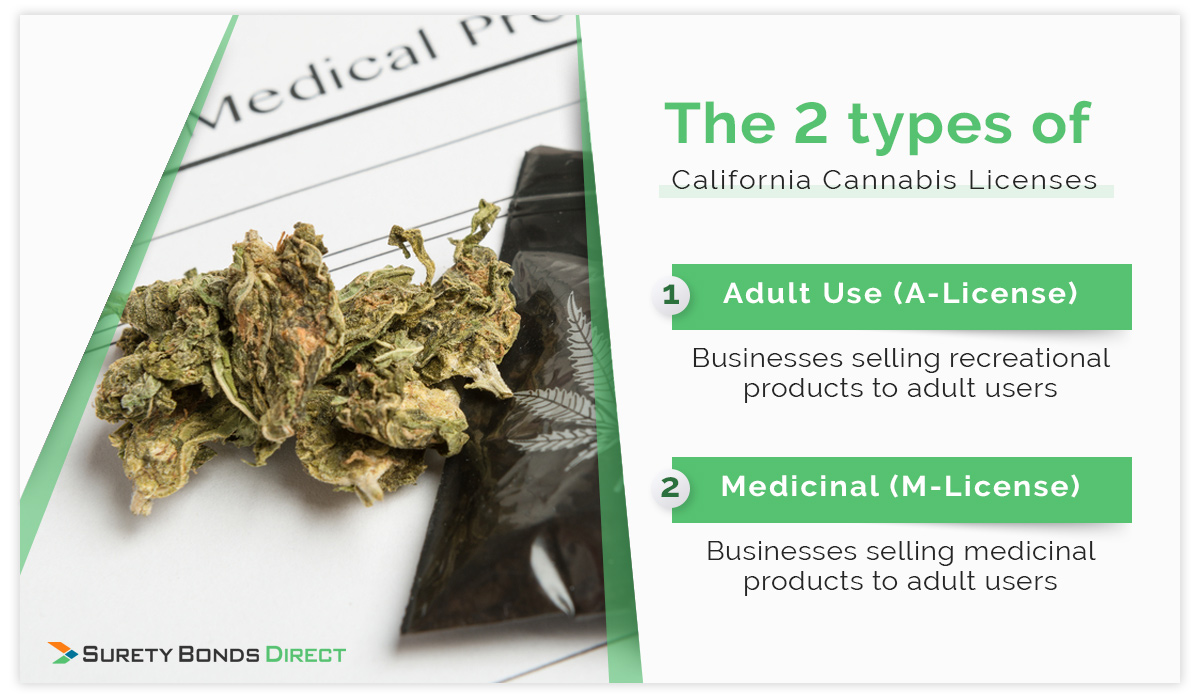 Beyond the question of adult-use and medicinal sales, California cannabis business licenses are also divided by business type. The following are the basic types of California cannabis licenses:
Cannabis Cultivator (Type 1/Type 2/Type 3/Type 4): Businesses that grow and harvest cannabis for sale to dispensaries, manufacturers, and other businesses. A cultivator may have any of ten different cannabis license types and subtypes, depending on the methods that they use to grow cannabis and total size of the canopy area of plants grown. The license subtypes are as follows:

Type 1: Outdoor, natural light only, less than or equal to 5,000 square feet
Type 1A: Indoor, artificial light only, less than or equal to 5,000 square feet
Type 1B: Mixed artificial and natural light, less than or equal to 5,000 square feet
Type 2: Outdoor, natural light only, between 5,001 and 10,000 square feet
Type 2A: Indoor, artificial light only, between 5,001 and 10,000 square feet
Type 2B: Mixed artificial and natural light, between 5,001 and 10,000 square feet
Type 3: Outdoor, natural light only, between 10,001 and 22,000 square feet
Type 3A: Indoor, artificial light only, between 10,001 and 22,000 square feet
Type 3B: Mixed artificial and natural light, between 10,001 and 22,000 square feet
Type 4: Nursery cultivation, including the transportation of live plants

Cannabis Manufacturer (Type 6/Type 7): Businesses that manufacture cannabis-infused consumer products—including food, beverages, and personal care products—or cannabis concentrates—such as oil, wax, or resin. Depending on your manufacturing methods, you'll need either a Type 6 license if you use non-volatile solvents or a Type 7 license if you use volatile solvents.
Cannabis Testing Laboratory (Type 8): Businesses that test cannabis products for purity, potency, and safety. These businesses must be accredited under the ISO/IEC 17025 standard for testing and calibration laboratories, and they may not hold an interest in any other kind of cannabis venture. A Type 8 license allows a business to test either adult-use or medicinal cannabis products.
Cannabis Retailer (Type 9/Type 10): A business that sells cannabis products in a retail environment, often called a dispensary. This can be a storefront business (type 10) or a delivery-only non-storefront business (type 9).
Cannabis Distributor (Type 11/Type 13): Businesses that distribute cannabis from cultivators to retailers. This can be a distributor that transports cannabis products from one licensee to another (Type 11)—including retailers—or it can be a transport-only distributor (type 13) that can transport cannabis goods between any type of licensee except retailers.
Cannabis Microbusiness (Type 12): Businesses under a certain size that combine multiple functions of other cannabis business types. A microbusiness must engage in at least three of the four main cannabis business activities—cultivation, distribution, manufacturing, and retail.
Cannabis Event Organizer (Type 14): Businesses that organize events which will include the sale and/or consumption of cannabis.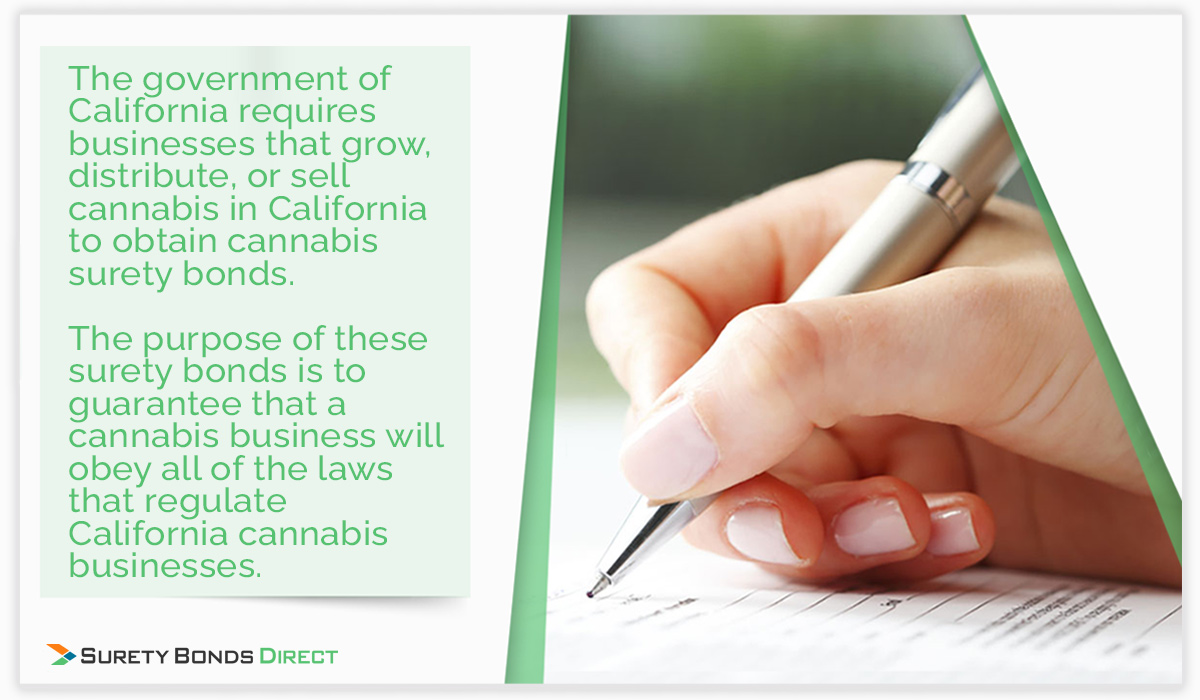 In most cases, each of these license types can be either an A-license or an M-license and, in some cases, a cannabis business may have more than one type of license. For example, a dispensary business would need both a Type 10M license and a Type 10A license if they sell their products to both medicinal and adult-use customers. Cannabis businesses will also need to apply for a separate license for every location where they operate. Now that we've seen a brief overview of how the licensing system classifies different businesses, let's look at the California cannabis licensing process itself.
The Licensing Process for California Marijuana Businesses
The cannabis licensing process varies for each type of cannabis license and each type of business. However, all licensing is done through the three primary regulatory agencies mentioned above. No matter which agency (or agencies) a business has to apply through, the business owner will have to submit at least the following:
Business plan
Financial statements including records of all funds the business currently holds, as well as documentation of all investors, creditors, and loans
Inventory control plan
Security plan
Quality control and record-keeping plans
Business premises information, including floor plans and leasing or purchase agreements
Proof of a $5,000 cannabis surety bond
Criminal background checks and fingerprinting for owners and employees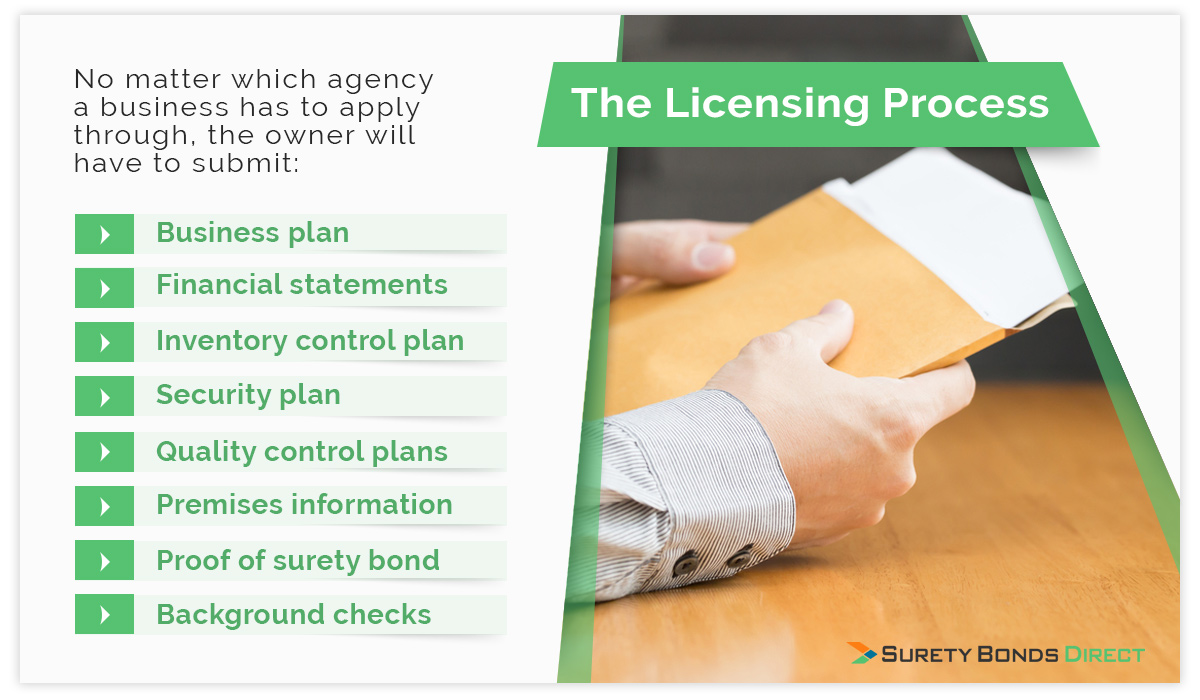 Beyond these documents, you'll also need to submit documents specific to your type of cannabis business. Cannabis cultivation businesses, for instance, will need to submit plans for water supply management and pesticide safety to CalCannabis.
You'll also need to pay cannabis licensing fees to the state of California. These vary widely by the type of cannabis license you're applying for and your expected annual revenues. Small cannabis businesses with revenues under $500,000 may have fees under $5,000, while large businesses with revenues in the millions of dollars may have to pay $100,000 or more in fees.
Getting a California cannabis surety bond is a crucial part of the cannabis licensing process. Next, we'll look at what a California cannabis bond does and why the state requires cannabis businesses to have one.
How California Marijuana Bonds Work
The government of California requires businesses that grow, distribute, or sell cannabis in California to obtain cannabis surety bonds. The purpose of these surety bonds is to guarantee that a cannabis business will obey all of the laws that regulate California cannabis businesses.
Let's quickly review some important questions, namely: What is a surety bond and how does a surety bond work? A surety bond is a legally binding agreement between three parties that guarantees the obligation of one party—usually a business or individual—to another—usually a government agency. Here's how the three roles interact:
The principal, in this case, the cannabis business, purchases the bond, at the obligee's request as part of a licensing or permitting process.
The obligee, in this case, the state of California, requires the principal to purchase the bond and has the power to make a claim against the bond.
The surety, a business that specializes in surety bonds, writes the surety bond, investigates claims against the surety bond, and pays valid claims against the surety bond if the principal is unwilling or unable to pay.
One more key fact about all surety bonds: The principal has to pay back any money that the surety pays to the filer of a claim. That means that, ultimately, the responsibility for paying the claim still rests with the principal. Thus, although many sources refer to surety bonds as a type of insurance, they're more similar to a line of credit to enforce a warranty that's designated for use under specific circumstances.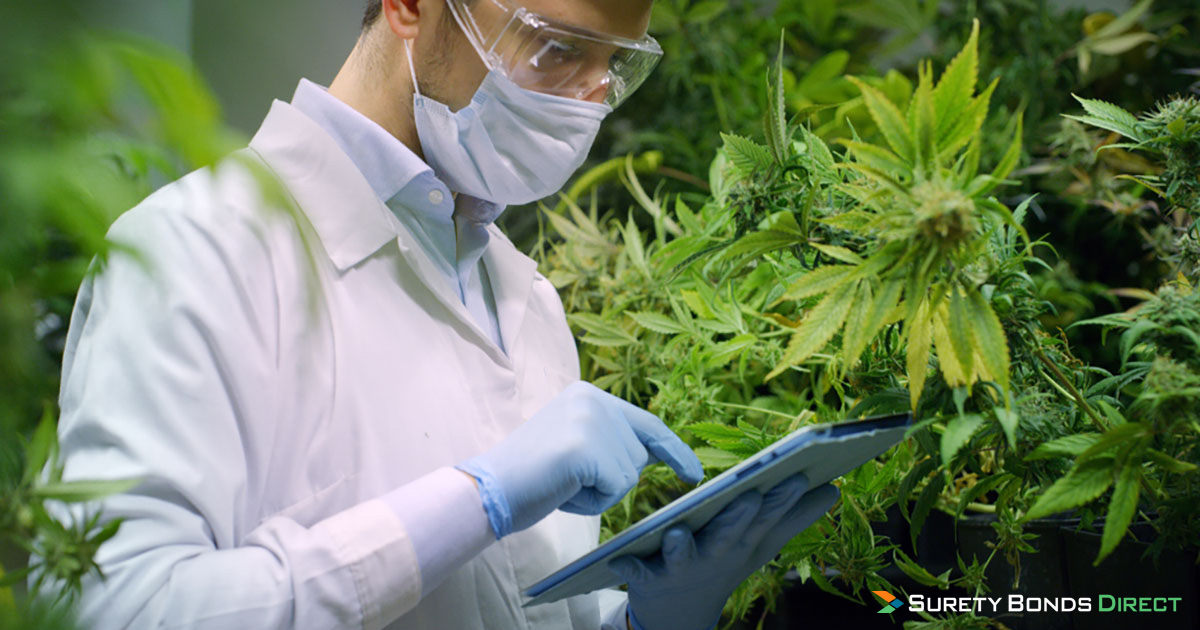 What Does a California Marijuana Bond Protect Against?
In the case of California cannabis surety bonds, the bond may serve any of several purposes, depending on the specific bond type. Some common functions of a California cannabis bond include:
Ensuring a cannabis business's compliance with all relevant parts of the Medical and Adult-Use Cannabis Regulation and Safety Act (MAUCRSA)
Guaranteeing that the cannabis business will pay all required California cannabis taxes on time and in full
Guaranteeing that the cannabis business will operate honestly, ethically, and in compliance with all relevant laws
Reimbursing the state of California for money it spends to destroy cannabis products manufactured or sold by a business in violation of the law
Most cannabis businesses will never need to worry about claims on their cannabis surety bond. However, if a California cannabis business doesn't honor its obligations to the law, a cannabis bond provides a way for the obligee to receive redress quickly and in an orderly fashion.
Types of California Marijuana Bonds
The numerous types of cannabis businesses are consolidated into five types of California cannabis surety bonds, which are: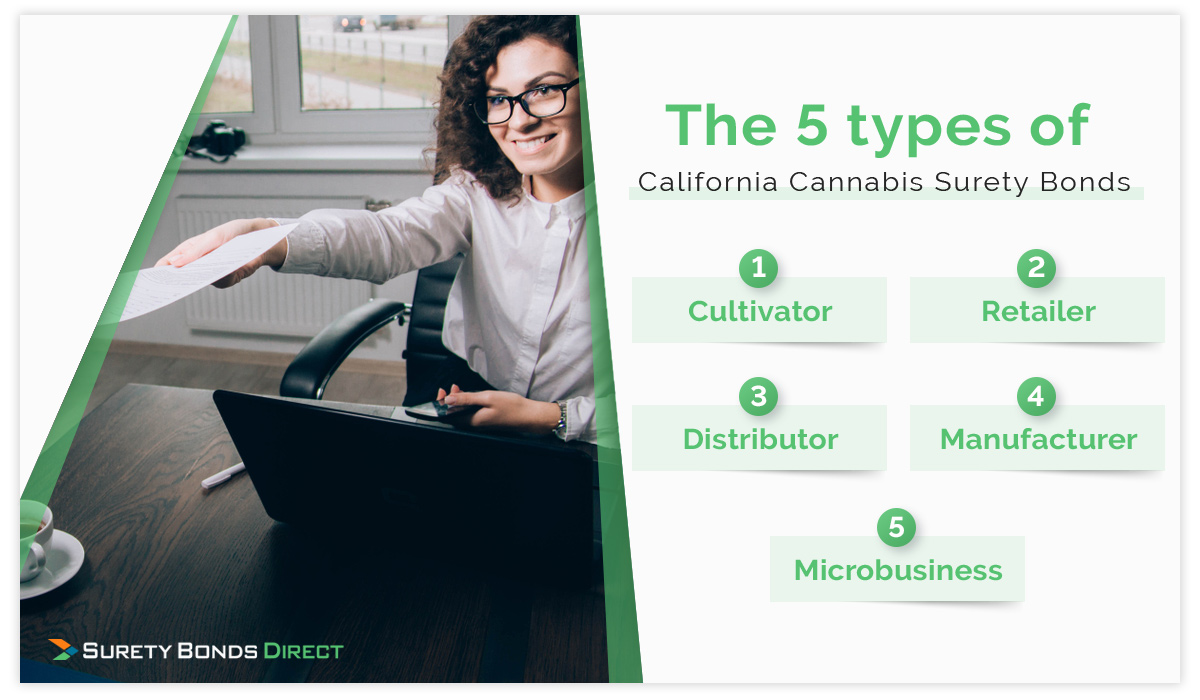 California Cannabis License Bond – Cultivator
California Cannabis License Bond – Retailer
California Cannabis License Bond – Distributor
California Cannabis License Bond – Manufacturer
California Cannabis License Bond – Microbusiness, Testing Lab, Event Organizer, or Other
Each type of cannabis bond has the same required coverage amount of $5,000. This is the maximum amount that the surety will pay to the filer of a claim. However, cannabis cultivators type 2,3, & 4 may require multiple $5,000 bonds based on the total square feet. For example, A type 3 cultivator with 14,000 square feet will most likely be asked to furnish 3 $5,000 surety bonds. This requirement will likely evolve to a single $15,000 bond, but at the time of writing, the overall bond requirement is only a few years old and no significant revisions have been made.
There's one more type of California cannabis surety bond that you should also be aware of: city and county cannabis bonds, which may be required in the jurisdiction where your cannabis business will operate.
City and County California Cannabis Surety Bonds
Cities and counties in California can also regulate cannabis within their jurisdictions. Every city and county in California has different cannabis laws, which may include requirements for cannabis businesses above and beyond what's required by the state. The following California cities and counties are some of the most notable that require additional cannabis surety bonds:
City of Coalinga
City of Lake Elsinore
City of Los Angeles
City of Palm Springs
City of Shasta Lake
Mendocino County
San Bernardino County
Yolo County
However, cannabis laws are still evolving in many parts of California, so any aspiring cannabis business owner must take the time to research local laws in their area and learn how to stay in compliance.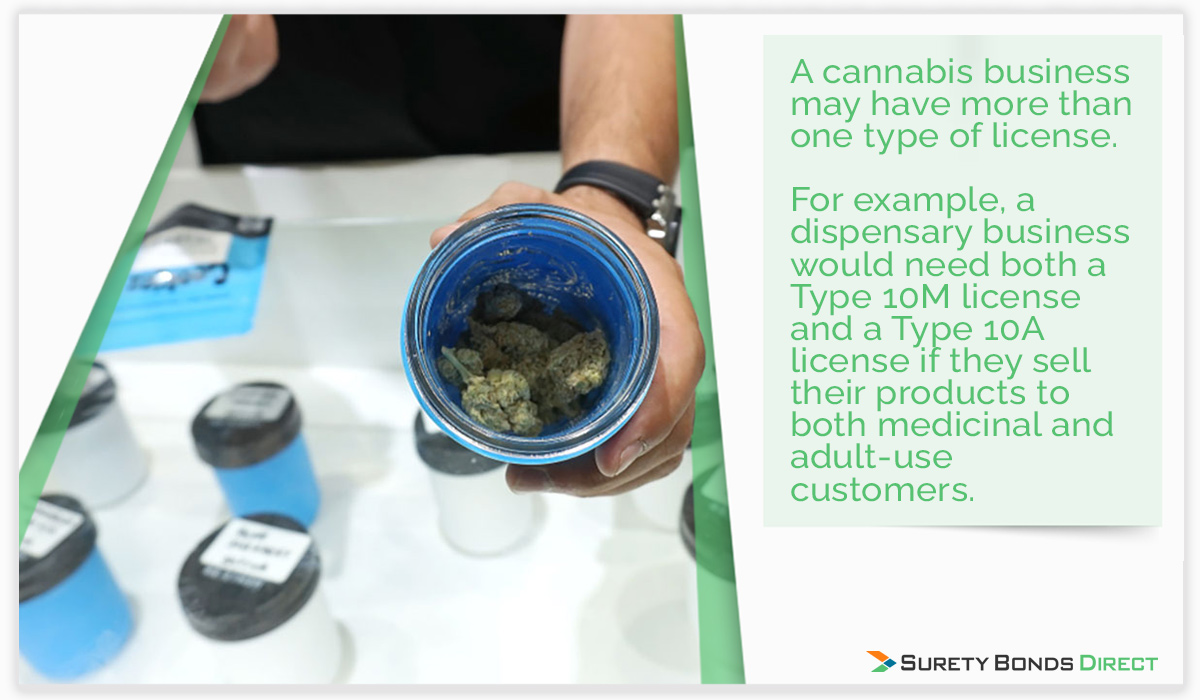 Cost of a California Marijuana License Bond
As previously mentioned, each type of California cannabis license surety bond has a required penalty sum of $5,000. However, a surety bond buyer doesn't pay the whole penalty sum. Instead, they pay a premium that's a fraction of the total penalty sum.
Almost all state-level California cannabis license surety bonds are available from Surety Bonds Direct for an instant purchase price of $100.00. Unlike some other types of surety bonds, the surety bond cost that the principal pays for a California state cannabis bond does not depend on the principal's credit score.
City and county cannabis license surety bonds must each conform to a specific set of laws that may vary from state cannabis surety bond laws. Thus, premiums for these cannabis surety bonds can also vary, and your credit score may affect the premium you pay for a local cannabis surety bond. However, note that options are available for getting a surety bond with bad credit.
How to Get Your California Marijuana Bond
With Surety Bonds Direct, the process for getting most California cannabis surety bonds is straightforward:
Find and click the type of California cannabis bond that you need.
Enter basic information about your cannabis business and your financial history.
Pay the premium ($100 in most cases).
Surety Bonds Direct will send you the necessary bond paperwork via email.
Sign your bond paperwork and file it with your application to the relevant California cannabis regulatory agency.
Our friendly service from surety bond experts makes the whole process fast and painless. Plus, we offer city and county cannabis surety bonds at low premium rates, thanks to our wide network of sureties and our exclusive focus on surety bonds. If you need a city or county cannabis bond, contact us today for a free, no-obligation surety bond quote.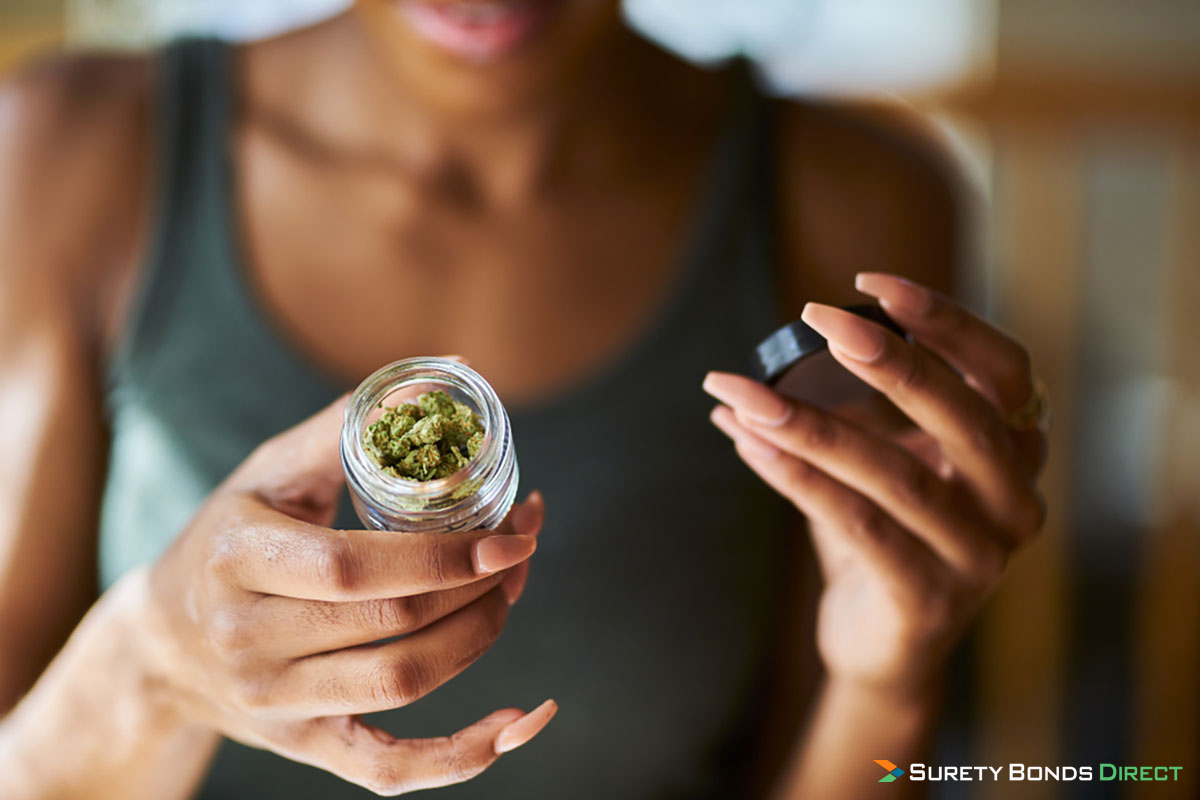 Surety Bonds Direct offers the fastest and simplest way to get the California marijuana bond that will allow you to enter this fast-moving and innovative market. Ready to get started? Find the California cannabis surety bond you need or call us at 1-800-608-9950 for more information.
January 22, 2021

Jason O'Leary