Independent freight brokers have a lot of responsibilities to get their business up and running. Probably the most confusing are the insurance requirements. Some policies make sense, others seem unnecessary, and some requirements like a surety bond may be a brand new concept.
This short article will:
Outline the insurance policies freight brokers need
Explain the FMCSA surety bond requirement
Explain how each insurance policy fits into the day to day of a freight broker
Go over optional and general insurance coverage that may make sense for a freight broker business
Freight Broker Surety Bond Requirement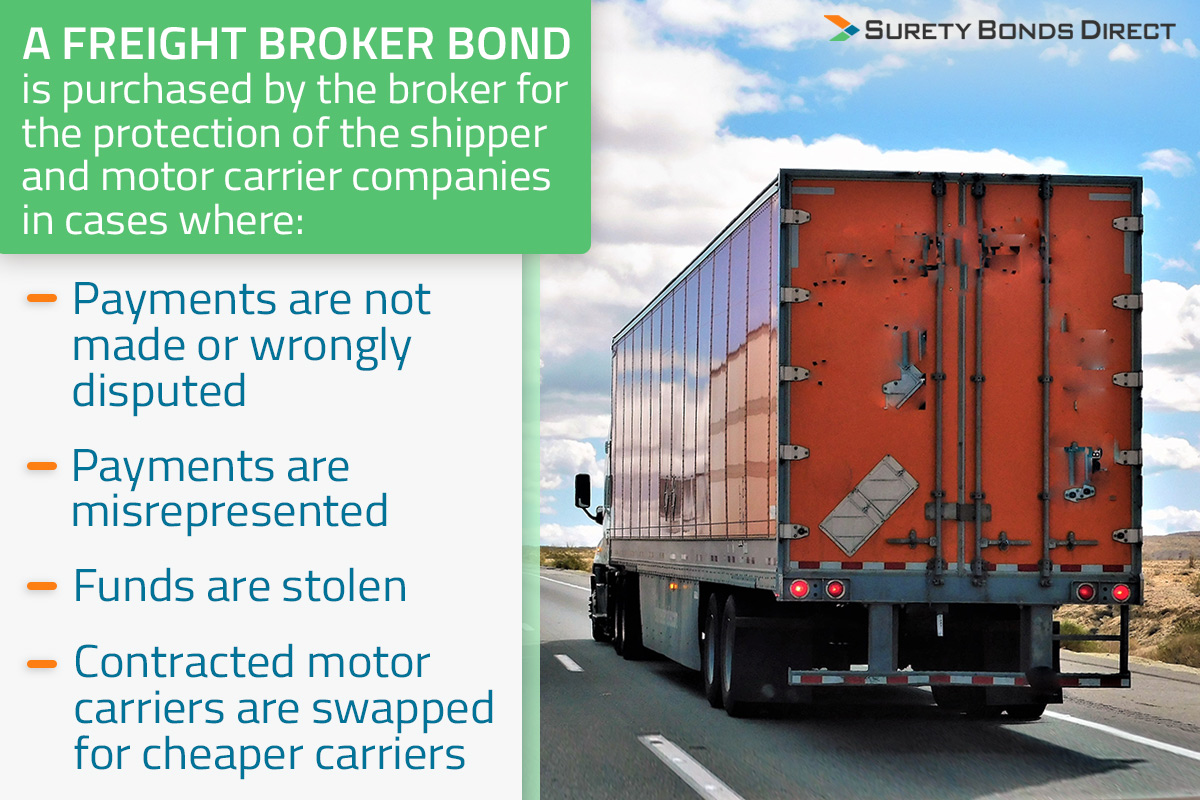 The first "insurance" like instrument is the required freight broker bond, BMC-84 bond, necessary to get licensed. A freight broker bond, or surety bond, is a different kind of insurance.
Unlike "traditional" insurance policy that protects the broker, a freight broker surety bond protects the customers (the shipper and motor carriers) in the case of purposeful negligent acts committed by the freight broker. The freight broker, purchasing the bond, is known as the principal on the freight broker (BMC-84) bond.
Freight brokers are licensed by the Federal Motor Carrier Safety Administration (FMCSA) as transportation experts, shippers can count on to help facilitate their shipping needs. The FMCSA is vouching for the brokers they issue licenses to. The FMCSA realizes that brokers can wittingly commit fraud against shippers and motor carriers, so the FMCSA requires all brokers to purchase a surety bond to protect the shippers and motor carriers.
The freight broker surety bond is purchased by the broker for the protection of the shipper and motor carrier companies in the case where:
Payments are not made or wrongly disputed
Payments are misrepresented
Funds are stolen
Contracted motor carriers are swapped for cheaper carriers
This sounds like an errors and omissions policy with one key difference. A freight broker surety bond offers financial recourse for fraudulent acts committed on purpose. Remember, E&O insurance covers accidental errors. Plus freight broker bond requirements are legally mandated by the Federal government and the FMCSA for brokers.
2 Important Freight Broker Insurance Requirements
The following insurance products are all required and important freight broker specific policies. The following policies and bonding requirements are the bulk of freight broker license costs.
1. Vicarious (Contingent) Auto Liability
When a motor carrier gets in an accident during a trip, setup by a broker, it's very possible the freight broker could be found liable for personal injuries or property damages caused by the accident.
Vicarious liability in a general sense is when an employer or in this case the freight broker bears risk for the actions of the third party they're conducting business with. It sounds crazy but insurance companies have found freight brokers can do too much to help a motor carrier get set for a shipment. In these cases, because the freight broker was so involved in the process, they were found liable for the accident.
On the flip side, if a freight broker does not conduct enough due diligence when hiring a motor carrier for a job, any liability for an accident can be extended to the broker. This is why having the right agreements are vital during the course of setting up these shipping relationships.
Both of these scenarios are when vicarious or contingent auto liability coverage is required. Contingent auto liability will help with the legal processes and costs arising from a lawsuit. Through our research, it's common to have coverage up to $1,000,000 per occurrence.
2. Vicarious (Contingent) Cargo Insurance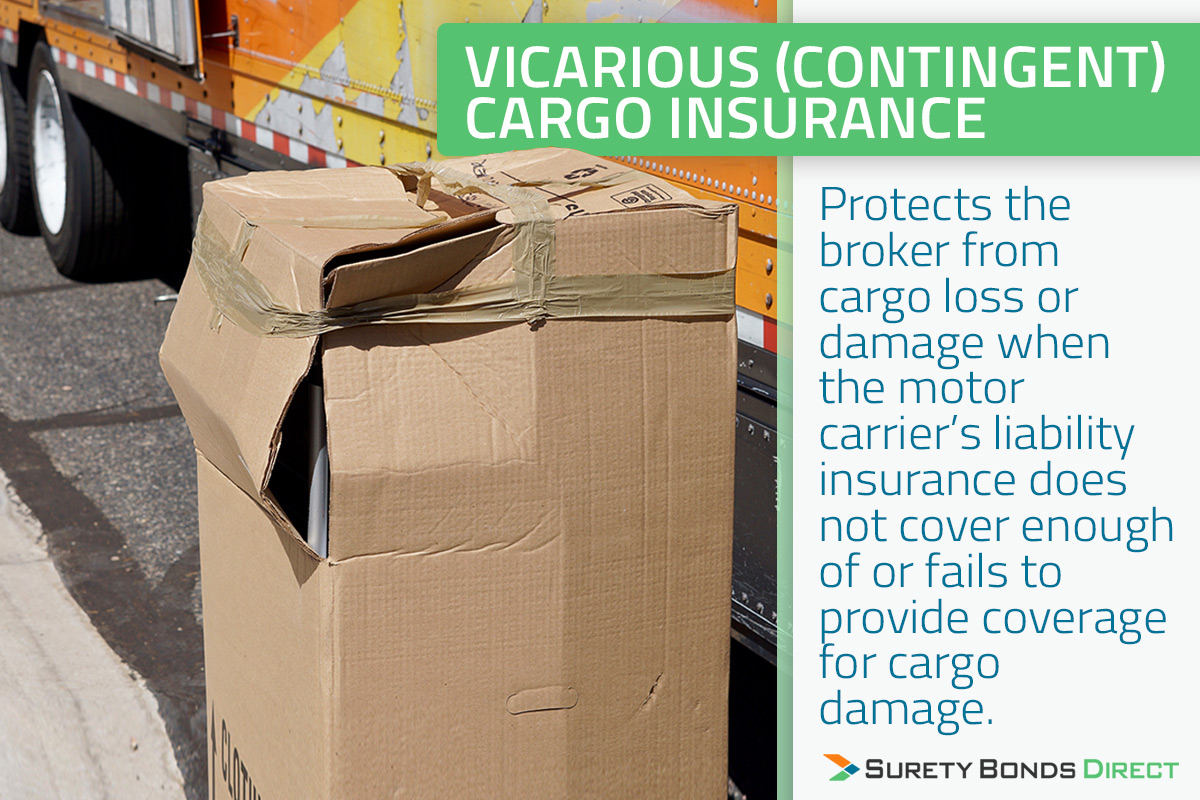 If vicarious auto protects the freight broker from lawsuits regards public injury and property damage, contingent (vicarious) cargo protects the broker from cargo loss or damage when applicable.
In a general sense, there are many scenarios where the motor carriers liability insurance does not cover enough of or fails to provide coverage for cargo damage. Plus determining replacement value or coverage value of cargo varies based on the motor carrier's liability insurance. There's almost always a gap between the real value of the cargo and the calculated value according to the carrier's liability insurance company.
Contingent cargo insurance from the broker will help cover the additional cargo loss beyond the figure determined by the motor carrier's policy. Contingent cargo closes the gap in cargo value damaged during an accident.
There is a policy called all-risk contingent cargo. All-risk is a higher level of cargo insurance that protects the full-value of the cargo. This insurance is purchased on a per project basis and the responsibility of cost is typically passed to the shipper.
General Freight Broker Insurance Recommendations
Some of these policies may or may not be required based on how you set up your business. Yet, these are common business insurance policies most freight brokers purchase.
1. General Liability (Recommended)
General liability is an insurance policy that covers third party injuries occurring on your property. Typically, you only need this if you have an office where you're conducting business with visiting third parties.
It's important to understand general liability coverage has nothing to do with the freight brokers interactions with the motor carriers, shippers, and the cargo being shipped.
2. Property (Renters) Insurance
Property (renters) insurance is purchased if you rent office space. These policies protect your personal office property in the case of fire damage, flood or water damage, and theft.
Like general liability, property insurance is only required if and when you rent your own office space.
3. Workers Compensation
Workers compensation policies protect you from employees who sustain injuries while on your business property. Obviously this is only required when and if you hire employees as you grow your business.
4. Errors and Omissions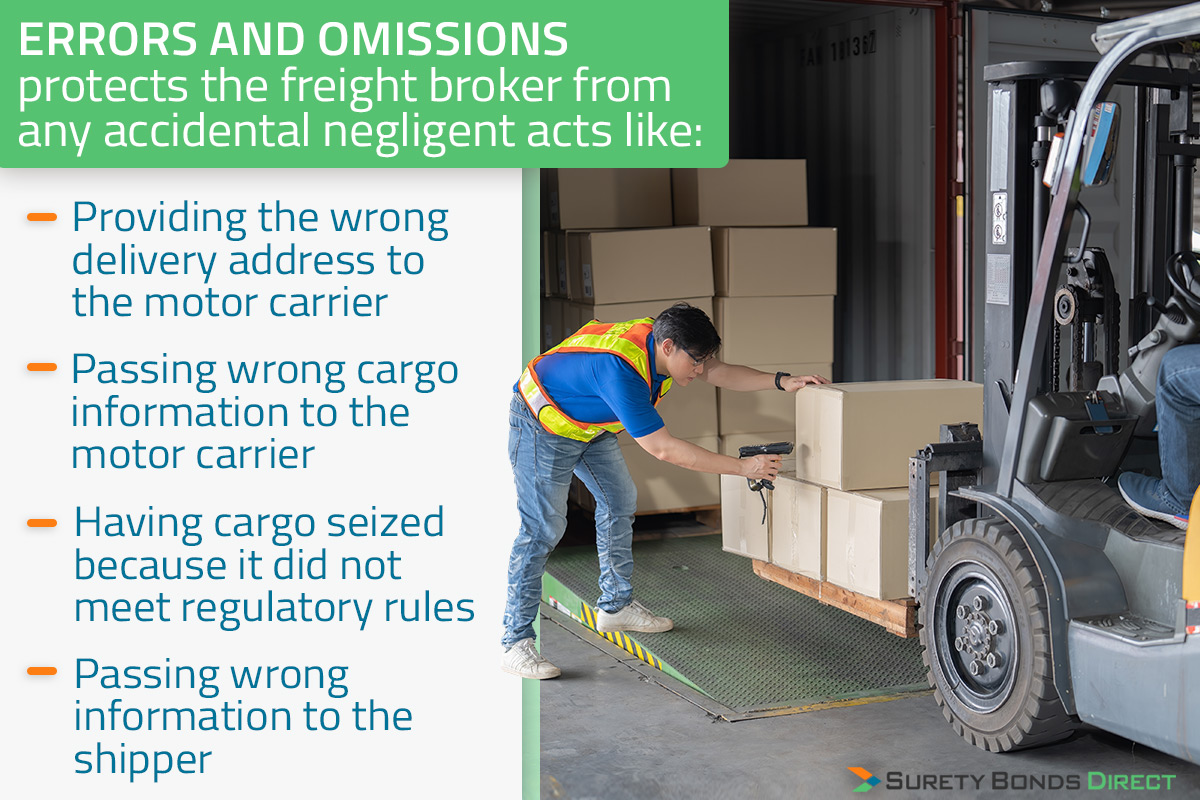 Errors and omissions (E&O) policies are used across many business niches. While this insurance type is general in nature it's an insurance type all freight brokers should purchase.
Errors and omissions protects the freight broker from any accidental negligent acts. These might include:
Providing the wrong delivery address to the motor carrier
Passing wrong cargo information to the motor carrier
Having cargo seized because it did not meet regulatory rules
Passing wrong information to the shipper
Errors and omissions does not cover cargo integrity or loss. The key is accidental negligence during the course of business that causes loss to a motor carrier or the shipper.
The amount of coverage you need depends on the size of the contracts you're fulfilling. A good commercial agent can help you determine the appropriate amount.
E&O brings peace of mind from the shipper's perspective that their interests are protected from any haphazard mistakes that happen during the course of business.
5. Public Liability Insurance
This insurance is not required for freight brokers, but only for freight forwarders.
Because freight forwarders take possession of the cargo being shipped, the FMCSA requires them to purchase:
$750,000 to $5,000,000 depending on the cardio being transported
$300,000 for non-hazardous cargo moved only in vehicles weighing less than 10,001 pounds
This policy protects the public from bodily harm, public property like roads and structures, and the public environments from any damages caused by motor carrier accidents.
6. Cyber Liability
Nearly the entire freight industry runs through apps and network access. A cyber attack to obtain customer's data or lock data access, called ransomware, is a growing threat.
Different types of cyber liability coverage can help with:
Legal counsel to determine your liability obligations
Lost income due to business interruption
Crisis management and public relations
Costs of litigation and regulatory inquiries
Payments to customers affected by the breach
Accounting costs and more
This is not required for freight brokers but it's a policy that may serve a broker as the business grows.
Freight Broker Insurance Requirements Can Change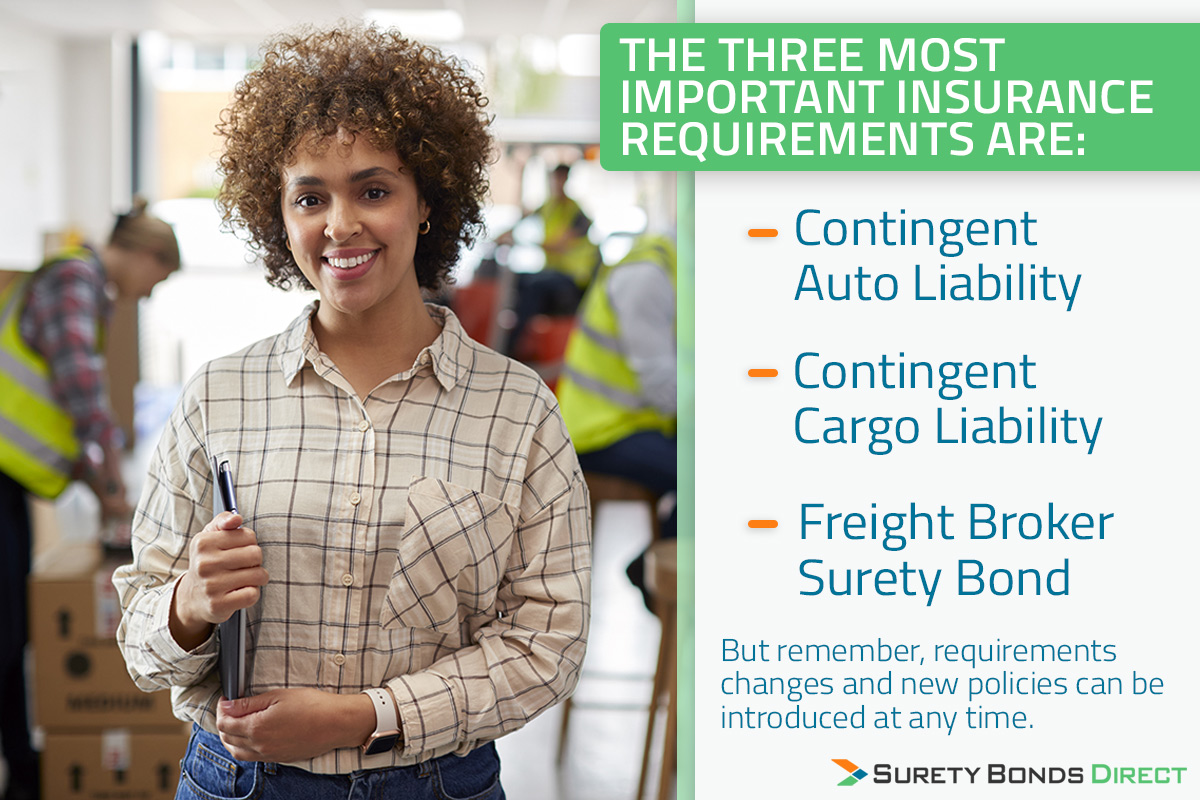 New policies are being created and other policies are sunsetted. For example, there are umbrella policies to lump a lot of these requirements together. New "Professional Liability" coverage options can also lump different insurance requirements together.
The three most important insurance requirements that directly affect the relationship with a freight broker, the shippers, and the motor carrier companies are:
Contingent auto liability
Contingent cardio liability
Freight broker surety bond
Remember if you take on the responsibilities of a freight forwarder, many of these options change.
Surety Bonds Direct is a specialized surety bond agency with thousands of freight broker clients. We help freight brokers of all credit levels secure the lowest possible cost for the required BMC-84 freight broker bond.
When you're going through the licensing process and lining up your insurance requirements, get a free, no obligation, freight broker bond quote using our online quote form. You can also speak with a freight broker bond specialist to help you get the quote process started at 1-800-608-9950.
It typically takes one business day or less to obtain a quote and one business day to e-file your surety bond with the FMCSA.