Freight Broker Bonds (sometimes called BMC-84 Bonds, Property Broker Bonds, Interstate Commerce Commission (ICC) Bonds, or Transportation Broker Bonds) are a type of surety bond required by the Federal Motor Carrier Safety Administration (FMCSA) for those operating as transportation brokers in the United States. Freight brokers must have the surety bond filed prior to receiving a license.
The FMCSA is a federal regulatory agency that licenses, monitors and ensures industry compliance with United States motor carrier safety and commercial (for-hire, non-exempt carriers) regulations. Because freight brokers and freight forwarders deal with interstate commerce, the requirement is federal and applies to individuals and companies in every US state or territory.
Who is Required by the FMCSA to Purchase a Freight Broker Bond?
All applicants for motor carrier, freight forwarder, and broker authorities must have specific surety bond documents on file before the FMCSA will issue a license. A BMC-84 surety bond or a BMC-85 trust fund agreement in the coverage amount of $75,000 is required for all Freight Forwarder and Broker of Freight authorities.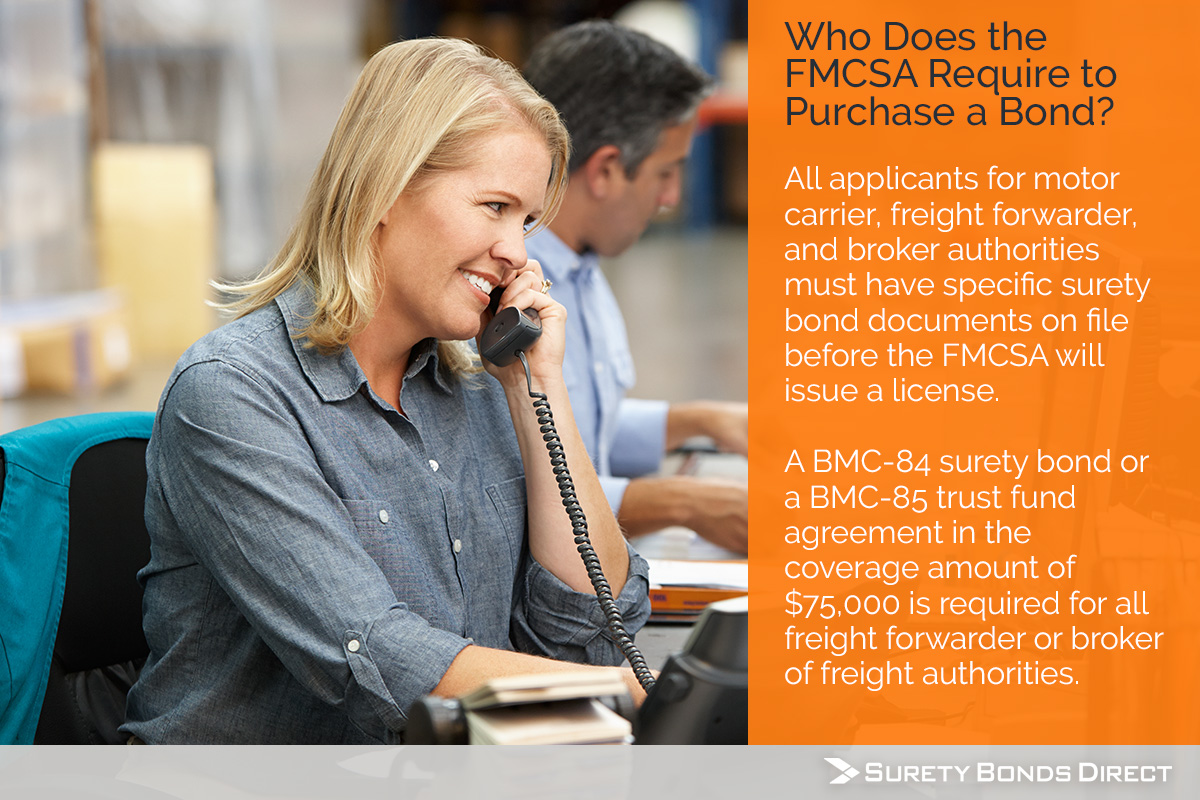 Pursuant to 49 CFR 387.307(a), a surety bond "for the full limits of liability prescribed" must be active before the FMCSA will issue property broker or household goods broker operating authority. Riders and endorsements are utilized for complying with new or changes to the $75,000 financial responsibility requirement, provided that a new BMC–84 form for the full limits of liability is on file with FMCSA. The bond requirements are in addition to filing an application for operating authority covered below.
Freight Broker Bond Prices & Coverage Amount
The current bond coverage amount (also called bond limit, or penalty) required is $75,000 regardless of the freight brokers revenue or brokered freight volume. Your premium quote -the price you will pay for the bond- is typically a small percentage of the coverage amount, typically ranging from around 1.25% to 10% of the $75,000 coverage amount. The surety bond price a freight broker will pay depends on personal credit history, financial wherewithal, and industry work experience. As with any surety bond, it is wise to take any possible steps to improve your credit score prior to applying for a freight broker bond. This is especially important for those with challenged credit.
If your company has both a broker and freight forwarder authority, only one $75,000 bond or trust fund is required as if the legal entity holding the authorities is the same. Your company will need to file separate BMC–84 forms for the broker and freight forwarder operations. However, the underlying surety bond or trust fund can be the same for both operations. If your broker and freight forwarder operations are conducted under separate but affiliated companies, each entity must furnish a separate bond or trust fund.
Freight Broker Surety Bond Coverage Specifics
A Freight Broker Surety Bond is required under 49 U.S.C. 13906 to ensure the broker fulfills and carries out all contracts, agreements, and credit arrangements for supplying transportation under the license issued by the Federal Motor Carrier Safety Administration. As mandated by the United States Department of Transportation Federal Motor Carrier Safety Administration, the surety bond contract is written on Form BMC-84.
The surety bond is mandated to ensure bonded freight brokers and forwarders comply with the rules and regulations set forth by the Federal Motor Carrier Safety Administration as they pertain to protection of motor carriers and shippers. The surety bond also guarantees compliance with 49 U.S.C. 13906(b). The bonded principal (freight broker) must pay or cause to be paid to motor carriers or shippers by motor vehicle any amounts for legally due as a result of the principal's failure to perform contractual his or her obligations.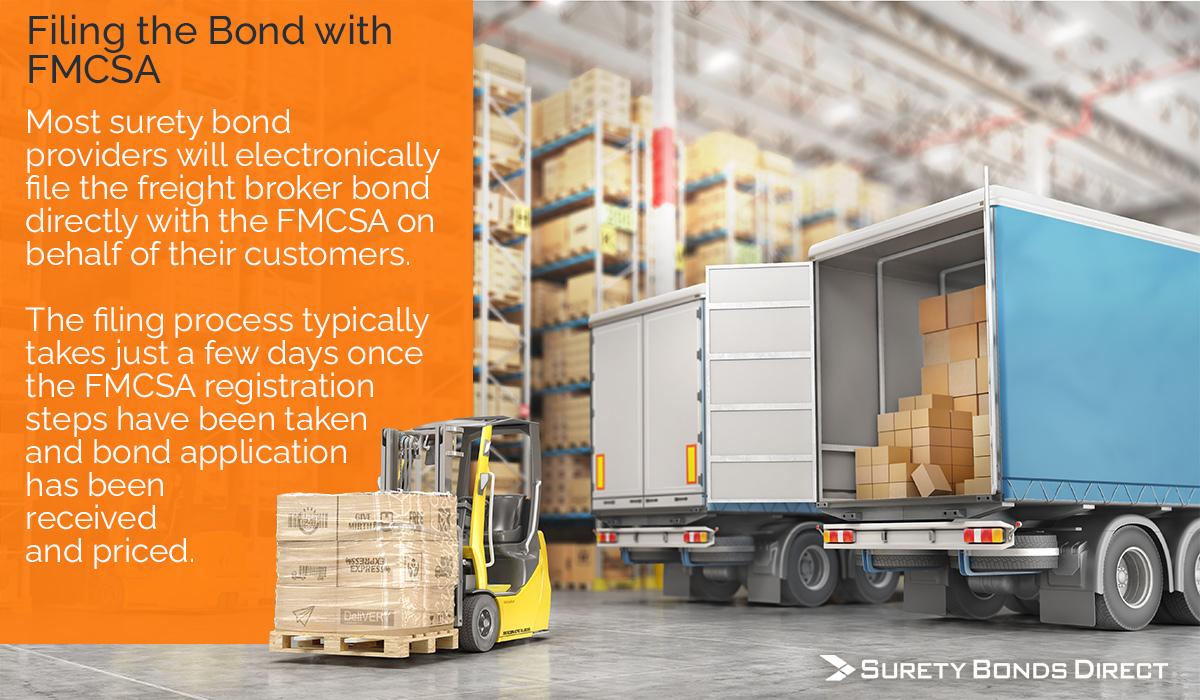 Filing the Bond with FMCSA
Most surety bond providers will electronically file the freight broker bond directly with the FMCSA on behalf of their customers. The filing process typically takes just a few days once the FMCSA registration steps below have been taken and bond application has been received and priced. Unlike other surety bonds, the FMCSA does not provide a physical bond. Instead, customers receive an electronic filing confirmation and anyone can visit the FMCSA website to confirm coverage is active.
Registering for Authority with the FMCSA
As mentioned above, prior to purchasing your surety bond, all prospective freight brokers must register with the FMCSA. The following list is an overview of the basic steps for registration.
Determine your Department of Transportation (DOT) registration needs and corresponding requirements:
- Operating Authority (MC Number)
- USDOT number
- or Hazardous Materials Safety Permit Registration
Complete the FMCSA Application Process with the online application via the Unified Registration System
Purchase a surety bond
Meet insurance requirements
Determine any related state notification and registration requirements
Begin the New Entrant Safety Assurance Program
Obtain your permanent USDOT registration
Maintain and update your USDOT number and operating authority (MC number) information
See How to Get a Freight Broker License for more detailed information on the steps required. If you're ready, get your free, no obligation quote for a Freight Broker BMC-84 Surety Bond.