8 Ways to Lower Your Surety Bond Cost
Tips from the experts at Surety Bonds Direct can help you lower the cost of your bond and build a stronger business.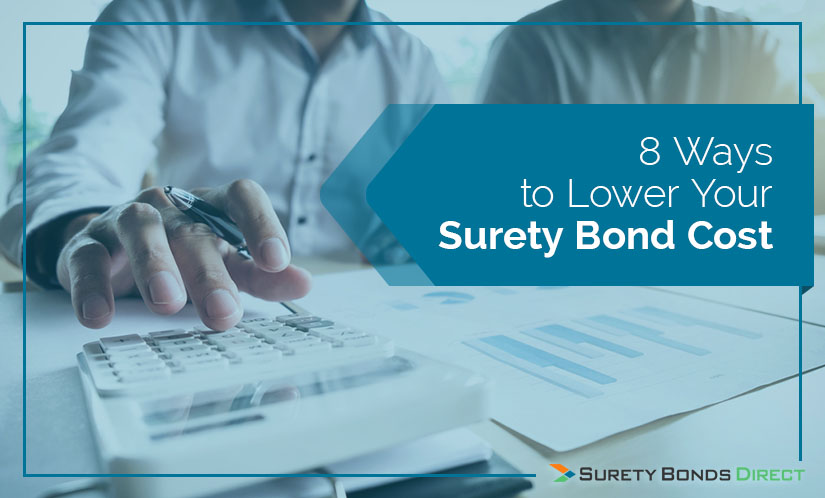 Obtaining a surety bond is an essential step for many different types of businesses. Surety bonds for automobile dealers, construction and maintenance contractors, mortgage brokers and many other types of businesses are legally required as part of the licensing process. Even for businesses that aren't required to get bonded, a surety bond is a great way to protect your customers and your reputation.
However, the cost of getting a surety bond can be a significant obstacle for many people. A customer with good credit and liquid assets will usually pay one to three percent of the bond amount as a premium, depending on the bond type—but for the 68 million Americans with subprime credit scores, those premiums can be considerably higher. And even if you have a higher credit score, some larger bonds require significant up-front collateral that can be tough to come up with all at once.
Surety Bonds Direct specializes in helping our customers find a great price on the bonds they need. You shouldn't let the cost of getting a surety bond stand in the way of your dream of owning a business. We're here to advise you on how you can get a bond at a price you can afford, no matter what your credit score is.
What kinds of steps can you take to lower your rates to an affordable level? Our surety bond experts know the ins and outs of improving your credit score, boosting your liquid asset levels and more. These eight key tips will help you present your best financial face to surety underwriters and find the most affordable rate on the bond your business needs.
8. Find your bond through Surety Bonds Direct.
No matter what your credit score is, and no matter what type of surety bond you need, the best way to find the bond you need is through Surety Bonds Direct. Our approval rate is 99 percent, and our premiums are often considerably lower than other surety bond agencies.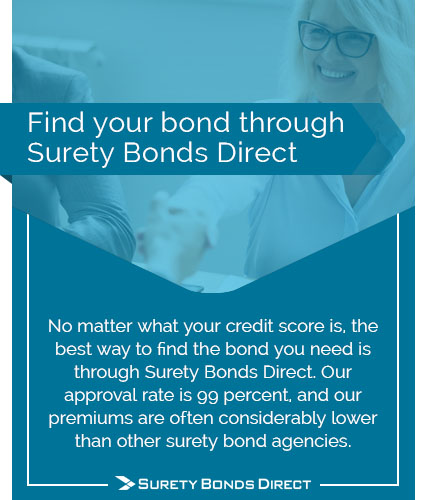 Why are our surety bond rates so much more affordable than our competitors, and why are we able to offer them even to customers with imperfect credit? Our secret is in our name. We're called Surety Bonds Direct because we work directly with hundreds of reliable surety providers around the U.S., rather than involving other brokers who take their own cut and raise your rates. Unlike other agencies who may sell all kinds of insurance, we specialize exclusively in surety bonds, allowing us to focus on cultivating the best network that saves our customers the most money and time.
Many of the sureties we work with also specialize in helping customers with imperfect credit, as well as new businesses that may not have an extensive financial track record. All sureties we work with have an A.M. Best "A" rating, so you can rest easy knowing that they've been thoroughly vetted and will provide you with reliable coverage you can count on.
If you need a great rate on a surety bond, Surety Bonds Direct is here to make it easy for you. The first step is to use our quick and easy surety bond quote request form to get a quote on your bond in minutes. Many of our customers are surprised to learn that we offer numerous bonds with minimal paperwork, and that in some cases, they don't even need a credit check!
However, you've still got options if you need a lower cost than the one quoted. Give us a call at 1‐800‐608‐9950 or contact us online. Our experts have the insider knowledge to help you create a plan to lower your rate. We have an extensive network of surety partners, and we use it to do what we love: helping our customers overcome tough circumstances and fulfill their entrepreneurial dreams.
December 28, 2020

Jason O'Leary