Everything You Need to Know About the Ocean Freight Shipping Industry
From cars to toys to industrial chemicals to food, the goods that consumers rely on every day often arrive via ocean freight shipping.
Truck, rail, and air freight are all important methods of shipping, and each has a role to play in today's supply chain landscape. However, when it comes to moving huge quantities of goods around the world, ocean freight shipping is still the undisputed champion.
From cars to toys to industrial chemicals to food, the goods that consumers rely on every day often arrive via ocean freight shipping. Marine shipping is the transportation method for 53 percent of U.S. imports and 38 percent of U.S. exports—a greater share than any other logistics mode. Almost any business that wants to participate in international trade will need to use ocean freight shipping to some degree.
For businesses that are new to navigating the complex world of ocean freight shipping, it's important to have some basic knowledge about the industry first. From shippers to carriers, to brokers and beyond, it can be challenging to untangle the many interconnected elements of the marine freight industry. Below, we'll provide an introduction to the most important basics of ocean freight shipping, including the surety bonds that protect ocean freight cargo owners and creditors.
Intermodal Containers and TEUs: The Basic Units of Marine Freight
Intermodal containers are among the first elements that any business should understand when it comes to marine freight. An intermodal container is a large steel container with standardized dimensions that can also be loaded onto a tractor-trailer or freight train. Typically, ocean freight shippers transport these containers via enormous container ships that can hold hundreds or even thousands of containers at once.
Standardization is one of the biggest advantages of containerized cargo shipping. The entire practice of intermodal logistics is built around the use of intermodal containers because they make it incredibly easy to switch from one cargo mode to another. Approximately 60 percent of all marine cargo is shipped in an intermodal container, and you'll find that everything from the size of gantry cranes to the design of semi-truck cabs is created with intermodal container shipping in mind.
TEUs, or twenty-foot equivalent units, are among the most common units of capacity measurement in marine freight. Most ocean freight shipping businesses measure a ship's capacity in TEUs, with the largest container ships accommodating over 20,000 TEUs each. The "equivalent" element of TEUs comes from the fact that smaller or larger shipping containers, such as 10-foot or 40-foot containers, count as fractions of a TEU. This allows shipping systems to maintain a consistent metric even when dealing with containers of variable sizes. Next, we'll talk about the various types of marine shipping available, containerized and otherwise.
Understanding the Different Types of Marine Freight
Several different categories of marine freight are in common use today. Generally, ocean freight shipping falls into the following categories: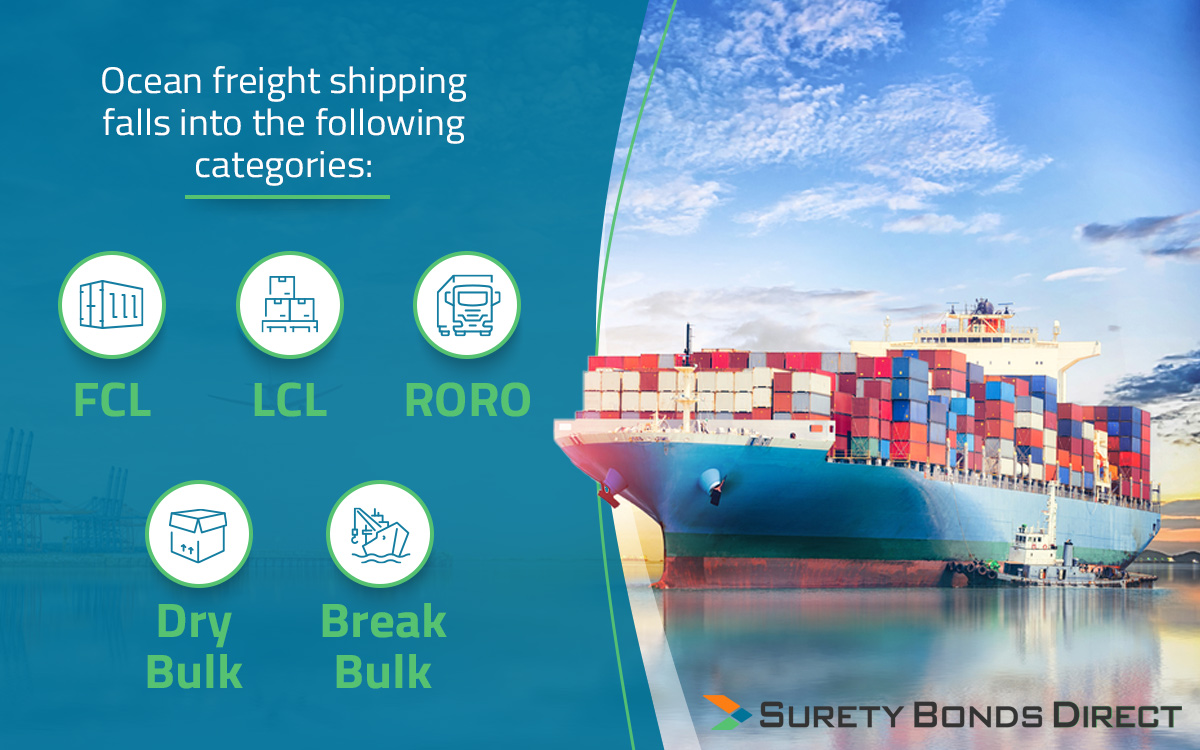 FCL (Full Container Load)

Cargo shippers purchase an entire container or multiple entire containers to ship their cargo via ocean freight

LCL (Less Than Container Load)

Cargo shippers purchase space inside a container and their cargo is shipped together with other shippers' goods

RORO (Roll On Roll Off)

Wheeled vehicles such as passenger vehicles, semi-trucks, or even rail cars are simply rolled on and off a ship rather than being placed in a container

Dry Bulk

Cargo shippers use a ship's hold to carry certain goods, such as grain, coal, and ore that are usually not shipped in intermodal containers

Break Bulk

Cargo shippers use a ship's hold to carry certain goods, such as steel girders and other large custom-fabricated goods that are impractical to ship in intermodal containers
The type of ship that carries the cargo will often vary by the type of freight it's moving. Some ships, for instance, are designed specifically for RORO cargo and frequently transport hundreds of vehicles around the world. Before a business enters the ocean freight shipping market, its management should always carefully consider the types of cargo they will need to ship if they are a shipper or that they will carry if they are a carrier.
Pros and Cons of Ocean Freight Shipping
For businesses wondering whether ocean freight shipping is the right choice for their supply chain, it's essential to consider the pros and cons of this method. Consider these fundamental factors when deciding whether to use ocean freight shipping:
Pros:
Ocean freight shipping is by far the most cost-effective option for shipping bulk goods a long distance. It's easy to scale and becomes more cost-effective the more cargo a business ships at once.
Ocean freight shipping is the only option for intercontinental shipping other than air freight, which is often prohibitively expensive.
Ocean freight shipping can be an efficient option for shipping large, bulky goods that are difficult to transport via other methods.
Ocean freight shipping has a relatively low carbon footprint compared to other shipping modes because a single cargo ship is capable of shipping such a large amount of goods.
Ocean freight shipping can transport some types of goods that can't be shipped via air transport, such as certain hazardous chemicals.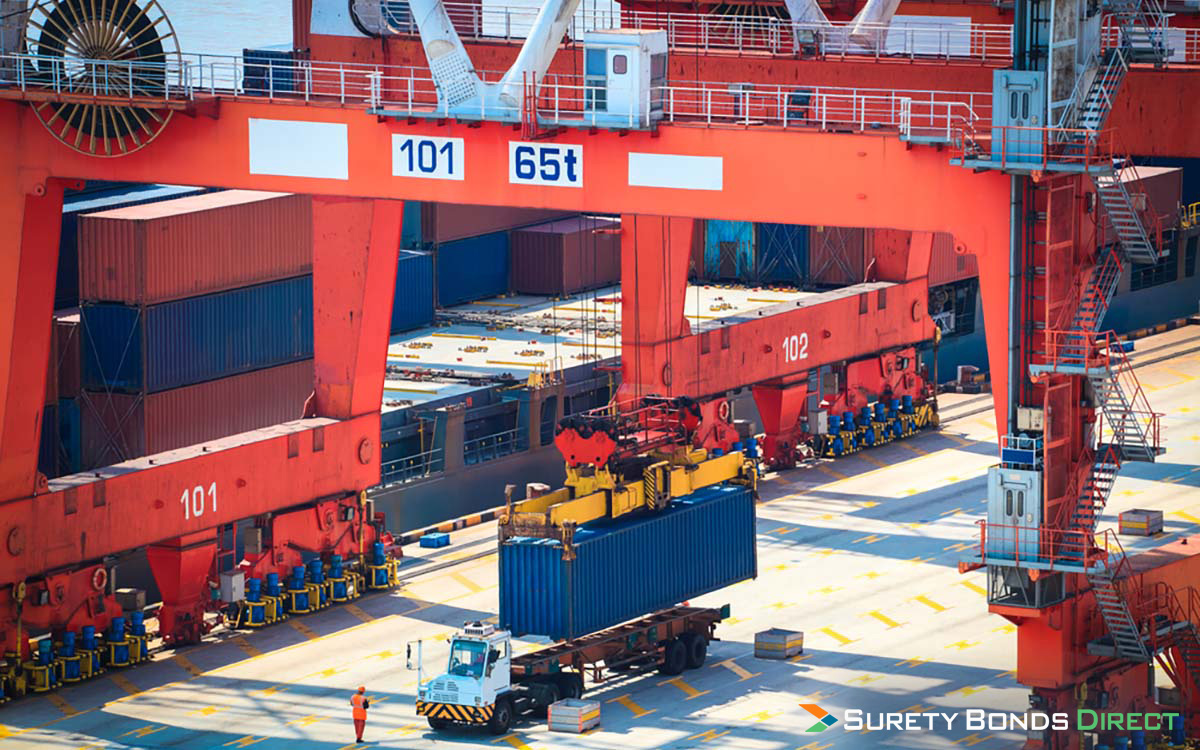 Cons:
Ocean freight shipping is the slowest method of moving goods. Shipping times will obviously depend on distance, but intercontinental shipments will often take at least two weeks from origin to destination, and some may take much longer.
Ocean freight shipping is much less cost-effective when shipping small quantities of goods, although using techniques like LCL shipping can help.
Ocean freight shipping requires completing a great deal of paperwork and may involve more fees than other types of shipping.
Ocean freight shipping can be more vulnerable to port delays than some other methods due to the massive amount of resources required to load and unload a ship.
For businesses shipping bulk goods from another continent, ocean freight shipping will almost always be the default choice. To provide one key example, marine freight is the cornerstone of the global supply chain for Chinese goods. Other types of businesses can also benefit from the economical nature of ocean freight shipping, but they should consider marine freight as one tool in their kit alongside the road, rail, and air freight.
Types of Businesses Within the Ocean Freight Shipping Industry
Many different types of businesses make up the ocean freight shipping supply chain. Some of the most important types of marine freight businesses include: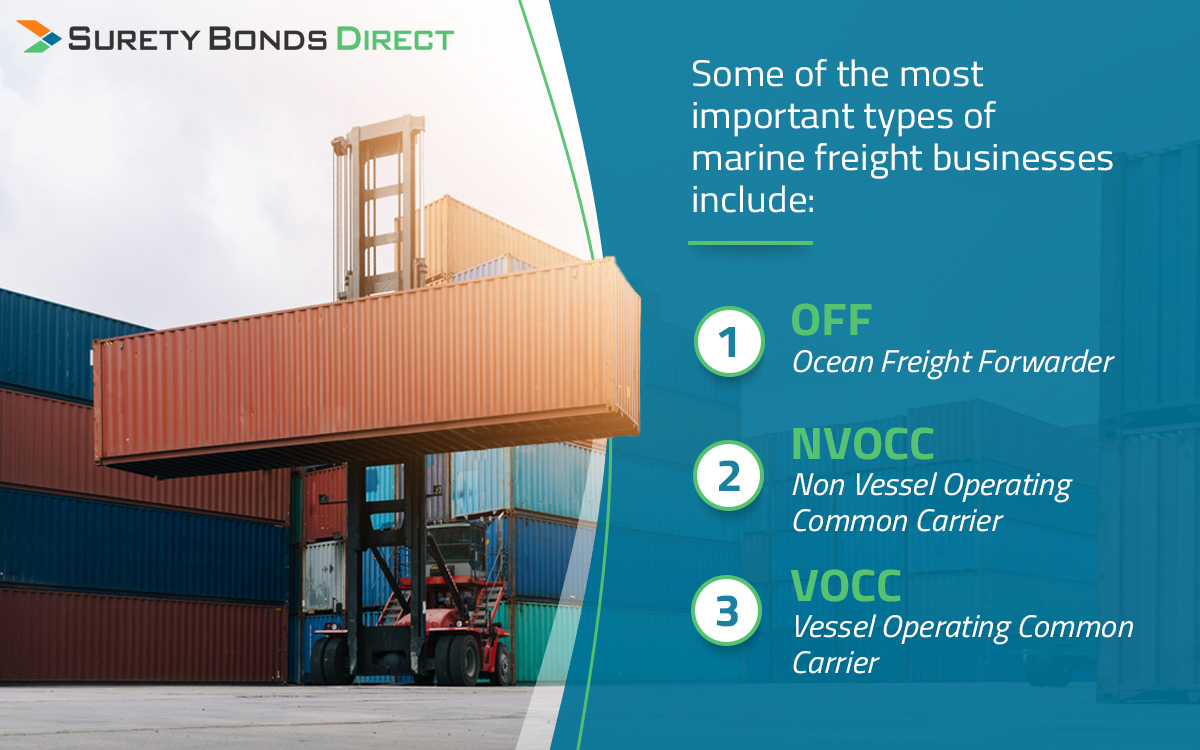 OFF (Ocean Freight Forwarder)

OFFs prepare cargo for ocean transportation and book space for cargo on vessels but don't own or operate vessels themselves. OFFs perform some functions similar to NVOCCs, but OFFs take a lower level of responsibility for cargo because they don't ship under their own bill of lading.

NVOCC (Non Vessel Operating Common Carrier)

NVOCCs prepare cargo for international ocean freight and book space on vessels they don't operate, much as OFFs do. NVOCCs, however, take a higher level of responsibility for cargo because they ship under a house bill of lading. They act as a "shipper to carrier and carrier to shipper," meaning that the carrier deals with the NVOCC instead of the actual shipper and the shipper deals with the NVOCC instead of the actual carrier.

VOCC (Vessel Operating Common Carrier)

VOCCs operate vessels for ocean freight shipping. A VOCC rarely deals with shippers directly and, instead, finds cargo to ship through NVOCCs and OFFs.
The largest and most powerful businesses, which take possession of their goods at the port and move them using their first-party logistics assets, are known as beneficial cargo owners (BCOs). Only the largest businesses like Amazon, Target, and Walmart are usually able to act as BCOs, and these are also usually the only businesses that VOCCs will negotiate with directly because BCOs import very large amounts of cargo.
Since most businesses aren't BCOs, they will deal with OFFs and/or NVOCCs instead. Together, OFFs and NVOCCs are known as OTIs, or ocean transportation intermediaries. OTIs help ensure that paperwork is in order and coordinate the flow of cargo between shippers and carriers. They provide access to VOCCs for smaller importers and help negotiate more affordable rates by leveraging large amounts of cargo.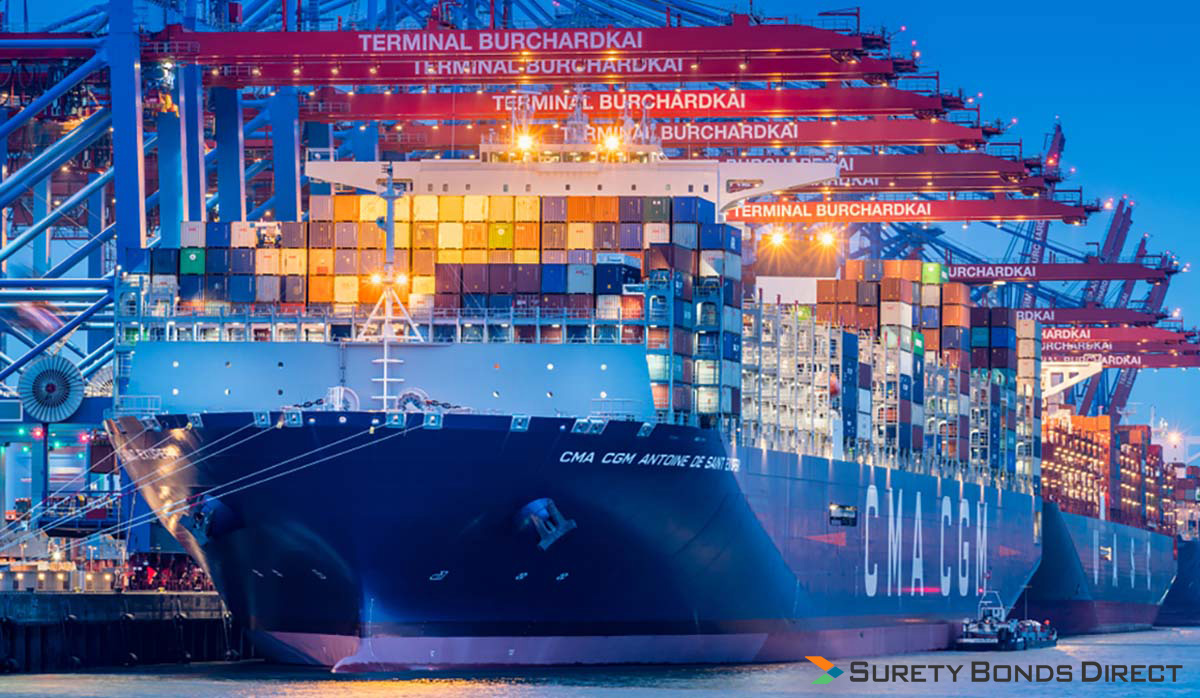 Understanding Bills of Lading
The ocean bill of lading is the most important document in the ocean freight shipping process. For shippers and carriers alike, the bill of lading documents the terms of the shipping contract establishes the parties and provides a record to track the cargo through each stage of its journey.
Generally, a bill of lading will designate three parties:
Shipper: The party that owns the cargo
Carrier: The party that operates the vessel which moves the cargo
Consignee: The party receiving the shipment
Bills of lading also exist in other shipping modes, such as road freight, so it's important to be familiar with their basic format and purpose no matter what shipping mode your business uses. Remember also that if a shipment needs to be transported via other modes after it arrives in port, it will usually need a separate bill of lading.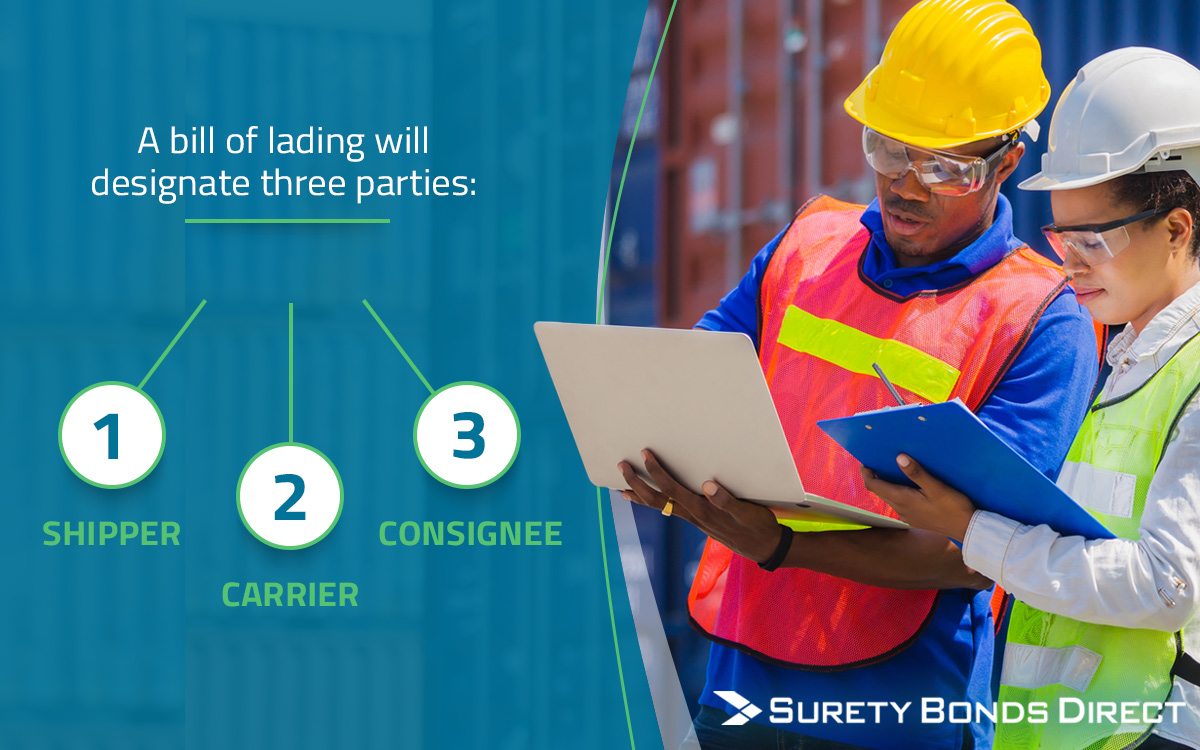 Ocean Freight Shipping Regulatory Organizations
It's also important to be familiar with the organizations that regulate marine commerce and traffic. There are two main marine regulatory organizations that anyone involved in ocean freight shipping should be aware of:
FMC (Federal Maritime Commission): This U.S. federal regulatory organization has jurisdiction over all U.S. marine ports. OTIs who operate in U.S. ports must obtain licensure from the FMC and obey all of its regulations.
IMO (International Maritime Organization): This UN regulatory organization sets high-level rules for global maritime trade that each member state's government is responsible for implementing. The IMO doesn't directly license businesses, but they create important regulations such as the Dangerous Goods Code.
Anyone interested in going into business as an OTI will need an in-depth knowledge of FMC and IMO regulations, but shippers should be aware of them too. One area that both shippers and OTIs should be familiar with is ocean freight shipping surety bonds.
Ocean Freight Shipping Surety Bonds
Every day, thousands of large financial transactions occur in the ocean freight shipping industry, and ocean freight carriers take responsibility for millions of dollars' worth of cargo on almost every voyage. Thus, it's important to have legal structures through which ocean freight businesses can be held accountable to their clients and creditors. OTI surety bonds provide such a mechanism.
First, let's establish the basic principles behind a surety bond. We cover these in much more detail in What Is a Surety Bond? The basic idea is that a surety bond is a three-party contract that provides a financial guarantee of an obligation through a neutral party. Businesses, from auto dealerships to insurance agencies to freight brokers, use surety bonds to protect their customers and creditors.
The FMC requires OTIs to obtain OTI surety bonds. An OTI surety bond—either an OFF surety bond or an NVOCC surety bond—provides a binding financial guarantee that an NVOCC won't engage in dishonest or illegal conduct. Examples include price fixing, working with unlicensed businesses, retaliating against competitors, or misrepresenting cargo.
Getting an OTI Surety Bond
Each different type of OTI business requires a different type of surety bond with a different coverage amount:
| FMC OTI Surety Bond | Surety Bond Amount |
| --- | --- |
| Ocean Freight Forwarder Surety Bond | $50,000 |
| U.S. Domiciled Non Vessel Operating Common Carrier Surety Bond | $75,000 |
| Non-U.S. Domiciled Non Vessel Operating Common Carrier Surety Bond | $150,000 |
Fortunately, most types of surety bonds don't require the full coverage amount upfront. Instead, the surety bond cost is a small percentage of the bond's coverage amount that can vary according to the bonded principal's credit score and other factors in the surety underwriting process. For more key facts about getting an ocean freight shipping surety bond, see our complete guide to Federal Maritime Commission bonds.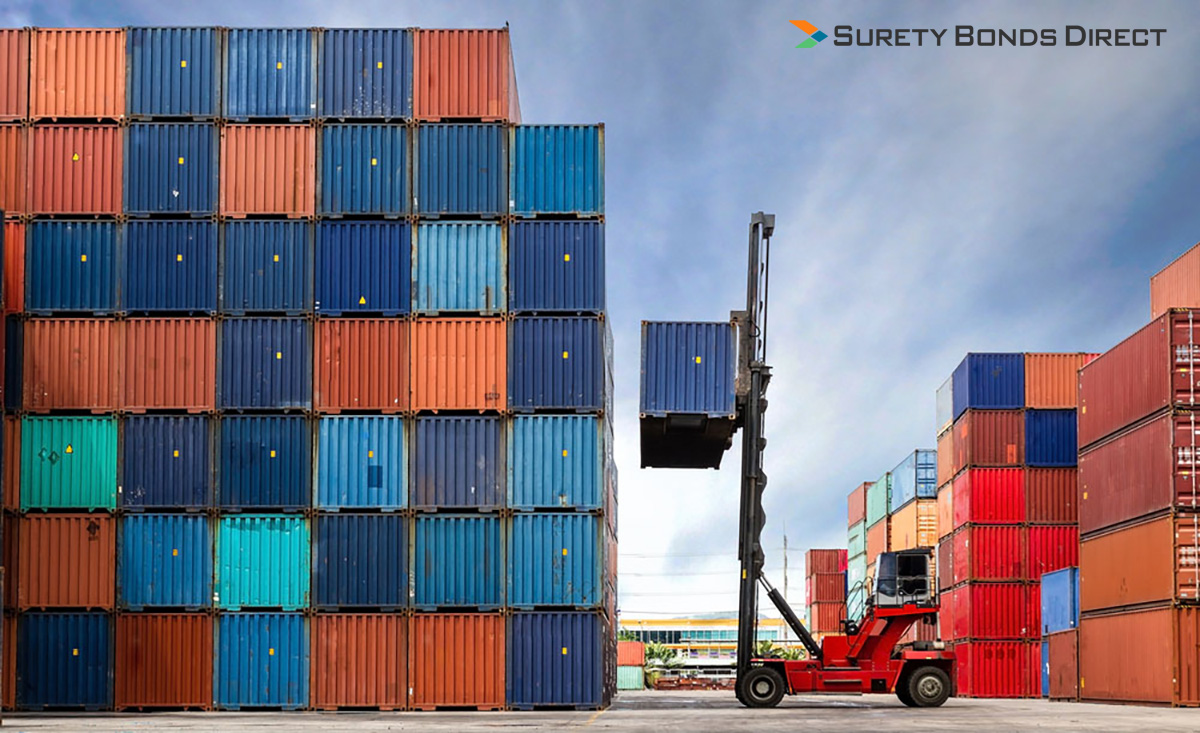 Freight brokerage businesses that coordinate domestic freight transportation instead should remember they need a BMC-84 freight broker bond. These bonds perform a similar function to NVOCC bonds but for brokers that operate in the U.S. domestic freight market. However, the two types of bonds work differently and must be filed with different agencies, so ocean freight shipping businesses should ensure that they choose the correct type of bonds.
Surety Bonds Direct is the best choice for ocean freight shipping businesses that need reliable and affordably priced surety bonds. Our bond specialists are always ready to help you find the correct bond for your business—just call us at 800-608-9950 for fast and friendly assistance. Ready to get a premium quote for your NVOCC surety bond or another OTI bond? Use our free surety bond quote request form to get a no-obligation quote in as little as a few minutes.
February 24, 2021

Jason O'Leary