How to Get a Car Dealer's License in Texas
Find out how to get a dealer's license in Texas and start selling automobiles in the Lone Star State, including how to get the surety bond you need.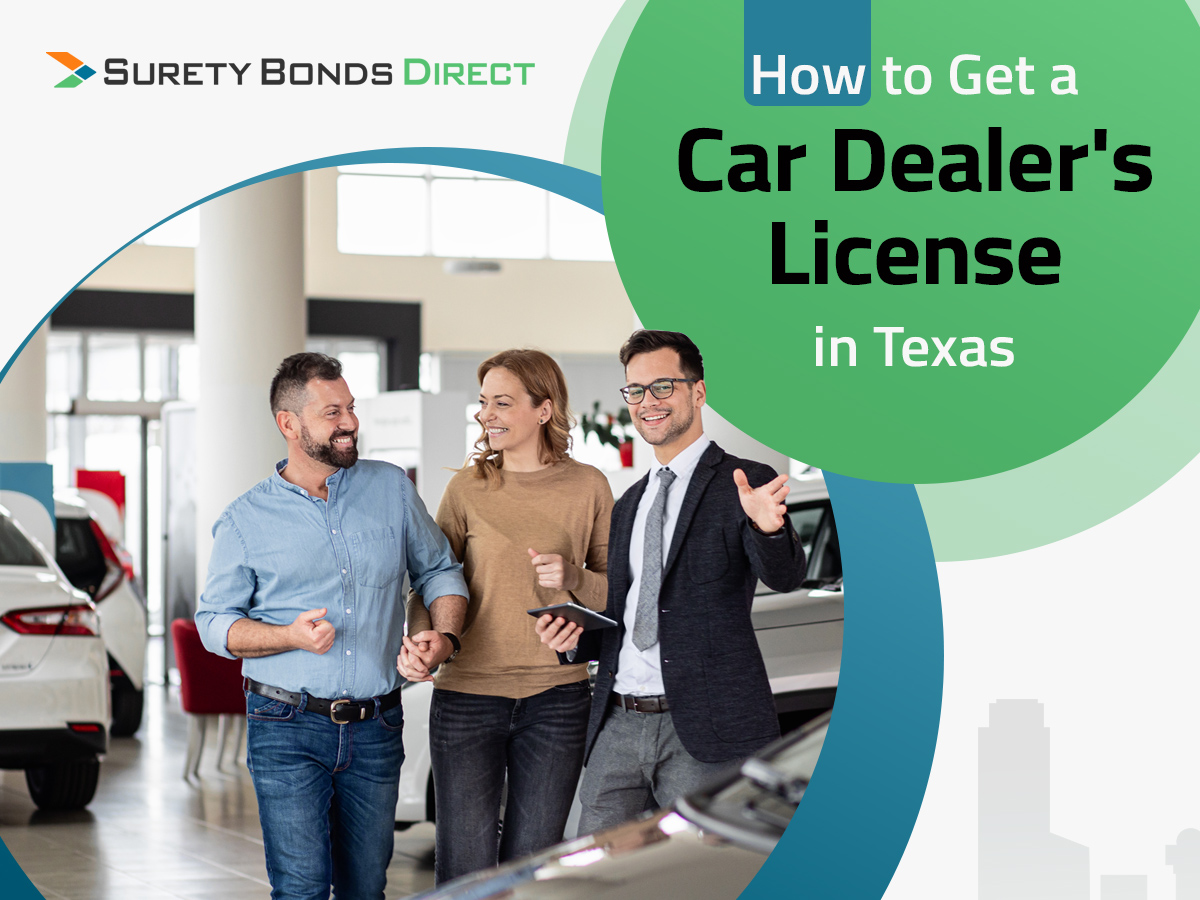 With the largest highway network in the U.S. and millions of drivers on the road every day, Texas has an enormous market for both used and new vehicle sales. To ensure that the Texas auto dealers who sell these vehicles are responsible and well qualified, the Texas Department of Motor Vehicles (TxDMV) requires all auto dealers to undergo a licensing process.
To do business as an auto dealer in Texas, you'll need to apply for a General Distinguishing Number (GDN) from TxDMV. The application process for your GDN includes steps such as getting a Texas auto dealer surety bond, and it's important to be familiar with these requirements before you begin.
This guide covers the basics of how to get a dealer's license in Texas. Ahead, we'll discuss how to apply for your GDN, Texas dealer education requirements, and other important topics that every Texas motor vehicle dealer should know.
1. Find out whether you need a Texas auto dealer license for your business.
Before you begin the process of applying for a Texas vehicle dealer's license, download the TxDMV Motor Vehicle Dealer Manual. This manual will be your go-to resource for how to get a dealer's license in Texas. The first information from the guide that you'll need to familiarize yourself with is TxDMV's standards for which businesses need a motor vehicle dealer license.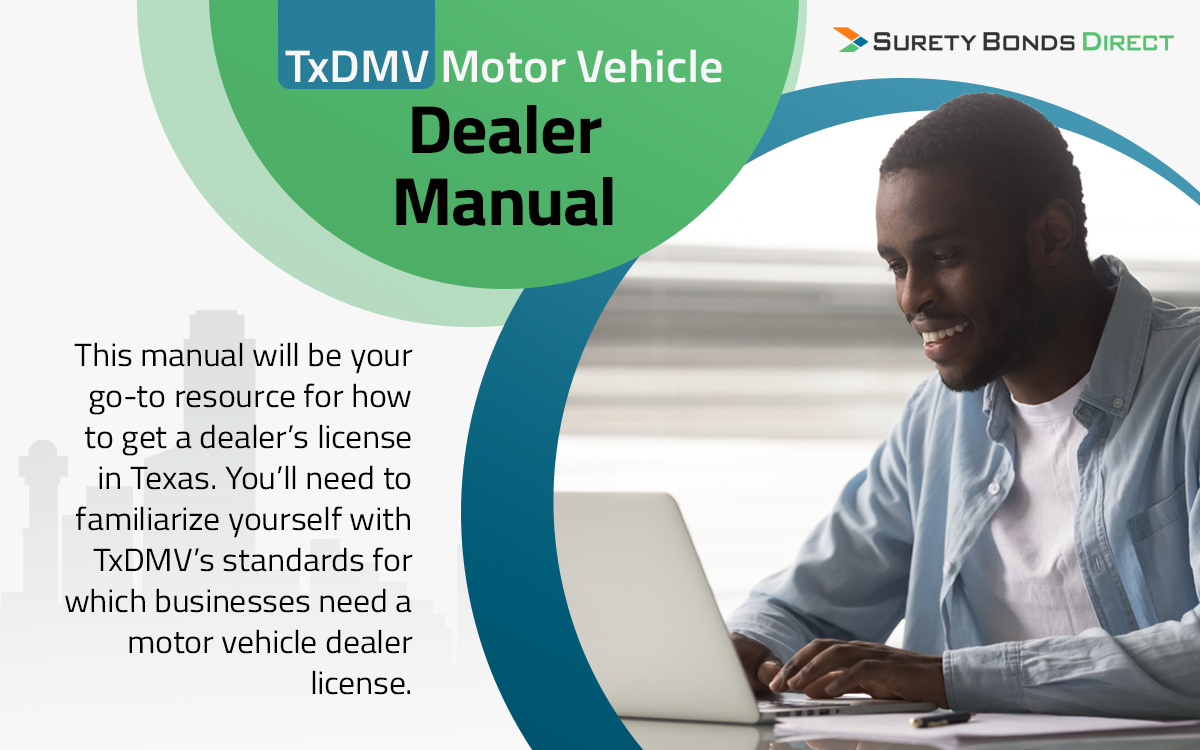 TxDMV applies a simple test to determine whether a business needs an auto dealer's license: If a business in Texas wants to sell five or more vehicles per year, and/or any of the vehicles will not be titled in the seller's own name, that business requires a Texas auto dealer's license.
However, certain types of sellers might not be required to obtain a Texas dealer's license, even if they sell more than five vehicles per year. Some of these exceptions to the rule include:
Sellers of antique (>25 years old) vehicles and special interest vehicles
Creditors selling vehicles in which they have a security interest
Sellers acting in a court-appointed capacity
Local, state, or federal government agencies
TIP: In some cases, private buyers also apply for auto dealer licenses in order to access dealer auto auctions. Read our guide to getting auto auction access to learn what you need to know before you apply for a license.
2. Understand the types of Texas dealer licenses and which one you need.
Texas issues GDN licenses for both franchised new vehicle dealers and independent used vehicle dealers, as well as some other types of dealerships like salvage dealers. The following is a quick summary of the most common types of GDN licenses required for different types of motor vehicle dealerships, based on what kind of vehicles the GDN license allows the dealer to sell:
Franchise: New vehicles sold under an agreement with the vehicle manufacturer
Independent Motor Vehicle: Used passenger vehicles like cars and trucks
Independent Motorcycle: Used motorcycles, ATVs, and scooters
Travel Trailer: Used campers and other travel trailers
Trailer/Semi Trailer: Used or new semi trailers and utility trailers
Independent Mobility Motor Vehicle: Personal mobility vehicles such as motorized wheelchairs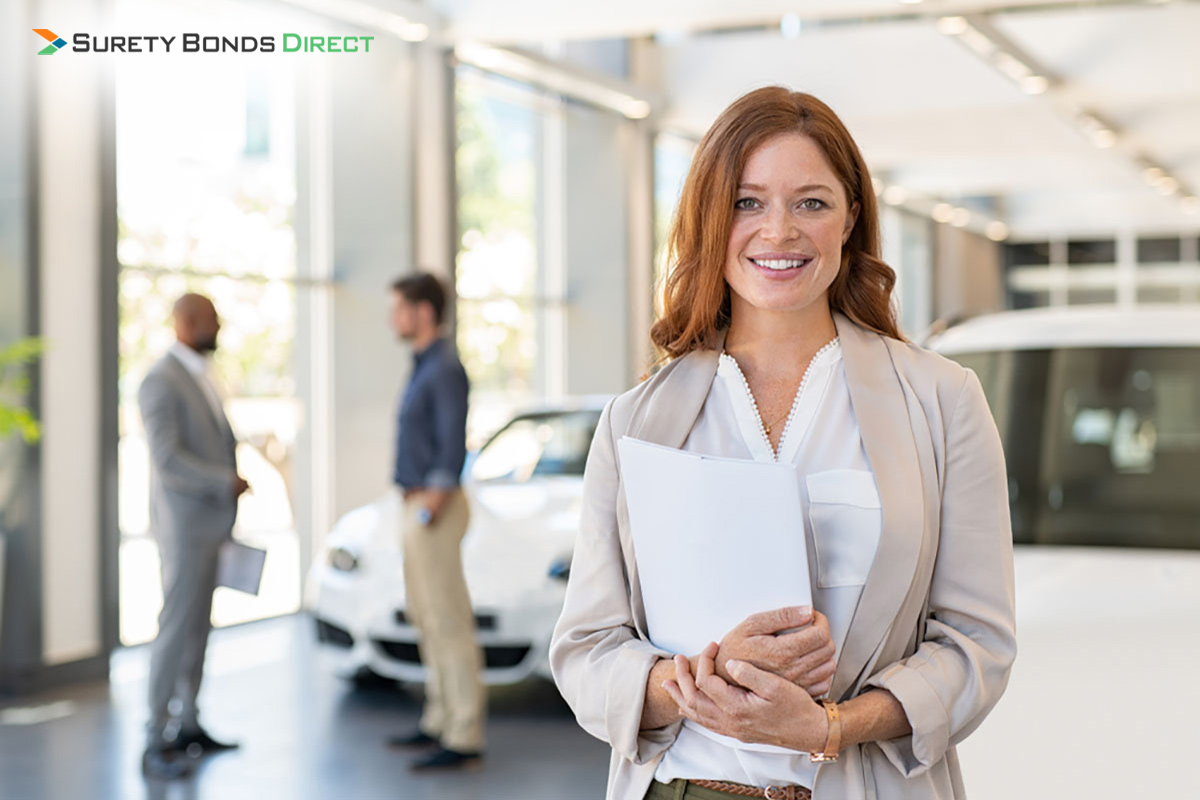 Franchise dealerships require more licensing than some other types of dealerships, including a separate license for every showroom location. However, multiple franchise showrooms within the same city or town can share the same GDN.
Dealerships in different cities, on the other hand, must have different GDNs, even if they have the same owners. In addition, dealers who sell multiple vehicle types (such as a dealer who sells both cars and motorcycles) must apply for and obtain separate GDNs for each vehicle type.
Other types of auto businesses might need less common types of GDN licenses. These include salvage dealerships, distributors, lessors, and several other types of Texas auto dealer businesses. Review the Texas DMV's list of auto dealer license types thoroughly to ensure that you apply for the correct license and understand its requirements.
3. Pass the required pre-licensing Texas auto dealer training course.
In 2020, Texas implemented a law requiring all new applicants for a motor vehicle dealer license to pass an online pre-licensing course. The requirement also applies to applicants for a license renewal who have been licensed for fewer than 10 years as of September 1, 2019. This course must be TxDMV-approved and provided by either a trade association or a higher learning institution.
A Texas auto dealer pre-licensing course consists of six hours of online instruction for new applicants and three hours for renewal applicants. The course material covers the essential rules and laws that Texas auto dealers need to know before opening for business. The Texas pre-licensing course typically costs around $150, but you'll only be required to take it once. You can complete the course at your own pace, but TxDMV requires applicants to finish it completely before submitting a dealer license application.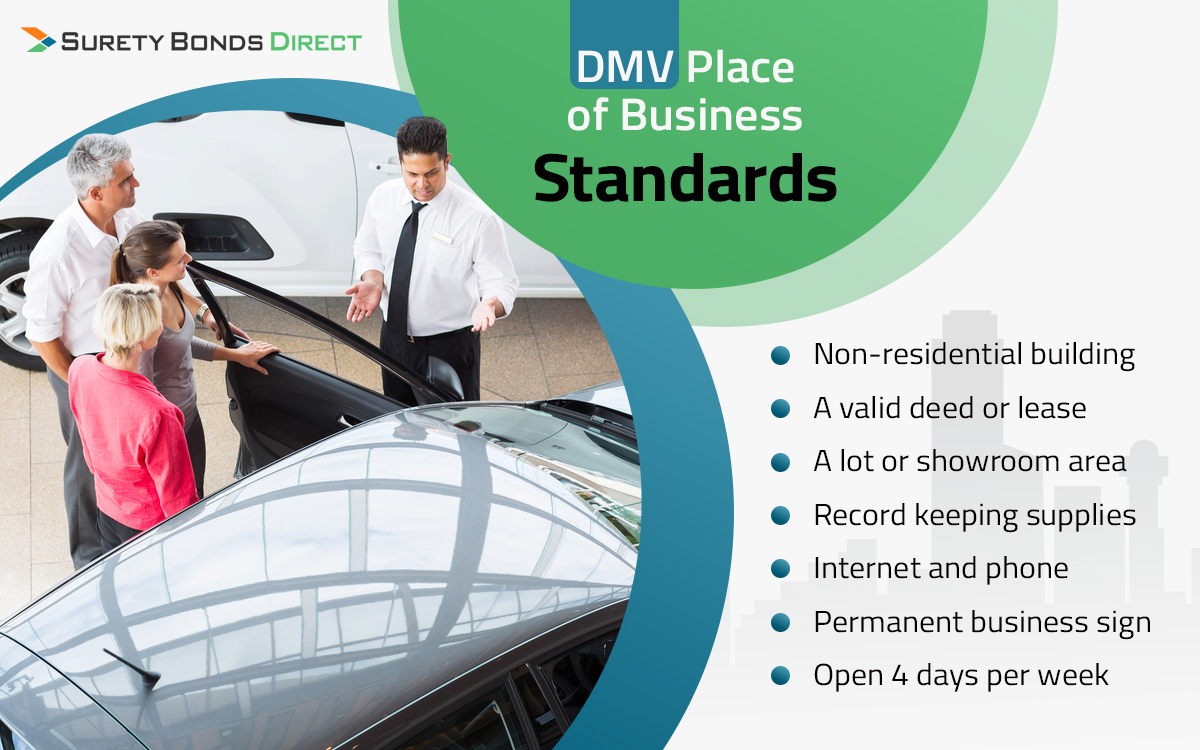 4. Make sure your business's location fulfills the Texas DMV's requirements.
Most types of Texas motor vehicle dealers must have a permanent established location that meets certain standards, which include:
An enclosed non-residential building
A valid deed or lease for the property
A lot or showroom area with room to display at least five vehicles
An office with basic business and record keeping supplies
Internet and landline phone connections
A permanent business sign that's visible from the nearest road
Open for business at least four days per week and for at least four consecutive hours each day
Wholesale and salvage motor vehicle sellers are not required to meet the same physical location standards as retail dealers. However, many of these dealership GDN types are prohibited from selling vehicles to retail buyers.
5. Complete a dealer license application form from the Texas Department of Motor Vehicles.
To get a GDN and a Texas dealer license, you'll need to complete the correct auto dealer application from TxDMV. Most dealers will apply for either a franchise license or independent license, but check all of the license types available to verify that you're applying for the correct one. Remember that if your dealership requires multiple GDNs for selling different types of vehicles, you'll need to apply for each GDN separately. The application packet requires the applicant to submit a wide range of documents. Most Texas dealer license applicants will need to submit some or all of the following:
Basic contact information for the applicant
Legal documents for the formation of an LLC or corporation, if required
Proof of meeting business location requirements
Franchise agreement, if your dealership is a franchise
Assumed name certificate, if using a DBA
Government photo IDs for all individuals with an ownership or partnership interest
Documentation certifying that you've completed a pre-licensing course
IRS Employer Identification Number (EIN, sometimes referred to as an FEIN) registration
Proof of coverage for a $50,000 Texas motor vehicle dealer surety bond (see below)
You'll also need to pay a $700 fee per independent GDN license for which you apply, as well as a $90 fee for every dealer license plate that you request.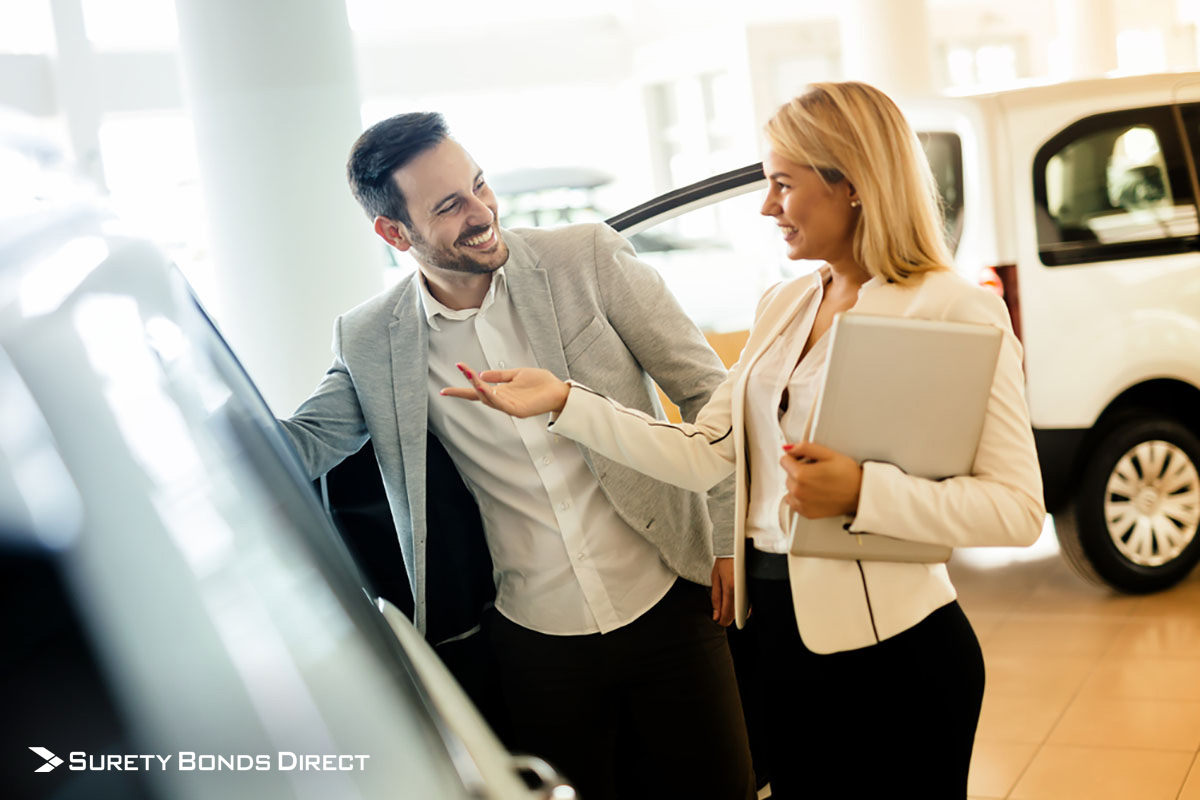 6. Purchase a Texas auto dealer bond.
As part of the dealer licensing application process, TxDMV requires many auto dealers to purchase a Texas auto dealer bond with a coverage amount of $50,000. This surety bond establishes your business's commitment to following the law. We cover how surety bonds work in detail elsewhere, but here are the basic concepts:
An auto dealer surety bond is a contract between three parties: the dealer license applicant, the Texas Department of Motor Vehicles, and a surety bond company.
The auto dealer pays the surety company to provide a financial guarantee that the dealer will follow the law and conduct their business honestly. The surety guarantees the dealer's financial obligations up to the bond's coverage amount of $50,000 in the event that the dealer does not honor the bond's terms.
The surety bond premium that the auto dealer pays is usually based on an underwriting process that considers factors such as the dealer's credit score, credit history, and licensing history. Applicants with bad credit, liens, bankruptcies, or other adverse record items will often pay higher surety bond premiums.
TIP: See our surety bond cost guide to learn more about the factors that determine the premium you'll pay for a surety bond.
Some types of Texas auto dealers don't need to purchase a surety bond. Franchise dealerships don't require surety bonds, and neither do some types of trailer dealers. Most other types of Texas vehicle dealerships, however, are required to purchase a surety bond as part of the TxDMV application process. To get a Texas auto dealer bond, you'll need to apply for a surety bond quote from a surety authorized to do business in Texas. Many auto dealers find that the easiest way to get bonded is through a surety bond broker, since brokers offer many types of surety bonds and work with large networks of sureties to find the best premiums.
TIP: Get a two-minute free quote right now for your Texas motor vehicle dealer surety bond from Surety Bonds Direct.
7. Submit your application to the Texas DMV.
Once your Texas motor vehicle dealer application is complete, you'll submit it to TxDMV for processing and approval through the Texas eLICENSING system. Thoroughly review your application before sending it off to ensure that all information is complete and correct. Make sure you also provide TxDMV with a phone number at which they can easily reach you with questions or requests for additional documents.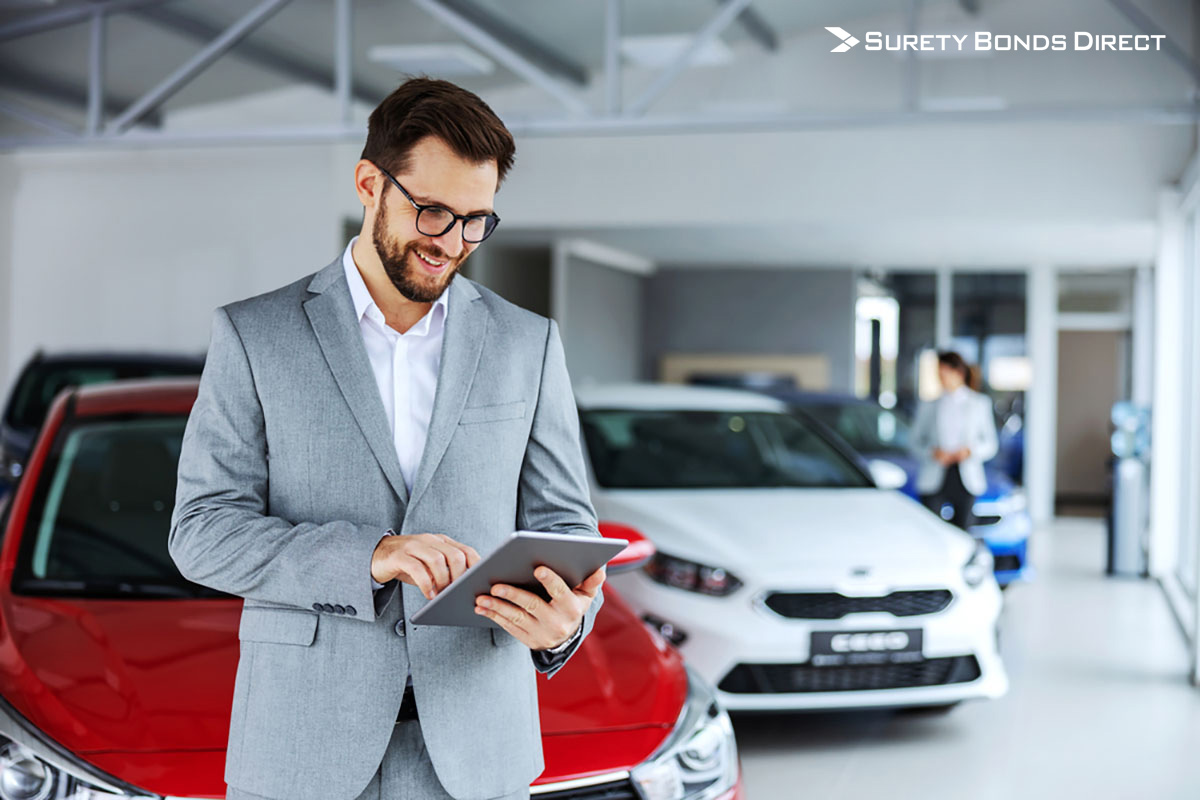 After you submit your completed application, TxDMV will email you an application confirmation once they've processed your fees. At this point, you'll receive a Work Item Number that allows you to track the progress of your application file. Go to the TxDMV website and enter the Work Item Number to view the status of your application.
TxDMV will send your application through its review process, which includes a detailed criminal background check. When TxDMV approves your application, they'll print your certificate and mail it to you at the address listed on your application. TxDMV will also send any dealer license plates you've ordered at this time. Congratulations—you're a licensed Texas motor vehicle dealer!
8. Review the relevant standards and keep your credentials renewed.
Once TxDMV sends your dealer license, review their key information for new dealerships. You'll find important tips on topics such as keeping your dealership's inventory statements current and getting a license to offer vehicle financing. In addition, make sure that you thoroughly understand your responsibilities as outlined in the TxDMV dealership manual.
Texas auto dealer licenses are good for a term of two years from the date issued. That means that every two years, you'll need to renew your license with the Texas DMV. When renewing your license, you'll also need to renew your surety bond. A Texas auto dealer bond is good for the same two-year term as the dealer license, and the bond term dates must be the same dates as the license term dates.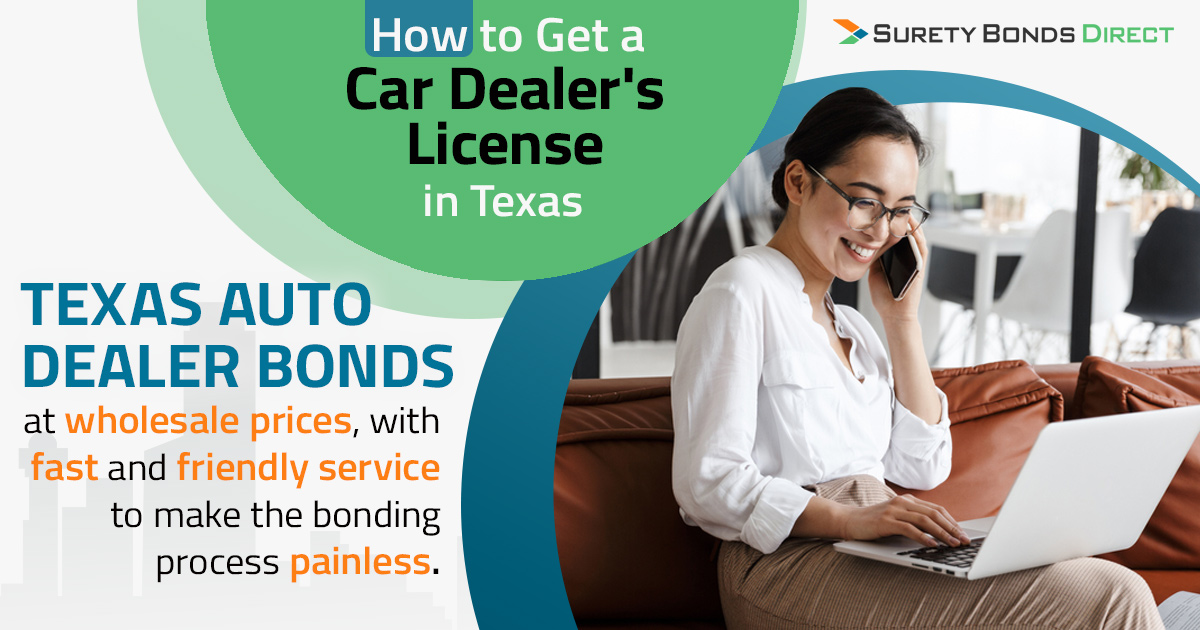 Surety Bonds Direct offers Texas auto dealer bonds at wholesale prices, with fast and friendly service to make the bonding process painless. We work with numerous Texas sureties to get our customers the most affordable premiums every time, and we even offer surety bond premium financing options to fit your budget.
Find out for yourself why Investopedia named Surety Bonds Direct the top surety bond company, and why our customers consistently say that we make the process faster and easier than anyone else. Start with a free quote today. You can call our bond professionals at 1-800-608-9950, or get your quote online.
December 9, 2021

Jason O'Leary