Who Requires the Motor Vehicle Dealer Bond and
Why Is It Needed?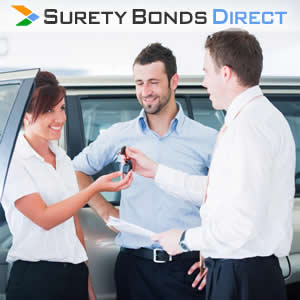 The Texas Department of Motor Vehicles requires that all Texas auto dealers secure a surety bond in the amount of $25,000. This is as a licensing requirement in order to engage in vehicle sales in the state of Texas (see more information on Texas license requirements). These bonds are issued for a two-year term, expire on the last day of the month, and are not permitted to expire during the licensing period. Surety Bonds Direct is a licensed bonding company in Texas and offers exceptional rates for Texas Motor Vehicle Dealer Bonds.
How Much

Will My Surety Bond Cost?

The cost of a Texas Motor Vehicle Dealer Surety Bond varies and is primarily based on personal credit history. As a leading provider of Texas Motor Vehicle Bonds, Surety Bonds Direct has access to the lowest prices in the market for all credit situations. Request a free, no-obligation quote to find out your exact cost. 

If you are interested in spreading out the cost of your bond over time, we can offer convenient financing plans for many types of surety bonds. More information will be provided with your quote.
What Does the Bond Protect Against?
The Texas Motor Vehicle Dealer Bond protects consumers from fraud or misrepresentation by the car dealer. The bond obligates the bonded principal to transfer good title to each motor vehicle sold and pay all valid bank drafts, including checks drawn for the purchase of motor vehicles. In the event of a violation and associated damages, this obligation extends to the surety company.
What is Needed to Obtain My License or Registration?
Application tips from the Texas Department of Motor Vehicles;
Provide a reliable contact phone number on new applications, amendments, and renewals. 
Review your documents before sending them to save time.
If you are uncertain about the completeness of your application for any reason, call and speak to a Licensing Specialist before submission.
Check to ensure that bond dates, names, and address are entered correctly, bond is signed, bond is included on renewals, POA accompanies all bonds or bond riders.
Personal information and Photo ID are included.
You have obtained your DBA certificate from the correct office.