Texas' Independent GDN license encompasses many license types. Things can get a little confusing because franchised dealers are required to have an independent GDN license with the appropriate classification, but franchised dealers don't have to follow every requirement.
This article will focus on the Independent GDN license and classifications. It will highlight the main requirements franchised dealers don't have to follow, plus:
What a GDN license is
The License type or classifications
The ownership requires
The surety bond requirement
The temporary tag requirements
The property and dealership requirements
An overview of all the fees associated with the application
What Is a GDN Auto Dealer License?
Texas issues every auto dealer a GDN. This stands for a General Distinguishing Number and each GDN is associated with a different type or classification of dealer license.
When applying for license, you must select one of the independent licensing types:
Used motor vehicles at a dealership
Use motorcycles at a dealership
Used non-motorized travel trailers at a dealership
New or used utility trailers or semi-trailers at a dealership
New or used mobility vehicles for the transport of disabled passengers at a dealership
Wholesale vehicles to other licensed dealers
Wholesale vehicles by bid to licensed dealers at an auction located at a permanent location
In order to obtain multiple independent licensing types, each license must be applied for separately.
All independent licenses are issued for a term of 2 years at which time they can be renewed for the subsequent 2 year term.
All dealers are subject to the following similar criteria:
More than 5 vehicles/trailers sold, bought, or exchanged during a calendar year
A calendar year is January to December
Transactions take place at a permanent location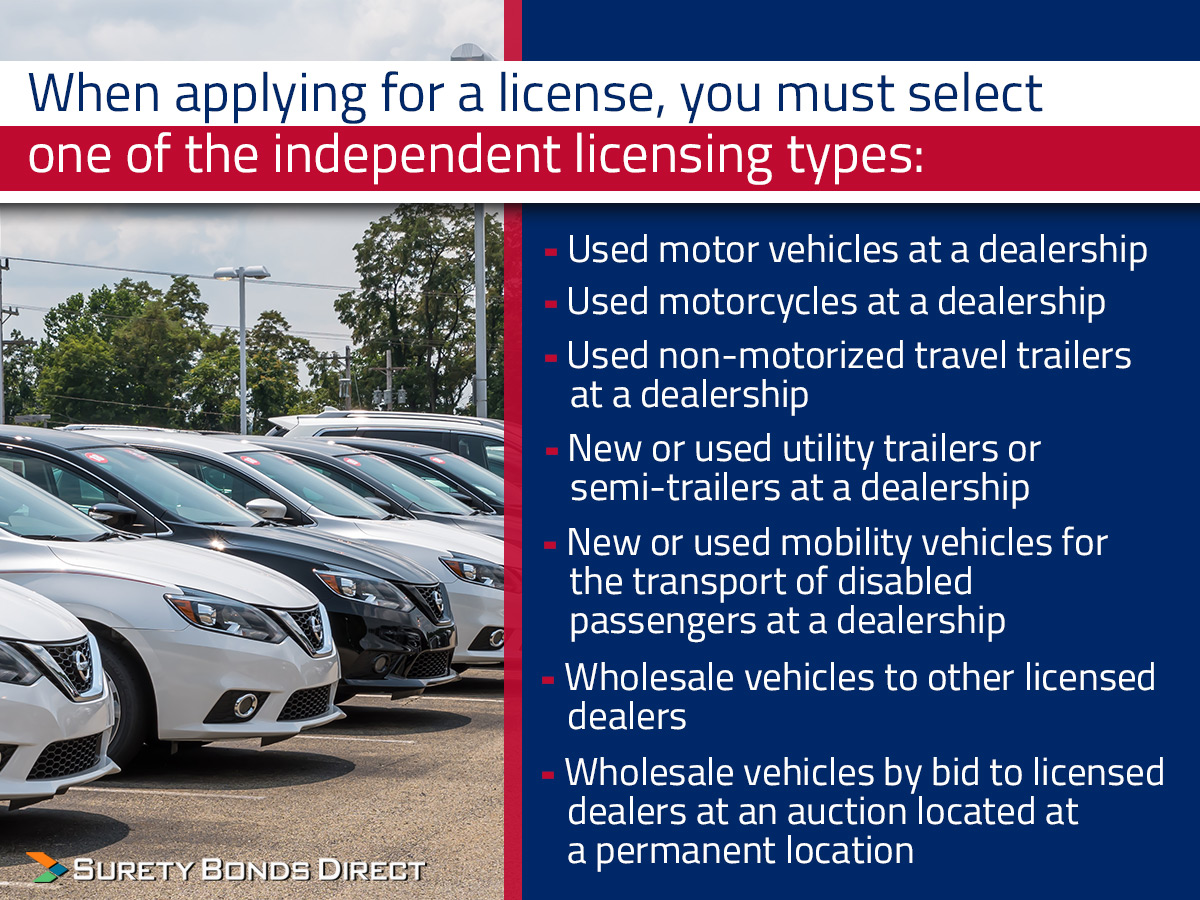 Independent Motor Vehicle Dealer
Any person or business entity who buys, sells, or exchanges:
More than 5 motor vehicles titled and registered in their name during a calendar year
From a permanent location
Sells a single vehicle that is not titled and registered in their name
Motor vehicles apply to:
Cars
Trucks
Vans
Buses
Motor homes
Ambulances
Fire-fighting vehicles
Typically these vehicles will be used vehicles, as most new vehicles sales require a franchise agreement.
Independent Motorcycle Dealer
Any individual or business entity who buys, sells, or exchanges:
More than 5 used motorcycles, titled and registered in their name during a calendar year
From a permanent location
A motorcycle refers to any two or three (in one case four) wheeled motorcycle vehicle, including:
Motor scooters
All-terrain vehicles (even though they have four weeks)
Recreational off-road vehicles
Independent Travel Trailer Dealer
The same requirements of 5 or more trailers per calendar year, titled and registered in the buyer or seller's name.
In this case a trailer refers to a non-motorized travel trailer. This is a trailer designed for temporary living quarters and for carrying people or property. The best examples of this type of trailer would be campers, which are also called:
Travel trailers
RV trailers
Pop up campers
Independent Trailer/Semi-Trailer Dealer
A trailer and/or semi-trailer for this license type refers to:
A vehicle without motive power
Designed to carry a load on its own structure
Designed to be pulled
A semi-trailer is a trailer that is designed to carry a load that is part of the weight of the vehicle. According to the Texas DMV the differentiator is a semi-trailer that has a load/cargo that rests on or is carried by its own structure.
The difference between the two is, trailers will typically carry smaller loads such as:
Enclosed lawn care or construction trailers
Open steel frame trailers
Boat trailers
Semi-trailers will be used on commercial trucks to haul cargo to a destination.
Independent Mobility Motor Vehicle Dealer
A mobility motor vehicle is a any vehicle designed and constructed to transport individuals with a physical disability. These vehicles are required to have:
A permanently lowered floor or raised ceiling
A wheelchair lift, ramp, or system to secure a wheelchair during transport
Beyond the dealer license, these licensees are required to have:
A converter license
A welder's certification or employ an approved subcontractor
Garage insurance policy covering at least $50,000 and a products completed operations insurance policy of at least $1 million
There are further requirements outlined by the Texas DMV.
Independent Wholesale Dealer
A wholesale dealer buys or sells motor vehicles, motorcycles, and travel trailers, (new or used) trailer/semi-trailers and transacts only with other licensed dealers with the appropriate GDN number.
No sales can be made to retail customers, only other dealers.
Independent Wholesale Auction Dealer
An individual or business entity that offers vehicles for sale by bid to licensed dealers at a permanent auction location. The individual or business entity must hold the auction and is not allowed to attend one.
Just like the wholesale dealer, all auction sales must be to licensed dealers, not the general public.
Ownership Details and Identities
All dealers, except for sole proprietors and general partnerships, are required to have a Certificate of Formation or Registration. This must be registered with the Texas Secretary of State when the business entity is formed.
Business entities and sole proprietors will need:
The filling number for the business entity from the Secretary of State
EIN (employee identification number) of the the business or ownership individuals social security numbers
A list of all previous GDN licenses any ownership individual or business entity has held in the past
Appropriate identification (driver license, passport, or Armed Forces identification) for each ownership individual
If any individual, owning member, officer or representative of a business entity has any type of criminal record, copies of court papers that detail the decision made by the court in each criminal matter must be provided.
Surety Bond Requirement
A surety bond is required for:
Motor vehicle licenses
Motorcycle licenses
Mobility motor vehicle licenses
Wholesale licenses
Wholesale auction licenses
The bond is not required for the either the travel trailer or trailer/semi-trailer licenses. Even though franchised dealers must obtain an Independent GDN license for their type of classification, franchised dealers do not have to purchase a surety bond.
Remember, each license requires its own application and in turn its own surety bond.
If you don't fully understand the purpose of a surety bond, let's break it down.
What is a Surety Bond?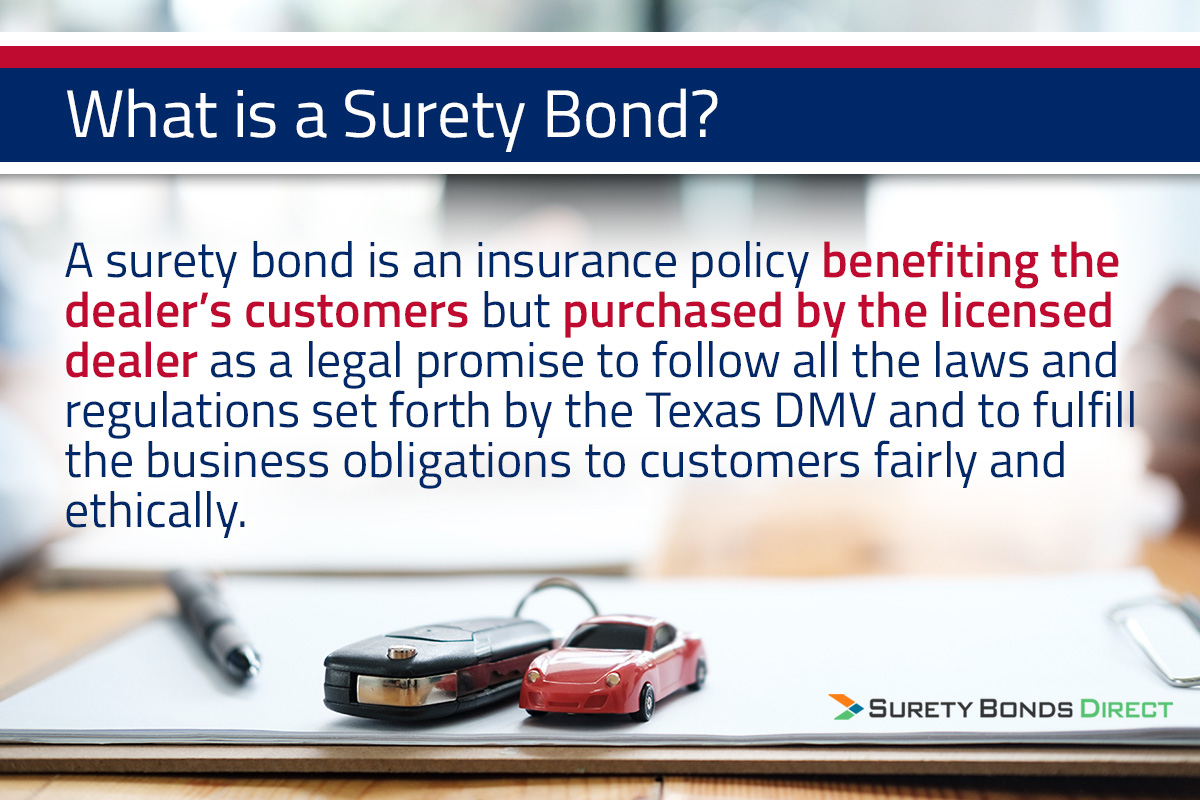 A surety bond is an insurance policy benefiting the dealer customer but purchased by a licensed auto dealer as a legal promise to follow all the licensing laws and regulations set forth by the Texas DMV and to fulfill the business obligations to customers fairly and ethically.
The Texas Department of Motor Vehicles requires dealers to purchase a surety bond to provide recourse to customers and the DMV should either be harmed by unethical or illegal conduct by the licensed dealer.
A surety bond, or in this case, an auto dealer bond, consists of three parts:
The bond amount (often called the penalty)
The bond rate (quoted by a surety)
The bond price and term
The Texas Auto Dealer Bond Amount
The bond amount for Independent GDN licenses is, $50,000.
This is also called the bond penalty because if a successful claim is made against your bond, this is the sum available to be paid out.
What does the bond protect against and what can trigger a claim?
Improperly transferring a title
Selling vehicles with a missing title
Misrepresenting vehicle information like milage, manufacture year, or condition
Stealing from customer deposits
Not paying the appropriate sales tax on sold vehicles
If you purposefully commit any of these acts, your customer or the Texas DMV can make a claim against your bond.
The bond amount is not the price, but it does factor into the price you'll pay.
The Texas Auto Dealer Bond Price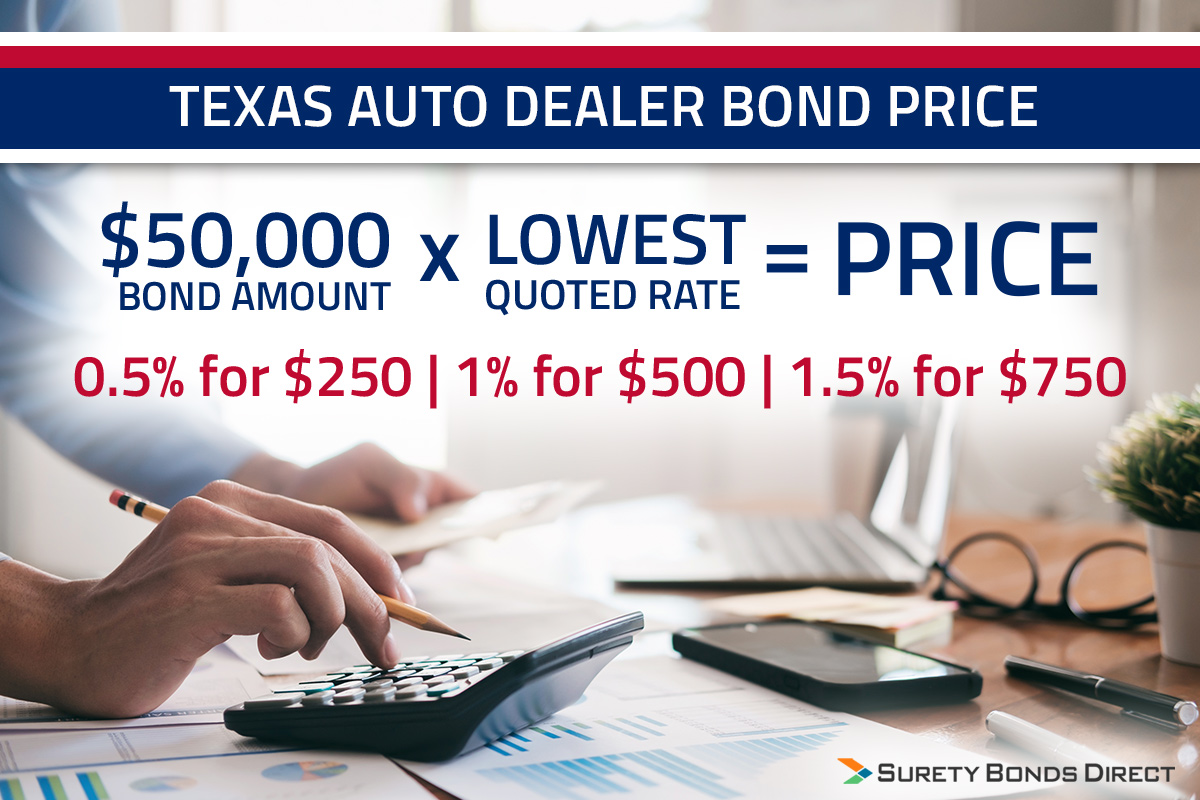 The Texas auto dealer bond requires a quoted rate from a surety company to determine your price. This rate multiplied by the $50,000 bond amount is the price you pay. There are examples of pricing below.
The surety is an insurance company that writes surety bonds. There are many different sureties and each surety uses their own risk assessment to determine your rate. This risk assessment is based on:
Primarily your personal credit
Business and industry experience
Prior bond claims if they exist
You want to pay the lowest possible price and you want to make sure an A rated surety issued your bond.
Surety Bonds Direct is a specialized surety agency that works with multiple A rated sureties to find you the lowest possible price.
Get pricing within 24 hours by using our free quote form or calling a bond specialist at 1-800-608-9950.
Here are pricing examples based on low to average rates.
| Bond Amount | Surety Bond Rate | Price You Pay |
| --- | --- | --- |
| $50,000 | 0.5% | $250 |
| $50,000 | 1% | $500 |
| $50,000 | 2% | $1,000 |
| $50,000 | 3% | $1,500 |
| $50,000 | 4% | $2,000 |
"A rated" sureties work harder for you if there's ever a claim on your bond. They'll investigate the claim with greater detail to make sure it's legitimate.
The Texas Auto Dealer Bond Term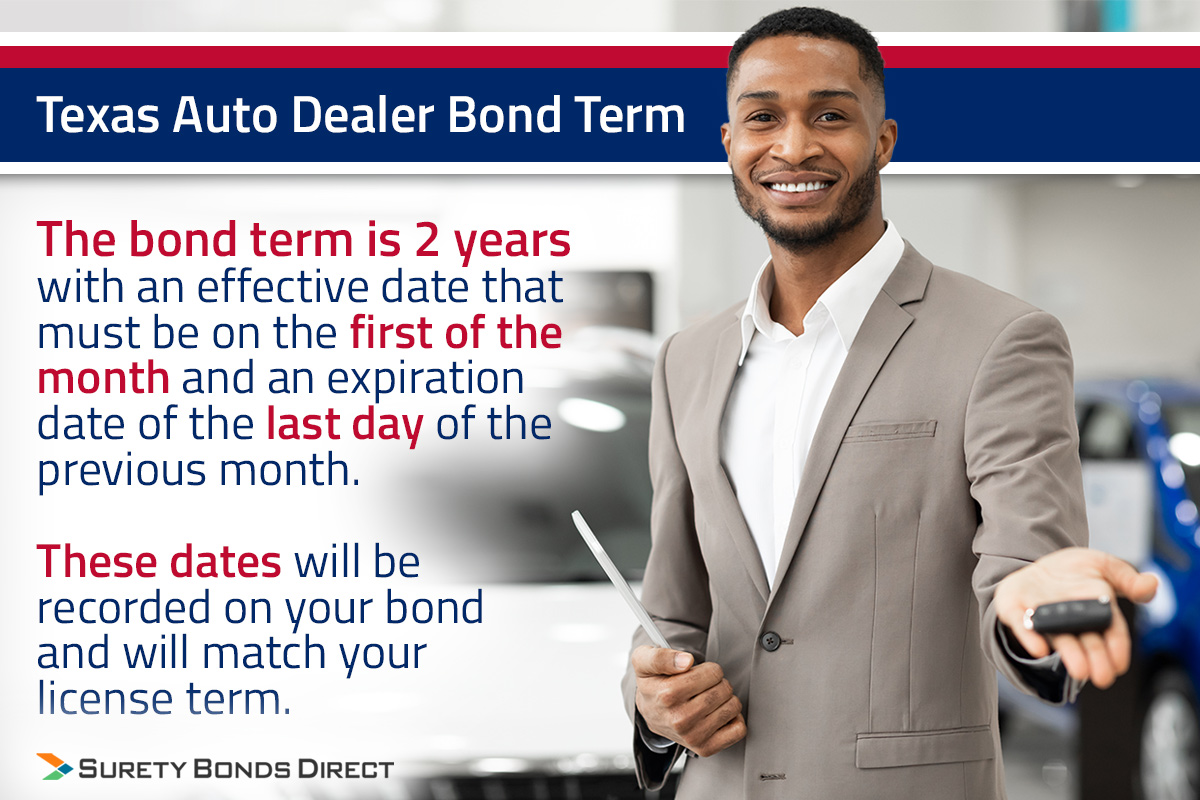 The bond term is 2 years.
This means the bond will be active for 2 years at which time you must renew it. Renewing the bond is as simple as paying the renewal premium. Surety Bonds Direct will contact you 30 to 60 days in advance to make sure the renewal process is easy.
Temporary Tags
Texas law requires dealers to issue one temporary tag to the buyer of a vehicle.
There are 3 types of temporary tags:
Dealer temporary tags
Buyer temporary tags
Internet Down temporary tags
All dealers must have access to temporary tags ready to issue or an Internet Down temporary tag in the case the eTag filing system is down. Each tag contains a unique number from the temporary tag database and is typically good for up to 60 days.
Dealership and Property Requirements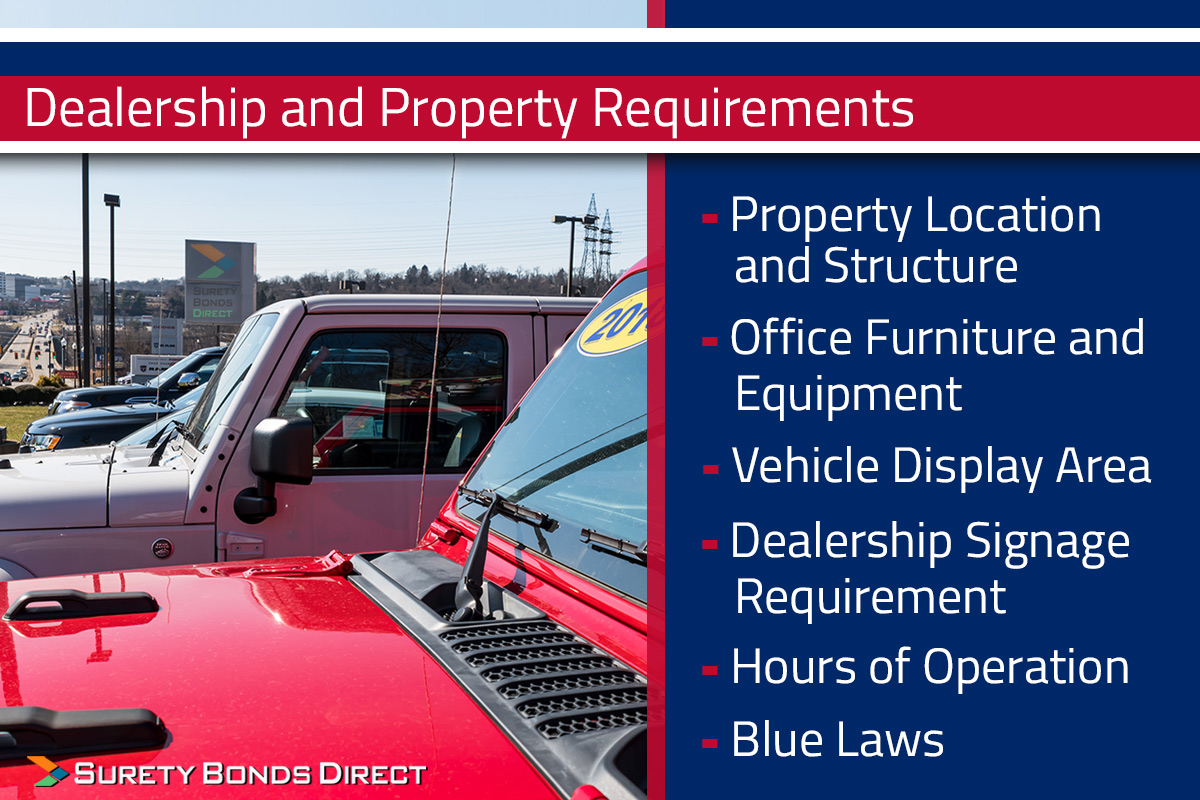 There are many requirements for the physical dealership location. Texas' DMV website doesn't mention a dealership inspection, but most states do send an inspector before the license can be issued.
The Texas website does mention that your property does need to be easily accessible for DMV officials.
Property Location and Structure
Must be able to show proof of an active lease or ownership for the property listed on the application
Proof of occupancy is not required but it can be requested at any time
A retail dealer cannot share the same building structure as a wholesaler
A retail dealer can share space with another retail dealer if:
No more than four dealers are in the same building structure
No more than eight wholesale dealers are located in the same building structure
Remember a retail dealer cannot share the same building structure as a wholesaler.
The building must be an enclosed structure with four walls and meet all necessary zoning requirements
The building can be a "portable" trailer, if the undercarriage has permanent framing and there are no wheels on the trailer
Personal residences are allowed as long as they are completely separate from the actual residence
Office Furniture and Equipment
Some of these requirements sound very specific, but the state wants to make your office is properly suited to server customers.
The office must include a desk with at least two chairs
Must contain a working telephone landline
Must have internet access
If sharing space with other retail dealers or wholesale dealers, each office must have it's own furniture and equipment
Vehicle Display Area
The display area can be located in a building or outside at the same physical address listed on the application.
The display area must be large enough to hold a minimum or 5 spaces for the type of vehicles licensed to sell. (This includes spaces large enough to hold 18 wheeler trucks if your license requires it.)
Sufficient lighting to see the vehicles (nothing mentioned on how this is determined)
Cannot be located off an official right of way unless permission was granted by the city or state
Display areas cannot be shared or intermingled
If the same lot is used (not shared) by two different retail dealers, a - not readily moveable - barrier must separate the lots.
Dealership Signage Requirement
Retail dealers must have a permanent sign with their business name or "doing business as" name on it.
The letters must be a minimum of 6 inches tall
The sign must be easily readable
It's okay to use the appropriate business identifiers such as LLC, Inc., or LP...
A temporary sign can be used while a permanent sign is waiting on order. You must be ready to show proof that a permanent sign has been ordered and is on transit.
Hours of Operation
Retail dealers can choose their own work hours during a 24 hour period. However, the following requirements must be met:
Retail dealers must be open for at least four consecutive hours a day
Retail dealers must be open for at least four days during the week
Wholesale dealers are required to be open at least 2 consecutive hours a day
Wholesale dealer are required to be open at least 2 days per week
The telephone must be answered from 8am to 5pm by the owner or employee during all weekdays even if the dealership location is closed
If the dealership owner or employee has emergency circumstances keeping them from the office during hours of operation, a sign must be displayed saying when the dealership will resume operations.
Blue Laws
Retail dealers cannot sell on both Saturday and Sunday. One of the days must be chosen from the outset of the dealership. There are violations for both a vehicle being offered for sale and for selling a vehicle.
Blue laws do not apply to travel trailer or trail/semi-trailer licenses.
Texas Auto Dealer Application Recap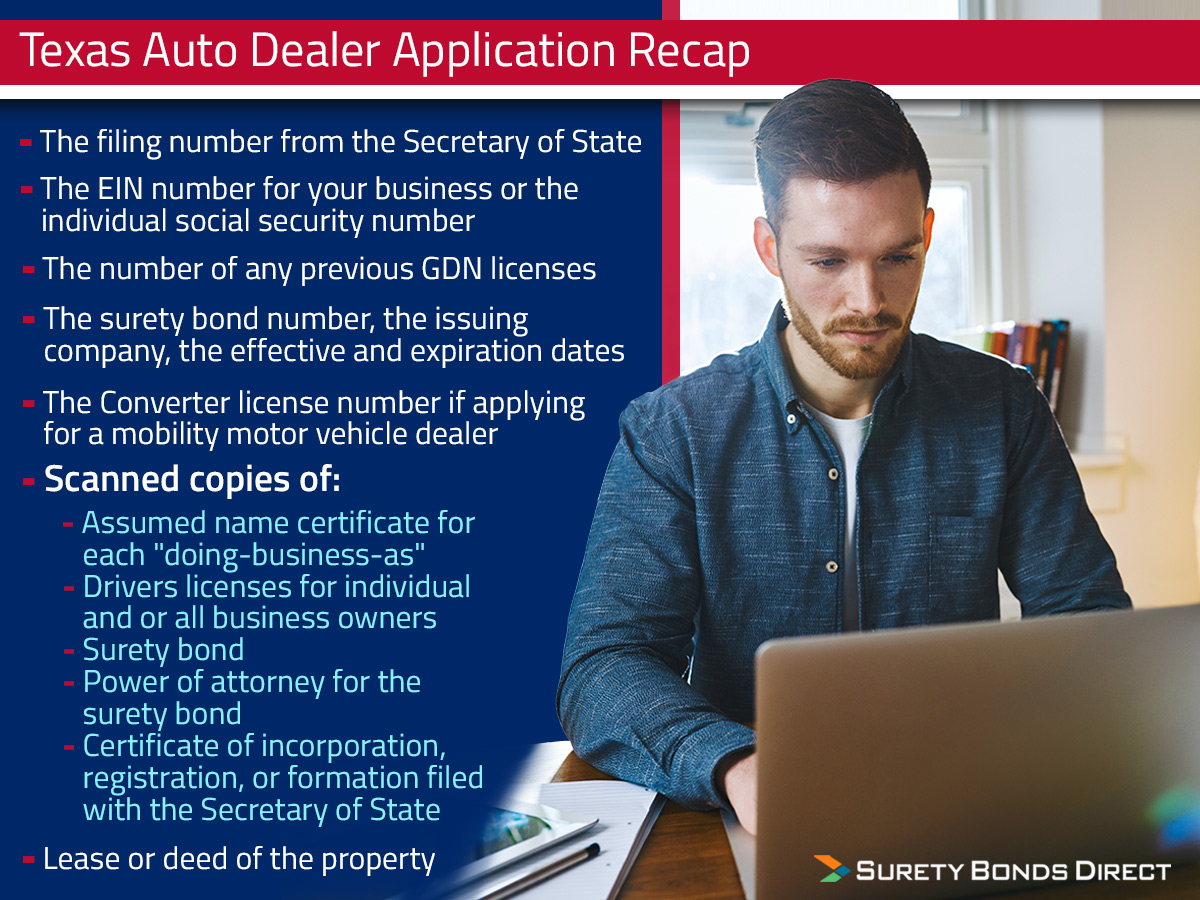 Texas uses an online application process. Here's a final recap of the information you need to make the application process smooth:
The filing number from the Secretary of State
The EIN number for your business or the individual social security number
The number of any previous GDN licenses if any
The surety bond number, the issuing company, the effective and expiration dates
The Converter license number if applying for a mobility motor vehicle dealer
Scanned copies of:

Assumed name certificate for each "doing-business-as"
Drivers licenses for individual and or all business owners
Surety bond
Power of attorney for the surety bond
Certificate of incorporation, registration, or formation filed with the Secretary of State

Lease or deed of the property
Call Surety Bonds Direct When You're Ready To Purchase Your Motor Vehicle Dealer Surety Bond

When you're ready to get the lowest pricing for the surety bond (auto dealer bond) requirement, Surety Bonds Direct will help:
Make sure you get the lowest price for your 2 year term bond
Get an electronic copy for your application
Get the power of attorney for your application
Use our free online quote form and start the quote process in 90 seconds. If you would prefer to speak with a bond specialist, call 1-800-608-9950.