California has strict rules for properly classifying and registering vehicles. This extends from consumer vehicles to commercial trucks and motor carriers who enter and exit state lines on a regular basis.
In many scenarios, which we'll look at in a minute, a vehicle must be verified. This is called a VIN verification and in order to verify a vehicle, California requires a verifier license, unless you meet specific criteria.
This short article will explain:
The process to get a vehicle verifier license
Professions exempt from obtaining a license
The fees associated with obtaining a license
What the surety bond requirement is and how much the bond costs
Plus helpful links to make this process easy to complete
Getting a California Vehicle Verifier License
Here are the high level steps to get your license:
An application
Occupational license history questionnaire
California Live fingerprint requirement
Background check
Purchase a $5,000 surety bond
The Vehicle Verifier Application
This is a short application requiring your name, address, and drivers license number.
If you're currently employed by a firm requiring you to obtain this license, list the employer's firm. This must match the name used on the firm's verifier license.
And finally, there are a series of statements you make an oath to uphold as a vehicle verifier.
Some of these statements or promises are:
"I am familiar with the location of vehicle engine, frame and vehicle identification number, and know which of these numbers is the correct vehicle identification number."
"I will personally inspect each engine, frame, and/or vehicle identification number of the vehicle being verified."
"I will familiarize myself with vehicle verification forms, ensuring that each form I complete is legible and contains my signature and Permit Number."
"I will maintain a record of each verification made..."
"In the event of any change in employer or residence address, I will immediately notify the Department of Motor Vehicles, Occupational Licensing Section..."
In order to submit this application, you must fill out the Occupational Questionnaire and obtain a vehicle verifier surety bond. These will be covered next.
Application for an Occupational License
This include basic information including:
Address
Employment history
Education history
Background information questionnaire
List of applicable crime or felony history
Since obtaining the vehicle verified license requires Live fingerprints, it's important that information is not left off this application. The California Live fingerprint scanning requirement means the California Department of Justice will do a background check.
Vehicle Verifier Surety Bond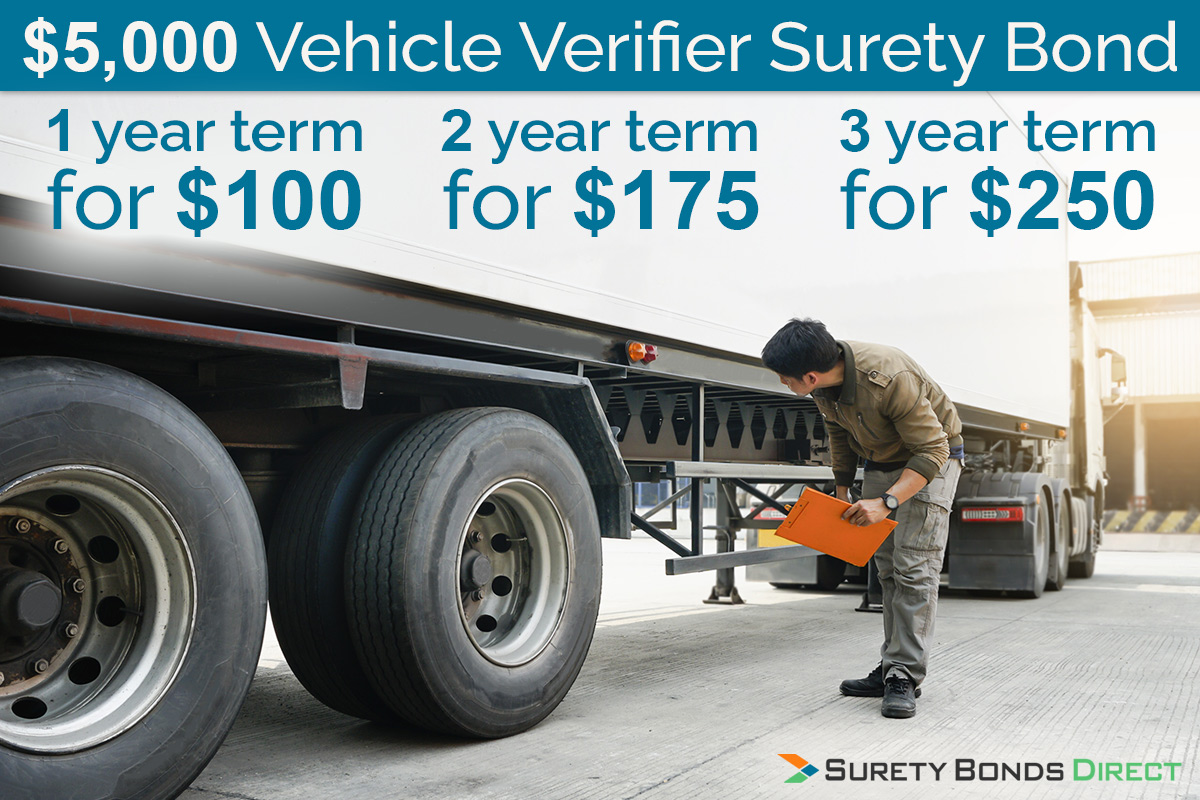 A $5,000 surety bond is required to obtain this license. Below you'll learn:
$5,000 is the bond amount, not the cost. Your cost will only be a fraction of the bond amount, but first, what is a surety bond?
What Is a Vehicle Verifier Surety Bond?
Purchasing a surety bond is similar to purchasing an insurance policy with one major difference. A surety bond is not purchased to protect the licensee, rather it's purchased by the licensee to protect customers and California Department of Motor Vehicles.
Think of a surety bond as a financial promise to act as a vehicle verifier authority. By satisfying the licensing requirements, the state of California is classifying you as an authority to the public. The surety bond is the protection to the consumers of the state in the case of fraud or misconduct.
A vehicle verifier bond provides up to $5,000 of financial protection against purposeful fraud or misconduct committed by the licensee.
Examples of purposeful misconduct would include:
Falsely verifying a vehicle for the benefit of the individual who requires the verification
Falsely verifying a vehicle to purposefully harm the individual who requires verification
Not notifying the California Department of Motor Vehicles about irregularities in engine, frame or vehicle identification numbers
Purposefully not recording or falsely recording verification records
All of these scenarios can impact a vehicle owner's and the state's:
Ability to collect the correct amount of vehicle or fuel taxes
Ability to obtain proper title to a vehicle to prove ownership
Ability to properly register a vehicle
How Much Does A Vehicle Verifier Bond Cost
Surety Bonds Direct has secured low bond costs and the $5,000 bond requirement can be purchased for a number of bond terms without a credit check.
1 year term for $100
2 year term for $175
3 year term for $250
Once the bond is purchased, Surety Bonds Direct can issue the bond within a few business hours.
What is the Surety Bond Term?
Just like the vehicle verifier license itself, the surety bond has a term associated with it. The vehicle verifier license must be renewed on a yearly basis and the license must have an active bond.
A one year bond term means the $100 bond premium needs to be paid every year.
A two year bond term means the $175 needs to be paid every two years.
And a three year bond term means the $250 needs to be paid every three years.
As long as the bond premium or cost is paid before the term ends the bond remains active.
Vehicle Verifier License Costs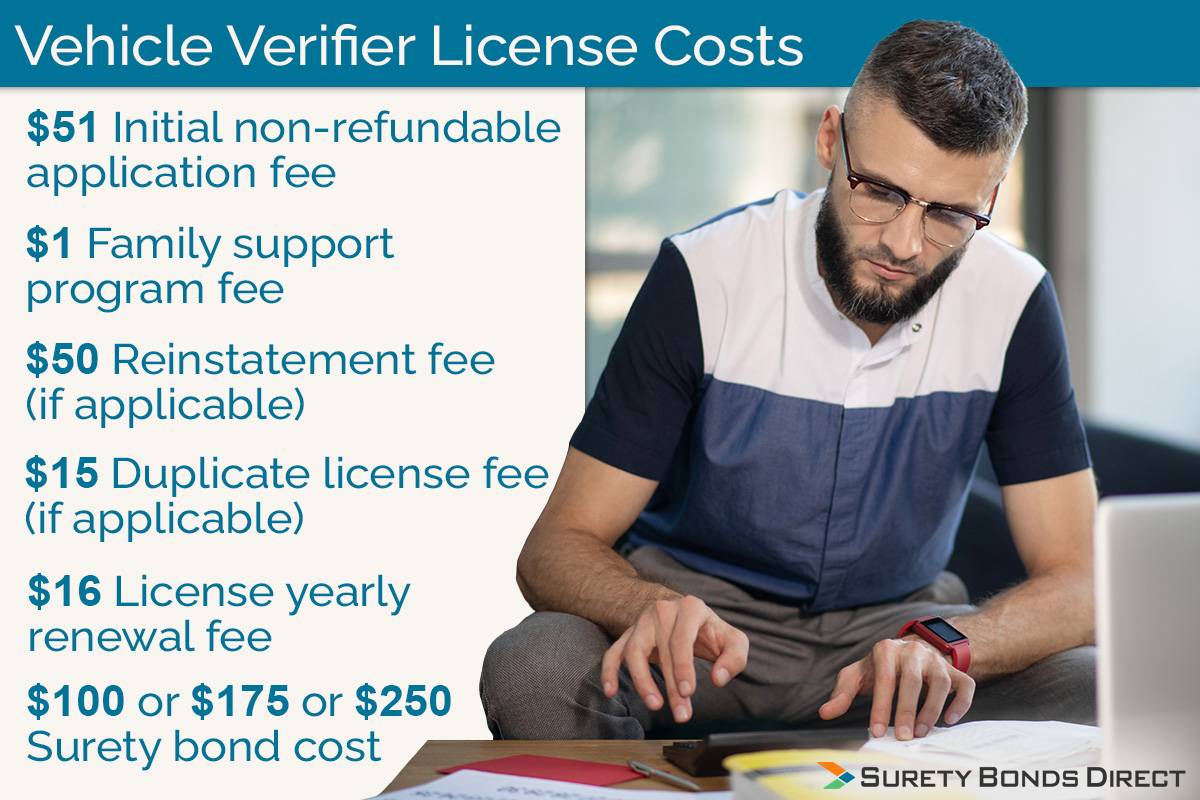 Here are the costs associated with obtaining a vehicle verified license:
$51 initial non-refundable application fee
$1 family support program fee
$50 reinstatement fee (if applicable)
$15 duplicate license fee (if applicable)
$16 license yearly renewal fee
$100 or $175 or $250 surety bond cost
Vehicle Verifier License Exclusions
Peace officer
Authorized employee of the DMV
Special agent of the National Insurance Crime Bureau
An employee of an organization certified under the provisions of Part 5 of Division 2 of the Insurance Code where you're required to verified vehicles
In any of these scenarios, the license requirement is waived.
Helpful Links
When Does a Vehicle Have To Be Verified?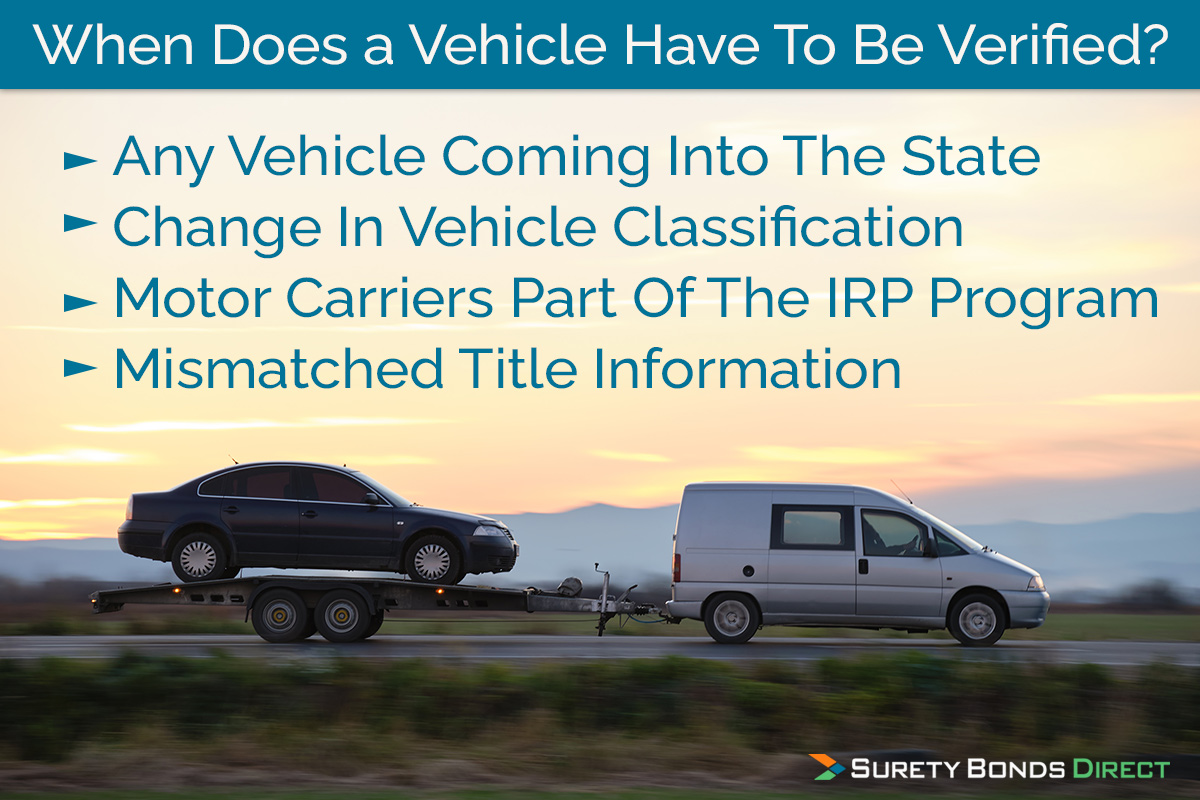 If you're new to understanding when a vehicle verifier's services are required, here are some examples. You can find more examples on California's guide on VIN verifications.
Any Vehicle Coming Into The State
Any vehicle coming into California permanently from another state requires verification. This even applies to brand new cars purchased from an auto dealer or manufacturer.
This is important for California used auto dealers to be aware of when vehicles are sold to them.
Change In Vehicle Classification
If the utilization of a vehicle is changing, that is considered a classification change. For example, a Cadillac Escalade is purchased to act as a limousine, the vehicle must be verified. This is required for insurance purposes. An Escalade is classified as a utility vehicle and insurance requires it to be classified as a limousine so it can be covered by a business auto insurance policy.
Motor Carriers Part Of The IRP Program
The International Registration Plan is the official registration for motor carriers (load bearing trucks) that weigh over 26,000 pounds and cross state lines.
To obtain proper registration, each motor carrier must be verified. This is especially important because each vehicle is part of the International Fuel Tax Agreement (IFTA) requirements. This ensures states and Canadian territories get their appropriate amount of tax on fuel used in their state.
Mismatched Title Information
If a vehicle's title does not match the official information about the vehicle, it must be verified. This is important for used car dealerships so they can obtain and verify proper titles when vehicles are bought and sold.
Getting Your Vehicle Verifier Surety Bond
Getting a California vehicle verifier license can be accomplished in one day. The longest parts of the process are:
Getting your Live fingerprints if they aren't in the system
Getting your vehicle verifier surety bond
Go purchase your bond today so our bond issuance department can get to work and quickly and email your bond to you.
If you have any questions about a vehicle verifier bond, call a bond specialist at 1-800-608-9950.