South Carolina makes getting a dealer license easy with clear steps. There are 10 high level steps and this article will help explain each so you understand what you need to submit your application and get it approved without delay.
Specifically you'll learn:
The different types of licenses
When you need to take the pre-licensing course
What insurance it required for each license type
The requirements for a business entity like an LLC
The specific rules for a dealership property
The new licensing term changes
And new surety bonding requirements
6 South Carolina Dealer License Types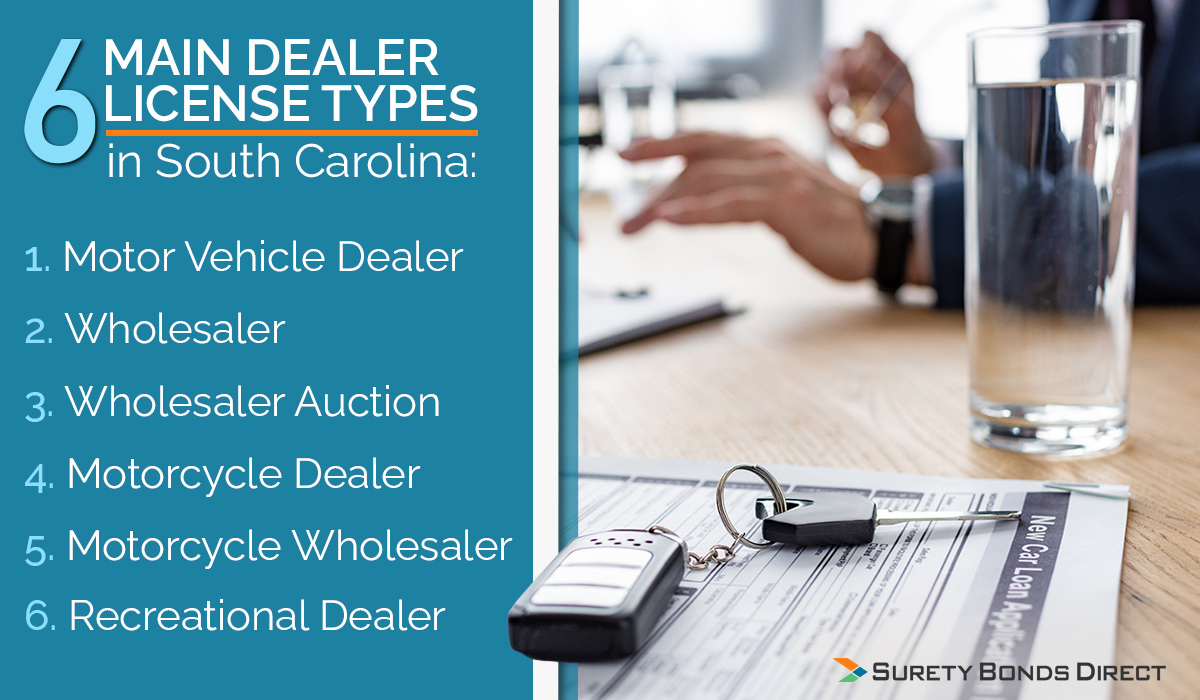 There are six main dealer license types in South Carolina. All licenses share the common licensing benchmark of selling more than 5 vehicles before a license is required.
1. Motor Vehicle Dealer
A franchised dealer or a used car dealer selling vehicles retail to end consumers. Again, if you sell more than 5 vehicles during the year, you must get licensed.
2. Wholesaler
A dealer who sells vehicles to other licensed dealerships for inventory. No sales can be made to retail, end consumers.
3. Wholesaler Auction
A dealer who auctions vehicles to licensed dealers. Auctions cannot be conducted to retail consumers.
4. Motorcycle Dealer
A dealer who specializes in selling motorcycles to retail end consumers. Same as a dealer if you sell more than 5 motorcycles, you must be licensed.
5. Motorcycle Wholesaler
Similar to a vehicle wholesaler, a motorcycle wholesaler sells motorcycles to dealers and other wholesalers. Licensure is required if you sell more than 5 motorcycles.
6. Recreational Dealer
A recreational (RV) is a motorhome, travel trailer, fifth-wheel trailer, or folding camping trailer designed to provide temporary living quarters for recreational purposes. Similar to other license types, if you sell more than 5 RVs to retail consumers or to other dealers you must obtain a license.
Dealer License Terms
Currently as of 2023, licenses are valid for 12 months before renewal is required. The fee for a license is $50.
As of January 2024, all new and renewed licenses are changing to a 3 year term. The fee for a three year license stays consistent at $150. More on these changes in the last section of this post.
Each license applies to one dealer and one location. Licenses are not transferable to other dealers or locations.
How To Get Your South Carolina Dealer License In 10 Steps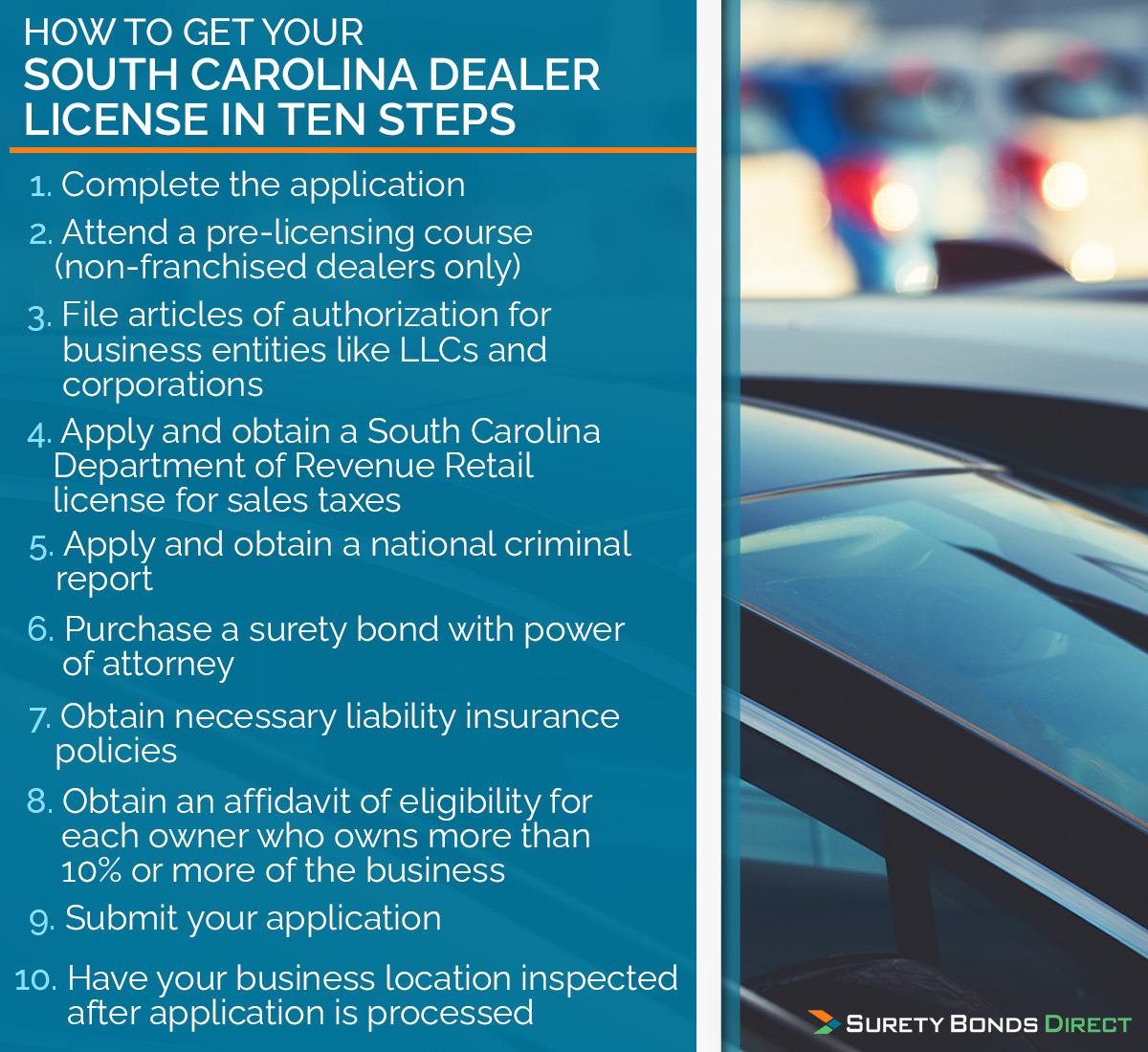 Here's the high-level overview of each step. Each step is detailed below.
Complete the application
Attend a pre-licensing course (non-franchised dealers only)
File articles of authorization for business entities like LLCs and corporations
Apply and obtain a South Carolina Department of Revenue Retail license for sales taxes
Apply and obtain a national criminal report
Purchase a surety bond with power of attorney
Obtain necessary liability insurance policies
Obtain an affidavit of eligibility for each owner who owns more than 10% or more of the business
Submit your application
Have your business location inspected after the application is processed
Pre-Licensing Course
All non-franchised dealers must take an 8 hour pre-licensing course. In South Carolina, there are only two providers:
This course will cover the current laws regarding:
Handling vehicle sales
Transferring titles
Registering vehicles
Laws about what information must be displayed on vehicles
How to handle sales tax
Plus the business laws and regulations of running a dealership
Articles of Authorization or Incorporation
If you're incorporating, you must include a copy of your articles of authorization (incorporation). This is the official paperwork filed with the South Carolina Secretary of State making your business entity legal.
Obtain a Retail License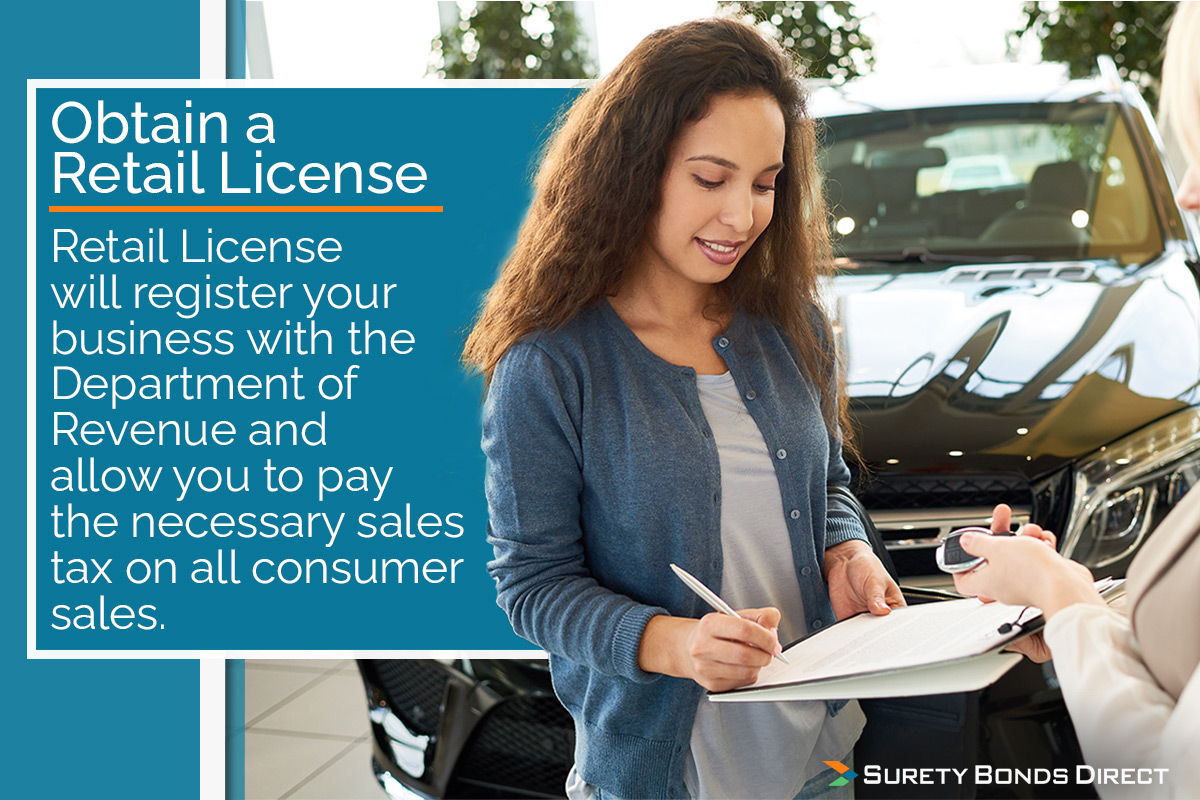 The South Carolina Department of Revenue issues a Retail License. This registers your business as conducting retail sales to end consumers. You're responsible for documenting sales of any "product" made to the end consumer.
"Products" not only include vehicles, but any physical merchandise sold to an end consumer. This includes online sales made to in-state consumers.
The dealer is responsible for collecting and paying sales tax to the Department of Revenue on a quarterly basis.
If you're obtaining a wholesaler license, you don't need to collect sales tax, however wholesalers must apply for, obtain, and submit a tax exempt number to the Department of Revenue.
Obtain a National Criminal Report
The South Carolina Licensing Background screen is required for all dealer licenses. It takes about 3 to 5 days to obtain the report and you can't expedite the process. The minimum cost to obtain the report is $43.01.
If you've been convicted of any law violation below, South Carolina will not issue your a license:
The illegal acquisition or improper transfer of a title
Removing vehicle identification numbers
Found guilty of disconnecting, resetting, altering, or any other unlawful tampering of an odometer
Purchase a Surety Bond With Power of Attorney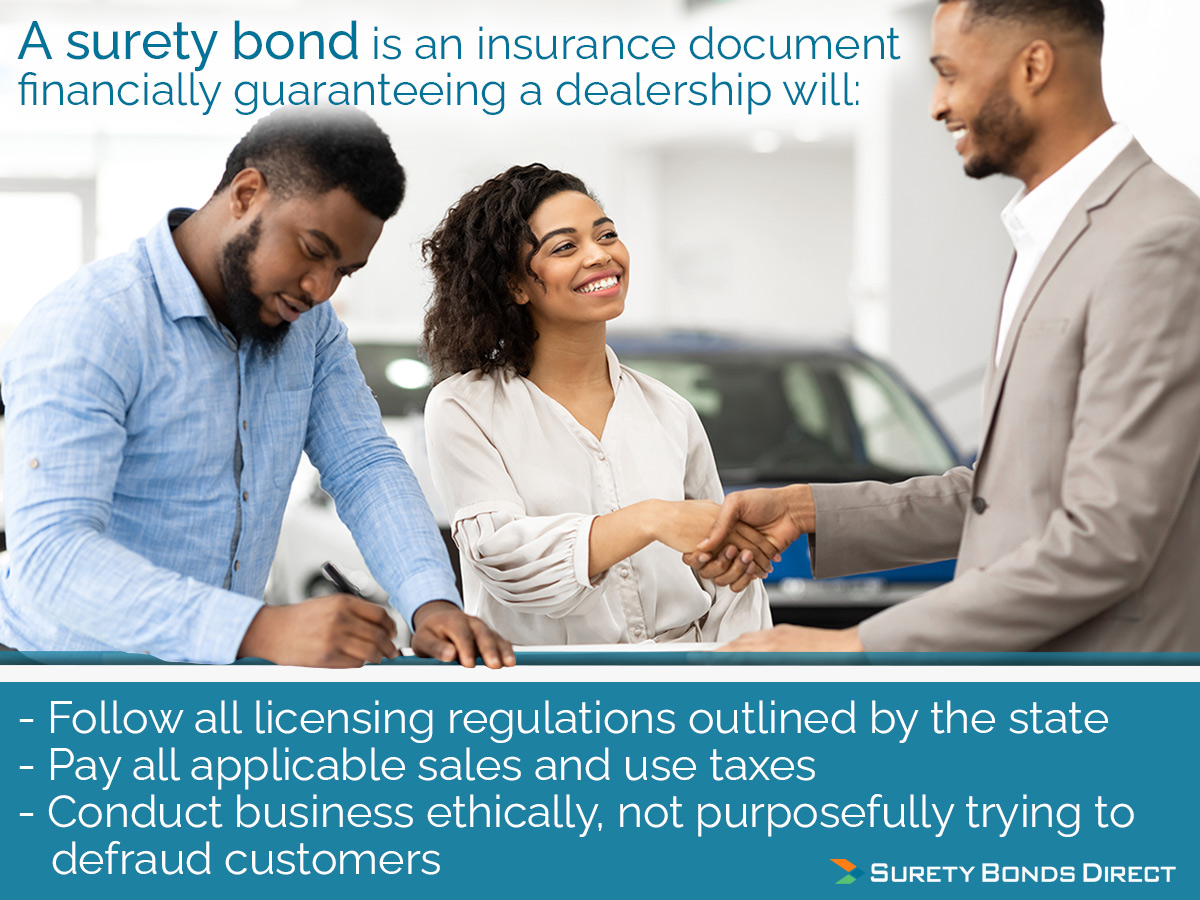 The South Carolina Department of Motor Vehicles requires all dealers to purchase a surety bond or auto dealer bond.
A surety bond is an insurance document financially guaranteeing a dealership will:
Follow all licensing regulations outlined by the state
Pay all applicable sales and use taxes
Conduct business ethically, not purposefully trying to defraud customers
If a dealership breaks any of these rules and/or promises, a claim can be made against the bond for financial recourse. In most cases the offending dealership will have their license suspended or revoked.
Think of a surety bond as verification that you are an authority that the public should trust. The bond holds you accountable for your business decisions.
South Carolina Auto Dealer Bond Details
A South Carolina auto dealer bond has an amount set by the Department of Motor Vehicles. The current amount is $30,000. This amount increases to $50,000 effective January 1st, 2024.
The bond amount is the financial protection afforded to the state of South Carolina and the dealership's customers in the event of any fraudulent acts or purposeful misconduct.
The bond amount is not the cost of the bond. To determine the cost of an auto dealer bond, a surety (the insurance company who writes surety bonds) must provide a rate.
The quoted rate determines the cost. The quoted rate is based on:
Personal credit history
Industry experience
Previous bonding activity (if applicable)
The quoted rate multiplied by the bond amount is the cost of the surety bond. For example, a 1% rate for the $50,000 bond would be $500 for the year. This bond will be continuous, meaning the same bond remains active from year to year as long as the renewal premium is paid.
All dealers must register with the Automobile Liability Insurance Reporting system before January 18, 2024. This will monitor the status of the bond for each dealer and alert the Department to any dealer with an expired surety bond.
Where Do You Purchase a Surety Bond

When it comes to how you get a surety bond, the process is easy. In order to get the lowest pricing, use a specialized surety agency like Surety Bonds Direct. Surety Bonds Direct is a surety bond service that works with multiple sureties. Remember, sureties are the insurance companies that write surety bonds.
Surety Bonds Direct is able to obtain rates from multiple sureties and deliver the lowest rate to each customer. The means you pay the lowest possible price.
It typically takes about one day to obtain all necessary quotes from the sureties and another half day to issue an auto dealer bond. Get the process started today so the bonding requirement doesn't hold up your application.
It's vital that the name and address on the surety bond match - exactly - the name and address on the application and the name and address filed with the Secretary of State.
Use our free online quote form to start or call a bond specialist at 1-800-608-9950. The quote process only takes about two minutes to complete.
Obtain Necessary Liability Insurance
You'll need adequate liability insurance for your place of business. If you're applying for dealer demonstration plates, a garage insurance policy is required.
Affidavit of Eligibility
This is a required document affirming an individual is legally present in the state of South Carolina. Each owner of the business who owns a 10% or greater share in the company must complete the Affidavit of Eligibility.
It's also required that all employees are listed on the application with their:
Legal name
Address
Drivers license numbers
Schedule Business Location Inspection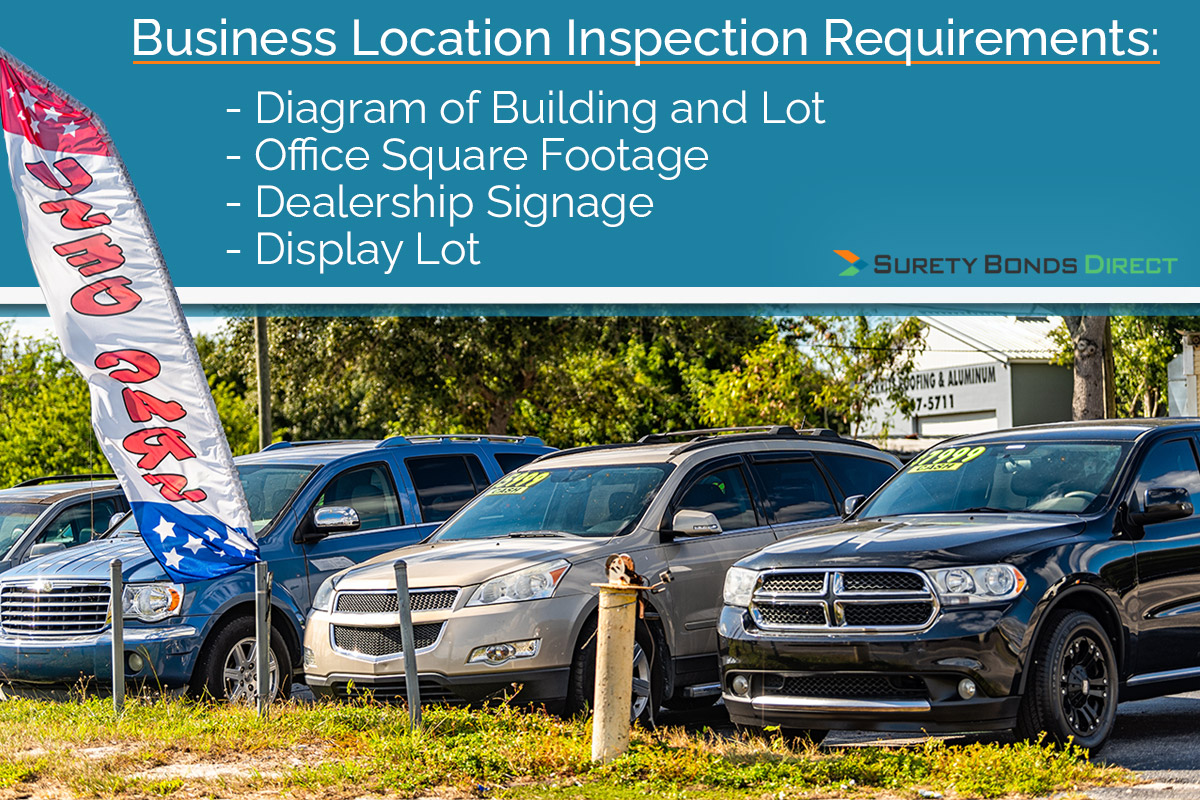 Once the Department of Motor Vehicles processes your application, you'll be contacted to schedule your dealership inspection. The state inspector will ensure your dealership meets all necessary requirements of the property.
Requirement 1: Diagram of Building and Lot
You must provide a hand drawn or computer generated structure and layout of the building and lot.
Requirement 2: Office Square Footage
Offices cannot be residential properties, tents, or any temporary structure. The building must be at least 96 square feet.
This office must house all dealership financial records in the case of future inspection by the Department of Motor Vehicles.
If you're going to have a property that shares space with another business, a pre-inspection by the Department must be conducted before you submit your application.
Requirement 3: Dealership Signage
A permanent sign with lettering at least 6 inches tall must be present on the property. The sign must be clearly identifiable and readable from the nearest public street.
Requirement 4: Display Lot
The property must contain a display lot showcasing the motor vehicles for sale.
For used vehicle dealers, every vehicle for sale on the lot must have a complete Buyer's Guide Form displayed in the window. This form indicates whether a used vehicle is being sold under warranty or - "as-is" - not under warranty.
South Carolina Auto Dealer License Changes On January 1st, 2024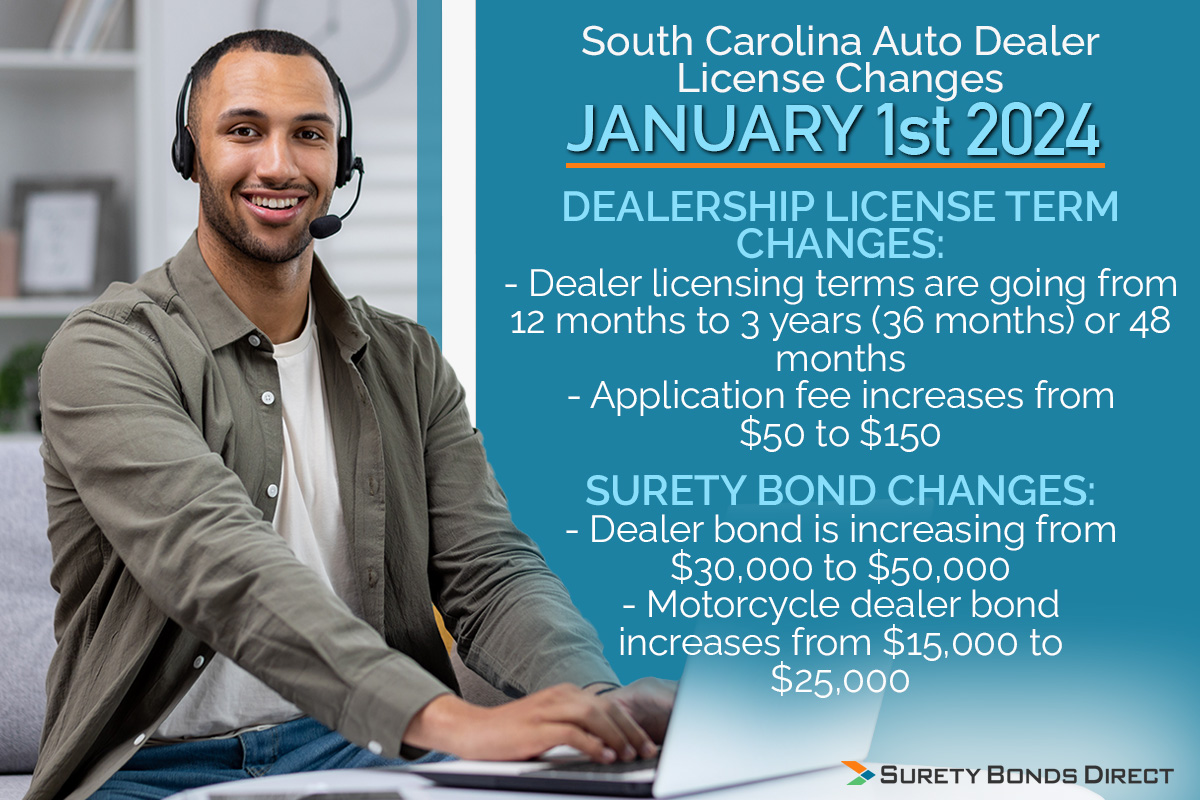 Dealership License Term Changes:
Dealer licensing terms are going from 12 months to 3 years (48 months)
Application fee increases in step from $50 to $150
Surety Bond Changes:
Dealer bond is increasing from $30,000 to $50,000
Motorcycle dealer bond increases from $15,000 to $25,000
For dealerships that are currently bonded, you will need to have a bond rider at least 30 days prior to January 1st, where you'll pay the prorated increase for your bond term. On your next bond renewal, your rate will be based on the new bond amount.
When You Need Your Auto Dealer Bond Contact Surety Bonds Direct
South Carolina is very clear about what's required to submit a complete application to the Department for licensure.
I hope this article helped clear up any questions you had about the process and requirements.
Remember to not push off getting your surety bond. Obtain a free, no obligation quote today. You can choose an effective date for your bond to coincide with your application submission. You can use our free quote form to start the quote process online or if you'd prefer to speak with a bond specialist, call 1-800-608-9950.